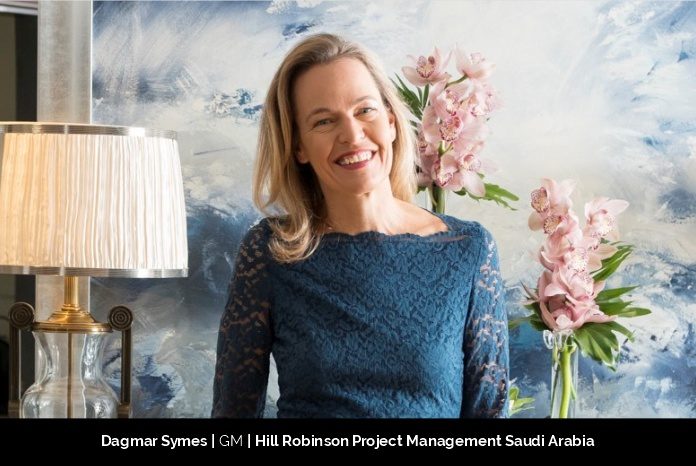 Women are shaking up hospitality like never before, bringing talent, ideas, and a can-do attitude to the sector in unprecedented times. Dagmar Symes, General Manager of Hill Robinson Estates Saudia was the first female GM to serve at Lebanon's iconic Grand Dame Phoenicia Hotel since its inception in the 60's, after which she re-established the Anantara Al Jabal Al Akhdar Hotel in Oman, as one of the prime luxury hotels worldwide, before growing her legacy in Saudi Arabia. She now runs the most promising prestigious Estates platform that is continuously evolving in Saudi Arabia.
Every leader has a unique definition of success. Tell us about your thoughts about success and why do you feel that?
Historically, success has usually been associated with power and money. I view success as multi-faceted – integrating achievements in all aspects of my life such as personal and professional ones along with community and family. I realized with time that you can have it all, but not all at once. At different stages of your life, you will have different priorities and your definition of success can change. That is perfectly ok. Success is really about happiness, a feeling of contentment and balance. To wake up every morning with a good feeling and knowing that you are working in alignment with your "why" is a huge privilege. To motivate, inspire, engage and empower talent to create a meaningful impact. Being in a position of mentoring and uplifting others, helping the community, and how I can leverage my past accomplishments to support others achieve their own success.
Leading a company to success is not an easy road to take. What inspired you to take the step of faith? What led you into the luxury retail and hospitality industry?
As children, we have remarkable imaginary capabilities to see and hear what there isn't. We create fairytales from thin air, initiate full-fledged conversations amidst plastic dolls and stuffed animals, and decide with ease which activity to embark upon next. Why not as adults?
There is so much uncertainty when we step out on faith and venture into the unknown. Covid-19 has created an environment of extreme uncertainty and forces leaders to wrestle with challenges they've never come across before. Leading in times of great uncertainty grants you more opportunities to experiment and take risks than you might get in steadier times. Scouted for this exciting position in Saudi Arabia, the prospect of a most intriguing undertaking in the set-up of a new company in KSA within the country's vision 2030 as Female Executive and Leader, was an obvious choice to consider. Project Management and diving into the new fast-developing KSA market to somewhat break ground was a most stimulating component.
Hospitality was a choice by conviction with its limitless career opportunities across the globe and more importantly the joy of looking after others. The rewarding sense of appreciation you get from those around you if you made someone's day is irreplaceable. You need to be ready and love it.
The same applies to my career deviation into the retail business. I decisively assumed a sidestep in Senior Leadership positions in the luxury consumer goods industry to explore this field of service industry to expose horizons from a non-hospitality yet high-end service perspective.
Challenges make you stronger. What is your take on this? What were the roadblocks that taught you valuable lessons in your professional journey?
Challenges come hand in hand along the way of our personal and professional development. I have never been affected by the opinion of others. I developed my skills in a targeted manner and have always taken a sportsmanlike attitude towards all aspects of competition. I chose my companies carefully and have constantly undertaken conscious decisions to step out whenever I felt it is time to move on. Converting obstacles into opportunities and making things happen in the face of adversity is my general stance.
Life is not comprehensive without any challenges that will to some extent mold one's journey forward. Having been working within an international platform, spanning from Europe to the Middle East, various challenges of innumerable natures have presented themselves along the way. Living and working worldwide, you encounter diverse cultures, environments, and business norms. As a leader, you would need to not only blend into the business environment but most importantly find your own way of adapting to these intercultural differences whilst upholding your business values and ethics.
Tell us more about Hill Robinson Estate Management and its services.
Hill Robinson Yacht Management has established itself over a span of 20 years as a leading reputable Yacht Management player on the world stage. New business opportunities have emerged, including Private Aviation and Estate Management, as the client satisfaction rate from within the Yachting segment has been of such an outstanding nature that clients entrusted the company with additional assets such as private jets and helicopters with the latest addition to the portfolio, their private homes.
Our local KSA entity has raised its mast as a newly established, most reliable, and reputable business partner for Private Estate Management business opportunities within the vastness of the Kingdom. Thus, we provide high-end, bespoke services, paired with creative and extraordinary solutions, a highly skilled and diverse workforce, and most importantly the highest degree of discretion and confidentiality.
How do you wish to influence a change in the generation as a woman in lead? What are your views about women's empowerment?
As younger professionals ascend the career ladder, traditional work norms are being challenged. The newly appointed talents increasingly value purpose, flexibility, and growth. This next generation is exceedingly dissimilar from the baby boomers or millennials. They long for contribution to a better world, which challenges leaders in dealing with volatility, uncertainty, complexity, and ambiguity. In other terms, I would like to see myself as an inspirational leader and mentor in taking care of those who are under my responsibility.
As to female empowerment, the secret to women's empowerment is simply "women". Despite the female workforce increasingly entering all business sectors, there is still more work to be done to change perceptions in ensuring gender equality for future generations.
The most promising way forward is for women that support each other in every sense of the way. We are the true solution by sharing accomplishments and ambitions, in order to shape the community's perceptions about women's ability to lead. Collectively, women have a greater impact.
The post-pandemic era has completely changed the core of our business and instead of promoting gender discussion, I believe in the redefinition of the leadership model. The realization of gender equality and the strengthening of women are both considered crucial components for building a fair, inclusive, and prosperous work environment.
Tell us about your life before Hill Robinson Yacht Management.
Mother of two, I have lived and worked in Europe in a senior managerial capacity in the French boutique hotel industry and various "Luxury Hotels of the World" establishments before shifting to renowned brands and fashion labels, such as Bvlgari and Louis Vuitton. I have lived and worked in the Middle East since 2013 in Lebanon, Oman and now Saudi Arabia. Laying the base for my career path at the Ecole Hoteliere de Lausanne, I full-heartedly committed to my career path and did not spare any efforts to fast track through the ranks. This included also fewer desirable assignments and destinations that
others might not have considered, always to do your very best with whatever level of responsibility. This approach has granted me rewarding exposure throughout my entire career.  However, family is key, and being a good working mom is not about having it all together. It is about showing up, it takes courage and never stop trying to do your best. The realization of being both a mom and pursuing your professional dreams simultaneously is a most fulfilling accomplishment.
Share with us the professional achievements that made you proud as a leader.
Over the past 20 years in all my leadership roles, I had the privilege to witness my team not only succeeding and advancing into leadership roles and pertaining successful careers but also celebrating together success on a larger scale. As the driving force, I aim to articulate a vision with courage, integrity, loyalty, empathy, and a clearly defined target. Teamwork is my highlighted strategy. I take pride in the accomplishments of those that help along the way. Hiring the right people to build a strong team and empower the team in full autonomy is my recipe for success. Past achievements were of a most diversified nature at all levels including career paths and professional recognitions from world-reputed reward organizations.
What are your responsibilities as the General Manager of Hill Robinson Yacht Management? Walk us through your regular day at work. Also, define yourself in one word.
In my current responsibility, I blend business acumen and operational knowledge to drive our newly established business entity in the Kingdom. We are still in a somewhat set up phase and therefore not one day is similar to the other. Finding the right balance between local business practices, the client, and our European mother company, in alignment with our team performance is certainly my daily bread and butter. The journey is a rollercoaster and along the way, we not only explore the tremendous opportunities that lie within the fast-developing KSA market in parallel with Vision 2030 but more importantly create and establish our business entity with an extraordinary leadership team supported by a vast pool of local and international young talents. My one-word definition would lead me to "Influence".
How do you maintain a balance in your personal and professional life? How do you keep your team and yourself, motivated to deliver the best services?
Values are the heart of every organization and capture collective motivational drivers. Our key pillars are values such as integrity, excellence, accountability, independence, authenticity, and passion. We live in a culture of improvement and of genuine empowerment leading to finding creative and extraordinary solutions for our customers. The success of the company relies on our most valued asset, our team.
My personal leadership style is reflected in empowerment paired with a persistent positive empathetic attitude, open-door policy, and transparent communication. I view leading by example and an ethical and non-biased work environment as key elements to a successful, diverse, and rewarding workplace that drives results, deepens our talent pool and retains talents from across the globe.
What are your plans for the future of Hill Robinson Yacht Management? Also, tell us about your personal goals as a leader. What is your message to aspiring women in lead?
Vision 2030 is a milestone that will alter not only the Kingdom but the Middle East as a region. The many projects currently being executed, in addition to the thousands in the pipeline, will make Saudi Arabia not only the hub in the region but in the rest of the world. Hill Robinson is probing into expanding the Estate Management portfolio, triggering us into becoming the key player in the market. As to my personal goals, I am a true campaigner in supporting the female talents in the region, aiming to inspire and impact their lives as a whole and in the community.
Considering the latest changes in society in the Kingdom, especially with regards to women's rights and therewith opportunities, women need professional mentorship and inspirational support to use the open doors as they widen up. I will further full-heartedly continue to work alongside the female workforce to inspire women across the globe to believe in their capabilities with full confidence. I would like to remind you that there is no one-size-fits-all approach to being a successful leader. We need to reshape conversations so that in the future there will be no female leaders. There will be just leaders.