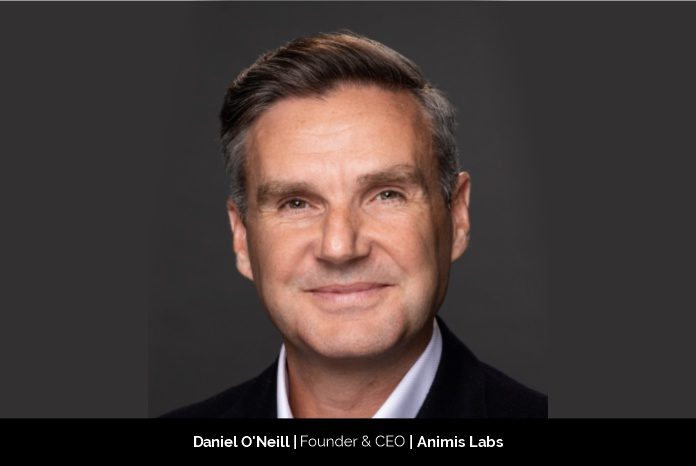 In the last 18 months, the world has changed dramatically. Everyone's experience with the pandemic and other socioeconomic upheavals is creating widespread support for reform in the C-suite. Leaders understand that in order to survive in an increasingly complicated and unpredictable environment, they must create more flexible and resilient organizations. They recognise that conventional linear operational models are no longer suitable for purpose. Long-term success requires a shift to new modes of operation that empower and enable teams to adapt and respond to changing customer needs. This paradigm shift is generating tremendous impetus for change. "We are ready to work with leaders to build the next generation of high-performance sales teams," says Daniel O'Neill.
Daniel O'Neill, CEO and Founder of Animis Labs, is an accomplished leader with extensive sales, organizational transformation, and learning and development experience. Daniel has a scientific and research background with strong systems and analytical skills that have served him well to this day.
Almost by accident, Daniel discovered that he had a love for sales and really enjoyed the cut and thrust of working with people to get a deal across the line. He says, "I had a genuine curiosity about my customers' businesses – I couldn't help but ask questions, which seemed to be a good way to get my customers talking about their business goals and challenges."
Since then, Daniel has spent 23+ years in a number of senior sales, business transformation and L&D roles. He spent 14 of those years with Dell Technologies, where he ascended through the ranks to become the director of worldwide SMB sales training. He says, "Dell was definitely at the forefront of sales innovation and I was lucky to play a small role in their transformation success."
How Animis turned from an  Idea to Reality
The journey really started over 10 years ago when Daniel was working as a sales manager at Dell Technologies. He could see that personal touch, strong client relationship building, and tight coordination across business departments were at the heart of effective B2B selling (Marketing, Sales, Product & Customer Success).
Since leaving Dell, Daniel has worked with a number of leading technology companies and seen first-hand how customers have taken greater control of the buying process and are engaging with sales much later in the buying journey. Buyers are effectively by-passing sales until close to a final decision. As a result, opportunities are commoditised and of low value as sales teams struggle to influence customer thinking and deliver a good sales outcome. It is not a great place to be for any team trying to achieve quota. Daniel asserts, "When we spoke with buyers it became clear that their perception was that sales added little value." He saw that customers were more than happy to research themselves and to self-serve, only contacting sales when pricing was needed. With customers so firmly in control, businesses needed to find ways to put sales back in the driving seat and give them a fighting chance of turning prospects into high quality opportunities. Daniel realised that organizations need to get 3 things right to deliver consistent sales performance:
Prioritize the customer experience: Make every customer interaction a high value personalized experience that creates compelling reasons to engage early with sales
Prioritize collaboration: Coordinate team expertise across the customer journey to ensure the right people with the right skills are working to maximize every opportunity.
Prioritize capability building: Build a culture of continuous learning to ensure teams have the skills and capabilities to build buyer advocacy and consensus to buy.
According to Daniel, when organizations concentrated on these three priorities, they immediately saw an increase in customer engagement. Finally, customers saw the value that sales could provide and were eager to establish partnerships early in the buying process. As the corporate focus moved to cooperation and collaborative performance, energy built and teams became invigorated. Managers felt empowered to help teams overcome barriers and maintain a focus on value creation. Collective learning and continuous upskilling were prioritized to enable teams to stay one step ahead of customer needs. Teams were given the space and time they needed to focus on buyer experiences and consensus building.
Within a quarter, sales performance improved considerably. Not only that, but companies that implement these 3 priorities established a truly customer-first culture in which employees felt empowered and inspired to take charge. It was a win-win situation for customers, sales representatives, and the company as a whole. Daniel says, "Seeing these results, I knew we were on to something special. I asked myself how we could translate this customer-first team approach into a unified software driven sales experience. I was convinced if we could do this, we could help other companies and their salespeople unlock potential and improve results." This was all the motivation he needed to find Animis.
New and Customer Centric Services
Animis was founded in 2018. It is the first Regenerative Sales Performance & Skill Optimization platform built for B2B sales. It helps businesses unlock the collective potential of their people by empowering teams to take control of their performance and continuously build the skills and capabilities needed to excel in a world of constant customer change and complexity – regenerative sales performance.
In the past, learning was often seen as an isolated event that ran parallel to the business rather than as a strategic tool that could be used to accelerate growth. That's where Animis comes in, empowering teams to build the skills and capabilities they need to inspire customers and stay ahead of changing demands. Now companies are realizing that this can be the real driver that delivers results. Daniel says, "We are finding that in today's uncertainty, leaders now see the strategic importance learning and continuous skill building can play in enabling their organizations to adapt and thrive."
Animis empowers teams to build the skills and capabilities they need to inspire customers and stay ahead of changing demands. It does this in 3 ways:
Deep collaboration: Bring together the right people, with the skillsets at the right time to make each customer's interaction a memorable and high value experience. Harness collective skills and expertise to turn the customer experience into buyer consensus for your products and services.
Guided sales workflows: Create tailored sales workflows that advance the buyer journey and maximise sales. Adapt and flex to changing customer needs and buying scenarios. Create team engagement around stakeholders to drive buy-in.
Skill Optimization: Empower self-learning and autonomy with the help of deep performance insights and guided upskilling across the customer journey. Animis provides rich insights and learnings on the quality and quantity of team performance to drive continuous performance improvement and sales excellence.
Professional Services: We understand that change can be hard. So, the company provides a comprehensive suite of services to help leaders implement lasting performance transformation. It does this through collaborative workshops and custom-designed programmes. With deep functional expertise in sales, marketing and agile work practices, the organization brings together leaders and stakeholders to create a shared vision for future success.
Exploring New Frontiers
In the previous 5-10 years, there has been an explosion in the number of sales automation product offerings, and this trend is expected to continue. Animis, on the other hand, is not directly competing with these products; rather, it integrates with them to complement and improve their value. He describes Animis as the Experiential Layer that sits above the system-of-record layer, assisting teams in working together to make better use of the information contained in these products, whether it's a marketing automation tool like Hubspot, a traditional sales CRM like Salesforce, or a learning experience platform (LXP) like Edcast.
Animis is a place where sales teams can collaborate to develop, innovate, learn, and perform. It is a human-centered approach to high-performance selling that is guaranteed to provide better long-term outcomes. Animis, according to the team, is a new category-defining solution. Our journey has had its ups and downs, but everyone understands that they are living in really exciting times for the business. Daniel states, "We are at the start of the 4th industrial revolution – a once in a generation opportunity to invent the future. To create a different kind of world where there is equality and fairness and we all have a shot at being our best-selves."
According to Daniel, every day brings new challenges and opportunities. He says, "It feels like we are exploring new frontiers and we hope to play a small but important role in creating a brighter future for all."
Attaining Balance Requires Practice
Daniel believes that keeping balance for him entails compartmentalising work into fixed periods and then making sure that his downtime with family and friends is truly meaningful. It takes practice, he says, but the more he can stay in the moment, the more fulfilled he feels and the calmer he is. He says, "I feel rejuvenated when I need to jump back into work."  
Getting Bigger Everyday
Daniel has ambitious plans for Animis's platform development over the next three years. The team will continue to prioritise the Deep collaboration, and skill optimization capabilities. However, he believes that over time, Animis can grow into a powerful ecosystem that offers a variety of value-added services to assist organizations with regenerative sales performance, whether that's with advanced training to help organizations build stronger capabilities or providing deep domain expertise to help teams win more opportunities.
Animis is presently raising capital to fuel its next phase of expansion and is aggressively seeking senior leaders interested in partnering with them to develop the future of high performance B2B selling. Daniel says, "If you'd like to know more or just want to shoot the breeze about the future of sales, we'd love to chat."