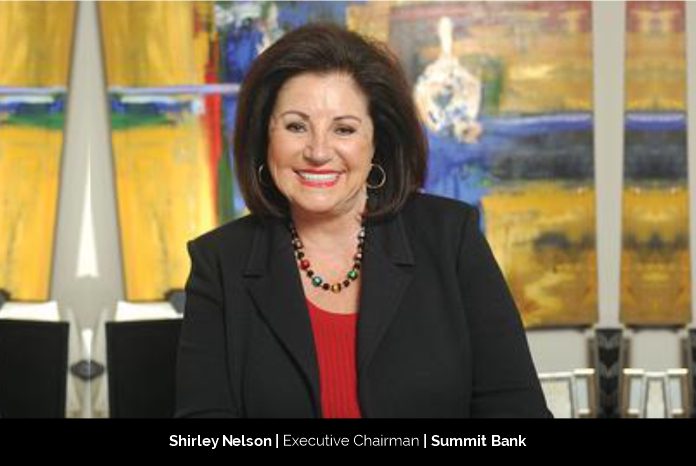 Shirley Nelson began her banking career in 1960s America. It was an era when the banking sector was dominated by men, especially in leadership positions. It was also an era when banks could refuse to issue credit cards to women. And in such an era, Shirley started working as a teller in a bank in Alaska.
The career that started in 1964 as a teller eventually led to Shirley launching a bank, named Summit Bank, in 1982. And in 1998, she founded the Summit Bank Foundation, the philanthropic arm of her bank, dedicated to promoting volunteerism and corporate support for non-profits in the Bay Area. Shirley now serves as Chairman of the Board and Chief Executive Officer of Summit Bancshares, Inc., the holding company for Summit Bank. She is also the Executive Chairman of Summit Bank and the Chairman of the Summit Bank Foundation.
Early Life and Challenges 
Shirley has created – and leads – an independent bank in California that is consistently ranked highly and praised highly. However, her ascent to the upper echelons of the banking world was not an easy ride. A graduate from Celina High School in Celina, Tennessee, Shirley did not attend college. She was a young mother when she joined the bank in Alaska as a teller, and the initial years of her career were tough. She encountered difficulties, and her male peers did not make her feel welcomed at work. "I faced adversity as a woman and found it hard to receive acceptance by my male peers," Shirley says.
After working as a teller, Shirley worked as a Branch Manager of a Bay Area Regional Bank for fifteen years. She quit the bank in 1982 to start Summit Bank. The launch of the bank on July 1, 1982, was the culmination of her two years of work. As someone who has never shied away from a challenge, Shirley says, "I set out to establish my own bank when I realized that promotion and higher salary opportunities were not available to me because I was a woman."
Shirley reveals that she was not the President of her bank when it opened for business as she lacked administrative experience. She also found it difficult to build deep and meaningful relationships with her male counterparts at other banks. But, ultimately, by sheer determination, commitment, and hard work, she became the President and CEO of Summit Bank. "Without a network to go to for guidance or advice, I set out to accomplish my goals and ensure that Summit Bank was a successful enterprise. It wasn't easy and required many long hours to learn what I didn't know I needed to know," Shirley says. "In time, I have developed a strong network with the CEOs of other local banks.
"In addition to the personal challenges that I faced, I also experienced challenges within the industry itself – the changes in federal regulations throughout the years, as well as the constant shifts in the economy, pose constant challenges to the risk we face every day, " adds Shirley, who now has an honorary Ph.D. from John F Kennedy University.
Summit Bank 
Bank products are essentially the same in almost all banks, but customer service varies from one to another. It is the one factor that sets one bank apart from its competitors. The customer service of Summit Bank, which is a full-service community bank, is so personalized that it stands out as the best among the community banks. Employees are highly trained and know the details about each client and treat them like a family. Clients feel that they are an important part of the Summit Bank family, seeing employees putting in the extra effort to build a personal relationship with them.
Summit Bank has earned a great reputation in the banking sector for one-on-one interaction with clients, special attention given to employees, and financial successes.
Summit Foundation
"I created the Summit Bank Foundation as a way to support the community in deep, meaningful ways," Shirley says. Its core focus has been education and health. Through the foundation, Shirley's team has supported early childhood financial literacy programs, provided college scholarships to high school students in Oakland, and funded stroke and cancer research at UCSF.
Shirley says that her foundation has promoted grade-specific curriculums, in the field of financial literacy, for K-12 students through newspapers in education program. They have also provided Oakland high school students with the financial support they need to continue their education. And, since 2005, the Foundation has provided 44 scholarships through the College Scholarship Program, and it currently has five funds that provide eleven scholarships to students each year. These scholarships will go on in perpetuity, Shirley says.
The foundation has also partnered with some of the country's greatest athletes, including Joe Morgan, Bill Russell, David Casper, Vida Blue, and others, to create scholarships for the underserved in Oakland schools.
And, in 2013, the Foundation began supporting cancer research at UCSF Helen Diller Comprehensive Cancer Research Center and has established Cancer Research Funds to aid doctors in pursuing a cure for cancer. The Foundation has funded clinical trials for lymphoma, breast cancer, acute myeloid leukemia, and multiple myeloma, according to Shirley.
"Our community work inspires our clients and other community partners, and I would like to see us support our communities in even larger ways than we have in the past," Shirley says.
Being a Woman in the Corporate World 
Shirley believes that while there have been some shifts in opportunities for women in the corporate world, there still seems to be more space and opportunities for men. Women continue to make less than their male counterparts and seem to need to prove themselves more often. She knows and believes that women make excellent leaders as they are creative, focused, loyal, and are the very best at multi-tasking. She thinks that companies need to work to ensure that more opportunities are available for women in the workplace. She has worked to create leadership opportunities for women at Summit Bank, providing them training and opportunities for growth. Shirley sees new laws that require publicly held companies to have at least one woman on their board of directors as a good first step in the right direction.
Even when facing her share of challenges, Shirley never misses the chance to help others. She loves being able to help people fulfill their dreams and become financially independent. "From the beginning of my banking career, I have enjoyed being able to provide support and help to people, allowing them to better their lives," she says. "This motivation has deepened throughout my banking career and led to the founding of the Summit Bank Foundation. "
A View on Current Industry Scenario 
Shirley started her company during a recession and when the prime rate was 21 percent. She says that she has led Summit Bank through many economic downturns. And, in this current environment, she is at a loss to project a vision. The world is different from before. Shirley feels that, economically, the industry is in a place where it has never been before. "I can't even wrap my mind around the huge debt of our country and the impact that will ultimately have on interest rates, which is a major risk for all banks," she says. "The new forms of currency require a discussion that is way above my pay grade. I just believe there is a huge risk in it. "
She further adds that the growth at Summit Bank has come from referrals of satisfied clients. She believes that people will always be people and that people will always have needs. She says, "Our strategy is simple. We will continue to do what we have done, and we will always do our best to take care of those we serve. We will remain competitive on the technology front and strive to be the best at what we do. "
Learn from Your mistakes and Have a Passion for What You Do
"I have always considered my curiosity my biggest asset, except for my son Steve, of course. I have learned banking by asking questions from my first day as a teller at the National Bank of Alaska to my current positions," Shirley says. She believes that people learn from the mistakes they make and believes that everyone should train others by giving them the authority to fail.
"My curiosity has helped shape my innovation, which led to the birth of Summit Bank and, in 1998, the Summit Bank Foundation," Shirley says. "You need to have a passion for whatever you are doing. You have to love what you are doing to be successful. Be sure to always feed that hunger for curiosity. As mentors in leadership, it is our responsibility to lead by example, to teach and share our knowledge and lived experiences, to be inspirational, and to create opportunities for those who are coming up as emergent leaders."
And Shirley's vision is to continue to focus on maintaining continuity and success within Summit Bank.