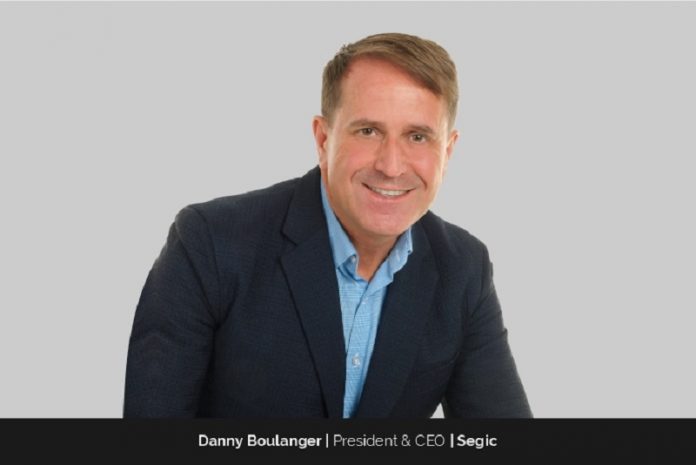 Danny Boulanger is a born entrepreneur and the President & CEO of Segic. Over the last 25 years, he has created a name for himself in the IT industry, thanks to his flair, passion, and excellent business sense.
In 2014, Danny recognized a huge opportunity for innovation in a field that had been stagnant for the previous 30 years and decided to develop a global benefits platform – a software system that handles employee benefits packages sponsored by the employer.
Segic Inc. was founded in May 2015, innovating in the global benefits sector, as one of the few Quebec companies servicing the full spectrum of needs within the insurance group and corporate benefits market, by providing a global platform that democratizes benefit selection and delivery.
Segic's objective is to provide a technological platform that allows businesses to democratize and simplify the delivery of their benefits and manage their worldwide benefits in one place. The platform's cloud-based design and success is based on Danny's innate business development sense and people-focused approach.
Through Segic's platform, any business, association, and union can implement technology to provide easy, democratized benefits plan access to its members.
As a leader, Danny is known for his ability to deliver results and for the importance he places on maintaining quality, sustainable relationships with his clients, partners and employees. He has been praised for his vision, innovation, integrity, honesty and reliability; strengths that are reflected in everything he does.
An entrepreneur at heart
Danny has always been an entrepreneur at heart, having started his career at Xerox in 1985. By early 1990, he had already understood the power of differentiating oneself from the competition, in that if your competition plays baseball, you must make your client love football, and be the best at football.
As a result, he signed the first Canadian exclusive agreement between Xerox and Bombardier Aerospace. For five years, the client faithfully bought Xerox copiers and faxes, and Danny offered his services as a consultant to help them implement a printing strategy.
In 1993, he repeated a similar feat with Air Canada and, in the first year, managed to save his company over a million dollars by implementing a printing strategy. "Since I left in 1995, I don't think anyone repeated these achievements. Is it even possible? Who knows?" he wonders.
In 2015, Danny came into the group insurance business with no knowledge of the field. Through his naiveté, he managed to take a critical look at the approaches or methods that were in place — often for the past 50 years — and develop a disruptive business model backed by a technology platform.
The company pushed the model toward democratizing group benefits by integrating group insurance delivery, group benefits, and other benefits an organization wants to offer.
Helping Segic find their blue ocean
Danny recalls that in 2021, Segic was in a middle of a round of funding, and their business model was appealing, yet ultimately complex, for potential investors. He worked hard with one of their shareholders to keep refining the model, until it finally clicked at the end of January 2022.
"That was where we found our blue ocean," Danny observes, noting that they hit it out of the park right from their first presentation, in early February 2022 of their group benefit democratization model.
Since then, clients, current and future shareholders, prospects, the Canadian and U.S. markets, and everyone else has been amazed by their business model supported by their technology platform, with companies literally knocking on their door and shouting, "Let me in!" Their latest challenge is accelerating development on the platform.
Danny notes that Segic's integrated SaaS distribution platform and unified approach make it an excellent choice to help their clients deliver and manage group benefits. It can implement a comprehensive coverage strategy that includes health and wellness and is tailored to the needs of their clients and their plan members.
Danny believes that success, for himself and Segic, is closely tied to their ability to support and assist their clients in achieving their organizational goals and strategies. Segic's value-add is offering a technology platform that targets their clients' challenges and opportunities, which in turn, guarantees success.
"Since we're in the business of global benefits, success means making sure we're sharing our company's wealth, seeking balance for our employees, and most importantly, always going to bed at night telling myself: I'm a good person," says Danny.
He points out that the company culture at Segic is rooted in their ability to innovate, disrupt markets, and sustain their obsession with client satisfaction.
Segic believes that leadership from employees must also be prevalent throughout the organization and strongly supports meritocracy and holocracy in its management approach, by making leadership a collective effort.
Danny notes that Segic's ongoing challenges in the global group benefits technology segment are ensuring that they bridge the gap between their vision and implementing said vision into broad value-add features for their clients.
However, he also believes that the biggest challenge, far from being technological, is finding a business model that targets the real market issues, which takes them to their blue ocean.
"I believe being a leader means coaching our employees and working for the company's overall benefit. We have to cast aside our egos to serve our clients and shareholders," says Danny.
Preparing for new trends in the world of group insurance
For Danny, being a leader means being attentive to the market, their customers, and trends; and anticipating demand to drive their teams to build the needs of yesterday, today, and tomorrow.
"Passion is the kind of energy you need, to be considered a leader by your peers," states Danny, noting that the insurer's role in the group insurance world has always been odd to him.
He points out that since 80% of group insurance is expense account management, this part is sure to slowly give way to self-management, and a global approach to managing group benefits in companies.
"The trends are strong, and insurers are well aware of them," he says, noting that in this context, they'll see new practices from group benefit consultants, along with suggestions for expertise on a global approach, and democratization of group benefits.
Danny predicts that different financial providers will suddenly be able to ramp up cross-selling for their financial services and sell a range of value-added services to the same client.
In addition, brokers must become expert consultants with expanded services to advise companies through a holistic approach to benefits, and target business challenges or opportunities: health, employee retention, attracting new talent, productivity, and more.
Helping companies worldwide foster their employees' well-being
At Segic, Danny's duties mainly involve developing a vision, fine-tuning the business model, and ensuring that key management elements are under control, meaning platform development, financial management, and human resources management.
"Naturally, we've adopted an inbound marketing approach, which I'm also overseeing, as I'm in charge of business development," he observes.
As an epicurean, Danny focuses his energies on happiness: family, friends, food, and balance in life. He had a wine club for 15 years, and also founded a bike club in 2015, with 100 active members hosting activities all summer long.
"I finally achieved true balance in my life seven years ago. I start my day very early in the morning but make it a point to stop working at 5 p.m. every day. My main happiness drivers are the ability to create and ply my passion at Segic," he declares.
Selgic applies the same concepts to their employees and is constantly working to find creative approaches to spoil their employees and share their success. "Our employees' well-being is an ongoing concern," states Danny.
Since the beginning of the Segic adventure, Danny's goal has been to turn it into a major corporation. They have recently taken a major step toward accelerating their development in the North American market.
"My medium-term goal is to enable companies worldwide to democratize their group benefits to foster their employees' well-being," Danny points out.
He notes that while their company is undoubtedly innovative, it's his personal pride to pass on new models, technologies, and approaches to companies that target the health and well-being of their employees.
"We need to work together to strike a balance in our lives so that we can always have a sense of happiness every day," affirms Danny.