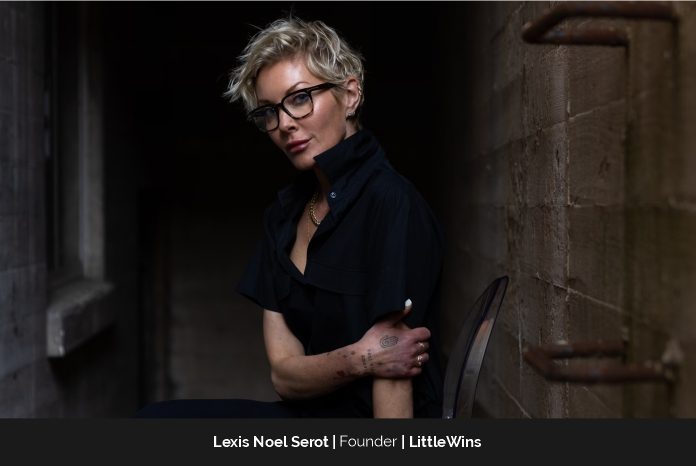 Lexis Serot founded LittleWins after becoming a mother, because when she discovered her daughter had cerebral palsy, she immediately began researching ways to help her. She had worked all over before becoming a mother; in fact, she had been working since she was nine years old. Lexis felt obligated to contribute to her family's well-being in some way, so she began washing dishes at a nearby restaurant. She has worked everywhere she has been able to since then. She states, "I became a server when I was older, cleaned houses, and started taking as many side gigs as I could. At 19, I packed two small suitcases and tried to find my home." She was unable to financially finish college and later became a model at Ford. She was a full-time model, and then she became a mom.
In November of 2013, Lexis gave birth to twins, one of which had suffered a skull fracture during a C-section delivery. As a consequence, Ava was diagnosed with Triplegia Cerebral Palsy. Lexis felt resolved at that point to offer a better life for not just her daughter, but also for the other residents of the neighborhood.
Taking the Step of Faith
Lexis Serot does not have any official medical training. She graduated from Columbine High School and went on to study photography at Flagler College. Serot worked as a model for Ford Models for 14 years since he couldn't afford to attend school. In 2013, Serot became a mother when her daughter Ava sustained a skull fracture after a c-section birth. As a result, Ava has cerebral palsy with triplegia. Serot was startled at the moment, as the mother of a kid with cerebral palsy, at how unprepared she was. She attempted to become acquainted with the many types of treatment, equipment, and therapy. She rapidly saw how dysfunctional the system was and got concerned with finding a remedy. So Serot decided to establish his own business. In an interview last year, someone asked Serot why she launched LittleWins. She said that I saw that life was providing me a "at-bat" to make the world a better place for my kid. Her daughter is the one that encouraged her to become the leader she is today. Serot desired not just a better environment for her daughter, but also for others with disabilities, as well as a community in which they could join together and aid one another.
A Caregiver for Children with Disabilities
LittleWins was founded in 2018, and Lexis began establishing the basis for it that year. Since then, Serot has worked with online and e-commerce developers to constantly improve the LittleWins.com website while also managing a marketing assistant and marketing communications firm. She collaborates extensively with her legal and financial counsel. She works with regional and national organizations that provide assistance to people with impairments. She collaborates with other female entrepreneurs who provide goods and services to her neighborhood. The discovery process began in 2019, and the website was released in November of that year.
Serot began exploring how the site may support her community's needs beyond durable medical devices after founding LittleWins.com in 2019. She develops and publishes on LittleWins' online support forum on a regular basis, receiving and sharing comments to help people with disabilities and their families live their best lives. She developed a collection of LittleWins merchandise, including beanies, trucker hats, and t-shirts, to help grow the LittleWins brand. Serot has launched her own blog and podcast to aid other members of the LittleWins community with their queries and worries. She discusses uncommon themes such as "Sex and Disability," "Self Idenity," "CBD," "Hospice and Palliative Care," "Adaptive Footwear," and many others. Serot has never refused a topic request, and she always goes above and above during the research process. She spends hours researching each topic in order to deliver the most educational, vulnerable, and open dialogue to individuals in need. Serot seeks out specialists to interview and hopes that listeners will connect with these resources.
Lexis Serot talks about navigating her daily life as well. For example, must-have items or services that she has personally used with her children to make life simpler. She recently talked about the summer essentials that her four children helped her choose. She also discusses the people she has met who have assisted her on her path, such as her daughter's therapists. Serot has begun to provide a support system through her community, which is not common.
Lexis believes that equipment and supplies should be easily accessible. LittleWins.com was started by the mother of four children, one of whom has cerebral palsy, to connect and support people with disabilities and those who are working to improve their lives. LittleWins.com uses the power of community to assist its members in purchasing, selling, or donating medical equipment, obtaining knowledge, and connecting with others. On the company's website, members may list and explore equipment by category and region. They communicate with buyers and sellers directly via the site's app. On LittleWins' social media profiles, they provide insights, experiences, and guidance.
People with disabilities deserve to say, 'There is nothing I'm not worthy of.' LittleWins goes to bat for every one of them," says Serot.
Working on Women Empowerment
Lexis has always been a girl's girl. She believes it is past time to recognize all females in all industries for their incredible contributions.She says, "Honestly, I feel like I have been achieving this through my podcast." She takes the time to find professionals and people to be a resource for the LittleWins community, not just them but everyone else as well. She has met some incredible women with extensive backgrounds who have made strides in their professional industries.
Lexis has also teamed up with female entrepreneurs such as Hotsy Totsy Haus CEO Christi Leonardi, a deaf single mother, to create LittleWins-branded, natural ingredient bath bombs that are now sold on the LittleWins website. She wants to show her 3 daughters and son that women are capable of doing anything and that they deserve a seat at the table like everyone else. Lexis wants to uplift and bring us together at that table because no matter what shape, size, race, or economic status, all of us.
Leading LittleWins to New Heights
In February 2021, LittleWins was named a Top 100 Healthcare Visionary by the International Forum on Advancements in Healthcare, previously known as the Smart Health Conference. Lexis received the award at the IFAH Global Healthcare Conference in June 2021. Just recently, in March 2022, LittleWins was awarded as one of the Best Companies by the Health 2.0 Conference in Dubai.Lexis also gave a keynote speech while attending the health 2.0 conference in Dubai.
Lexis was also awarded Fast Company's World Changing Ideas in both 2021 and 2022 and was recently recognized as one of the Top 10 Most Influential Women in Business in 2022 by INC magazine.
Improving with Every Challenge
"Challenges are just the small obstacles on your road to success," says Lexis. She believes that if there were no hurdles, everything would be easy and everyone could do anything. There are those that will not stop attempting to overcome them in order to make our lives better. LittleWins is now facing several problems as she contacts various nations in order to make LittleWins available internationally. She is constantly contacting legal and financial consultants to work through the terms and conditions as well as the privacy rules of other nations.
Lexis funds LittleWins privately, and she wears every hat in the firm. Funds for advertising to spread the news are limited. Serot normally allocates cash to service and safeguard LittleWins users.
LittleWins is always seeking new people to help them submit additional listings. Users may also mail things to one another, and premium members have access to a set shipping cost with FedEx. Lexis had worked hard to establish a connection with FedEx. She had spent several hours on the phone and in email with numerous FedEx experts and personnel.
Lexis struck an arrangement that allowed premium members to access this pricing with the goal of making shipping a possibility for users. Though delivery is accessible, most consumers have difficulty obtaining particular things that they absolutely need. Frequently, numerous users are interested in the same listings. If every person had a piece of equipment or supplies that they no longer needed and uploaded it on the LittleWins website, she would help more users on the company's site.
Responsibilities as the Founder of LittleWins
Lexis' work and personal life as a mom are very meshed together; most of the time, her kids come crawling into her bed in the middle of the night, leaving her restless for many hours. She is usually up fairly early and usually has some time to check the analytics of LittleWins and user engagement. Her kids and she start getting ready for the day. They have a fresh breakfast every morning before school and head out.
For a couple of hours, Lexis is typically in meetings while her kids aren't at home. She says, "I usually take a lot of phones or Zoom calls in order to make it easier for me to be at home in case of an emergency." She makes sure that she can drop off and pick them up from school every day.
Running a startup and financing it herself has led to Lexis wearing many hats besides being founder and CEO. She also checks daily on social media platforms and emails. She ensures that the community members of LittleWins can always reach out in order to get what they may need. While constantly checking for user feedback and coming up with solutions, she also creates the social content required across all of the company's platforms. LittleWins also has a Facebook forum in which community members can share needs or resources they have.
Success for Lexis
Lexis defines success as the ability to attempt, whereas failure is defined as the inability to try. To me, success is when you keep attempting an idea and spend time and effort into finding a solution, even if it finally fails. LittleWins was not simple to build; it took months of nonstop effort. There were many hurdles and failures along the way, but those failures ultimately paved the route for her success. LittleWins was founded with the intention of assisting just one individual. Lexis states, "I thought to myself, if I can help another person in this system figure things out, then it can't be that hard to help others also. I would try and fail, but still try to tackle the problem again. I slowly became afraid of not trying because that meant failure." She was determined to change the system, so she did. If she stopped trying, she would've never succeeded, there was no challenge she wasn't ready to take on.
More Support and Community Work in the Future
Lexis is continuously seeking new methods to benefit the community and deliver items that will aid and care for them. She is now working on the introduction of a LittleWins medical supplies subscription box. Users can sign up for a monthly subscription of medical goods tailored to their unique needs. Bandages, gauze, antiseptic, hydrogen peroxide, feeding tubes, and other everyday supplies are often reordered.
Lexis strives to make it easier to obtain these necessary goods at a reasonable price. She has also been developing braille labels. She sees the importance of these labels for not only those who are visually impaired but for everyone. 8.1 million People have vision loss due to age-related macular degeneration. As we grow older, our eyes grow weaker. Lexis believes that these labels can make everyday life easier for everyone and can help improve navigating your home as you get older.  She says, "That these new advancements are not only helpful to those with a disability but the general population as well. The subscription box will make it easily accessible for users to get the daily supplies they need right to their doorstep." LittleWins is also working on partnering up to provide transportation services for users.
Quotes: I'd venture to say, we are the ones who can bring about the change that's needed here.
I'm gonna swing like hell. I hope you do too." – Lexis Serot, Health 2.0 Dubai, 2022