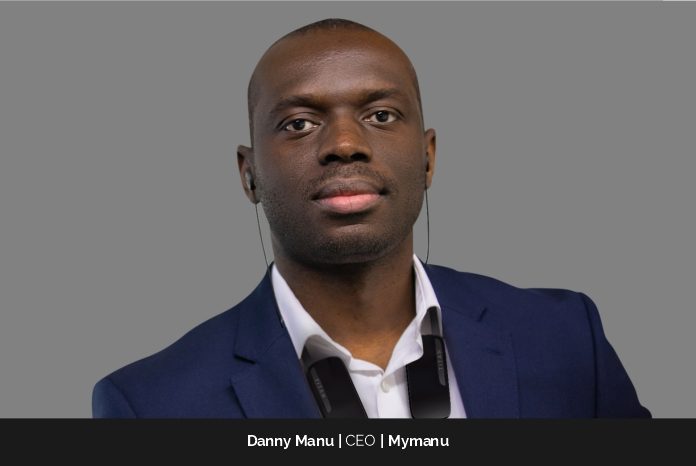 Innovation has been the key factor in wealth development since the beginning of time. Because of the numerous problems that innovators have creatively addressed, life on Earth has been significantly simpler. There is no denying that life would be much more challenging without creative brains. And for that reason, we use every opportunity to celebrate them. One such visionary is Danny Manu, a British-Engineer businessman of Ghanaian parents who just created earphones with built-in language translation.
Danny created Mymanu Play, an innovative music player software that lets music fans and audiophiles quickly access all of their playlists and streams from one platform while exploring and generating new sounds everywhere around them. In order to build a bank of fresh sounds that people can find wherever they are, he has connections with major music streaming firms like Spotify and Apple Play and is working with music publishers and musicians. The MVP version of the app is already available on Google Play and iTunes.
The Undying Passion for Entrepreneurship
Danny has always had his own business. At a very young age, he began playing a few instruments in churches. He used to spend the entire Sunday in London performing at various concerts because people liked what he did. He then organized a band with other young people. Danny learned how to play additional instruments on his own so he could fill in for band members who were ill and also create his own music. He recalls, "So as a teenager I already had my own business. Then I set up my own music studio, recording new tracks for R&B and rock musicians in the UK and the US. I love music."
After earning his engineering degree, Danny began working as an engineer for an aerospace company. He had to design new parts, run the precise machinery to make them and test everything afterwards. The effectiveness of the plane can be harmed by a flaw even as minute as a 100th of a millimetre. Even though it was a significant responsibility, he enjoyed creating new things.
Since Danny loves music so much, he decided to develop and manufacture his own earbuds one day. He was aware that he had to think of something original. He shares, "In the aerospace industry, we had to deliver and attend workshops in Germany. Most of them were in German, and most of us didn't speak German. So, I thought it would be a good idea to have a device that could translate into different languages simultaneously. That way, you could use it not only during professional workshops but also when you travel. No need for a human translator." So, he worked on this concept for 3 years, went on crowdfunding and then quit his job to focus on this. In 2017, Mymanu Clik + was launched.
Becoming More Resilient with Every Challenge
Danny believes that as a black business owner in the UK, he had greater difficulties than his "white" competitors. Financing is one of his main obstacles. Banks and innovation organizations in the UK with private and public funding are wary about taking chances. Since creating the first totally wireless device with 2-BA drivers entailed a greater risk for them, Danny was denied a loan. He lacked connections to the appropriate networks that offer private funding or equity. Some of his business colleagues who had less disruptive ideas—or none at all—got private money more quickly and easily. He notes that the majority of them—99%—were not black business owners. This meant that he had to work twice as hard as they did, generate his own sales of other products and put aside most of his wage in order to save enough money to pay for R&D.
"In consumer tech, standing out is essential, so R&D and innovation is a must."
Danny's other challenge was working with the right people. He sees that whilst many people want to help without any other ultra-motive, some have a dark side. He shares, "For instance, they would offer their services free-of-charge. Then, they would suddenly ask you to pay for the services delivered, knowing that your venture is still at an early stage and their support has not delivered any sales." Fortunately, Danny is a positive, but this has shaken his faith in humanity. He is now more careful yet more resilient.
Susman Mymanu
Under Danny's direction, Mymanu is a thriving company. Being a hands-on CEO, he enjoys becoming engaged in every facet of the company. Since he has been a one-man band for many years, he has little choice but to learn how to assign certain responsibilities so he may concentrate on expanding the firm. He has now succeeded in assembling a highly capable group of seasoned directors and managers who support him in guiding the company toward its objectives. Danny considers himself to be a visionary and wants the business to be at the cutting edge of innovation. The Mymanu Clik +, the first totally wireless earbuds with 2BA drivers, were delivered and completely sold out. The company is currently selling the Mymanu Clik S, the updated model. The Mymanu Clik S translation earbuds are the most functional since they combine translation services with all the essential elements of a sports earbud, such as HD sound, a 30-hour battery life, and soft eartips. When using Clik S, one may purchase an excellent pair of workout earphones and receive the additional translation for free.
Danny has also assembled a potent group of programmers to concentrate on its unique and exclusive applications. Like the MyJuno translation app's online group translation. This makes it possible for users located all over the world or in the same area to join groups of more than 50 individuals and communicate in their native tongues. This has numerous applications, such as sharing AI knowledge or teaching new skills to people in remote areas or from disadvantaged backgrounds.
Life as a CEO
Danny may best be described in one word: ambitious. He sets daily goals for himself in order to accomplish his long-term objectives, moving him one step closer to them each day.
In Danny's typical day, he would get up early to check on the status of the business's R&D and chat with foreign manufacturers, engineers and developers. Then, since the brand is crucial, he will meet with the marketing team and agencies to work on the plan or participate in interviews. After a quick breakfast, he immediately began making calls with the sales staff to find prospects, talk about problems or existing sales, and even attend client meetings.
Danny then has dinner before moonlighting as an engineer and product manager to develop the brand's next product and then 4 hours of sleep before it's time to do it again.
Danny's best recognition is the awards he has received for the products he has developed. From the Red Dot Awards in 2018, the CES Innovation Awards in 2019 and more recently, the Innovation Awards Top 20 Finalists from Amazon that recognize the most innovative products across Europe and the UK.
Focusing on Building Brand
When it comes to work-life balance Danny can't remember the last time he went on holiday. He says, "Most experienced leaders would say they try to keep a good balance. However, they would also tell you that when you start a business, you need to focus on the work to achieve anything and overcome all the challenges coming your way." Danny believes it's crucial to concentrate on creating a trustworthy brand, stay one step ahead of the competition, and please all of his present and future customers in order to create a long-lasting company. Since Mymanu is pursuing the expansion plan, labour is the order of the day right now.
Every now and then, Danny likes a glass of wine and a Netflix show. He has a very different approach toward his staff. He exhorts people to take pleasure in their jobs, spend time with their families, travel and engage in other activities that bring them joy. Even if the corporation has procedures in place to support this work-life balance.
Success that Brings Revolution
Success for Danny means that he has achieved something that is very important to him personally or professionally. Something that required him to push himself to sometimes do something no one else had done and overcome his challenges. For instance, in 2017, he was the first to develop the world's first truly wireless earbuds equipped with 2-BA drivers that could translate into 37 languages. No one, not even the big tech multinationals, has ever done it and no one has replicated it so far. As a sound and aerospace engineer, he is feeling so proud about this. It took Danny a lot of hard work and effort, so he is really satisfied with himself.
Aiming to Make Difference
Danny has big plans for the Mymanu brand. The brand is developing the world's first eSIM-powered, voice-controlled earbuds that let people make calls, send texts, listen to streams, and obviously speak in 37+ languages without the phone. He states, "Your phone can be turned off or thousands of miles away! This, again, has never been done before! We will start shipping it in early 2023, after CES in Las Vegas. We are currently taking pre-orders. I am so excited about it."
It is very important to Danny that Mymanu will also add unique features to its software so customers can make a difference and together build a better world. He shares, "We are billions on Earth and I aim to make a difference – even a small one – to the world we live in."
So, Danny's advice to aspiring entrepreneurs would be to think of what they like, the reasons why, and what issues they'd like to address, and try and build a business around this. That way, their own values will shape the business that they are passionate about. He states, "If you have fun, you don't think about working. You just do what you like."  He also advises not taking "NO" for an answer and conducting your own research. He asserts, "If those people say NO, challenge them. People never thought a machine would help humans speak another language! Look what AI can do now."
Approaching for Transforming Innovation
The market for consumer electronics is extremely competitive. Being a start-up is difficult when your competitors are billion-dollar corporations. Mymanu thus focuses on creating novel products—things that don't yet exist. The big IT corporations have been less inventive during the last five years. They buy start-ups because of this. They can respond to client requests more quickly and enter the market more quickly because of their agility.
Danny's goal for the business is to create a linked eco-system of hardware and software that will enable individuals to get over major societal obstacles like the language barrier. People have experienced a variety of negative effects, from ordering the wrong food to breaking up with recently met partners to developing xenophobia or hatred for a particular group of people. These effects range from minor ones, like not being able to fully enjoy their holidays with local people or ordering the wrong language. The same is true for firms, which may lose billions of dollars annually because they are unable to contract with suppliers who are more affordable or market their goods to new clients.
The mission of CEH Technologies is to advance technology frontiers and create accessible solutions for those individuals and organizations impacted by these issues. Together, they can create a better world.
Danny's second version is now selling across the US and Canada on major platforms like Walmart, Bestbuy or Stacksocial.
Website: mymanu.com