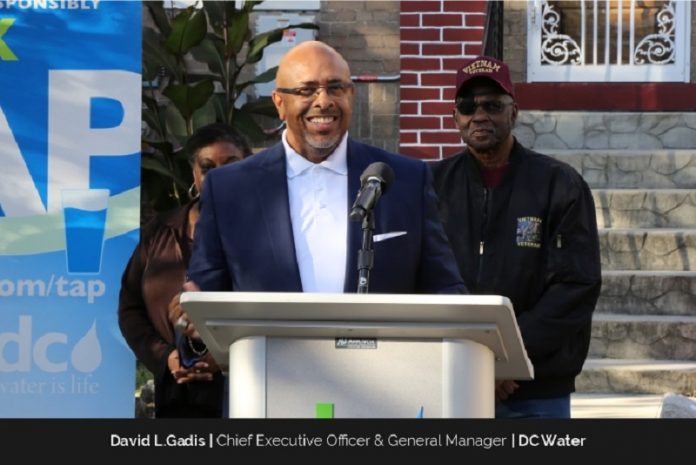 David Gadis, CEO and General Manager of DC Water, developed his winning mindset playing basketball in Indiana, where high school basketball is very serious business.
"There's no other measure of success in basketball than winning games, and that's what I want to do," he declares. "I want to win. I want to win for our customers by keeping rates affordable and delivering. I want to win for our employees by creating a working environment built around People, Place and Pay. I want to win for our community by extending water equity to every customer, including the eradication of lead pipes within the district."
Learning important lessons about equity early in life
As the Chief Executive Officer and General Manager of DC Water, one of the nation's largest and most well-regarded water utilities, Gadis is in charge of a $1 billion annual budget and a workforce of approximately 1,200 people. However, his early life was much more humble and filled with challenges, which taught him important lessons about equity along the way.
"I'm a third-generation water professional. My father and grandfather both worked for the Indianapolis Water Company. In fact, between 1932 and 2000, there was always a Gadis working there," he recalls.
As a child, Gadis would watch his father come home from work. On most days, he was dirty and exhausted from a long day of digging trenches or installing pipes. "One day, he came home especially filthy. I looked at him and said, "I don't ever want to do what you do." Without missing a beat, his father looked at him and said, "Then you'd better get an education."
It wasn't until years later that David realized that his father, and his African American colleagues at the Authority, had to go home dirty to their families because they didn't have a shower or locker room facility. They had to use separate entrances and separate water fountains.
Although this sort of disparity was typical of the era, the fact remains that his father and his African American colleagues were treated unfairly. Despite being some of the most reliable workers in the company, with their hustle and positive attitude, they were never considered for management or leadership roles.
"As far back as I can remember, I always promised myself that if I was ever in a position to lead an organization, I would make sure that every person under my leadership was treated fairly, regardless of race, gender, age, or any other criteria," Gadis explains.
As a result, equity matters a great deal to him, which explains why he has such focus on delivering equity to every person the Authority touches. Whether it is their customers, employees, small business partners, or the broader community, DC Water is committed to delivering equity at every opportunity.
A winning mindset that set the stage for an illustrious career
Gadis' illustrious career began with him becoming the first Indiana All-Star basketball player at Pike High School in Indianapolis. He attended Southern Methodist University on a basketball scholarship and was a four-year starter and team captain before graduating with a B.A. in Marketing Communications. In 2014, he was inducted into the Indiana Basketball Hall of Fame.
He came to his current position as CEO and General Manager of DC Water with 20 years of industry experience, having previously served as Executive Vice President of Veolia North America, and as CEO and President of Veolia Water Indianapolis. He was the first African American CEO/President of that utility, as well as the first African American CEO of a major utility in Indianapolis.
"Long before I arrived at DC Water, the Authority had a reputation for innovation and leadership within the water sector. I had already been successful in Indianapolis with Veolia, and I understood the type of commitment and community inclusion it takes to lead a water utility to success," he recalls.
Gadis joined DC Water in May 2018 and is currently implementing a new strategic plan with a re-imagined vision and prioritized goals. Improving customer satisfaction and employee engagement, as well as committing to performance planning and business process improvement, are all part of this plan.
"I was fortunate to inherit a utility with a very skilled and committed team. From Day 1, my focus has been on taking DC Water to the next level, and a big part of that is addressing the equity needs of our customers, our employees, and the business community," he observes.
Gadis also serves as the Chairman of the Board of Blue Drop, a nonprofit sales and marketing affiliate of DC Water. He is also a member of the National Association of Clean Water Agencies (NACWA), the National Forum of Black Public Administrators (NFBPA) and was recently installed as a member of President Biden's National Infrastructure Advisory Council.
Additionally, he has served on the boards of the Indianapolis Urban League, Fifth Third Bank, Central Indiana Corporate Partnership, Indianapolis Sports Corporation, Indiana Business Diversity Council, Greater Indianapolis Chamber of Commerce, Indiana Chamber of Commerce, and Indianapolis Downtown Inc.
Delivering water equity to the community
DC Water has two significant projects that have become part of the national conversation around water equity. The first is the $2.7 billion Clean Rivers Project which, upon completion, will reduce combined storm and sewer overflows to the local waterways by nearly 98%. The second major initiative underway is the Lead-Free DC program, which will eliminate all lead service lines within the district by 2030.
"In our Lead-Free DC program, we factor in community equity considerations as part of our project prioritization process. Once you have established an organizational commitment to values that support corporate integrity, every employee is accountable for sharing and demonstrating these values, and it becomes contagious." "I would even say that our employees are inspired by our approach to equity and understand how critical that is from their own lives and experiences," Gadis reflected.
With the Infrastructure Investment and Jobs Act, water utilities have an opportunity to re-examine their own policies and practices and emphasize water equity when considering the placement and timing of infrastructure upgrades and installations.
Under Gadis' leadership, DC Water is delivering on its $2.7 billion commitment to construct a massive system of deep tunnels and other infrastructure to nearly eliminate combined sewer overflows to the Potomac and, Anacostia Rivers, and Rock Creek in the nation's capital.
"Maintaining a culture of integrity at DC Water is very important to me, and to the organization. It is reflected in our organizational values of Accountability, Trust, and in our Strategic Plan, Blueprint 2.0, Equity is cited as one of five imperatives that will be critical to the Authority's success in the years ahead," he added.
DC Water also offers first-in-class customer assistance programs and has expanded those programs to not only provide monthly discounts on bills, but also emergency relief for customers who fall behind on their bills.
His expertise in demonstrating how private firms can assist municipalities as valued partners in achieving significant cost savings has earned him a reputation among city and municipal leaders as an innovative leader and trusted partner who truly understands their challenges and desired outcomes.
"We also created the Business Diversity and Inclusion Advisory Council to engage community members on our equity efforts and get feedback on Authority programs and policies and how they affect those we serve and partner with," he explained.
Gadis has also formed a Stakeholder Alliance of city residents, business owners, faith leaders, and others to address the twin challenges of rising rates and aging infrastructure. The community is engaged with the Authority through their Stakeholder Alliance, the Business Diversity and Inclusion Council, and their Town Hall Meetings, which they hold virtually and in-person.
"It's not always about projects or prioritizing equity. Sometimes what really matters is having not only a seat at the table, but a voice in the process. That's why we have been very intentional about establishing a Stakeholder Alliance, comprised of customers, representatives from civic organization, elected officials, and the business community. You can't truly deliver equity to a community if you haven't heard their input," he reasons.
Nothing is softer or more flexible than water, yet nothing can resist it…
– Lao Tzu, Ancient Chinese Philosopher
Leveraging technology for the benefit of customers
David jests that DC Water stays abreast with the growing competition in the industry by keeping an occasional eye on the rear-view mirror. "In all seriousness, I do believe that DC Water is the best water utility anywhere. The women and men of Team Blue are the most inspired, committed, and talented team I have ever had the pleasure of leading," he remarks.
However, Gadis is quick to point out that it's not just them behind their success, as they're fortunate to have strong municipal partners in Mayor Muriel Bowser and the District Council.
"I really don't focus as much on the competition as much as how DC Water can be better tomorrow than it was today. How can we deliver savings and rate equity to our customers? How can we reduce our carbon footprint? How can we improve our resiliency against climate change? How can we improve system reliability?" he asks rhetorically.
Gadis notes that technology and innovation are key elements of their efforts to improve efficiency and service delivery at the Authority. They are always looking for ways to deliver tools for their customers, and support services to provide information to them.
"I mentioned our Lead-Free DC initiative, and an important part of our customer outreach on the program has been our interactive database of lead information, searchable by address, across the district. That's more impactful than you might think because it puts the information in the hands of these families. Once they assess the information on their address in the database, they're either reassured, that there is no lead on the property or they are given information on options for remediation. That's using technology to deliver equity," he emphasized.
This year, DC Water won the Smart Water Project of the Year, at the Global Water Summit for its innovative Event Management System (EMS) that acts as an early warning system for non-routine events, including real-time flood and water tracking dashboards, as well as an Incident Tracking Tool and Resource Management Tool. The system allows DC Water to provide a faster response time and reduce the impact of flooding and water system emergencies across the district.
Another example of how the Authority leverages technology for the benefit of their customers is – the High Usage Notification Alerts (HUNA) service. Through HUNA customers can opt-in to alerts that notify them of sudden changes in consumption patterns. When they experience issues like a broken pipe, or a leaking toilet, HUNA alerts customers of the higher water usage, so they can act before a large bill arrives in the mail.
Gadis also points out that, while no water utility ever wants to have a 'boil water' advisory (BWA), the truth is they are inevitable, and every utility experiences them. One of the keys to the successful management of a BWA is to get the information out quickly to affected homes.
The traditional methods include sending out a press release and making calls to media outlets in print, radio, television. But DC Water goes a step further with the creation of online interactive maps that are activated in emergency situations. These maps allow users to enter their address to determine if they live in an affected service zone.
Supporting the heroic work of front-line employees during the pandemic
So how does a successful leader like Gadis keep his employees and himself motivated? "I think now, more than ever, it is important to ensure that all of us find a sustainable work-life balance. The pandemic caused so many people to reassess what was important to them in a career, in a lifestyle, and reconsidering what matters most to them," he observes.
He also notes that 'The Great Resignation' has disrupted the labor market and caused an unprecedented number of workers to change jobs, and even change careers. In the water utility sector, this caused significant staffing challenges.
"When the pandemic struck, I made a concerted effort to stay closely connected to our employees, keeping them informed on pandemic-related news and any changes to our operational posture," he recalls.
As part of these efforts, he also had his Marketing and Communications team create a 'Front-Line Heroes' campaign to share the heroic work of their front-line employees who continued working in public spaces throughout the COVID pandemic.
"We shared pictures of them in the field, repairing broken mains, and even saving a puppy from the sewer system. It's so important to let your employees know that they are valued and that you are available and will be responsive to their concerns. We have built our employee retention program around the concepts of People, Place, and Pay, and when we deliver on those issues; we have happy employees who consider DC Water an employer of choice," added Gadis.
Working towards flawless delivery & environmental justice solutions
His vision for DC Water is that, from an operational standpoint, they deliver nearly flawlessly. "Flawless isn't really possible for a water utility due to a variety of factors, but I want us to continue to set and raise industry standards for performance," he remarks. "DC Water is at the forefront of the push for improved water equity in our community and we are leading that conversation on the national stage as well."
Gadis believes that they have an opportunity and a responsibility to address the glaring infrastructure needs of their most vulnerable communities, and to act as a steward of environmental health, mitigating the impact of climate change to the greatest extent possible.
"There truly is no regular day as CEO of DC Water, and that's one of the things I love about my job. I meet with the Mayor and District Council members. I present at conferences and deliver keynote addresses. I lead DC Water teams by celebrating our victories and addressing areas in need of improvement," he notes.
Ultimately, David is responsible for delivering on the organizational imperatives outlined in Blueprint 2.0, that the Authority functions in a manner that is: Healthy, Safe, and Well, Reliable, Resilient, Sustainable, and Equitable.
"I am humbled by the many accolades awarded to the Authority under my leadership. The accomplishments that mean the most to me are the ones that are changing lives and delivering water equity to the diverse communities we serve," he states, noting that he doesn't want to single out a specific award, because he's honored by every recognition and award earned by DC Water.
"If I had to choose only one, it would be my recent appointment to President Biden's National Infrastructure Advisory Council. Not only is that a tremendous professional honor, but it comes at a time when communities have new funding through the Infrastructure Investment and Jobs Act. It is an exciting time to serve and an exciting time to lead and deliver environmental justice solutions," he explained.
DC Water has a long-standing stature as a premier water utility, and David's goals are to take this stature to new heights. He points out that, whether through their community forums, ESG reporting, equity programs, or leading on climate and infrastructure needs, DC Water is now positioned to take its reputation for leadership to a new level.
"To that point, I would advise aspiring business leaders that they need to get involved and remember that you can't make decisions in a vacuum. As we have done with the Stakeholder Alliance and the Business Diversity and Inclusion Advisory Council, it is so important to gather community input and offer everyone the opportunity to be heard on water-related issues that matter to them," David recommends.