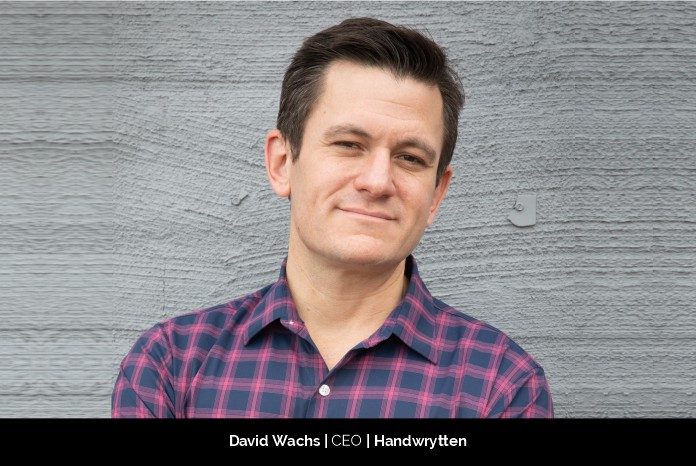 Success resides in accomplishing the set goals and aims for higher heights. Being a solid believer of this notion, David Wachs, CEO of Handwrytten, is steering the ship in the right direction. Besides financial metrics, he is focusing on building a team, positive work culture, phenomenal products with a raving user base, and solving a business need.
Journey to success
David's career as an entrepreneur began when he was four years old. He states, "I used to fill my older brother's toy wagon full of candy and go door to door selling it. In high school, I started my first true company, Macrologic Solutions, a computer builder and retailer. "
He went to the University of Pennsylvania, where he studied computer science, engineering, and economics at Wharton.
He worked in consulting, investment banking, and briefly in venture capital. In 2004, he founded Cellit, a leading mobile messaging company that sent millions of messages a day on behalf of leading retailers. The company was also an early player in building mobile websites and apps.
After selling this company, he wanted to thank his employees and clients for their business, faith, and trust in him.
He adds, "I did this by sending them handwritten cards, as I knew how personal and powerful handwritten notes could be. Soon, however, my hand cramped, I ran out of stamps, or I screwed up the note and hand to start all over. I knew there had to be a better way, so I started Handwrytten."
Today, people are inundated with electronic communication.
The average office worker receives 140 emails a day and spends nearly 25% of their day just managing their inbox. On top of emails, people battle with text messages, Twitter, Slack, and all other electronic messaging. Conversely, The average American only receives between 1 and 3 handwritten pieces of mail a month. This is why old-fashioned handwritten notes really stand out. Not only do they get opened 300% more frequently than printed mail, but they get read.
Handwrytten lets you send real handwritten notes, written in ballpoint pen, from your computer automatically. He states, "We integrate with major platforms, such as Salesforce, Zapier, Integromat, Shopify, and Hubspot, to automate the process too."
Getting stronger with challenges
When they started the company, they used off-the-shelf handwriting machines called "Autopens."
They quickly realized the technology was not sufficient for our needs, the output quality was not realistic, and the company supporting the machines was not responsive to their needs. As such, they had no choice but to design their own handwriting robots.
David mentions, "This process took over three years and hundreds of thousands of dollars, but we now have a robot that is better than the old autopen in every way. Most importantly, the writing quality is near perfect and much more realistic than our old machine. We can also build them for less than we could buy the other machine. We now have nearly 120 custom-built robots and build more as we grow."
Filling colors in the art of handwritten notes with Handwrytten
Handwrytten offers the writing of handwritten notes on custom stationery. All notes can be in written envelopes and stamped with real stamps.
David states, "Our point of difference is the scale and speed of our writing, the authenticity of the writing product, and the quality of the stationery. We offer integrations for Shopify, Salesforce, Hubspot, Integromat, and Zapier. We have a full API that allows complete custom integration into our clients' systems as well."
Setting the standards with Handwrytten
Based on custom-built, proprietary technology, Handwrytten is the one-stop for handwritten notes. While on the client-facing side, they have a dedicated website to send orders either at once or uploading spreadsheets in bulk. They are also available on an iPhone app, an Android app, APIs, Zapier "Zaps," Integromate Integration, Shopify plugins, Hubspot plugin, and a robust Salesforce integration.
Moreover, even the internal team has personalized software for translating notes to robot commands and the robots themselves. David also shares, "We also have robust quality assurance technology that leverages computer vision and machine learning to ensure the right note gets in the right envelope. This speeds QA and decreases our already de minimis error rate."
Being the oldest provider of robotically written handwritten notes in the world, they strive to uplift the standard for high-quality writing, turnaround time, price, and integration options.
He also shares his goals, "We wish to reignite the use of handwritten notes in the business. We are still in the nascent stage of that, while we send about 10,000 pieces a day. I would like Handwrytten to open additional facilities in the United States and eventually around the globe."
Managing Personal and Professional Fronts
Being the CEO of Handwrytten, his crucial time goes into advertising the company's services via writing different articles and blog posts, speaking at virtual conferences, and being on podcasts. Not just this, he has also taken the responsibility to complete the SEO and SEM of Handwrytten ahead so that the company reaches new heights without any hassle.
Further, he says, "I still oversee the technology of the company and manage the programmers and engineers. A substantial amount of time is spent writing specifications for the developers, reviewing the latest designs and builds of applications, and planning out new features and integrations to add as well as improving the robots." Lastly, he also sits in sales pitches, and implementation calls for any necessary assistance required.
For David, balancing work and his personal life is essential, especially because he has his own family now including a wife and two small kids. Thus, he always tries to be present at dinner every night with the family and attend his children's sporting activities whenever they come. He then catches up to work later on emails. Even the work environment is no less than a fun family. He shares, "We have weekly team meetings that both provide updates to the team as well as try to keep the team motivated through activities. I try to praise employees publicly and criticize employees privately."
Promising Future plans 
As per David, Handwrytten is treading the path of growth and success with developing more robots and integrations into partner systems. Owing to their remarkable innovation, they are about to witness a 65-100% growth rate which is a great achievement for him.
On a personal note, he is planning to get more involved in the business community in Phoenix, Arizona. He aims to start mentoring teenagers interested in getting into engineering and serve as a resource to our local economic development council.
His advice for upcoming entrepreneurs is: Always get in over your head and never give up!