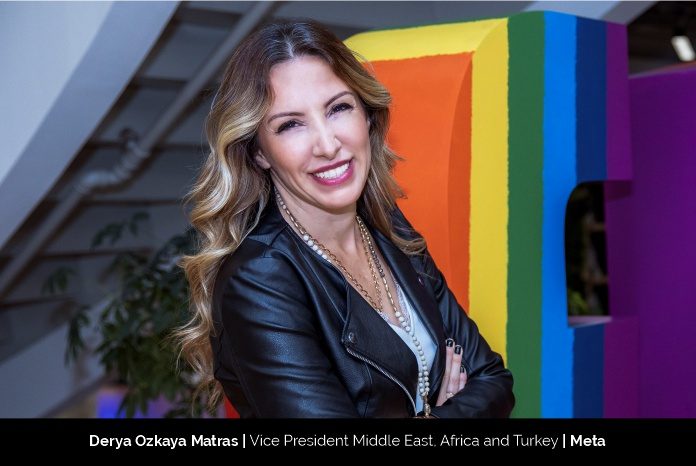 Every day, Middle Eastern women create magic by designing and sharing ideas, as well as inspiring and empowering millions of other women throughout the region, thanks to their creativity, enthusiasm, and determination. Women in the Middle East are spearheading significant initiatives, building businesses, and forming movements that will inspire future generations of women for years to come across all sectors and industries.
Derya Ozkaya Matras is Vice President for the Middle East and Turkey, Africa at Meta. Derya sees that technology doesn't stand still. She asserts, "The future of social technology is changing, and so are we."
Derya considers herself fortunate to be Meta's first woman vice president, elected from her region and in charge of the company's operations in more than 70 nations. Derya's work is stretched over multiple nations, diverse teams addressing cross-functional issues, because she manages a broad territory: the Middle East and North Africa, Sub-Saharan Africa, and Turkey.
Derya used to have many hour-long meetings before joining Meta, as opposed to the 15-30 minute appointments she now has. She has up to ten meetings every day, on issues ranging from product to revenue, influencer strategies, ministerial policy debates, and even roundtable sessions with community leaders.
Meta; the Digital Revolution
Facebook, Instagram, Messenger, and WhatsApp are among Meta's "family of apps." These apps and services, which are driven by a mobile-first strategy, allow users to explore new ways of digital storytelling while also assisting companies in reaching the proper audiences. Derya gets rejuvenated every time she checks her Facebook newsfeed, joins a WhatsApp group to communicate with her family, or looks at a friend's Instagram story.
According to Derya, the metaverse is the next step in online social technology, allowing people all over the world to communicate in ways that aren't currently possible. She asserts, "It will feel like a hybrid of today's online social experiences, sometimes expanded into three dimensions, or projected into the physical world — and seamlessly stitched together so that you can easily jump from one thing to another." Derya says that the team is excited to help bring it to life. She adds, "Our new company brand, Meta, better reflects who we are and what we are building towards."
Finding Your Own Journey's Purpose is the Key
According to Derya, she is frequently asked about the recipe for success, and she believes that the path begins with determining what success means to us: is it building the next unicorn? Getting to a position of political power? Or simply having a peaceful life with loved ones? She argues that this interpretation might vary based on one's life stage and that there is no right or incorrect meaning. She opines, "It is our definition, and we should own it. For me, it is closely linked to purpose." 
Derya has been particularly inspired by a quote from Picasso: "The meaning of life is to find your gift; the purpose of life is to give it away." She adds, "We spend the first part of our lives trying to find our gift: the intersection of what we are good at and what we love. It often does not come easily, but once we find it, giving it back to humanity makes our lives full of purpose and helps us leave a mark on this world." She found this process was a long one for her, but she eventually managed to name her purpose while listening to a college professor at a conference: leaving good children to the world and a good world to the next generations.
Joining Tech Sector
Derya was one of the very few women in her engineering class and has always been fascinated by technology and how it could empower people and communities. She has had many years of experience in management consulting, advising companies in different industries, and still hadn't crossed her mind to work for big tech until she got a LinkedIn message from Meta six years ago. She mentions, "The more I learned about the company's mission and values, the more I was convinced that I wanted to work here—so much so that, in my first interview, I said that I would work for this company even if I did not get the role. I guess that was "finding my gift moment".
Derya is still motivated every day by the scale, relevance, and effect of the company's work, as well as how it empowers and supports the region's communities and businesses. Derya sees her selection as an acknowledgement of the trend toward diversity in business leadership and gender balance as a woman leader in a fast-paced industry like technology.
View on Women Empowerment
Derya believes that women's empowerment and success are the core drivers behind the social and economic development of any country. She says, "When women do better, economies do better."  Derya observes that when women's economic security improves, so does their participation in work and leadership, which benefits business, industry, and entire economies. She goes on to say that, as several studies have pointed out, inequities like the gender wage gap not only violate basic conceptions of fairness, but they also jeopardize women's current and future economic security and represent a missed opportunity in human capital investment and potential.
According to Derya, women are critical to post-epidemic recovery. In fact, a new McKinsey Global Institute report warns that failing to take gender-responsive initiatives during the pandemic might result in a $1 trillion loss of global GDP by 2030.
Keeping Priorities in Check
Derya feels everyone is juggling so much at work and at home. The question she always asks herself is, "how many balls can I juggle at once? Because I believe we should be the ones to choose which balls to drop." Personally, Derya prioritizes family, work, and health. She believes in inclusive, strength-based leadership. As per her, this type of leadership requires active listening and making sure one is playing up the strengths of others. She says, "If we can leverage different teams and their various superpowers at the right moment, then we'll drive better results for the entire team."
Initiatives for Digital Transformation
"From everyday users to large global brands, and upcoming entrepreneurs, Meta's products are being used in a variety of ways in the region, which makes our journey here as exciting as it is promising," says Derya. She points out that digital transformation is well underway in MENA, driven by demand for secure, fast, and personalized online experiences across social communities and government sectors, and that this is influencing a number of Meta's projects.
Mentoring, coaching, and financing young outstanding future leaders from marginalized groups gives Derya a lot of meaning and purpose. She asserts, "In the next phases of my career, I'd love to increase my focus on inspiring and growing the next generation of leaders."
A Message for Woman Leaders
"As young girls, we are always taken care of as princesses. One day, my daughter Mira came to me and said that she wanted to be a Jedi, and not a princess," says Derya. She was curious to know where all this was coming from, so she asked her why. She said: "Mumma, Jedi is strong; you are like the Jedi, and I want to be a strong girl like you." This was the best thing Derya heard and the biggest recognition she could get.
Derya asserts, "Your success in life will never be defined by how you perform on sunny days; it will be defined by how you navigate storms." She claims, Meta has helped her discover that learning from failures is a powerful way to grow. She is a big believer in 'nobody grows in their comfort zone.' Leaving the comfort zone comes with making mistakes and failures. It requires a growth mindset and resilience. But as Derya mentioned earlier, finding one's own purpose is important to find that resilience. As Nietsche said "He who has a WHY to live, can almost bear any HOW".
Derya's message to aspiring business women: "Find your gift, live a purposeful life, prioritize ruthlessly, be resilient, learn and get stronger when you fail. Most importantly, enjoy the journey."