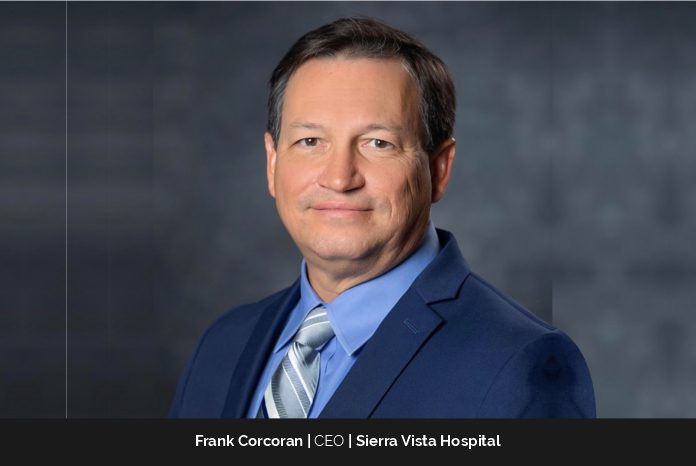 Being at the forefront of the healthcare industry is a formidable yet fulfilling task. The role demands a unique blend of expertise, skills, and personal qualities to drive positive change in patient care, organizational effectiveness, and overall health outcomes. In this feature, we delve into the inspiring journey of Frank Corcoran, CEO of Sierra Vista Hospital and Clinics, as he navigates the complex landscape of healthcare leadership.
In 2018, Frank Corcoran joined Sierra Vista Hospital as a Chief Nursing Officer (CNO) as part of a Turnaround Team led by Quorum Health Resources, now known as Ovation Healthcare. At that time, the hospital was facing financial difficulties, with only 5 days of cash on hand. In order to address these challenges, a loan was secured to fund a $65 million expansion project, aimed at replacing a 70-year-old building. However, realizing the need for financial prudence, the expansion was scaled down to a $40 million project, marking the beginning of a financial turnaround.
In 2019, Frank transitioned to another project in a Chief Executive Officer (CEO) capacity, focusing on a different turnaround initiative. However, in 2021, he returned to Sierra Vista Hospital as the permanent CEO. Through the collective efforts, Sierra Vista Hospital has made significant progress in improving the hospital's financial stability. Currently, it has achieved an impressive 135 days of cash on hand.
Forging a Path of Compassion and Leadership
Frank embarked on his professional journey in the Blood Banking Industry while pursuing a Pre-Med degree in college. During this time, he also volunteered at the University of New Orleans, participating in a Sugar Bowl Flag Football Tournament as a trainer and first aid station personnel. It was during this experience that he had the opportunity to care for an injured nursing student, who commended his compassionate bedside manner and encouraged him to consider a career in nursing.
Throughout his career, Frank has been fortunate to have several mentors who have played pivotal roles in guiding his path. However, it was Craig Cudworth, a seasoned hospital CEO, who recognized Frank's potential as an administrator and his innate desire to make a difference in people's lives. From their first meeting, Craig provided unwavering support and encouragement, propelling Frank into the role of an administrator.
While Frank has received numerous accolades throughout his career, one achievement stands out as particularly fulfilling. He spearheaded an innovative initiative aimed at monitoring patients across the hospital, implementing alerts for individuals exhibiting potential distress symptoms in the hospital setting. After a year of implementing this project, the organization witnessed a remarkable 40% reduction in mortalities and an impressive 76% decrease in Code Blue events outside of the ICU. This outcome brought immense satisfaction to Frank and reaffirmed the positive impact he could make through his work.
From Baseball Dreams to Healthcare Triumphs
Frank's youth was filled with a passion for baseball, and he dreamt of pursuing a career as a professional player. However, he soon recognized the challenges of making a living solely through baseball and embraced the invaluable lesson of humility that the sport imparted.
Before joining Sierra Vista Hospital, Frank gained experience working in various hospitals and later transitioned into consulting. His consulting work focused on assisting struggling hospitals in achieving financial and clinical improvements. This challenging endeavor brought its own rewards and satisfaction, knowing that his efforts contributed to the betterment of healthcare institutions.
If there were one word to describe Frank, it would be "Persistence." This characteristic embodies his unwavering determination and tenacity in facing challenges and pursuing his goals.
Delivering Critical Access Care
Sierra Vista Hospital is a Critical Access Hospital serving Sierra County and surrounding areas in Southwest New Mexico. The closest hospitals are 75miles in every direction. We operate 11 Medical Surgical Beds, 7 ED Beds, support 9 Rural Health Clinic Providers, and a World Class EMS department which covers Sierra County and surrounding counties.
Sierra Vista Hospital has expanded its range of services to better cater to the needs of the community. Its offerings now include Cardiology, General Surgery, Expanded Behavioral Health services, Sleep Medicine, Tele-Medicine Psychiatric and Neurology programs. Additionally, it has strengthened its healthcare team by adding four Rural Health Clinic Providers, enhancing its capacity to provide comprehensive care to patients.
Achieving Harmony
Frank prioritizes work-life balance for himself and his family. He has a strong sense of adventure and enjoys spending time outdoors, engaging in activities such as hiking and exploration. The location of Sierra Vista Hospital in the high desert provides ample opportunities for these outdoor pursuits. With the Lincoln National Forest just two hours away, the Gila National Forest only an hour away, and the Santa Fe National Forest and Pecos Trail accessible within three hours, Frank has a wealth of natural landscapes to explore.
Frank also recognizes the significance of promoting a culture of work-life balance within the hospital. He understands the importance of allowing employees to have time off to participate in significant family events, regardless of their scale. This culture fosters an environment where employees can recharge their energy, resulting in improved productivity in the workplace. By valuing work-life balance, Frank supports the well-being of his employees and encourages a healthy equilibrium between personal and professional lives.
Commitment to Healthcare Technology and Cybersecurity
Frank witnessed the transition from paper health records to advanced healthcare technology throughout his nursing career. The adoption of Electronic Health Records (EHR) has significantly improved patient care by streamlining data collection and enabling real-time decision-making. However, the rise of cyber threats has underscored the importance of robust cybersecurity measures to protect patient information. Frank remains vigilant in addressing these risks while maximizing the benefits of healthcare technology, ensuring the highest level of care for patients.
Inspiring Integrity and Empowering Innovation
Frank prioritizes integrity, holding himself and his team to high standards. He believes that integrity starts at the top, fostering trust and credibility.
Accountability is essential in upholding integrity, and Frank ensures that individuals take responsibility for their actions, promoting transparency and ethical behavior.
Frank empowers his staff, granting them autonomy and encouraging creative thinking. This approach leads to job satisfaction and innovative problem-solving.
The COVID-19 pandemic highlighted the importance of adaptability and creativity. Frank and his team swiftly adjusted their strategies to provide safe care, demonstrating the power of innovation in healthcare.
Revitalizing Sierra Vista Hospital
Sierra Vista Hospital has successfully turned around its financial situation, becoming a stable institution. The next steps involve replacing the remaining old hospital infrastructure to create a modern healthcare environment.
Expanding Behavioral Health Services is a priority for Sierra Vista Hospital. They aim to introduce Medical Assisted Therapy for substance abuse and offer Outpatient Partial Hospitalization and Intensive Outpatient programs to meet the community's primary needs in behavioral health support.
Through these initiatives, Sierra Vista Hospital is dedicated to addressing critical gaps, enhancing patient care, and contributing to the overall well-being of the community.
Measuring Success in Healthcare
Frank believes that success in healthcare is measured by several key factors. At the end of the day, success is achieved when patients receive appropriate care and treatment, indicating positive health outcomes. Engaged staff members contribute to a positive work environment and ensure the delivery of high-quality care. Building trust within the community is another crucial aspect of success, as it reflects the hospital's reputation and its ability to meet the needs of the community. Lastly, achieving a positive bottom line indicates financial stability, which enables the hospital to sustain its operations and invest in further improvements.
For Frank, true success lies in consistently meeting these criteria every day. When the hospital consistently provides appropriate care, engages its staff, fosters community trust, and maintains financial stability, it can consider success as its ultimate achievement and recognition.
Message to Aspiring Healthcare Leaders
Frank's message to aspiring leaders in the healthcare industry is to recognize and embrace the constant changes and transformations within the field. Healthcare is a highly regulated and complex business, and it requires leaders who are committed to the mission and challenges it entails.
Frank stresses the importance of striving for excellence in all aspects of healthcare leadership. Every decision should be centered around the patient and the continuous improvement of care. As leaders, their primary purpose is to care for those who are unable to care for themselves.
By keeping these principles at the forefront, aspiring healthcare leaders can make a positive impact in the industry, contribute to the well-being of patients, and drive the necessary changes to improve healthcare delivery and outcomes.