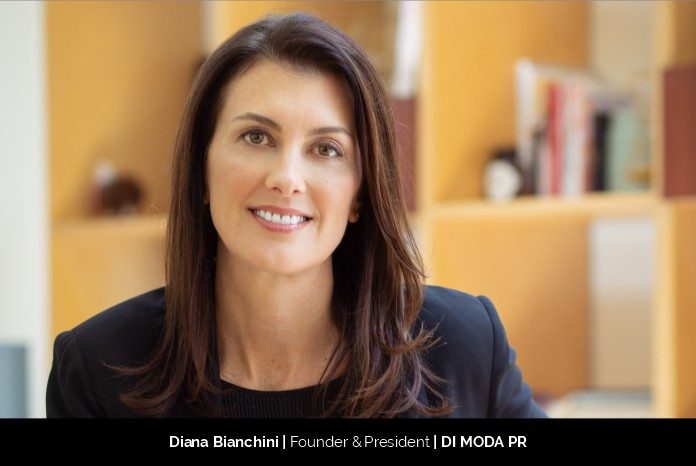 Diana Bianchini is living proof that a strong work ethic, innate talent, believing in yourself, and loving what you do pays off. She kickstarted her business at a low point when her life was laden with responsibilities, and the future looked uncertain. Rolling up her sleeves and summoning her signature determination and "can-do" spirit, Diana redefined her life path. Still, it was not an easy feat as her abilities and resolve were tested when our country languished after 9/11 and eventually fell into the Great Recession.
Building a PR Business from Scratch
While earning her bachelor's degree at UCLA, Diana initially aspired to become an Italian language teacher, focusing on language, literature, and art history. Working full time throughout college to pay for her tuition, Diana took a fashion PR job and discovered a love for the fashion industry and public relations. It changed her world and her direction. Upon graduating, she continued in her newfound career.
"Then the recession hit, and fashion industry collapsed," she says. "I was laid off and had a small child to provide for at the time. It was truly a rock bottom moment."
Yet if anyone can make lemonade out of lemons, it is Diana. She founded her agency, Di Moda Public Relations, in trying times and never looked back.  "I realized that if there wasn't a PR job out there for me, I'd create one myself. I had enough experience and talent under my belt to open my own agency and took a risk." Although founding and running a business were uncharted waters for Diana, her diligent efforts began to pay off. Gaining experience and building an extensive network of connections, she worked hard to survive in a competitive, fast-paced industry that requires continual innovation and creativity.
While growing her company, Diana surrounded herself with some incredible experts. "I leaned on mentors for advice," she says.
Changing Landscapes Evolved the Businesses
For the first few years, Diana continued to build a name for herself and her brand, diligently pitching the media by making calls, faxing, and mailing look books and catalogs. Although it was a slow process in the early 2000s, it helped build a powerful bond with journalists that proved invaluable. Then our world, and Diana along with it, underwent digital transformation. Improved technology completely changed the PR industry, opening up a new world of possibilities for more streamlined communication and success.
"When I first started in PR, you couldn't even send photos from a MAC to a PC," Diana says. "The industry evolved and sped up almost exponentially with digitization. Technology innovation has provided access to so many more channels, such as social media, to share stories, inspire audiences, and amplify clients' campaigns."
Her agency services include public relations, marketing, social media, influencer programming, partnerships, and special events. Di Moda PR's work for their clients garners awareness, increases sales, and boosts their success.
Meeting the Long-term Company Vision
Diana has always focused on more than her company's success. Since the very beginning, she has empowered and inspired others with her work.
"Making a positive impact is what I cherish most," she shares. Leaving no stone unturned, she gives 100% to whatever she undertakes. "My vision for Di Moda Public Relations has always been legacy-focused. We work with clients that care about leaving the world a better place to live in and share their true passions through what they create."
Diana says one of her most significant achievements throughout her journey is mentoring and inspiring young women in college trying to choose a career and graduates entering the PR industry. Eagerly sharing insights based on lessons learned from her stellar 18-year company track record, she spreads her message to aspiring businesswomen so they, too, can strive hard and achieve their goals.
Contribution and Recognition
A firm believer in giving back and paying it forward, Diana supports various philanthropic initiatives and charitable organizations. She is credited for her efforts to help leverage millions of dollars in donations to many Los Angeles-based nonprofits.
Recognized not only for her success but for her savvy leadership skills, Diana was recently invited to be a keynote speaker at UCLA's Women's Group Event and spoke on a panel at the Female Empowerment Conference in 2020. She has shared her wisdom and inspiration at numerous universities and colleges, including Princeton University, the Fashion Institute of Design & Merchandising, and Azusa Pacific University. She twice participated in the West Hollywood Women's Leadership Conference as a panel member and is an active contributor as a Forbes Business Council Member. The invitation-only organization's members are recognized for their depth and diversity of experience in leadership, management, customer engagement, technology, and growth.
Never one to rest on her laurels, Diana continues volunteering and pursuing philanthropic activities. She loves sharing her expertise in public relations, social impact, female empowerment in business, and entrepreneurship with budding entrepreneurs and students. Some of her favorite quotes sum up her approach to business and life. "Anything worthwhile takes time" expresses the value of patience. "You wake up every day to do your best" inspires giving it your all.  "Have courage and be kind to yourself" prioritizes self.  And "There is always power in saying no" emphasizes how saying "no" at times can be life-changing. For Diana Bianchini, these principles are the keys to success and fulfillment.