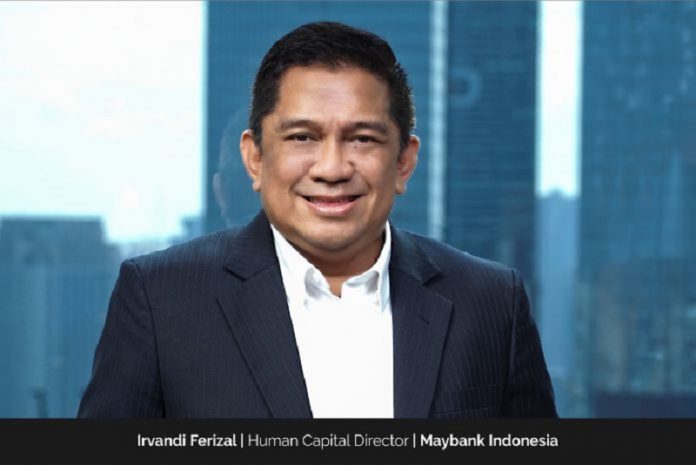 Boasting over 32 years of experience in the Human Resources field, Irvandi Ferizal has established himself as a prominent figure within Indonesia's HR community. His extensive career demonstrates the versatility of a seasoned professional who thrives in national and multinational organizations spanning five diverse industries. His impressive resume includes roles such as Training & Development Manager at Kalbe Farma, Country HR Director at TNT Indonesia, Head of HR Subregion Indonesia for Nokia Siemens Networks, HR Director for Mondelez Indonesia, HR Leader for Southeast Asia on ISC business unit, and currently, Human Capital Director at PT. Bank Maybank Indonesia, Tbk. Ferizal's leadership has profoundly impacted thousands of employees throughout his career.
Passionate about developing HR professionalism in Indonesia and the ASEAN region, Ferizal served as Chairman of the Indonesia HR Association (PMSM) from 2013-2016 and Chairman of the Indonesia Banking HR Forum (FHCPI) from 2019-2022, which boasts over 100 member banks. A fervent advocate for best practices in HR management, he actively shares his knowledge at international, regional, and national events, including seminars, business schools, and other gatherings. In addition, as a dedicated mentor and coach, Ferizal invests in developing the skills of young talent and executives locally and internationally and has successfully guided several of his subordinates to become HR Directors in various companies.
In line with his commitment to sharing knowledge, Ferizal authored the book "The Journey to be Employer of Choice" in 2017 and has since contributed to four additional publications as a collaborative writer. Over the years, he has received numerous accolades for his outstanding work in the field, such as the Indonesia Human Capital Award (IHCA) for Best of the Best Human Capital Director, Best Human Capital Director for Employee Engagement, and the Most Outstanding HC Director. He has also been recognized with the Asia HRD Congress Award, World HRD Congress Award, CHRO Asia Award, and several other prestigious distinctions.
A graduate of Padjadjaran University with a degree in psychology (cum laude), Ferizal has further expanded his expertise through executive development programs at renowned institutions such as Michigan Business School, INSEAD, Linkage, Melbourne Business School, IMD, Wharton, Columbia, and Oxford Business School.
Beyond Metrics: Ferizal's Definition of Success
Ferizal believes success is deeply rooted in making a meaningful impact and contributing to the organization, people, and community he engages with. He derives a profound sense of accomplishment when his efforts lead to positive change and recognition. Emphasizing this philosophy to his team, Ferizal consistently urges them to look beyond event-based achievements. While it may be easy to measure success through learning hours, engagement activities, or hires, Ferizal believes it is more challenging, yet crucial, to assess the true impact of one's actions on the organization and its stakeholders.
Five Industries, Diverse Teams, and a Deeper Appreciation for HR: Ferizal's Career Journey
Ferizal's passion for working with people has been evident since his early years. As early as junior high school, he actively participated in student organizations and even managed to publish a printed student magazine. This involvement continued throughout high school and university, where he chaired student organizations. Majoring in Industrial and Organizational Psychology, Ferizal honed his skills in understanding and managing people within an organizational context. For him, Human Resources is not just about the HR department itself; it is about serving the business by developing talent, fostering the proper organizational structure, and nurturing leaders.
After graduating from university, Ferizal began his career as a Management Trainee in HR at a leading pharmaceutical company. His journey has since taken him through five different industries, experiencing growth in the size of employees and locations and managing diverse teams across multiple countries. This wide range of experiences has only deepened Ferizal's appreciation for the HR profession, inspiring him to learn and enjoy his work even more.
Challenging the Comfort Zone: Ferizal's Journey to Personal Growth
Ferizal firmly believes that challenges lead to personal growth and strength. At the age of 31, he was promoted to Country HR Director for a multinational company, where he faced numerous challenges, such as handling multiple unions, working with foreign superiors across different locations, and ensuring the company obtained five mandatory certifications (ISO 9001, ISO 1400, OHSAS, SA8000, and Investor in People). In addition, he has overseen several mergers and acquisitions, including the consolidation of TNT Express and Logistics, Nokia, and Siemens, as well as Kraft and Cadbury.
Managing seven factories in three different countries while introducing lean six sigma methodologies posed challenges. However, Ferizal embraced these trials, recognizing that they strengthened him and allowed him to see situations from different perspectives. Despite having little experience in the financial industry, his decision to join Maybank further exemplified his desire to push himself out of his comfort zone.
He took on the challenge of working in a highly regulated business with a strong focus on Good Corporate Governance and Risk Management, demonstrating his unwavering commitment to personal growth and development.
Embracing the Digital Revolution: Maybank's Innovative Approach to Financial Services
Ferizal sheds light on Maybank Indonesia, a member of the Maybank Group, which ranks among the top four banks in Southeast Asia. As one of Indonesia's top 15 largest banks, Maybank has a substantial retail, business, and global banking presence. The institution is also a market leader in Islamic banking and offers an extensive range of services, including credit cards, mortgages, car and motorcycle loans, bancassurance, investment, financial supply chain, and trade services.
Embracing the digital era, Maybank has developed super-apps M2U for individuals and M2E for businesses, making financial services more accessible to its customers. With over 300 branches across the archipelago and a workforce of more than 11,000 employees, the bank is committed to its mission of humanizing financial services. This approach emphasizes serving customers from the heart, understanding their needs, and providing tailored solutions to meet those needs.
Roadblocks to Redefining HR: Valuable Lessons Learned in Ferizal's Professional Journey
Ferizal has consistently championed that HR is not just for HR but for the business as a whole. Throughout his career, he has embraced the role of HR as a business partner, driving productivity and understanding the needs of the organizations he has worked with. Ferizal has introduced a new milestone at Maybank, positioning HR as a Business Player. This innovative approach involves proactively utilizing HR channels and networks to support company business, acting as employer brand marketers, and providing industrial solutions.
This fresh perspective on HR has garnered recognition in the market, even being considered one of the best practices. For instance, in 2022, Maybank received several prestigious awards, including the Human Capital on Resilience Award from First Indonesia, the Great Company to Work for from HR Asia, and multiple HR Excellence Awards from Human Resources Online. These accolades acknowledged their achievements in various HR areas such as talent acquisition, innovation, and response to the Covid-19 pandemic.
Despite the successes, Ferizal acknowledges that there have been roadblocks in his journey. One classic issue is resistance to change, often stemming from a need for more communication. Another challenge is securing leaders' support, which requires convincing them from a business perspective rather than an HR standpoint. Lastly, budget constraints are often perceived as a roadblock. However, Ferizal believes that while budgets matter, they are not everything; HR can still deliver results through alternative means, as evidenced by his experiences.
Tech-Driven HR: A New Era of Efficiency and Effectiveness
Ferizal believes modern technology has significantly impacted the HR industry, and staying relevant is crucial. It is about developing people's capabilities, capacity, and culture and improving HR processes to increase efficiency and effectiveness. The days of manual work are long gone and embracing automation through Robotic Process Automation (RPA) and digitalization across the HR spectrum is essential. These advancements directly influence employee experience by reducing turnaround time and minimizing errors.
At Maybank Indonesia, they have implemented MyHR2U, a platform available as an app and website, to provide employees with easy access to HR-related matters anytime, anywhere. The forum covers various aspects, such as learning systems, employee benefits, performance management, knowledge management, and approvals. Furthermore, they have introduced MyNet, an internal employee social media platform to facilitate effective communication across different locations, and Mayang2U, a chatbot for addressing HR-related inquiries. In addition, gamification has been incorporated into the hiring process, and they are now exploring Artificial Intelligence to predict employees' potential for leaving the company.
These technological advancements demonstrate Ferizal's commitment to revolutionizing the HR industry and improving employee experience.
Learning, Communication, and Consistency: Ferizal's Recipe for a Culture of Integrity and Innovation at Maybank
Ferizal emphasizes the importance of integrity in the banking industry, as it relies on the trust of customers. At Maybank, they cultivate a culture of integrity and innovation through learning, communication, leadership, and consistency. When it comes to integrity, any breach is dealt with consistently, while employees who go above and beyond to prevent potential ethical issues are rewarded. In addition, storytelling is used to share cases, allowing others to learn from these experiences.
To support this culture, Maybank has established a code of conduct, a declaration process for potential breaches, clear Standard Operating Procedures (SOPs) for disciplinary action in ethical cases, regulator-mandated job rotation, and a Know Your Employee (KYE) process led by managers from the hiring stage.
Innovation is equally valued at Maybank. The organization actively listens to employees' ideas and has established annual forums like Synergy and Elevate. These events educate employees and encourage them to propose innovative plans or continuous improvements. The top pictures are rewarded, and everyone is welcome to participate. For instance, the 2022 innovation competition winners were not from the head office but from a remote branch in Kupang, and their positions were tellers and customer service representatives.
To foster open communication, Maybank has implemented various channels for dialogue with top management, such as "Martabak with Maybankers," where employees can discuss ideas directly with senior leaders in an informal setting. This approach helps create a culture that values integrity and innovation throughout the organization.
A Culture of High Performance: Maybank's Approach to Staying Ahead of the Competition
Ferizal acknowledges that products and services can be easily replicated in the highly competitive banking industry, making it even more challenging to stay ahead. As a result, he believes that the key differentiator for Maybank is its people. By investing in the right capabilities and fostering a high-performance culture, they aim to excel in the face of competition.
Ferizal ensures that the company rewards top performers, creating an environment that encourages high-quality work. Additionally, he focuses on providing employees with the appropriate direction through well-defined strategies backed by the necessary infrastructure and tools. By empowering its workforce, Maybank is better equipped to thrive and maintain its competitive edge in the industry.
A Day in the Life of Ferizal: The Daily Routine of a Human Capital Director
As the Human Capital Director at Maybank Indonesia, Ferizal oversees various responsibilities, encompassing the entire human capital management spectrum. His purview includes the hiring process, onboarding, development, talent management, performance management, career management, succession planning, reward management, organization development, Human Capital policy and strategy, Human Capital services, employee relations, employee engagement and experience, Human Capital Business Partner, employee communication, Human Capital information systems, and exit management.
When asked to define himself in a single word, Ferizal chose "IMPACT." This choice reflects his continuous efforts to make a meaningful and lasting impact in everything he does, striving to drive positive change within Maybank Indonesia and the Human Capital landscape.
The Integration Approach: How Ferizal Blends His Personal and Professional Life?
Striking a balance between personal and professional life can be challenging. However, Ferizal believes in creating a sense of harmony by integrating his personal life with his professional endeavors. For instance, while on business trips, he embraces the opportunity to make new friends, draw energy from meeting his employees, and appreciate the local food and scenery.
Ferizal motivates his team by leading by example and ensuring his visibility to all team members, regardless of their level. He fosters open communication, allowing team members to contact him anytime and anywhere. Moreover, he is committed to enhancing their development through proper training and certification. More than 50% of his team has already been certified as HR professionals by a national body.
Ferizal presents the HR Director Award semi-annually to those who demonstrate exceptional results to recognize outstanding efforts and achievements further. In addition, quarterly team communication events are organized to strengthen team dynamics and maintain motivation.
Advancing Maybank: Human Capital Strategy and Personal Goals of an HR Leader
In 2022, Ferizal reached a significant milestone by accelerating Human Capital Digital Transformation at Maybank. It included enhancing Artificial Intelligence and Robotic Process Automation capabilities, proving that Human Capital can be more than just a business partner and a business player. In addition, he focused on developing Future Ready skills and fostering an agile mindset through various action learning projects.
Understanding the importance of organizational sustainability, Ferizal introduced a series of Manager's Preparation programs to ensure supervisors are ready for promotions and can successfully deliver results in their new roles. In addition, he implemented a comprehensive program in the competitive talent landscape to develop fresh graduates, preparing them to contribute effectively to the organization.
Aligning with global concerns, Ferizal actively promoted a culture of sustainability and introduced related programs within the bank. As a result, he takes pride in maintaining Maybank Indonesia's position as a Great Company to Work for, for the seventh consecutive year, solidifying its strong employer brand.
As 2023 approaches, Ferizal is eager to elevate employee productivity, further enhance future-ready skills, and promote Human Capital Sustainability at Maybank. He envisions developing a bionic workforce of new-age employees supported by advanced digital human capital initiatives. Examples of these initiatives include the next stage of artificial intelligence implementation for fraud identification, learning gamification, and agility development.
Ferizal's focus in 2023 includes:
revitalizing the organization to be "fit to win,"
elevating Maybankers through upskilling and reskilling with the right tech capabilities, and
intensifying the digital transformation of Human Capital practices with a customer-centric approach.
Additionally, he aims to attract, retain, and engage the new generation of young talent, promote a culture of innovation and continuous improvement, and embrace the futurization of the workplace and workforce. It includes the establishment of a new head office setup.
For Ferizal, it is crucial that the Human Capital team continuously improves itself and remains relevant within the ever-evolving ecosystem and context.
Managing Change Proactively: Lessons for HR Professionals and Business Leaders
Ferizal has a clear and compelling message for aspiring HR professionals and business leaders. He emphasizes the importance of staying relevant and impacting, as those who fail to do so risk becoming obsolete. He encourages individuals to remain open to learning, as freshness and novelty are not everlasting.
Managing change proactively is crucial, as Ferizal believes that if you don't handle change, it will eventually drive you. He acknowledges that tasks may appear easy, but our approach and mindset make the difference. Embracing transformation is not optional; it is a necessity for success.
Lastly, Ferizal advises future leaders to be humble and sincere, as the impact of these qualities can be surprisingly powerful and rewarding.
Conclusion
As the Human Capital Director of Maybank Indonesia, Ferizal has proven himself as a passionate and innovative leader dedicated to driving growth and transformation in the organization. His keen understanding of the challenges and opportunities in the industry has positioned him as a thought leader who can navigate and excel in today's complex business environment.
Ferizal's approach to competition is strategic and people centric. He believes the combination of capable people, a high-performance culture, and the proper infrastructure and tools will enable his team to outperform the competition. In addition, he demonstrates a solid commitment to developing talent and promoting a culture of continuous learning and improvement.
In his role, Ferizal oversees a broad range of Human Capital functions, from hiring and onboarding to performance management and employee engagement. He is committed to making a significant impact in everything he does, evident in the programs he has implemented to prepare managers for future roles and develop fresh graduates into valuable contributors to the organization.
Striving for work harmony, Ferizal integrates his personal and professional life, finding ways to enjoy his business travels and build connections with employees at every level. His dedication to walking the talk and maintaining open communication with his team is a powerful motivator, while his focus on employee development and recognition keeps them engaged and inspired.
With ambitious plans for Maybank's future, Ferizal is excited to drive employee productivity, enhance future-ready skills, and promote Human Capital sustainability. He envisions a bionic workforce supported by advanced Digital Human Capital technology and continues to push the boundaries of artificial intelligence implementation in various aspects of the organization.
Ferizal's personal goals as an HR leader align with his vision for Maybank, aiming to revitalize the organization, upskill and reskill employees, and intensify Digital Transformation efforts. He recognizes the importance of attracting, retaining, and engaging the new generation of talent, promoting a culture of innovation and continuous improvement, and preparing for the future of the workplace.
In his message to aspiring HR professionals and business leaders, Ferizal emphasizes the need to stay relevant, make an impact, remain open to learning, and proactively manage change. He believes transformation is not an option but a necessity, and the power of humble and sincere leadership can create a lasting impact on an organization and its people.
In conclusion, Ferizal's journey as an HR leader showcases the importance of strategic thinking, adaptability, and people-centered management in driving success and growth in an organization. In addition, his unwavering commitment to learning, development, and innovation has made him an outstanding leader and an inspiration for aspiring professionals in the ever-evolving business world.