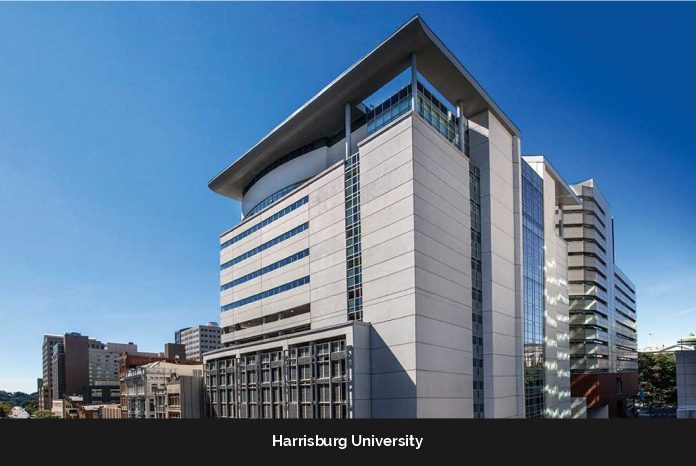 Harrisburg University (HU) of Science and Technology's more than 50 degree and certificate programs are developed in response to real-world market needs. Graduates of HU's Bachelor of Science, Master of Science, and certificate programs go on to become cybersecurity leaders in defending organizations against increasingly more sophisticated cyber threats.
With a blend of hands-on experience and curriculums designed and led by industry leaders, HU delivers professionals who work across diverse industry sectors in cybersecurity roles such as cybersecurity engineer or architect, cloud security analyst, cloud security engineer or architect, information privacy officer, information security officer or auditor, chief information security officer, consultant, and more. At HU, cybersecurity degree and certificate programs prepare students for in-demand, rewarding careers.
PREMIER PROGRAMS
The Bachelor of Science degree in Cybersecurity Operations and Management program, headed by Dr. Terrill Frantz, prepares, and grows cybersecurity leaders in an environment that gives them the education and tools to secure IT environments and infrastructure for organizations and who can participate in forensic investigations and manage cyber risks.
The undergraduate program is for individuals with an associate degree or some college credits within computer science, information systems, networking and/or cybersecurity areas. It also is appropriate for anyone currently working in the field with real-world experience who wants to complete their Bachelor of Science degree to advance his/his career opportunities. External professional certifications also are evaluated and considered for credit in the program.
The Master of Science in Cybersecurity Operations and Control Management program focuses on architecture and engineering of computer network security. In this program, students acquire the skills to secure network information, design computer security architecture, and data security engineering as well as obtain leadership skills, understanding of ethics, and compliance knowledge.
"The Master of Science in Cybersecurity core values are aligned with HU's STEM vision and mission. The CYMS Master of Science in Cybersecurity prepares the student for senior level positions in cybersecurity immediately upon graduation and equips them to continue their studies at the doctoral level," said Professor Bruce Young, who leads the University's cybersecurity master's degree program."
HU also offers cybersecurity certificate programs for those with or without a degree who want to supplement their skills. HU certifications are popular options for those who do not have the time to complete an entire degree or want to build upon the skills of their current degree.
"Through the Government Technology Institute (GTI) at Harrisburg University and the University's Security Center of Excellence, we partner with top global and local technology companies including, Accenture, Amazon Web Services (ASW), CISCO, and many more, to develop and deliver education and training on critical cybersecurity and technology skills and cutting-edge solutions," said Kelly Logan, HU Vice President for Strategic Workforce Development and University Centers.
The University's premier certificate programs include the Certified CIO Program, the Information Security Officer Certificate Program, and the Data Analytics Certificate Program.
HU also hosts large-scale, in person, virtual and hybrid conferences and summits annually that include:  the Project Management Innovation Conference (June 21 & 22), TechCon (August 3) and the 2022 Cybersecurity Summit – Hybrid – HU Summits (September 28).
HU even offers exam preparation classes such as the Certified Information Systems Security Professional (CISSP) – Harrisburg University and virtual, free community forums – on topics such as 2022 Cybersecurity Considerations, Zero Trust and Defending Against Hackers.
MARKET NEEDS
The launch of the University's Cybersecurity programs began with HU leadership recognizing the global need to fulfill the gap of cybersecurity operational and management skills. HU leadership recognized that cybersecurity requires the skills that includes the curriculum of an independent program.
The demand for Cybersecurity experts is so large that there are currently 1.1 million open positions in cybersecurity globally. Cybersecurity is recognized as one of the fastest growing job markets.
"The New York Times reported in 2018 that a stunning statistic is reverberating in cybersecurity: Cybersecurity Ventures' prediction that there will be 3.5 million unfilled cybersecurity jobs globally by 2021, up from one million positions in 2014. Despite industry-wide efforts to reduce the skills gap, the prediction has come true and the world's open cybersecurity positions in 2021 is enough to fill 50 NFL stadiums." (https://cybersecurityventures.com/jobs/)
EVOLVING PROGRAMS
As the technology we use in our daily lives becomes more sophisticated by the day, so do cyber risks that threaten these advances. This adds up to supply and demand.
All of HU programs are developed and evolve in response to market needs under the direction of the University's visionary President, Dr. Eric Darr.
Under the leadership of Dr. Darr, the University, the first nonprofit private university founded in more than 100 years in Pennsylvania, has expanded to Philadelphia and Panama and has grown its enrollment to 6,500 students hailing from more than 110 countries.
Dr. Darr's appointment as president marked a turning point in the history of the university, which has also launched new graduate and undergraduate programs, attracted scholarship support, and opened new housing facilities for students.
As president, Dr. Darr ushered in Esports as the university's only varsity sport. His leadership has also spurred economic development throughout the region. Whether it's through the outstanding curriculum or Esports tournaments like the HUE invitational, which is the largest collegiate sports tournament in the U.S., Dr. Darr's leadership has brought about a new era of prosperity at Harrisburg University. Dr. Darr also is overseeing the construction of the university's more than $100 million Education Center in Harrisburg.
Already boasting a signature 16-story, $73 million state-of-the-art academic center, HU expects to open its second downtown education tower early next year. When completed, the new Education Center will accommodate at least an additional 1,000 students.
At Harrisburg University's main campus, students are educated right in the heart of the beautiful capital city. Our campus is a thriving place surrounded by opportunities from vast dining options to diverse and exciting entertainment venues including theatres, museums, sports fields and more.
Harrisburg University offers an array of undergraduate and graduate programs that include majors in Advanced Manufacturing, Analytics, Biotechnology, Computer and Information Sciences, Geospatial Technology, Human-Centered Interaction Design and many more. Some of the more popular programs among the University's Indian students include Project Management, Analytics, Information Systems Engineering and Management, Biotechnology, Computer Information Sciences, and, of course, the ever-popular Cybersecurity Operations and Management Bachelor's Degree Program and the Master of Science Degree Program in Cybersecurity Operations and Control Management.
As Harrisburg University (HU) of Science and Technology was established in 2001 to address the need of Pennsylvania's Capital Region for increased educational opportunities in applied science and technology-related fields. Harrisburg University offers undergraduate and graduate degree programs in the STEM -Science, Technology, Engineering, and Math fields. The University's educational programs are built in response to market needs, and 92 percent of HU students land family sustaining careers in their fields or become accepted to graduate school within six months of graduation. HU was named the #1 STEM university in the U.S. by Corporate LiveWire during the last four consecutive years.
In addition to its main campus in Harrisburg, Pennsylvania's capital city which is uniquely situated near in-demand companies, government agencies and other top employers, HU offers courses online, in Philadelphia, and at its' recently opened site at the City of Knowledge, a nonprofit science and technology zone and former military base adjacent to the center of Panama City.
All the University's programs provide crucial hands-on experience employers are searching for. At Harrisburg University, students learn to secure IT environments and infrastructure, design secure programs, lead forensic investigations across an organization, and manage cyber risks.
The cybersecurity programs were developed with national leaders and incorporates the most current thinking and curriculum in cybersecurity. This innovative program positions cybersecurity graduates to immediately step into cybersecurity roles within the private and public sector. The program's multi-disciplinary and integrates computer science and engineering, math, legal, and cyber-management courses.
RESEARCH CENTERS AND INSTITUTES
HU also is home to an array of research centers and institutes that provide experiential opportunities for students across a broad range of interests, issues, and industries. Students and faculty work alongside government organizations and businesses to find solutions for real-world problems.
The University's Security Center of Excellence is a targeted effort to support government security leaders and their staffs as well as the private sector through educational programs, collaboration, and awareness-raising initiatives.
The Security Center of Excellence, Information Security Officer Certificate Program provides a unique focus on leadership information security for executive-level IT professionals. It enables IT leaders responsible for information security to further develop the knowledge and skills necessary to succeed at the executive level.
The program focuses on enhancing the following skills:
Leadership and Management – leadership and communication skills to build alliances across the business and establish security strategies that align with organizational objectives.
Information Security Governance & Risk Management – Compliance requirements and the strategic decisions based on the identification of risk
Information Security Architecture Management – Fundamental concepts of computer security, software development lifecycle, and countermeasures
Security Technology & Operations – Incident detection, incident response, and disaster recovery scenarios.
HU also hosts numerous professional development summits annually, including the annual Cybersecurity Summit, led by experts from Harrisburg University's Center for Security and Excellence. The summit is an excellent opportunity to work on placing digital security at the forefront of security risks related to sensitive systems, so professionals know how to mitigate them.
INDUSTRY LEADERS
HU professors are the foremost thought leaders in their fields. With vast industry and teaching expertise, our professors bring a hands-on education from the frontlines of industry to the classroom.
Professor Young is an Information Security Executive with 25 years of experience in corporate and public organizations. Young has designed and led programs including Information Security (CISO), leading Threat Management, Security Operations, Assessment, Vulnerability Analysis and Information Risk Management.
Young aligns with business management and considers how security initiatives can reduce risk and provide competitive advantage. Researcher's security vulnerability and compromise trends and develops strategies to combat emerging threats.
Recognized as a change agent, Young has proven problem solving, project management, and people skills. Young effects cultural change through awareness programs and security advocacy.
Professor Frantz began writing computer software in 1974, as a teenager. Within a year, he was challenging a computer's security at a local university. Gradually, he built a consulting business developing for and supporting dozens of business clients.
After completing college, he coded his way to working on Wall Street for some of the largest global investment banks in several countries. While in industry, he managed several, broader information-technology teams and development projects. His work experience spans computers from micros to mainframes, jobs from support to development, to management, and includes programming using scores of languages. He started developing for the Internet in 1992.
Dr. Frantz reoriented his professional career from industry to academics beginning in 2001 and has published numerous journal articles and book chapters since. Presently, he is Co-chief Editor of the journal Computational and Mathematical Organization Theory (CMOT). Over the past decade, he has taught technology- and business-related courses in universities in Europe and Asia, as well as the USA.
Dr. Frantz's passionate desire is to mentor those students who oppose being slave to the technology and instead seek to become a master over that technology….nerds, geeks, or normal people, alike.
Professor Andrew J. Hacker, HU's Cybersecurity Expert in Residence and Founder/CEO of The Thought Network Blockchain, was former Deputy Chief Information Security Officer for the Commonwealth of Pennsylvania. Hacker is building an innovative technology called Data Defined Computing that will enable Smart Data, Smart Cities, secure IoT, and the new data economy. Data Defined Computing enhances the business value of information by creating an infrastructure for intelligent data that "understands" its context. Thought's patented Smart Data and Active Data Transformation Fabric brings the next generation of data interaction, security, ownership, privacy, analytics, and artificial intelligence to the Digital Universe. Hacker holds a US patent for Smart Data and transformation fabric.
The Thought Network Blockchain unlocks the knowledge potential of the world's data by creating an insight layer on the Internet enabling better management the world's data with a global data defined processing and artificial intelligence network. The Thought Network is a solution enabling architecture with a full developer ecosystem that uses "Smart Data" automata to build fully decentralized and distributed big data analytics and AI models.
BEST PRACTICES
HU's Cybersecurity Programs are aligned with the National Initiative for Cybersecurity Education (NICE) framework, a partnership between government, the private sector and academia that is focused on education training and workforce development; and led by the National Institute of Standards and Technology. Our cybersecurity courses also align with the National Security Agency (NSA) and the Department of Homeland Security's Center of Academia Excellence (CAE).
Like most other HU programs, the University's Cybersecurity Programs allow students to pursue the concentration best suited to their aptitude – this includes an option for a cyber management and leadership track or a cyber operations management track," said Dr. Bruce Young, who leads the University's Cybersecurity Graduate Degree Program. "It also includes extensive hands-on requirements in which students participate in applied and research-based projects, internship and/or an occupational practicum to gain real-world experience."
"The CYMS Master of Science in Cybersecurity core values are aligned with HU's STEM vision and mission. The CYMS Master of Science in Cybersecurity prepares the student for senior level positions in cybersecurity immediately upon graduation and equips them to continue their studies at the doctoral level," Young said.
"Harrisburg University recognized the global demand for cybersecurity professionals with the skills and experience to, not only address today's, but future cyber threats," He added. "The graduate program in cybersecurity was developed to address the demand to prepare students with the advance technical and leadership skills to secure enterprise organizations against cyber-attacks."
HU's cybersecurity, and all other programs, shine because of its relevant programs taught by the foremost experts in their fields. The university also boasts a small student-to-professor ratio, which means our students get the personal attention that helps them learn their subject matter. Plus, all students must complete at least one internship, which gives them the hands-on experience employers are looking for. HU's Cybersecurity programs are being recognized, not only domestically, but receive great interest from the international communities.
For more information about Harrisburg University's Bachelor of Science Degree Program in Cybersecurity Operations and Management, please visit this Link. To learn more about the University's Master of Science Degree Program, follow this Link here.