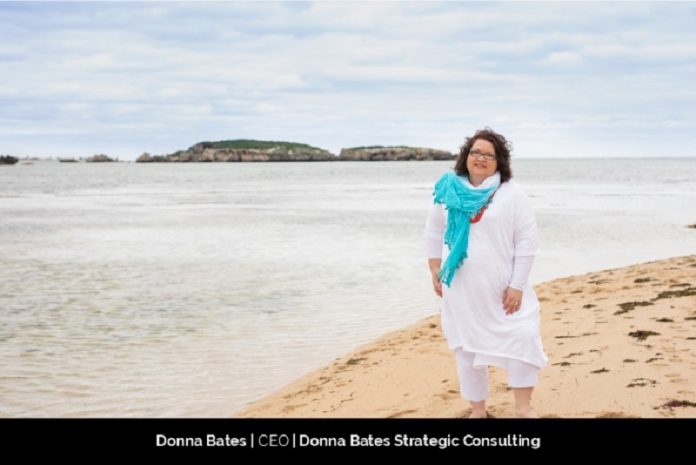 When it comes to structuring or re-structuring businesses to fulfill their strategic goals, Donna Bates, Owner of Donna Bates Strategic Consulting, has the uncommon ability to find the integrity of order amongst organized chaos.
As a growth strategist, integrity leadership mentor, and media commentator, she has spent over 25 years as a senior executive working with some of Australia's leading brands, helping them diagnose why their strategies aren't working effectively and realigning their teams to their Vision through purpose-driven strategy.
"Running my own companies, I understand the importance of having a great strategy and bringing together an awesome team to bring that strategy into reality. That's why I love helping pro-active business leaders grow their businesses and achieve their Vision through excellent strategy design but more importantly flawless, results-driven implementation. That's where the magic happens," says Donna.
Restructuring businesses creating positive change with innovative strategies and generating huge cost reductions
Donna's career developed naturally because of her innate ability to use her creativity in strategic thinking and integrity to look at problems differently. Never afraid to take on a challenge, she has restructured businesses to generate positive change whilst delivering major cost reductions. Depending on the situation, this may have been working with multiple CEOs and managing national projects across several divisions, launching and developing multiple product marketing campaigns, whilst implementing and guiding these companies through the innovative strategic direction.
One of her favourite achievements included helping a corporation save over $450M in distribution costs through restructuring and retraining, in less than 180 days from planning to implementation and review.
She has also worked with influential organizations like the Department of Defence, News Limited, and the Royal Automobile Clubs of Australia.
After being promoted into a few managerial roles, her first senior Executive promotion was with a large, multinational media organization. They promoted her into a role where the outgoing male senior executive was on a salary significantly more than her, and she was required to bring innovative strategies to restructure the division.
"They said they were going to pay me much less because I was only 28 and 'green', but I didn't care.  I knew I was worth it, and within twelve months, I had created an amazing team and worked hard to transform the division I was responsible for, getting a significant increase in salary," Donna recalls.
Over her career, she's often taken on the 'difficult' positions being placed in areas that were dysfunctional, or not as profitable as the company would like and turning them around.
In some, she was managing a legacy team whilst building a completely new high performing team, ensuring they all worked through the change process, growing and working together in a positive and cohesive way. "That meant as much learning for me, as for my team," states Donna.
Changing the status quo of the business arena
Over the years, Donna has been asked about her secret to success. Those who have worked with her believe it was her commitment to integrity and accountability, as that's one of her main values.  She agreed and said that showing grit in the face of adversity, whilst staying humble, and letting others lead where they are the expert. Learning to lead from the back as well as the front, has helped her take companies or projects to success, where others had previously tried and failed.
"When I began my consultancy, I had a few naysayers who criticized my vision about what I was trying to achieve. 'Creating Integrous, Legacy Business Leaders'. They said my vision was too big. There have been many wall-kicking moments, and over the years, I've been simultaneously under and overestimated. But the number one thing for me was to always keep forward momentum and staying real. I'm always looking forward, and only looking back to learn and grow," she says.
Being a boutique consultancy, Donna works with companies through just about every facet of strategic implementation, including planning, marketing, sales, accounts, etc., working with external Contractors and her Board of Advisors. This helps her company stay agile and take hold of opportunities as they come across her desk.
"Before starting my own company, I worked 80-hour weeks for someone else. I achieved awesome things for the companies I worked for, and made them a ton of money, but working for myself, I guide and direct my efforts into things that change the planet, and live my purpose, changing the status quo of the business arena, transforming businesses and their leaders with integrity," she notes.
Supporting struggling businesses through the pandemic
Donna's strengths include identifying a company's present "pain points," establishing creative, customized solutions, and fostering genuine relationships, to continuously expand a business, with a proven track record of providing actual, measurable outcomes.
Donna also works with technology providers offering software and platform recommendations that deliver efficiencies and help businesses scale, implement, and project plan to deliver immediate results with innovative and integrated marketing tactics. Her commitment helps firms not only implement a strategy but extends to create continuous growth by guiding them to maximize their outcomes.
Donna's most cherished recognition as a leader came in the form of the 2020 Australian Women in Finance Award, in recognition of the support she provided to businesses through the first wave of the pandemic.
She remembers that many companies were really struggling, and small business owners didn't have the funds to pay someone to help and restructure their businesses. Donna helped fourteen companies re-write their strategic plans over a week, to completely transform their businesses into the digital remote or mobile space.
"It was exhausting but extremely rewarding. For those businesses that were crushed by the pandemic, I gifted my hours to assist them in rebuilding. Not because I had to, but it's what I would want; someone to be there for me if I needed them at a time like that," reflects Donna.
Championing people to success
Donna's transformative leadership style helps her communicate a shared future vision with high-performing teams, whilst staying true to her core principles. Her passion is creating excellence by doing what she loves and finding ways to actively lead businesses toward their mission through her values of Integrity, Gratitude, and Service.
"My journey as a leader hasn't been a straight line. From every setback or challenge, I've learned how to be resilient, and at each step, I'd focus on just putting one foot in front of the other. I've always taken responsibility when things didn't go right for myself or my teams but similarly equally celebrated my/our successes, because throughout we were collectively learning and committed to doing better. I don't take anything or anyone for granted," she says.
Donna measures her success by the lifelong connections she has nurtured with people of influence, who today call her a friend. She believes that success is being a good human being, caring for people, the planet, and those she works with within business. As the adage goes, "Success is what you make it."
Donna points out that success means so many different things to different people, whether you look outward to the world to find your definition of success, or inward to your own set of values, and how you're living in your own personal integrity around achieving your values and purpose.
Donna's top values are integrity, gratitude, and service, and she's highly renowned for offering workable, real-world answers. Her dedication to helping others is what helps her live authentically, balancing professional success and personal wellness while maintaining integrity in a competitive business environment.
"As a leader, integrity is one of my core values, and I'm personally motivated by my own inner values system. Living by those values is one part of my definition of success," states Donna. "I have realistic expectations of myself, both in being a good human being, treating people as well as I would want to be treated, and being cognizant of how my actions affect others, and the world I live in. My definition of success is that, with all those things combined, the outcome is a positive contribution. I champion people to success, it's in my DNA."
Working through the tough times with grace
One of the greatest lessons that Donna learned on her leadership journey was to take each day as it comes, and know that challenges, roadblocks, and setbacks are par for the course.
"I've learned that if I work through the tough times with grace, with an inner knowing that tomorrow is going to be better," she says.
Some of her highest achievements, also extracted a high price, like distance keeping her apart from her family and friends to ensure that a project was successful.
But through it all, she learned some crucial life lessons that she shares below:
No matter what, I will be OK – whatever the outcome I can work through it;
Have an attitude of gratitude – meet each day feeling humbled and grateful that I've been placed in exactly the right position, with the right people at the right time, for whatever lesson I need to learn for my leadership journey;
Be happy & interested every day – I wake up every day choosing to look at the world with curiosity and wonder;
I always have a choice – no one can take control from you until you let them;
Integrity starts with me – lead as you want others to lead, act as you want others to act, and make decisions with accountability.
Honour those who have gone before – there are things that I have pioneered for my industry, and there are many amazing women in leadership whose wisdom and experience I have learned from.
Some of the circumstances, she has experienced in driving strategic change was where people weren't ready to relinquish control over a situation that was adversely affecting a company's results or where they were actively sabotaging the project from being able to deliver the requirements, and the solution was to find a way through.
"This taught me patience, compassion, determination, leading with gratitude, and the ability to find common ground, no matter how difficult the circumstance," she reflects.
Working with a vision-based, purpose-driven strategy
Donna points out that, historically, the business has been about just commercial gain, and any reference to personal integrity, values, or purpose-driven business, was seen as a bit woo-woo.
"I've received my fair share of criticism from those who don't understand my approach," she says. "Throughout my career, I've always worked through a purpose-driven strategy. Why are we here? Why did we start the company? Why did we create this product? Why do I provide this service?"
Donna starts with the heart of the company or the business, to find the gold within. From there, she learns why a company was started, and what their values are, so she can build out the strategy to ensure they stay on course, or find their way back if they've moved too far away from their purpose.
"This vision-based, purpose-driven strategy is completely aligned with their values, and this is where it gets hard… keeping the company and people working within its own ecosystem, and keeping it on track and accountable to its own values and purpose," she notes.
Championing integrity & accountability in governance
Donna foresees significant challenges facing companies across the globe, and those in governance, in 2022 and for the foreseeable future. She was perplexed by the significant shift away from accountability; toward popularism.
She believes that integrity and accountability in governance start with ourselves first. This means being open to others and our own inner voice to self-correct, it also means speaking out when others around us may be too accepting of a poor decision and bad behaviour.
"Speaking of Australia, where I am from, we've just had a change in government which always creates a bit of uncertainty and can rattle the markets. COVID has also seen a lot of companies morph and change, some close completely," she observes.
Donna notes that people want transparency and accountability, but sometimes they don't want to do what is necessary to make that happen, because it isn't convenient.
"There is hope that the new government will take on integrity in government, which was a key election promise. In the meantime, I will continue to lobby those in power, and work with other amazing organisations that have the same values and attitudes around integrity in Governance," she affirms.
Living an intentional life in every moment
Describing herself as intuitive, Donna notes that she is very careful and deliberate about where she spends her time. "It's an easy decision to let go of something that isn't feeding my Vision or purpose for my life," she states.
After living a fast-paced lifestyle working in Corporate, Donna puts her faith and family first, and now every decision she makes for her business is run through the filter of whether it is getting her closer to, or further away from, her family and her personal goals.
"I want to make sure that I am intentional and living in each moment, giving it my best, and also that every person I'm working with feels my undivided attention – i.e. when I am in the room, I am really in the room, not thinking about other things, but really being present. If I'm feeling tired or run down, I pull myself out of the game and make sure I have enough downtime to recharge and give things my best," she says.
Donna also loves having fun and makes sure that her clients, family, and staff celebrate their successes or achievements, no matter how big or how small.  Love and laughter, creating joy whilst working hard, and championing people to success, are what keep her excited about what she's doing and maintaining forward momentum.
"I love living every day, and I can honestly put my hand on my heart and say I have not left anything on the shelf. Each day I wake up with gratitude for my husband, my family, my friends, and colleagues, and especially the world we live in. I have achieved every goal I have set for myself, and I'm enjoying looking to the future, to see where it will take me. I'm excited for what is around the corner," she states.
Donna believes that creating Leaders with Integrity is important in the Corporate Sphere, and soon plans to launch some new products and services into the digital market so she can expand her reach. "I'm passionate about working with leaders to focus on living life and leading a business with Integrity," she affirms.
For more information, please visit:
www.donnabates.com
Email: hello@donnabates.com