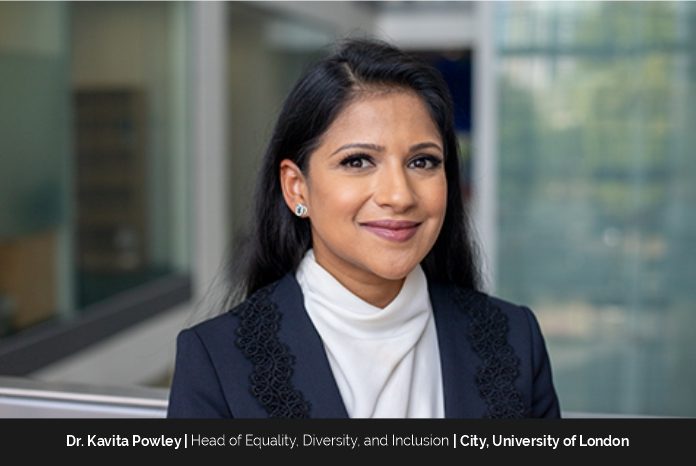 Dr. Kavita Powley is a passionate Senior Leader in Equality, Diversity and Inclusion who has the determination, knowledge & skills to create tangible and effective transformation. Dr. Powley is the Head of Equality, Diversity and Inclusion at City, University of London. She has a keen interest in human rights & social justice & is ambitious about advocating equitable opportunities for all in every aspect of their life journey.
"Success isn't about how your life looks to others. It's about how it feels to you."    -Michelle Obama.
The feeling of fulfillment is what drives Dr. Powley toward success. Success for her is feeling joy and pride in what she does and making a tangible positive impact.
"I have always used my own diversity as a strength to embed culture change and I strive to empower people from underrepresented groups to have access to equitable opportunities, where their diversity is celebrated and to create a sense of belonging where everyone can be their authentic self," says Dr. Powley.
Dr. Powley's education augmented her understanding of injustices and inequalities for marginalized groups and heightened her self-awareness in the field of E D&I, leading to a successful career within this imperative field.
Challenges are exhilarating.
Dr. Powley thrives on challenges and has directed organizational-wide culture change in large, complex businesses and has pioneered unique and innovative E D&I initiatives leading to successful, impactful and long-lasting positive change.
Dr. Powley believes that challenges can invoke innovation and initiative and overcoming adversity provides incredible experience in problem-solving skills and emotional resilience. She herself has faced several challenges that have taught her valuable life lessons. "Life will always throw curve balls our way, I believe they test our resilience whilst giving us perspective on how precious life really is," she states.
A valuable lesson Dr. Powley claims to have learned is "mistakes have a bad rep." We all make mistakes, fail, and do something cringeworthy. We can then learn from them, dust them off and try again. Or realize and accept when something isn't for us. She thinks that quitting something can be as courageous and freeing as sticking something out that is not for you or draining your happiness. "If it no longer makes you happy, stop it, life is too short to be miserable," Dr. Powley advises.
City, University of London – the University of business, practice, and the professions
City, University of London attracts around 20,000 students from more than 150 countries and staff from over 75 countries. They are committed to their students and support them to get good jobs. The university's research is impactful, engaged and at the frontier of practice.
City's academic range is broadly based on world-leading strengths in business; law; health sciences; mathematics; computer science; engineering; social sciences; and the arts including journalism, dance and music. Over the last year, they have worked collaboratively to develop a new and distinctive Vision and Strategy which will guide the University's future successes.
As the current Head of E D&I at City University, Dr. Powley spearheads & embeds substantial positive change in several E D&I initiatives across a large organization for over 2000 staff & 20,000 students. She is responsible for delivering City's first E D&I Strategy, in line with City's Vision and Strategy. Dr. Powley is leading E D&I through a thoroughly intersectional focus and is responsible for the success of major change projects.
"Excitingly, I am leading the development and launch of a new and innovative E D&I Office, 'The Office for Institutional Equity and Inclusion,' to have oversight and centralize all E D&I work for the entire University," says Dr. Powley.
In its first year, she wants the Office to really be established as a central University-wide hub actively and passionately transforming its organizational culture and supporting the progression and success of its staff and students. Dr. Powley is expanding City's amazing team, having even more E DI expertise, innovation and knowledge to proactively create specific initiatives that increase equity and fairness, a sense of inclusion and belonging where everyone feels able to bring their authentic self to work and study and where diversity is celebrated.
Redefining the E, D&I industry
"I am incredibly privileged to work in a field that enables me to make a significant cultural change in organizations and wider society. I thrive at relationship building and partnering, and proactively find opportunities to network, share knowledge and inspire others," says Dr. Powley.
Through mentoring and coaching, Dr. Powley supports people's career development and fosters an environment of creativity, dynamism & collaboration. She has a very optimistic, positive approach and enjoys collaboration, networking and creating inclusive spaces for innovation, inspiration, and creativity across teams, departments and across organizations.
"I am continually learning and developing myself, keeping up to date with new theories, approaches and how they impact E D&I," she states. Dr. Powley is also professionally Coached and is a professional Mentor for young People of Colour, as well as a Reciprocal Mentor for Senior Staff. She is a keen learner who continually strives to improve herself as she believes that her development will be never-ending.
Dr. Powley's life before City, University of London
Before Dr. Powley joined City, she won a national writing competition that led to her writing storylines for television. "It was drastic (and some say random!) change from my conventional academic career, but I love writing and having previously published journal papers, book chapters and reports in higher education, it wasn't that different," she says. Dr. Powley has always written as a hobby and winning a writing competition increased her confidence to try something different.
Dr. Powley's writing career on television was also in line with her real passion, diversity, equity and inclusion as she diversified scripts and improved diversity representation on-screen. Prior to that, Dr. Powley worked in several Higher Education Institutions, as a Project Manager, an International Programme Manager and a Researcher and all her roles involved making a positive difference and impacting tangible culture change.
Dr. Powley has a Ph.D. in Social Psychology, in which her research focused on exploring influencers of positive behavior change. This directly relates to her work where she needs to continuously strategize, direct and create sustainable and tangible transformation to improve culture, dismantle inequitable structures and processes and address systemic oppression.
Dr. Powley also has extensive experience in mentoring staff and students of color, improving race equity and supporting young neurodiverse people and disabled people from previous roles she has held. She is also a volunteer Child Counsellor.
"I adore children and have a passion to advocate for children's rights and creating fair and equitable opportunities for underrepresented & vulnerable groups in every aspect of their life journey," she states.
The ability to handle adversity with strength and grace.
Gaining her Ph.D. marked the beginning of Dr. Powley's career. Studying a Ph.D. whilst battling illness showed her that she can handle adversity. It gave her the confidence to always go for new opportunities, even if they are daunting. She returned from maternity leave and within a month applied for the more senior role of Head of E D&I and following a highly competitive process she was successful and is currently both a Senior Leader and a new Mother.
Dr. Powley recently achieved the Race Equality Charter (REC) external accreditation for City. The REC is a very competitive award that she led, involving a longitudinal deep-dive project into anti-racism for staff & students involved in analyzing 3 years' worth of complex data, leading to an anti-racist action plan and actively matrix managing hundreds of stakeholders to eradicate inequities identified for specific ethnic groups.
Dr. Powley pioneered an award-winning innovative and radical Reciprocal Mentoring Scheme, she has won grant awards for her work on tackling racism & sexual violence and founded & chairs the first E D&I club at City for staff, creating a safe space and a sense of belonging & community. Dr. Powley is also a national award-winning writer.
Maintaining a work-life balance by adhering to strict boundaries
"There is no regular day working in Equity, Diversity & Inclusion! E D&I is such a unique field, full of uncertainty, surprises and crisis management," exclaims Dr. Powley.
As someone who is always hopeful, Dr. Powley believes that everyone should be empowered to be their authentic and unique selves in their professional and personal lives, to thrive in all they do.
In the world of E D&I, Dr. Powley says that a work-life balance can be incredibly challenging because E D&I is such a passionate and personal area of work, it's hard to not let it spill over into one's personal life because the work means so much and can be triggering. She personally finds that surrounding herself with supportive and inspiring people that lift her up always helps, reminds her of why she does what she does and keeps her grounded. She claims that doing something completely different from work also helps to separate from work, like exercising, dancing and moving in some way; even running after her toddler counts!
Her background in counselling also helps. Dr. Powley has learned methods and approaches to look after her own well-being, to practice self-care and have emotional resilience. Dr. Powley keeps herself motivated by reminding herself of her values and vision. She is determined to drive equitable change in society and advocates the fight for human rights & social justice, breaking barriers to create a fairer, more accessible & more equitable society.
Plans for a successful future.
Dr. Powley's plan for the future is to contribute to making City a leader in E D&I, an institution that has equity at the heart of its policies, processes, structures, learning and teaching, in the environment and how they treat each other. She is determined to improve staff and student satisfaction, by contributing to City as a place of belonging, nurture and success, where staff and students are proud to say they are part of its community and can thrive.
Her vision for the Office for Institutional Equity & Inclusion is to become a beacon of excellence and a sector-leading unit reputable for successfully fostering greater equity, inclusion and diversity, through an intersectional lens, for staff, students and the wider community.
Dr. Powley's personal goals as a leader are to continuously improve and develop herself and to work on becoming the best version of herself every day. Her ambition is to be a catalyst for positive cultural change in society.
As an inspiring businesswoman herself, Dr. Powley's message to aspiring businesswomen is – to believe in yourself and be your own biggest fan. Advocate for what you believe in and do something that brings you joy and fulfillment and makes a true impact and difference to others.
When in need of a boost, Dr. Powley always reminds herself of Maya Angelou's wise words:
"People will forget what you said, people will forget what you did, but people will never forget how you made them feel." Maya Angelou