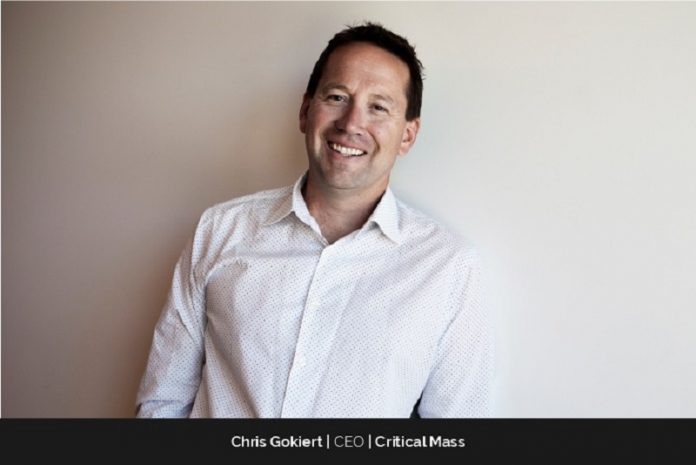 When digital innovation is driven by the desire to do what's best for the client, the customer, and the employees, everybody wins.
When the pandemic threw a curveball into the world of brick-and-mortar retail, the world went digital and most organisations scrambled to keep up.
But for Critical Mass, an award-winning digital marketing and experience design agency led by CEO, Chris Gokiert, it was time to make an impact through rapid evolution and innovation.
"On the whole, lots of people have now realized that modern brands and companies need digital in order to be successful," says Gokiert, whose goal is to make a positive impact in peoples' lives through digital.
Today, almost every connection between people and brands is digital, and agencies, consultancies, and the ad tech world are eager to talk about digital.
In truth, there's only a handful of agencies that have been excelling in digital as well as Critical Mass has, and for as long as they have.
Despite being thrown a curveball with the pandemic, which made things harder for everyone, Critical Mass has been growing consistently over the last decade, and that growth increased this year.
From museums to the metaverse
But it hasn't all been a straight road for Gokiert, who started out in a field that could not have been more different from the fast-moving world of digital marketing.
After a BA in Classics from Bishop's University, he went on to do an MA in Classical Archaeology at the University of British Columbia.
The journey from the ruins of ancient Greece to the world of the metaverse may seem like a quantum jump for most, but once he got in, Gokiert was hooked, and still is, on the endless possibilities of the digital medium.
"I had some vague ideas about what I might want to do with digital and technology – game design, for example," he recalls. "It's always changing and never stops giving us new ways to do things, and new things to do."
Although his introduction to the digital industry wasn't part of a grand plan, but a more of a starting place or a "first job," Gokiert was always drawn to things that interested him and filled him with energy.
Today he is the driving force behind the development of Critical Mass' capabilities and integrated client offerings and leads the team to consistently innovate and advance the agency's strategic vision.
"I've been lucky to be surrounded by great talent and partners throughout my career," he says.
To the metaverse and beyond
Since joining Critical Mass in 1998, Gokiert has been instrumental in the growth and success of the agency, expanding the team from just 35 people in one Calgary office to over 1,000 employees across 11 global offices.
Over the course of his career, Chris has worked across some of the world's biggest brands, including Mercedes-Benz, Dell, P&G, adidas and AT&T.
As a digital marketing and experience design agency, Critical Mass is well-versed in the digital ecosystem that surrounds people and brands, and uses that understanding to build, connect, and optimize experiences in the digital world.
"When you can mold a whole ecosystem around each customer and react in real-time, you've really pushed your client into a new, more powerful, more meaningful digital world," says Gokiert.
With a great deal of depth in all areas of strategy, creative, data, and technology, the team at Critical Mass knows how to make those connections seamless, relevant, and personal. But what makes them stand apart from other agencies is their ability to also put it all together, which helps their clients take huge leaps forward.
One of the reasons that Critical Mass has pulled so far ahead of the competition is that they have deep foundations in terms of digital talent, as well as a culture where insatiable curiosity is the norm.
"We're 1100 inspired individuals, and you see the impact of that in our client relationships, which, on average, last 7 years – a rarity in the agency world," says Gokiert. "So, we feel confident that we're doing great work that makes a difference, while always thinking about what's next."
This is evident in the innovative solutions they have built to serve their clients, such as an online signals engine called Catalyst that helps connect, parse huge amounts of data and extract insights about their clients' audiences.
They also built a suite of AI products, called Quotient, that they use with all of their clients, to determine the effectiveness of their work and identify new opportunities.
"Tech and Innovation has always been at the heart of what we do," says Gokiert. "We've delivered a lot of firsts in our history – first car sold online, first NikeID configuration, the first branded iPad app, the first financial app for Apple Watch (and the list goes on). And we continue to do that with our clients today."
Critical Mass also built a program called flywhl.cm that can run across entire ecosystems and help brands scale their creative with elegance and automation.
This helped them hone the skill of scaling marketing content dynamically to a fine art, without sacrificing the brand's unique essence or elegance, and ensuring that the whole journey is truly personalized through the sales funnel right down to the site.
"Improving real-time personalization is always a focus for us, and, naturally, we continue to push into things like the Metaverse world of AR, VR, NFTs, and gaming," says Gokiert.
Never lose sight of the customer
Digital marketing is a tough industry where the pressure is always on, the timelines are short, and the complexity of problems continues to increase.
"Unfortunately, this means that people can get too focused on the bottom line and forget that we are all people wanting to do a good job," says Gokiert.
On the product and service side, he is on a mission to create experiences that improve peoples' lives, which plays a role in everything that Critical Mass does.
And while it's easy for people to take shortcuts or forget about the people using the products they create, relying on the services they design, or seeing the advertising they put out, they never lose sight of the customer.
This company of inspired individuals intends to maintain their identity as they continue to grow. As the world goes digital, the need for their services will only accelerate. As technology changes and people's habits change, the opportunities for different services and products will expand.
"It's our sweet spot," says Gokiert, "and it's exciting to think about where we'll be in the coming years."
Advocating equality, diversity, and fairness for all
Gokiert wants Critical Mass to be known as the Best Place to Work, both for their employees and clients, and Equality is one of the values he holds most dearly.
He believes that an organisation really does have to treat their employees, partners, and customers as individuals and equals, and he walks the talk, building a values-driven organization that strives to be the best company to work for, and with.
"We can't just talk the talk… and there's a lot of talk out there," he says. "Too many people are driven by ego or self-preservation. We don't believe in that as a way to run our business."
To demonstrate their strong belief in diversity and inclusion, Critical Mass founded their Diversity & Inclusion Board in 2018, to help them evolve into a more inclusive and diverse agency, and a place where everyone is empowered to do their best work and embrace their true self.
The board is co-chaired by two members of their executive team and made up of 10 Affinity Groups – Black, Brown, Asian, Latinx, LGBTQIA+, Ability, Women, Age, Mental Health, and Indigenous – each with a leader charged to represent their actions, needs, and interests.
Their board members are paid for the important work that they do, and they also have Practice Leads who help identify intersectionality across affinity groups, as well a recently appointed Associate Director, Diversity & Inclusion.
The agency is also creating new norms in advertising with the Critical Mass: Artist-In-Residence (CM:AIR) Program, an artist-agency collaboration founded by their Global CCO Val Carlson and artist, Shantell Martin.
Its first area of focus seeks to address artist-brand exploitation by exploring equity in contract negotiations, intellectual property, and modeling new norms for creative collaboration.
"When I talk to new employees, they often say, I've heard so much about how great the culture and people are at CM, and it really is true," says Gokiert. "It's a testament to the leaders of our company who continue to build a great culture. It's better than any award."
Success is not a one-line goal
For Gokiert, there is no regular day as the CEO. Given the size of the company, the different people, and the different clients, it is never boring for him.
As far as balance in personal and professional life goes, he thinks of it as a seesaw that's different for everybody. There are times when you are fully on for the business and times when you are fully off, and most of the time you're somewhere in between.
"I often talk about how a person needs to be in tune with how they gain energy and how they recharge," says Gokiert. "We are all different, and I can't tell anybody what the right answer is."
Part of his routine is to constantly listen and talk to the leaders in the company about how to continue to deliver for their staff and clients, how they are doing financially, and where the opportunities are.
Gokiert sees motivation as being more about inspiration, and that people need to be surrounded by people that inspire them, be involved in work that challenges them, and be recognized for their efforts.
He fervently believes that challenges make them stronger, because the minute something is too easy, people tend to get bored, complacent, and stagnant. "Roadblocks will always show up and test us," says Gokiert. "But I can say that when the going gets tough, the team at Critical Mass always finds a way to be their most creative."
Gokiert also believes that there are times when you simply won't win and you need to save your energy, but those times are much fewer and farther between than situations that are simply difficult to navigate – situations where you can struggle, invent, and push your way to real success.
"I've never viewed success as a one-line goal," he says. "If I were to summarize, success is how we all share in the growth of the team."
"Financially, you always want to be sound," he concludes. "Personally, you want to be around individuals that inspire you and make you better. From a work perspective, you want to be challenged and never bored. If you can bring those things into alignment, you'll be pretty successful."