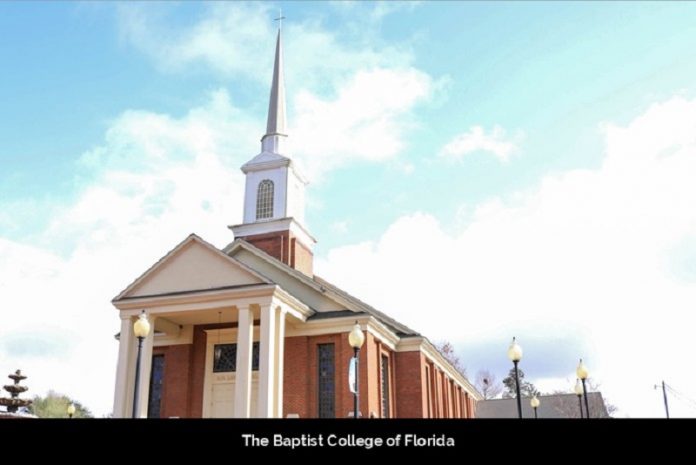 The Baptist College of Florida, a private Christian college, nurtures its students in such a way that they gain a biblical understanding of what it is to live a Christian life as well as how to be the best worker in the environments where they are called. All courses are taught from a Bible-based, Christian worldview. The college's focus is on the Kingdom and building leaders who are "unapologetic" and "unashamed" about having Scripture as their driving force.
Currently, the college is in the process of attaining university status. "University status is going to be one of our greatest achievements," says Dr. Chantel Oney, Chair of the Business Leadership Division, Associate Professor of Business, and Director of Marketing. "This status will communicate much about the integrity and quality of our programs."
The Baptist College of Florida (BCF) is accredited by the Southern Association of Colleges and Schools Commission on Colleges (SACSCOC) and licensed by the Commission for Independent Education (CIE), Florida Department of Education.
On January 01, 2023, Dr. Clayton Cloer assumed the role as the new college president. Under his leadership, he intends to build a corporate culture of trust and honesty, and according to Dr. Oney, he also wants to create a culture where everyone believes in working together for better results. "We are not going to operate individually but work together for common goals," she adds. Dr. Cloer describes this as "collective giftedness." Simply put, it means that while BCF's faculty and staff work in different departments, when all the members of the college come together and unite under a common goal, remarkable things happen – for students and their education – that are untouchable.
History of Baptist College of Florida
The Baptist College of Florida (BCF) was established in Lakeland, Florida in 1943 – founded as Florida Baptist Institute – to provide higher education from a Christian perspective. Dr. Oney says that BCF grew out of concern for the local pastors in the state of Florida. At that time, pastors came together under a common burden and vision to make sure that pastors who did not have college degrees were adequately trained for ministry in the church.
At the heart, BCF is all about training pastors who are in full-time ministry as well as those who are also serving bi-vocationally. Dr. Oney points out that the college has a lot of pastors who have full-time jobs in addition to being in the ministry, and BCF was born out of this burden to help them, and other church leaders gain ministry training. The vision of the college's founders was to establish a school that would provide a mixture of Bible and general education courses for these men and women.
BCF has gone through several name changes since its establishment. Two years after it was founded, it became known as Baptist Bible Institute (BBI), and then in the 1980s, its name was changed to Florida Baptist Theological College (FBTC). Since 2000, it has been known as The Baptist College of Florida.
"At our core, is the training of men and women to impact the culture with the gospel message regardless of the context in which they serve."
19 Degree Programs
BCF offers nineteen-degree programs, ranging from master's degrees, bachelor's degrees, and associate degrees. The college's primary scope of work continues to be focused on training men and women who are called to go into ministry. However, there has been a strong urge to acknowledge that not all BCF students will serve in a Christian context, as students may also pursue careers in areas such as banking or education.
As noted by Dr. Oney, most of the students at BCF are called into a ministry context, but the college also recognizes that there are students who enjoy the work of ministry but are called into different contexts to implement that work.
"We still primarily offer Bible-centered courses, but we recognized the need to expand and strengthen our academic courses and resources into what we have now in our nineteen-degree programs," she adds.
BCF also has courses that are still developing, which is because academia itself is changing. For example, there is the growing popularity of online courses in recent years. Dr. Oney points out that the institution understands the need to be able to adapt and offer courses in a medium for all their students. Students who are in full-time ministry or have full-time jobs cannot come to the campus because that would mean leaving their jobs or families. BCF can meet the needs of these students by offering courses in an online environment.  While online courses for any institution is not new, the question is how the learning platform is being leveraged, which can significantly impact student learning and engagement, she adds.
Dr. Oney says that the college is ensuring that they are providing courses to students not only in the right format, but they are also delivering the right content. Students who are on campus and attend classes in-person and those who select online courses receive the same content. BCF is also developing connection courses – which are hybrid in nature. Dr. Oney, who is based in Fayetteville, Georgia, says that she commutes to the college three times a month to meet and advise students and perform her duties in marketing. She offers connection courses when she is not on campus.
"In the connect environment, I have students who are in the classroom, and I have students from different states who connect remotely via Zoom into the live class session," Dr. Oney says. "I Zoom into the classroom to teach all my students remotely. They can see me and hopefully get the same feel as if they were on campus."
BCF is trying to determine how it could limit the disconnect that can often occur in online classes. Dr. Oney points out that they have found a niche in being able to offer courses to their students – those who want to be strictly online and those who want to come to the classroom and connect with their instructor remotely. For example, BCF has campuses in south Florida, while some of its instructors are teaching on the main campus. These instructors connect with students remotely on other campuses. "What we have discovered as an institution is that our students like this mode," says Dr. Oney. "We are now offering more and more connection courses."
"We are also making sure that we are teaching to the same standard and level as we would if we were actually face-to-face with the students in the classroom," she adds.
No Classroom Conflicts
BCF is "unapologetically" Christian in what they teach and how to apply what the students are learning inside of the classroom. Dr. Oney says that they usually do not have to confront challenges from the student body because students come in knowing that they will be taking classes in a Christian context. At times, the faculty and staff may have to give a gentle nudge to students, but they are generally aware of what is required of them.
On campus, students and instructors share a cordial relationship. They are able to connect with one another really well. "We have built and fostered a culture on campus where it feels like a family – a lot of institutions cannot say that – and I know every one of my students by name," says Dr. Oney.
At BCF, everyone, from instructors in classrooms to staff offices, admissions, registrar, and financial aid, is involved in the life of students. The college, according to Dr. Oney, has an open-door policy. Whenever a student walks inside a room or office, instructors stop to pay attention to the student's concerns.
"Our students are our greatest priority on the campus," Dr. Oney says. "We give our students a lot of attention." Students are encouraged to seek out instructors for advice or mentorship. Moreover, it is common for BCF's instructors to eat lunch with their students in the cafeteria.
BCF understands that students are whole people and have whole lives, and if they are struggling in their personal lives, their academic life will suffer. With that, the instructors' focus and involvement are not just limited to education. When students are facing problems at home, instructors note that firsthand and reach out to them to find out what is happening. "Most of the time, our students open up to us," Dr. Oney says. "They reveal that they are struggling and share what is going on at home."
She also highlights that no student walks away from the college and says, "BCF did not care about us." We wholeheartedly care for them. This is because the college is aware that as its students are doing well, it is doing well. Students and the college's alumni are BCF's biggest promoters.
"The reason I can speak about this is because I am a graduate of The Baptist College of Florida. My husband has his bachelor's and his master's degree from BCF," Dr. Oney says. "So, I am not imagining this wonderful, fairytale place. I have experienced it."
"From the faculty to the staff to our maintenance personnel, BCF has fostered such a strong culture to where the students truly are the first priority."
Learning from Adversity and Making Disciples
Dr. Oney says that Jesus taught them as Christians how to employ and model service. So, if they are going to employ a service or model it, they have to do it with their primary stakeholders, their students. Therefore, instructors and staff show their students that even in the most difficult moments, it is not so much about what is going on in that moment but about how they respond to the difficulty.
"At BCF we are making a choice to be sure that our students are learning from adversity," Dr. Oney says. "They are learning how to serve, love well, and go out and be effective change agents in the local community or even when they go to their homes. We are making sure of that with our students."
Additionally, everyone at the college is focused on fulfilling the Great Commission of making disciples, regardless of where the students decide to work. Some of them have received law degrees, while others own small businesses or work in the field of journalism. The college is making sure that each one of them, whatever area they are called in to, is still becoming a disciple, and is working to make disciples of others.
"BCF is called to inspire and equip the current and next generation of Christian leaders." – Dr. Clayton Cloer.
Ensuring Students Do Not Drown in Loan Debt
Dr. Oney points out that the institution is quite cognizant of what is going on in the area of higher education and realizes that the cost of education continues to rise.
BCF wants not only to provide quality education but also to make it affordable for its students. According to Dr. Oney, they are making sure that their students are not drowning themselves in student loan debt. At the end of the day, students have to graduate and go out and find a job, and it is possible that if they take out a significant amount of loan debt, they may not be able to repay it.
The college offers financial aid in the form of federal and state grants, student employment, and scholarships, which are made available to students to minimize their student loan debt. Dr. Oney points out that they also do a tremendous job of making sure that students are aware of the implications of how student loans can impact them in the long run by giving students the personal finance training that is needed.
For example, first-year college students go through personal finance training to better understand the cost of student loan debt and how it can impact everything in the future. This course also has a spiritual aspect to it. Students get the opportunity to really dig deeply into their beliefs and faith. "Our heart has always been about training men and women, but we also know that education is costly," Dr. Oney says.
However, the primary focus continues to be on making sure that the students can afford an education without taking out the student loan. "Yes, students can apply for federal and state aid. However, we want to make sure that the price of our classes is not only competitive, but it also compels people to say they want to go to BCF because it not only offers a good education, but they can also afford the education," says Dr. Oney.
The college is looking at ways to increase the nature of the scholarships that it offers to its students. BCF is making sure that the financial side is taken care of so that no student drops out due to financial reasons.
According to Dr. Oney, President Cloer is making sure that a significant number of donors who give to the institution believe in what they are doing. This ensures the availability of scholarships for any student who wishes to apply.
Awards and Accolades of BCF
2023 Awarded Best Online Colleges in Florida and recognized as Best Faith-Based Institution in Florida (Intelligent.com)
Ranked Top 2% of Regional Colleges in the South for 2022-2023 (U.S. News and World Report Best Colleges)
2023 Ranked #3 Best Value Bachelor's Degrees in Theology (College Factual)
2022 Top 10 for Online Bachelor's in Music (Academic Influence)
2022 Top 10 Online Colleges in Florida (BestColleges.com)
One of the "Best Christian Colleges in Florida" (BestValueSchools.org)
2021 Best Colleges in America (Niche.com)
2021 Best College for Religious Studies in Florida (SchoolAuthority.org)
What Is Next for BCF?
Since January 1, 2023, Dr. Cloer has been casting the vision to fulfill BCF's mission of delivering Christian higher education across the state that is exceptional, contextual, affordable and accessible.  "As President, I embody and extend the Christian values of BCF so that our programs, faculty, and ministry philosophy remain convictional and true to those biblical beliefs that we profess," he says.
Under his leadership, BCF intends to continue seeking to be the Christian higher education partner for churches, families, individuals, and Florida Baptists through four avenues: dual enrollment, online, on campus, and various sites in the state of Florida.
"The vision is not just one campus for one university.  The vision is a university system with multiple main campuses." – Dr. Clayton Cloer
Dr. Cloer notes that the college plans to have its second main campus on the peninsula by the 2027-2028 school year.  The current main campus is located in Graceville.  He also informs that they are launching two new sites for classes and degree awarding programs over the next 18 months in Miami and Clearwater. "The vision is not just one campus for one university. The vision is to have a university system with multiple main campuses: one in the panhandle and one on the peninsula, and various strategic sites offering full degree programs in Christian ministry, business, education, worship and music, and counseling," he adds. Additionally, BCF's dream is to have 1000 students in its dual enrollment program.
Dr. Cloer points out that private Christian schools and families are looking for partners to help educate the young people of the state. "We intend to be that partner with a contextual program that is Florida-born and Florida-delivered," he adds. Our graduate program will be a main emphasis as we expand to a Master in Business Administration (MBA), a Master of Divinity (M.Div.), and a Master in Counseling and Social Work. Dr. Cloer says that they hope to expand to more than 1000 students in the undergraduate programs and more than 1000 in dual enrollment over the next eight years.
"By attracting and retaining an outstanding faculty and student body, we will serve our stakeholders and furnish the state with high quality exceptionally trained young servants of Jesus Christ," he adds.