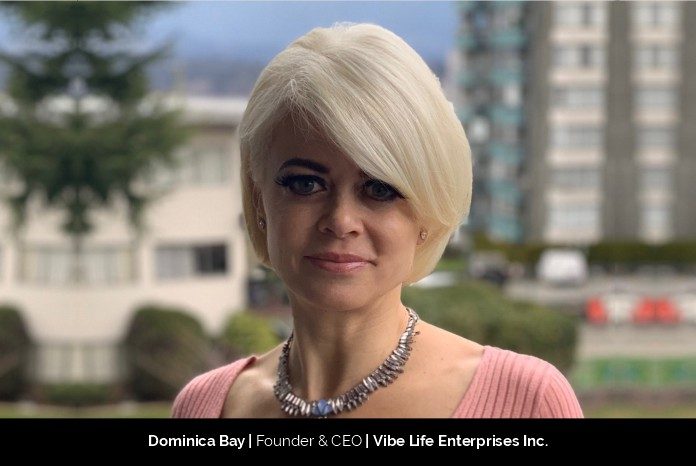 If we reckon on the pages of history, tender loving care' has been uniformly conceded as a valuable element in healing from any variants of pain in viability. Upon seeking the commencement of her entrepreneurial journey, Dominica Bay who is the CEO and Founder of Vibe Life Enterprises Inc. expresses her passion and love that is inclined towards the food and beverage industry. She claims that entrepreneurial qualities run in her blood as her family owned bars and restaurants. Rewriting the best of the fashion statement through the promotion of a fit and healthy body along with the viability, Dominica strongly reckons that you need to be the change you want to see in yourself and the atmosphere around you. She also adds that If you want the world to be a better place then you need to create better things instead of wishing and regretting for it to happen without effort.
The Vengeance of Nature:
It is inevitable that when the health is absent within you, the pearl of wisdom that you intend to share shall not be able to unveil itself, art will cease to manifest, your strength shall lose to fight, your wealth shall cease to be of any assistance to you, and intelligence will just be an unheard voice. Dominica shares that she has an auto-immune disease and a strong family history of heart and stroke, diabetes, dementia and mental health, which led her to be a very cautious and diligent individual who always weighs beforehand about what she is putting in and on her body. This transformed her to become a holistic nutritionist, colon therapist, aromatherapist, metabolic health coach, fitness trainer and yoga instructor for her wherewithal. She confesses that she has been consuming just plant-based food since she was 8, however, she has had noticed a big improvement in her health when she has had cut out her sugar, starch, and grains consumption about 11 years ago adapting to a vegan-keto lifestyle. She also knew that the wine had to go and it was her zero net carb hemp kombucha that got her sober. She also adds that it had such a profound effect on her recurring life and thousands in her community that she decided to share it with the world so that she can assist in healing others through her experience in self-transformation.
The Repetition of Unrepaired:
When we cannot bear to be alone, we develop a compass of value within ourselves that becomes our companion to the grave. The adaptation of mission and vision has certain undefined principles that define one's morality, it screams that almost all the reality in the universe hinges on the pillar of moral foundations and you are just abiding by it as a physical law would do to exist. Rendering her mission set, Dominica is on a mission to clean up the inner aisles and offer nutritious and delicious low sugar/carb organic offerings that are safe for the 87% of the individuals who are sugar and carbohydrate intolerant and suffer from metabolic syndrome especially the scale of 50% that suffer from type 1 or type 2 diabetes. She also adds that often the low sugar/carb alternatives sold on the market are full of harmful seed oils, artificial sweeteners, flavors, preservatives, and colors that are carcinogenic and hazardous to everyone's health. We all deserve better and VIBE LIFE is here to deliver.
The Partnership between mind and heart:
The pathway to recovery and leading towards healthy and secular viability is full of ups and downs. There is no such thing as a linear life as it is claimed by perpetrators. But one can always turn their setbacks into setups to come back stronger and re-write their own encounters. Reminiscing her roadblocks and setbacks that have had led Dominica to unravel new lessons in her life though out her journey, she shares that –
Embrace rejection, listen, and learn.
Always be ready to pivot to create the next opportunity.
The root of innovation is creativity, stay curious.
The depleted precious assets:
There shall be moments in your viability, at some point, something or someone somewhere is going to disrupt your entire life without even you realizing the change which is happening in front of your eyes just because you failed to give heed to it. Shouldn't it be you who shall be betrayed by your own industry then? In her observations that have led the beverage industry towards the most exciting disruptions, she points out them as –
The war on sugar.
The growing demand for "better for you" organic whole food plant-based ingredients.
Supporting regenerative agriculture.
Sustainable packaging.
Delivering clean labels.
Function is just as important as taste.
The first requisite:
All good work exposed requires self-revelation. As a founder and CEO, Dominica is responsible for overseeing recurring operations, supply chain, sales, marketing, and her favorite feather in the hat which is the product and recipe development. She is on a mission to build a lifestyle brand that increases the health span of humanity and the planet. Elaborating further, she claims that she is committed to her VIBE LIFE Community and is always on the zeal of inventing and thinking about new mills on the wind that can assist her VIBE STARS to feel better and live better. She adds that product and recipe development are my greatest passion so I have over 500+ formulations with a clear vision of exactly how I want to grow the brand which will take patience, determination, and time. However, expansion to the greatest scale is no one-man army, herein TEAMWORK makes the DREAMWORK. Dominica feels that diversity is the secret ingredient as everyone brings special gifts to the table. When team members feel heard and safe expressing their ideas magic blossoms. Those special moments deepen our bond and turn our community into a family.