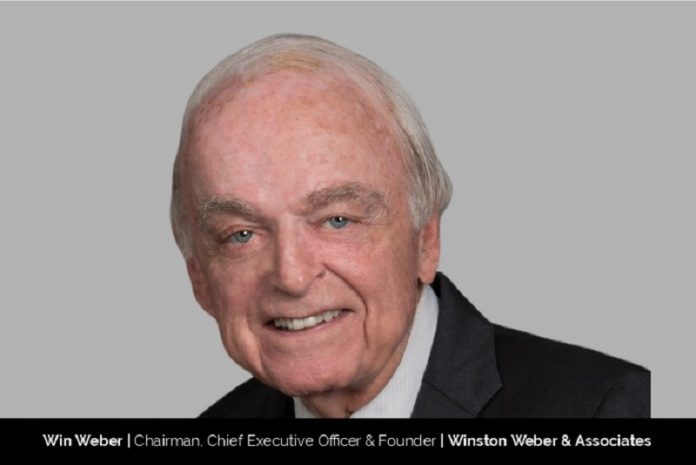 With the retail industry experiencing the most dynamic change in decades, new business models are revolutionizing today's shopper-centric environment.
With over 50 years of experience in the retail industry, Winston Weber, Chairman & CEO, Winston Weber & Associates, finds the current retail environment challenging, but also the most exciting he has ever known.
In the late 1980's, he introduced retailer/supplier partnering, a process today known as Collaborative Business Planning. In 1990, he was recognized as one of the original architects of category management, introducing the concept to the U.S. market in 1990.
In recent years, Weber has been the one to recognize the need to build upon the 30-year-old category management approach, with the introduction of the new Shopper-Centric Retailing Business model and its core component, Shopper Solutions Planning.
Today, Winston Weber & Associates (WWA) provides consulting services to retailer chains, independent retailers, and consumer packaged goods manufacturers.
Building a successful career in the consumer products industry
"After my graduation from Syracuse University in 1962, I spent 23 years working with consumer products companies followed by 36+ years in the consulting business," says Weber.
He spent the first ten years of his career with Colgate Palmolive and then General Foods, moving up quickly from Retail Salesman to Sales Supervisor, District Manager and Regional Manager Positions.
"These were excellent corporate experiences that taught me a lot, but I wanted more," he recalls "I felt too limited by the corporate cultures, in driving change designed to improve the work environment and performance."
Weber then left General Foods for Beechnut Baby Food as Vice President Sales, and quickly learned that Baby Food sales representatives not only sold, but also stocked the shelves of all supermarkets – a very expensive responsibility.
"I tested no shelf stocking in a small market. Competition followed immediately. This led to our decision to expand nationally. We eliminated 1500 sales/shelf stocking positions and considerable expense," he says.
Weber was then invited by Sunshine Biscuits to be their Vice President, Sales, at a time when they were losing money, and his responsibility was to fix the problem.
"I designed the strategy and plan to move Sunshine from direct store to warehouse delivery," he recalls. "This immediately moved the company from a several million dollar loss to a several million dollar profit. This move also helped us gain market share."
Weber was then invited to join the Drackett Company as Regional Vice President followed by a promotion to President of Sales.
"At Drackett, I made a number of organizational changes including moving women and black Americans into management positions for the first time," he says. "Considering this was 40+ years ago, this was well ahead of when most companies made similar moves."
While Weber's time at Drackett was an excellent experience, Atari approached him with an employment package he could not resist. As Senior Vice President Sales, he was hired to bring in consumer products retail channel experience, and to make major changes to the Sales Organization structure and business processes.
Having accomplished this, Weber moved on to his final corporate experience as President of the Schering Plough Sales Corporation, where he implemented similar changes.
From corporate life to management consulting
After 23 years in corporate life, Weber felt he had accomplished so much at such an early age, working in senior management positions with major consumer products companies, that he decided to move beyond, working for a single corporation, where he could contribute to the growth of many companies and also drive change throughout the consumer products industry.
This led to his decision to start Winston Weber & Associates, Inc. in 1985, with the goal of forming a small "boutique" consulting firm with a global perspective, that would provide leadership thinking with practical, implementable solutions to grocery retailers and consumer packaged goods companies.
"I wanted to employ a controlled growth strategy with an emphasis on providing more value and client return on investment than very large consulting firms staffed mostly by junior consultants, many with minimal business experience. This has been accomplished and maintained during our 36 years," he states.
Growth with an uncompromising emphasis on quality and trust
Weber expects senior consultants joining WWA to have at least 30 years of business experience in general management, retail management, sales management, brand management or supply chain management in the consumer products industry.
"I expect them to bring a unique blend of skills, expertise and a 'real world' business perspective to each client assignment and be ideally suited to deal with companies trying to leverage leadership positions in the marketplace, as well as turnaround situations," he says.
Weber believes that having an in-depth appreciation for the need to focus on running the business while changing the business, ensures the achievement of near-term performance targets while taking the business into the future.
"More value and client return-on-investment means an uncompromising emphasis on quality and trust, a 'say it as we see it' approach, and the ability to consistently exceed client expectations," he elaborates. "These qualities and our dedication to providing leading-edge thinking with implementable solutions has helped us achieve our goal… this is our reputation today."
Today WWA has clients in the U.S., Canada, Europe, Mexico, South America, Australia, Hong Kong, Singapore and Taiwan. "I am personally involved in every client project," says Weber. "My Delta Airlines mileage alone is 3.5 million miles."
Pioneering new models in the retail industry
Since its inception, WWA has been a leader and pioneer in the retail industry. In the late 1980's, they introduced the concept of Retailer/Supplier Partnering – now referred to as Collaboration – to the grocery industry, a concept that continues to grow across the industry.
In 1990, WWA introduced the concept of Category Management to the U.S. market. Today, Category Management is practiced by supermarket chains, pharmaceutical chains, and mass merchandisers throughout the world, and has been a significant contributor to sales and profit growth for both retailers and consumer product manufacturers.
WWA is now introducing their new beyond category management Shopper-Centric Retailing, an all-encompassing and transformative business model which focuses all functions within a retailer on increasing sales by exceeding shopper expectations.
"This means evolving beyond ingrained business policies and practices to a fully integrated top-down, cross-functional focus on the shopper, shopper solutions, and enhancements to the shopping experience," explains Weber.
With expanding food lifestyles, digital connectedness, social media, on-line shopping, delivery options, and increasing generational complexities, this new business model provides the support necessary to deliver sustainable incremental gain in today's shopper-centric environment.
Continuous evolution in a hyper-evolving world
Weber believes that today's hyper-evolving world requires continuous evolution, not one-time change. "In today's environment where the store, the shopping experience and the shopper are now the primary focus, the need to move forward with Shopper-Centric Retailing is undeniable," he states.
WWA's new Shopper-Centric Retailing business model is not only endorsed by the Food Industry Association, but also by retailers and CPG manufacturers. It is expected to be a key contributor to industry growth by delivering customer satisfaction for years to come.
WWA is also introducing their industry-leading Shopper Solutions Change Enablement Training, a new approach to training that adds the necessary competencies to foundational skills, enabling the shopper-focused solutions necessary to win in today's constantly evolving retail environment.
In recognition of all these initiatives, WWA was named as one of the "10 Most Recommended Service Providers of 2019" by ES Outlook Magazine, "One of those innovators who is changing the world for the best in 2020" by Behind the Scenes with Laurence Fishburne, and "The Top Ten Brands Rising to the Top in 2021" by Industry Wired Magazine.
Moving beyond change management
Weber believes that change management is no longer sufficient in today's environment, and that it is essential to build the universally-required competencies of Non-Routine Cognitive Skills, abstract reasoning, systems thinking, and the ability to experiment that allows teams to continuously adapt and excel.
This involves bringing together the foundational skills introduced by category management with the shift to shopper-centric strategies and processes driven by the current digital revolution.
"This approach prepares a company's team for success with trading partners by focusing on the HOW: the infrastructure, people behaviours, and retailer/manufacturer strategic collaboration. This is a first in the industry," says Weber.
Apart from their leadership initiatives, WWA also has a new upgraded collaborative business planning process designed to significantly improve the ROI for resources deployed and a new and advanced multicultural initiative.
As the industry begins to experience the "new normal" of the post-COVID world, WWA is well positioned to continue their role as a highly influential consulting firm.
Exceeding expectations with clients
For Weber, success is achieving or exceeding the desired and agreed upon results. "I have thought this way throughout my life whether business or personal. My parents brought me up this way. My biggest recognition is business executives wanting to listen to what I have to say," he states.
With clients, WWA's proposal and closing meetings always include the Chief Operating Officers and senior executives across functions. "I am invited to speak at industry conventions in the U.S., Canada, Mexico and South America, and many articles have been published regarding our accomplishments," says Weber, noting that, one global publication even named WWA Impact Company of the Year.
"When I think about what WWA has accomplished during the past 36+ years, we have gained a reputation that has enabled us to be known as the one consulting firm that truly understands retailers, consumer product manufacturers and the relationship between both parties, and the one firm providing leading-edge thinking and practical solutions," says Weber.
Their unmistakable success is evident in the recognition and praise they have received from clients, one of whom stated that, "Winston Weber and Associates has been on retainer for fourteen years while most consulting firms survive our environment for one or two years. This is because they deliver well beyond expectations and we trust them. They actually wrote our policy on how to work with consultants."
WWA's clients have also stated that "there is not one consulting firm that comes close to their understanding of this industry from both a retailer and supplier perspective."
Taking challenges in his stride
Weber sees challenges as a daily part of life and believes that one's ability to successfully address challenges determines their level of personal and business success.
Defining himself as a "positive" person, he says, "Whether it is business or personal, I do not know how to think negative. If a negative situation is occurring, my mind immediately focuses on possible solutions."
Weber's responsibilities as the CEO of WWA are to have his finger on the pulse of the industry, have WWA's role and responsibilities in the industry clearly defined, be the key marketer for WWA, help secure new clients, guide the preparation of client initiatives, and sell clients on their solutions.
"It is extremely important for me to have a tight grasp on major industry issues and trends. For example, I have spent a lot of time this year determining the post COVID-19 new norm for both retailers and CPG companies," he says. "This has led to an adjustment in several of our capabilities with new leading initiatives planned, as well as a major upgrading of our website."
Weber's goal is to continue to provide leadership thinking with practical, implementable solutions. "When considering the current hyper-evolving marketplace, I feel we are ideally positioned to continue to be a key resource for both retailers and consumer products companies," he says. "Our geographic focus will be the U.S., Canada, Mexico and South America."
A respectful business partner and devoted spouse
"My wife Linda and I have been married 55 years," states Weber. "I maintain a balance in my personal and professional life by devoting my weekends to her, listening to her needs and wants, and making sure she is motivated and happy."
When travelling, Weber makes it a point to communicate with his wife daily. "This is extremely important since, prior to COVID-19, I traveled three or four days a week to meeting with clients. When COVID is over, this will be the norm again," he says.
Weber recalls often having to deal with bosses who believed they knew it all and therefore did not allow subordinates to express their points of view, during his corporate life.
"I had to learn how to deal with this on a daily basis, both one-on-one and in meetings. My ability to deal with this was key to me growing to new levels as fast as I did in my career. With WWA, this has enabled me to successfully deal with all types of executives and corporate cultures."
Weber treats WWA's consultants with the same respect he accords his loved ones, fostering a culture of feedback both internally between their consultants and with their clients. He believes in creating a very open and collaborative environment internally with all members of their consulting team encouraged to express their ideas, opinions and experiences.
"As we say internally, it takes multiple minds to achieve our desired level of 100%+10% perfection on each assignment. The same holds true in our relationships with clients," states Weber. He considers the sharing of their client's knowledge, experiences and insights with WWA as very important, as they define the current needs and capabilities of their clients on the way to determining the desired outcome.
Staying mentally young and active
Weber's message to all aspiring business minds is to never let their minds age beyond 45 years old, and to stay focused on innovation, the future, and how they can contribute to their business, family, and life for years to come, as this will enable them to stay mentally young and active for years to come.
"My personal business goals are to stay mentally young and continue to be a key resource to both retailers and consumer products companies for years to come," he says. "I am now only in my 60th year in the industry and during this time there have been many new and challenging experiences."
Weber looks forward to being actively involved in helping companies maintain and grow their competitive position in the marketplace.
"I am committed to continue leading industry thinking in areas such as organization redesign, advanced business process design, collaborative business planning, and leveraging an unparalleled understanding of the retail industry and interrelationship between retailers and CPG manufacturers," he concludes.