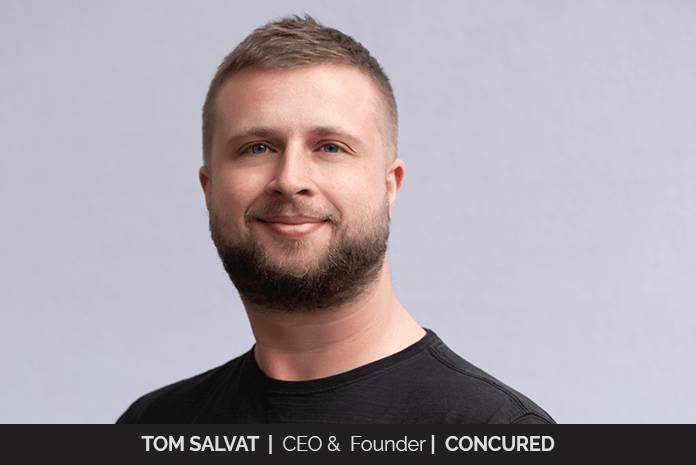 Curating relevant content, maintaining consistency and gaining traction with valuable content can be very challenging for business when it comes to promotion. Driven by a creative idea to transform the lives of content marketers and provide a solution to content marketing challenges, Tom Salvat a passionate entrepreneur set on an inspiring journey with an enduring spirit to build something special. Tom founded Concured in 2015 to enable content marketers to deal with the biggest challenges they encounter by leveraging the latest advances in Artificial Intelligence. From an aspiring businessman to an influential CEO, Tom has come a long way. We are honored to cover his success story in this exclusive article that will motivate our readers to think out of the box and create something special.
The Beginning of Concured
Firstly, working out how to fund a company and navigate the landscape of angel investors and venture capital was a steep learning curve for Tom and his team. Secondly, taking a new product and new way of working to market and trying to educate potential clients along the way is challenging. However, Tom has always been entrepreneurial. He loved the creativity of forming a business – trading, buying, selling, and marketing a product to an audience. "My whole family are entrepreneurs, business owners, and creatives so I didn't stand a chance!", he shares. This passion instilled a faith in him to head out on the path of innovation.
Concured was created as Tom saw a huge challenge facing marketers in this age of never-ending content being pumped out on multiple channels. The reality was marketers were spending 70% of their time creating content that only worked 30% of the time. He could see that Artificial Intelligence (AI) and the latest advances in tech could help marketers better understand their audience and content consumption so that content performance was increased.
A Brief About the Services and Growth
Concured was built to help content marketers better understand the interests of their audience so that they can deliver content that delights and inspires. Their unrivalled understanding of content allows them to help their clients with three core solutions: Content Intelligence that guides the ultimate strategy for success, Content Creation by partnering with the world's leading writers including, IDG and and Content Optimization that maximizes the return of any content investment through personalization and amplification.
Concured is a SaaS business, therefore they define success and their growth with Annual Recurring Revenue (ARR). They went to market with their first product in 2017 and have seen nearly 300% growth year on year. They proudly power the content marketing strategies of some of the most innovative and forward-thinking enterprises including, HP, IDG, and the BBC.
Driven by Passion to Lead
Tom's very first job was as a guitarist and lead singer of a heavy rock band. After this, he found himself lured into the world of marketing and advertising. He spent several years working at some of the biggest companies in the world including, AXA, Bank of America, Vodafone, and the Press Association. As advertising revenues declined, Tom found himself attracted to the world of content marketing and technology. He was the first commercial hire at a series A backed start-up and from then on caught the bug for building technology companies to help marketers thrive.
As CEO of Concured, every day is different. The main role of most tech CEOs is to sell the vision to prospective clients and investors. When Tom is not doing this, he loves speaking with existing clients about what the dream product would look like for them. This is truly the best way to understand the challenges and pain points that clients have and better offer support in finding solutions. "Beyond this, I'm actively demystifying the world of AI for marketers at speaking events around the world, showing them how they can benefit from AI today. I love the variety, creativity, challenges, successes, and liberty that comes with founding a start-up.", says, Tom.
The Motivating Factor Vision of Concured
Tom is particularly driven by innovation. Having the freedom to break things and explore beyond traditional modes of thinking is what inspires him the most. As a founder, Tom has the luxury of not being tied down by politics or answering to the status quo of how things should be done, allowing him to explore beyond boundaries and identifying what the best way forward is in achieving their successes. "Our team is motivated by success and witnessing our input turn into immediate impact for our clients.", he adds.
Concured's vision is to be the number one content intelligence company in the world to help their customers better understand their audience so that they can create content that engages, educates, and inspires. Having spent 5 years developing an AI-powered content solution they have an unrivalled understanding of content. Their ability to read, intelligently tag, and score content at scale separates them from any perceived rivals.
The Plan of Success for a Brighter Future
People do not like change and larger companies often don't want to take risks, especially with start-ups. Concured responds to this seemingly scary world of AI by demystifying the technology at speaking engagements around the world, producing educational content, and providing real-life examples. Things always take longer than planned and require finances to move forward so raising money becomes a distraction. What they primarily want to focus on is their clients and continuing to improve their product to the best version it can be.
Next year is all about expanding their reach and successes in North America. Concured plans to automate nearly over 90% of the research process in 2020. By 2021, they have plans in place to automate both the research and creation of content. Content marketing is a $200 billion global business and Concured is uniquely placed to help brands with the biggest challenges that they face.