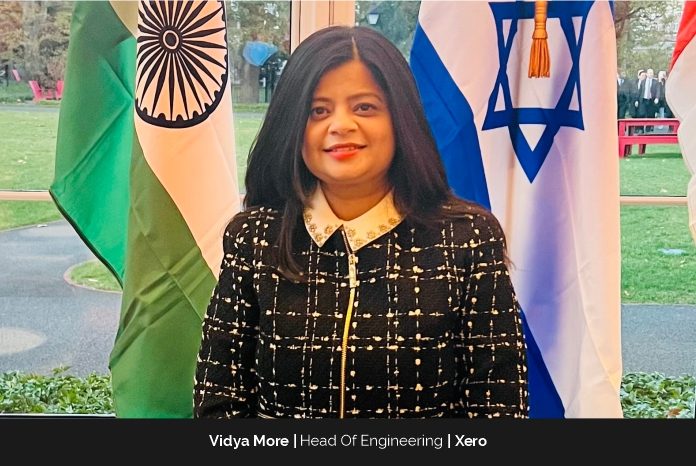 Meet Vidya More, an accomplished technology leader with over 20 years of experience in software development and more than 10 years of expertise in technology strategy consulting and people leadership. In her current role as Head of Engineering at Xero, Vidya leads engineering teams located in the US and the UK. These teams are responsible for managing Xero's global tax and EMEA tax products, catering to small businesses, accountants, and bookkeepers.
Vidya plays a pivotal role in shaping the strategy, vision, and technology landscape at Xero to create a sustainable and excellent engineering environment. Her daily activities involve a mix of working on her projects and facilitating her engineering team's progress toward their objectives. She meticulously organizes her day into various blocks, including 1:1 meetings, team meetings, cross-functional meetings, and personal work time.
Her typical day revolves around tasks such as customer engagement, stakeholder management, cross-team collaboration, team development, mentoring, coaching, hiring, budgeting, and project planning and execution. Vidya More is committed to advancing Xero's world-class software engineering environment while delivering high-quality products to their customers.
Vidya General completed a Management Program at Harvard Business School last year. This program was focused on Leadership, Strategy, and innovation equipping her with valuable skills and insights to drive impactful change within organizations. After graduating from this program she became a Harvard Business School Alumni.
From Mumbai to Global Engineering Leadership
Vidya's upbringing in Mumbai, India, was within a middle-class family that prioritized education despite limited financial means. She had a strong inclination toward solving problems that benefit people, which led her to pursue engineering. Despite the fact that engineering was not the typical choice for women in her community at the time, Vidya's parents supported her decision. She secured a full scholarship to study electronics engineering at Mumbai University, becoming the first engineer in her family.
During her final year of engineering, a significant event occurred that had a profound impact on her life. Her father suffered a heart attack, and although he survived, this incident left a lasting impression on Vidya. She was the eldest in her family, and at the time, she had not yet graduated. Her mother was a homemaker, her brother was in his first year of engineering, and they had no other source of income. This experience taught Vidya the importance of self-reliance, sharing financial responsibilities, and having contingency plans in place. She recognized that unexpected hardships can affect any family and used this philosophy in her work to ensure that there are always backup plans and shared responsibilities to ensure project success.
Vidya's career began at Citibank, where she gained valuable corporate and technology experience. She later joined Capgemini and had the opportunity to work in Ireland and London, marking the first time anyone in her family had left the country. This experience emphasized the importance of diversity to her.
Throughout her career, Vidya held various roles in software engineering, solution architecture, and engineering leadership at prominent firms like PwC, EY, KPMG, and Bank of America Merrill Lynch. Her ultimate goal was to lead a team of talented engineers and create meaningful products that benefit people worldwide. Today, as the head of engineering at Xero, Vidya reflects on her journey, which was shaped by her education, early experiences, and her deep passion for technology and problem-solving.
Vidya's life story is a testament to breaking down stereotypes, overcoming challenges, and embracing new opportunities with determination. She hopes that her journey can inspire others who are pursuing their passions and striving to make a positive impact in the world.
Empowering Small Businesses through Cloud-Based Solutions
Xero is a user-friendly cloud platform designed for small businesses and their advisors. Initially developed as cloud-based accounting software, the company has evolved to offer a comprehensive suite of integrated tools and services aimed at helping small businesses thrive. The company's core purpose is to enhance the lives of individuals in small businesses, their advisors, and communities worldwide. Their mission is to revolutionize the landscape of small business, making it more seamless, straightforward, and intelligent. The company is dedicated to simplifying complexity, whether it's in the design or functionality of their products. By streamlining essential tasks, the company empowers business owners and their advisors to focus on running their businesses efficiently and effectively.
Vidya states, "We have over 3.8 million subscribers globally and offers an ecosystem of over 1,000 third-party apps and 300 plus connections to banks and other financial partners."
Motivations for Leadership
Vidya has always been intrigued by solving problems that benefit people, and this passion has driven her to create meaningful products that have a positive impact on individuals. Her pursuit of personal growth, continuous learning, and improvement has led her to embrace leadership roles as opportunities to challenge herself, acquire new skills, and shoulder greater responsibilities. Vidya is motivated by a strong desire to reach her full potential and leave a lasting mark on her career. Her commitment is to constantly strive for self-improvement, aiming to outperform her previous achievements.
However, there are various factors that can inspire individuals to pursue leadership roles. Whether it's a drive to create positive change, the influence of role models, or a thirst for personal development and growth, leadership offers a fulfilling and rewarding path for those who are prepared to take on the challenges it presents.
Empowerment, Inclusivity, and Excellence
For Vidya, success is about empowering and inspiring others to reach their full potential. She is dedicated to creating a diverse and inclusive work environment where people from all backgrounds feel valued. Vidya is passionate about enabling innovation and fostering collaboration within her organization. She places a strong emphasis on establishing sustainable technical excellence and building high-performing teams. Customer satisfaction is a top priority for her, and she aims to exceed customer expectations by delivering exceptional products and services.
Insights on Women in Tech
According to Vidya, despite the world being in 2023, conscious or unconscious biases and microaggressions still persist in society. Throughout her career, Vidya has held various roles in prominent tech firms, and she often found herself as the only woman in her tech group. Despite her hard work and success, biases persisted. She faced challenges, such as being the only female manager among many male managers, which was not well-received by some. In meetings, her ideas were sometimes ignored or interrupted, which was frustrating.
However, Vidya used these experiences as opportunities for growth. She learned the importance of building a support system, finding mentors and sponsors, and leading by example. She emphasized the need for inclusive teams and aimed to lead with empathy, listening, and creating a collaborative and psychologically safe environment.
Vidya believes that biases are one of the reasons women hold themselves back, and as leaders, it is crucial to empower women in tech to reach their full potential and promote diversity and inclusion.
Embracing Generative AI
Vidya believes that modern technologies like Generative AI are game-changers in the software development industry. They enhance efficiency, quality, and reliability by automating tasks, documentation, code optimization, and more. These technologies also improve collaboration, streamline testing, address security concerns, and reduce costs. By leveraging AI-powered tools, developers can focus on the creative and high-level aspects of software development, leaving repetitive and time-consuming tasks to AI. Vidya views these technologies as companions rather than threats, as long as they are used ethically and responsibly.
Personal Fulfillment Through Team Growth and Development
For Vidya, one of the most significant rewards and forms of recognition as a leader is witnessing the growth and development of the individuals she leads. She finds great satisfaction in investing in the professional development of her team members, helping them reach their full potential, and achieve their goals. Observing the progress they make is incredibly rewarding and brings a sense of accomplishment.
Additionally, Vidya finds recognition in the impact of her work on the organization as a whole. Seeing the tangible results of her efforts and knowing that she has made a positive difference in the lives of others is a powerful form of recognition for her as a leader.
Prioritizing Well-being
Vidya emphasizes the importance of achieving a work-life balance for personal well-being and sustained success. She manages her time effectively, prioritizing high-impact tasks and practicing mindfulness to enhance focus and reduce stress. Vidya schedules dedicated focus time on her calendar and engages in personal interests like traveling and building Lego creations to rejuvenate herself. She values disconnecting from work periodically to return with renewed energy. Vidya appreciates Xero's support through generous leave policies and well-being initiatives, facilitating a healthy work-life balance. These strategies help her manage responsibilities while leading a balanced life.
Message of Confidence and Resilience
Vidya places a strong emphasis on cultivating confidence, especially for aspiring women engineers. She advises them to overcome imposter syndrome, embrace failures as opportunities for learning, and commit to continuous growth. Her general advice to aspiring engineers is to break free from self-imposed limitations, not to be held back by their past or identity, and to recognize the significance of their opinions. Vidya encourages them to dream big, believe in themselves, and have the courage to overcome barriers, emphasizing that with self-belief, discipline, and courage, dreams can indeed come true.