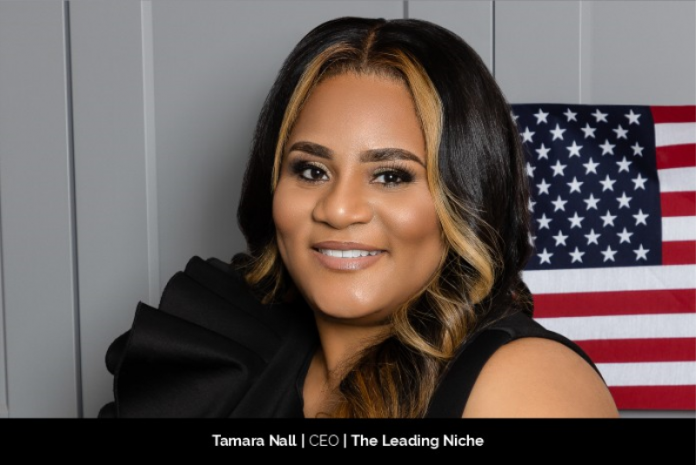 Ever since childhood, Dr. Tamara Nall, Founder and CEO of TLN Worldwide Enterprises, Inc. (dba The Leading Niche), had a business mindset that drove her to start several businesses even as a child.
Tamara's enterprising nature led her to build the foundation of The Leading Niche, a globally renowned tech company that provides data analytics, cyber security, and other IT solutions in public health and financial services.
A mind for both business and engineering
Before founding The Leading Niche, Tamara was a Senior Associate with Booz & Company (formerly Booz Allen Hamilton), where she led engagements in industries such as healthcare, retail, telecommunications, and government.
Her work focused on assisting senior clients with corporate strategy, growth strategy, mergers/acquisitions, restructuring, and market and pricing strategies. Working at Booz & Company, Tamara was consistently praised for her unusual combination of a business and an engineering mind.
Given her passion for both fields, which she consolidated through bachelor's degrees in chemical engineering as well as business, she was tasked with complex global assignments, leading major programs that were strategic and analytical.
"I called myself biz-lingual because I knew how to communicate the numbers to clients in digestible bites or talk to analysts and engineers about the real impact of the numbers," Tamara recalls.
However, while working at Booz, Tamara noticed that as she progressed within the organization, she attended fewer family and personal events. She missed important dates and was working 20-hour days.
"I felt that type of work schedule was not sustainable for my health and my future. So, I decided that it was time to go into entrepreneurship and build a tech company that could do great work for its partners worldwide as well as create a lifestyle that would facilitate work-life balance," Tamara explains. "I left Booz three to four years short of becoming a partner but felt that it was the perfect time to utilize what I'd learned to build a global enterprise. This led to the creation of The Leading Niche."
She remarks that the definition of success varies from person to person and is very individual. For some, success is having freedom; for others, it can mean having extra income or time to spend with family.
"To me, success combined all of these. I wanted to build a company with a culture and environment that made me want to work, to jump out of bed every day excited about what we're creating, feel valued, create more job opportunities, and build a legacy for my family – all while getting six to eight hours of sleep a night because I love my ZZZZs!" Tamara laughs.
Becoming the premier provider of data analytics and machine learning
As a machine learning and data science expert, Tamara is known as "The Data Wrangler." Her award-winning and internationally recognized company The Leading Niche is known for providing "actionable intelligence" through data and cutting-edge consultancy to commercial and government customers in domestic and international markets, including the USA, Canada, Europe, and Africa.
The firm specializes in big data, machine learning, and artificial intelligence. Having been at the forefront of machine learning technology for nearly 15 years, Tamara is excited and thrilled to see the increased adoption of this technology.
Some of the services that The Leading Niche offers include big data, cybersecurity, intelligence, health IT, regulatory/compliance, and investigative/examination consulting. The firm also has an Innovation Lab and curates' intellectual capital for the company's research arm, NALL-EDGE.
Regarding her company's objectives, Tamara says, "As a team at The Leading Niche, we provide all our customers at civilian agencies and the department of defense with our predictive tools and models. Our goal is to help our customers achieve their missions no matter what field or department they belong to. Whether it is public health requirements, defense requirements, or financial requirements, we are here to provide clients with whatever help they need.
The Leading Niche outperforms its competition by being more agile than large competitors and being more efficient and experienced than small competitors. Tamara and her team do not hesitate to automate areas of the business to improve efficiency, but they are also profoundly committed to the human components of their work. She notes that the firm is driven by its vision and mission.
The Leading Niche envisions a world where employees, customers, and partners receive a "white glove" customer service experience like no other. Its mission is to become the premier, go-to provider of data analytics and machine learning to federal customers worldwide, the employer of choice by top talent, and a place where employees can cultivate their best selves.
A strategic approach to dealing with business challenges.
"If I had to define myself in one word, I would say that I am strategic because I always know when obstacles are coming my way, and I plan for them beforehand. Having a high level of EQ or emotional intelligence, any business can be successful if you pay attention to the cues," Tamara observes.
She notes that all people contributing to the company come with different experiences and strengths; it is her responsibility to rally the troops and keep them dedicated to the company's goal. Though her days may differ, they mostly consist of working on her team's strategies, business development, and motivation.
"I am responsible for handling the company's vision and strategy," Tamara shares. "As much as I would love to say that building a company or starting a business doesn't come with any challenges, the truth is it does. Challenges and obstacles are natural and inevitable. The goal is to keep going and take time to process the obstacles to find the best way to tackle them. The next objective is to take time to learn from the experience."
She lists several roadblocks that she has encountered throughout her entrepreneurial journey, along with the solutions that worked for her.
Roadblock # 1: Develop and follow a vision and strategy.
During the early stages of the company, I would get requests for new opportunities and new deals every week.  I was often distracted by the next shiny object. Although we had a strategy, I would let these interferences hinder following our defined strategy, so we lost time and money.
Make sure that you have a strategy and stick to it, and if you need to change it or revise it given economic or industry dynamics, that is fine. Just have one and follow it like your North Star.
Roadblock #2: Not hiring the right people.
Throughout my entrepreneurial journey, the hardest part has been hiring the right people.  Quite honestly, people sell themselves well during interviews. Even though something in me said not to hire the candidate, I would because of the company's priorities. Boy, did I regret it!
Now, we make sure that we have multiple phases in the interview process and that we test the candidates in the specific area that we need. While we still ask for references, they do not carry as much weight as some of the other areas because who would supply a reference who would speak poorly of them?
Roadblock #3: Ignoring my gut.
Your gut is your best friend. You must have faith in your entrepreneurial skills and intuition. It is not by chance that you are an entrepreneur or that you have a vision or a dream. You are here because this is where you're supposed to be, and I believe that entrepreneurship is our God-given talent for those of us who are called to be entrepreneurs.
With that responsibility comes a natural intuition, which I call the gut instinct. That instinct guides us along the way. Those times that I did not follow my gut, I made the wrong decision. Now, I have greater confidence that if my gut tells me to do something, then it's probably the right choice.
An accomplished & influential leader creating immense value for customers.
Along with creating hundreds of jobs and opportunities, Tamara takes pride in the fact that she has successfully created millions of dollars in value for her customers. To add to her accomplishments, she is also a USA Today and Wall Street Journal bestselling author.
Tamara's career boasts of an extensive list of awards. She is a five-time nominee and Hall of Fame inductee of the ICIC Top 100 Fastest-Growing Companies, five-time nominee of the Inc. 5,000 Fastest-Growing Privately-Owned Companies in America and has been recognised in the Women Presidents' Organization (WPO) Fastest 50 Growing U.S. Companies.
In addition, Tamara has received numerous awards and recognitions, including The Network Journal's 40 Under Forty Award, Black Enterprise 40 Under Forty Award, the "Big Time Operator" Award, Best Buddies "Women with a Mission" International Award, Stiletto Woman Business Award, the Brooklyn International Trade Development Centre's International Women's Entrepreneurial Award, and the National Minority Business Council's Global Outstanding Business Award. Furthermore, she is a two-time winner of the New York Enterprise Reporter Small Business Award, and she has been named on the Vyne Weekly's "Top 10 Women to Watch" as well as being nominated Entrepreneur of the Year in Consulting and Business Services.
Besides these awards, The Leading Niche has achieved CMMI Level 3 appraisal for Development and Services and has ISO 9001, 20000, and 27001 certifications. The Leading Niche client results have been highlighted in media channels, including the Wall Street Journal, CNBC, Reuters, the New York Post, and the Daily News. In addition, an MBA magazine featured The Leading Niche in a consulting case.
Tamara is also a judge for the prestigious Stevie International Business Awards. She currently serves on the Board of the Amobi Okoye Foundation and on the Marketing Advisory Committee for the University of California, Irvine. She was also appointed to the Renewable Energy and Energy Efficiency Advisory Committee, which is responsible for the nation's export policies.
Tamara takes a great deal of pride in her academic accomplishments – and rightly so. She has a Doctorate in Engineering Management and Systems Engineering with a research focus on machine learning from George Washington University.
She has also earned a master's in business administration from Harvard Business School, a Bachelor of Science in Chemical Engineering from Georgia Institute of Technology, and a bachelor's in business administration with Honors from Goizueta Business School, Emory University.
Avoiding stress & practicing self-care is the key to balance.
Tamara reveals that her secret to the ultimate work-life balance is getting six to eight hours of sleep. "I am not a person who wakes up at 4:30; I take my sleep time seriously and wake up at 6 or 6:30, meditate, pray, and check my emails. I get up and out whenever I feel like it, or whenever I have the time on my calendar," she shares.
Along with drinking a gallon of water daily, Tamara also swears by her monthly massages, at-home facial routine, and her ideal dose of watching comedy. "I also ensure that I stay connected to my husband's day and my family. My night routine is all about watching television and catching up on business and world news highlights," she says.
Tamara does her best to avoid stress because it paralyzes her, so she tries to stay calm by going into strategic mode and knocking out the tasks at the top of her priority list. "Stress is always out of the equation for me," she remarks. "My motivation lies in the fact that I have a huge and impactful impact on our community and customers' lives. I support my team by providing them with adequate responsibility and a learning environment that ensures their career growth to keep them motivated."
Women can create businesses & partnerships that can change the world.
Tamara strongly believes that women are more powerful than they are given credit for. She maintains that their power and passion in any field are beyond measure and notes that numerous studies have shown that women can easily outperform their male counterparts in multiple areas.
For Tamara, there is no question of what women should be given the space to do. "Some of the strongest partnerships I know of are led and run by women. If I were given a chance to change something, it would be to encourage women to overcome their fears and do whatever they have set their minds to — and I strive to be an example of that through my own work. As women, we are capable of empowering each other and lifting each other up to create million- and billion-dollar businesses and partnerships that could change the world."