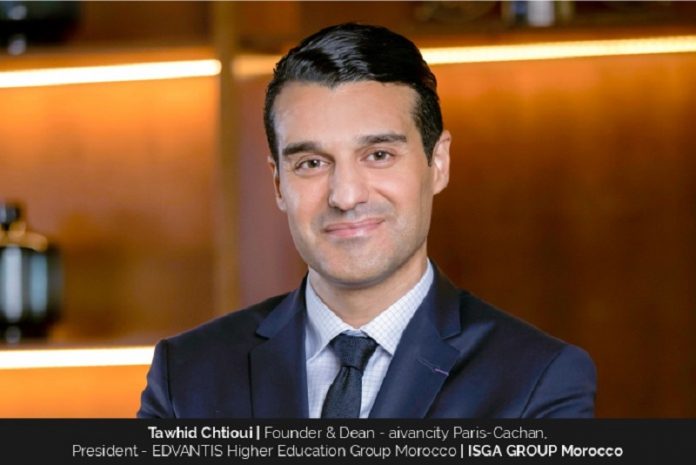 Dr. Tawhid Chtioui is an "Innov'Actor." He is on a constant quest for new ideas and innovation and derives them even from the simplest things in life, and when an idea strikes him, he makes sure not to let it go waste. A man of action, he tries to transform it into something innovative and tangible. And, for Dr. Chtioui, innovation is not just a question of ideas. "If you are not able to put it into place, it is not innovation," he says.
As Dr. Chtioui has an innovative mindset, he thinks differently and acts differently, which are among the reasons for his stellar reputation in the education field. He is currently making a significant impact as Founding President and Dean of aivancity School for Technology, Business & Society Paris-Cachan and President and Dean of Morocco-based EDVANTIS Higher Education Group. Successful he is, but for him, success does not mean money or position.
"Success for me is first and foremost a question of impact," Dr. Chtioui says. "Success can't be defined by the position you hold or the money you make, but rather by the impact you have on society and people's lives."
Since he was a little kid, Dr. Chtioui was interested in activities that could generate impact rather than money, such as politics, entrepreneurship, and education. And, quite early in his life, he realized that education is an activity that could have the greatest impact on the economy and societies. He also identified it as an important instrument for reducing social divisions and inequalities.
Founding aivancity
aivancity is an innovative and unique school of Artificial intelligence & Data. Dr. Chtioui founded it to meet the growing need for experts in AI and Data, and above all, to provide an answer to the many challenges and questions regarding their impact on business, management, human beings, and society.
Dr. Chtioui points out that it is essential to accelerate the application domains of AI, along with taking into account changes that will affect business practices and society's expectations. "Hybridization between AI, management, and ethics is a necessity to face strong technological changes, challenges of scientific evolution, and societal constraints that condition tomorrow's world," he adds. And, according to him, complete integration of content, pedagogy, research in AI and social sciences allows the emergence of a new model capable of facing major scientific, industrial, and societal challenges.
Dr. Chtioui believes that innovation is sustainable only when it is anchored in society. So, aivancity's mission is to train experts who can develop computer programs that accelerate business performance as well as to work towards the progress of humanity and ensure that ethical rules evolve in line with technical and societal developments.  At aivancity, 25 percent of the content of their programs is related to AI ethical issues. "This is completely new in the field of technology and computer science," says Dr. Chtioui.
And aivancity has a very innovative 5.0 campus. Conceived as an open and accessible place, it is in the heart of the city and connected to the world. Dr. Chtioui explains that the design of the campus reinvents the pedagogical and workspaces, offers a unique learning experience, and opens the school more to its environment. It will become a place where along with future learners gaining unique experience, partner companies can also get involved with the student community.
Leading EDVANTIS Higher Education Group
EDVANTIS integrates ISGA Group, a prominent institution in Management and Engineering studies, is one of the oldest actors of higher education in Morocco and ARTCOM'SUP, the leading Design School in Morocco. As its President and Dean, Dr. Chtioui is making an exemplary contribution to its development. "I try to put all my experience at the service of the teams, students and graduates of this group," says Dr. Chtioui.
He and AfricInvest, a leading private equity investor, are also associated with a new development challenge. Dr. Chtioui says that his and AfricInvest's values match, and they have the same vision for the educational model that focuses on people and society. Their strategic plan, called "IMPACTS 2026," aims to develop the schools' academic excellence and strengthen its societal impact. The objective is to engage in the transformation of the educational model while promoting hybridization, innovation, and responsibility, in order to contribute to the sustainable development of the African economy and society.
"The greatness of a higher education school has not to be measured by the number of students or by the salaries of its graduates, but rather by its ability to dare, adapt, and impact its environment," says Dr. Chtioui.
Greatest Challenge 
Over the years, Dr. Chtioui has encountered multiple challenges. But, for him, the greatest challenge of his professional life has been the launch of a Grande Ecole (aivancity) from scratch. He built it when the world was in the midst of unprecedented health and economic crisis.
In France, higher education is an increasingly standardized field, which leaves little room for innovative models. Its educational sector is no longer about content and diplomas but has become about learner experience and lifelong employability. "Our higher education institutions should no longer be evaluated based on the quantity of their academic production and the number of their graduates," Dr. Chtioui says, adding that they need to be evaluated based on "the social impact of their intellectual and pedagogical production and the responsible contribution of their graduates to society."
Dr. Chtioui and his team have created aivancity to respond to such challenges, and they have broken with traditional logic and assumed an innovative positioning outside the traditional perimeters and trends. "This requires courage and a lot of resilience, to assume and not to tick the boxes and to convince the banking institutions to finance the project in this particular context," says Dr. Chtioui.
In 2016-2018, Dr. Chtioui experienced Africa for the first time. He is again back to Morocco and Africa, and this time, with an even "more interesting" project where humans are at the Center. He says: "It's a big journey with lots of challenges, but I actually like it!"
Challenges excite Dr. Chtioui, and he intends to stop everything when there are no challenges waiting for him. "Faced with challenges, there are only two choices for a Human: flee or fight," he adds. "I decided to use all my resources and experience to try to take up this [interesting project] challenge."
Journey from Young Professor to Serial Entrepreneur   
Dr. Chtioui holds a doctorate in Management Sciences from Paris Dauphine University and has completed the Leadership Development Program in Higher Education from Harvard University. He started his career as a young professor and researcher. He got multiple opportunities to collaborate and teach in different countries and was also involved in the creation and design of new courses and new programs. Dr. Chtioui, however, soon became eager to explore all the dimensions of a higher education institution's management He was interested in marketing and communication, information systems, design of educational spaces, resources management, and development of international relations. "I was thus able to evolve into positions involving all these dimensions and to work in different institutions with complementary learning that allowed me to have a global vision and control of education management," he says. "This global vision is essential to gain legitimacy with colleagues and teams."
Dr. Chtioui has taught at many schools and universities in France and abroad. He held scientific and managerial positions at several business and management schools in France. In 2019, he served as Chairman and Dean of emlyon business school – before aivancity and EDVANTIS – and prior to that, for three years, he orchestrated the development and management of its activities in Africa. He is also the Professor of performance management and has written numerous scientific articles.
On July 14, 2016, Dr. Chtioui received the Knight's title in the Order of the Academic Palms from the French Republic, and in addition to that, he has won many other awards, including the "Top 100 Leaders in Education Award" from the Global Forum on Education & Learning and "The Name in Science & Education Award" from the Socrates Committee.
Over the years, Dr. Chtioui may have earned numerous accolades, but he considers recognition from his colleagues and teams as his "best recognition." "I have been fortunate enough, each time I have changed schools, to receive wonderful recognition from my colleagues, and I think that is the best thing that can happen to a manager," he says.
Dr. Chtioui has come a long way from his young professor days. He is now a serial entrepreneur. For his success, he first gives credit to the education and values that he received from his parents and then to his professional goals and his diligence. "Very early on, I made choices of professional goals and ambitions, and I worked very actively to achieve them," Dr. Chtioui says. "And finally, it is the passion I have for my job. It's an undeniable strength to work in what we love to do."
Immense success, accolades, and recognition do not mean that Dr. Chtioui has no more dreams to achieve. "I try to never stop dreaming because it nourishes my soul and gives me motivation; it's a sort of planification," he says. "I also try not only to focus on my own dreams but to take care of others' dreams."
And the educational space (the classroom) is the only place where he feels eternal. "One has the feeling of living a phenomenon of incredible intensity; it is the salvation offered to each moment spent transmitting and making the other grow; I love it passionately," Dr. Chtioui says. "These are intense moments because deep down this is the purpose of my life: to exist intensely and, if possible, to offer intensely to the others."
Redefining Education Space 
The global work environment is changing quickly, and according to Dr. Chtioui, higher education institutions now need to consider several facts and developments within the labor market. As per industry estimates, 85 percent of jobs in 2030 haven't yet been invented. The mission of higher education, therefore, has to evolve – be less focused on the diploma and more on employability. It also has to factor in the challenges of globalization, digitalization, and societal impact. "At aivancity, we have made lifelong employability our main mission," says Dr. Chtioui.
He also proudly points out a unique concept that he invented, for which, they have filed a patent. It is called the lifetime guarantee of diploma updating©. Dr. Chtioui says that their graduates will be able to return to the school to take courses and continue to have access to many resources: online courses, media library, and more.
"Any update will be validated by an update of the diploma, certifying the graduate's 'updated' skills and/or knowledge, together with their update dates," he adds. "The newly updated diploma is digitized, available, easily accessible, and forgery-proof thanks to the blockchain."
Dr. Chtioui also believes that a high school or university must not be only about classrooms and lessons or just a place of research and scientific production. It must not be a closed and isolated place. It has to be open to its environment: companies, professional institutions, communities, and civil society with all its components. "We more than ever need to promote an education which encourages debates and creates a genuine exchange between academics, corporates, and society," says Dr. Chtioui.
He created aivancity as a mission-driven corporation, and it has become the first higher education institution to adopt this status in France. Dr. Chtioui's founded institution places at the heart of its statutes: commitments to employability, diversity, responsibility, territorial anchoring, and openness to the city. And the values it upholds are also the missions it sets for itself.
Dr. Chtioui and his team are also developing the connections between EDVANTIS Schools and their environments through news partnerships, development of innovation projects, dissemination of scientific research results, and the multiplication of events open to the city.
Responsibilities as President
Dr. Chtioui handles multiple responsibilities. Internally, he sets the course, gives meaning to their actions, and ensures that their values are respected. "To do this, it is obviously necessary to define the strategy and support its implementation in action plans, to define the resources needed to achieve it and to ensure overall balance, to monitor the implementation of action plans, to define objectives and priorities, and to evaluate their achievement, but also to define new directions that may be necessary, in the event of a change, in the context or deviation from the objectives initially set," Dr. Chtioui says.
He ensures the development of a rich and equitable human resources policy that preserves the collective interest and allows the development and fulfillment of each individual. He also organizes and manages the governance. Dr. Chtioui is the external face of his organization as well, so he also has an external role to play, which means representation, and development and management of institutional relations.
Dr. Chtioui's work schedule is hectic. Does he get the time to spend with his family? He says, "We all have many roles in life, and it is very difficult to be able to fulfill all of them perfectly well. We must know how to prioritize according to circumstances and steps of life and accept that choosing is also giving up."
He also feels that it is necessary to find a balance – avoiding extreme choices and sudden changes – that allows one to fulfill their roles over time. He sometimes does doubt his ability to maintain this balance, but it is never to the point of failure that would interrupt his path. "I was indeed fortunate to receive an enormous amount of love and trust from my family and friends," adds Dr. Chtioui.
Future Plans
Dr. Chtioui and his team aim to make aivancity Europe's leading school in the field of Artificial Intelligence and Data. To achieve this goal, they are focusing on enhancing the quality of their programs and boosting recognition of aivancity in the professional and academic world. In addition, Dr. Chtioui plans to build aivancity outside of France and contribute to the development of a trusted and reliable AI for societies.
Under Dr. Chtioui's leadership, EDVANTIS is turning into the most innovative and impactful higher education institution in Morocco. "We launched a very ambitious acceleration plan with 8 million dollars of investment in different fields, such as learning experience, digitalization, innovation, scientific research, employability, and hybridization," he says.
Personally, Dr. Chtioui aspires to ensure that his children get an exemplary education. He also intends to make a "modest" contribution to the progress of education systems in Europe and Africa by demonstrating that an alternative model is possible.
Message to Aspiring Business Leaders
"We are in crisis, or rather in perpetual change, which is the only constant in today's world," Dr. Chtioui notes, adding, especially in such a time, leadership cannot be limited to vision. He believes that leadership and influence are not only about thinking clearly but also about reassuring and guiding teams and helping them to stay together in difficult times.
"Leaders succeed in providing reassurance when they strengthen the organizational structure and culture when they act (and not just talk) to put in place the policies and processes that reassure employees and other stakeholders when they define priorities and participate in their implementation when they pay attention to everything and respect their duty to take care of the concerns and experiences of those on the ground," Dr. Chtioui says. "And when they act in the present and not just think about the future."