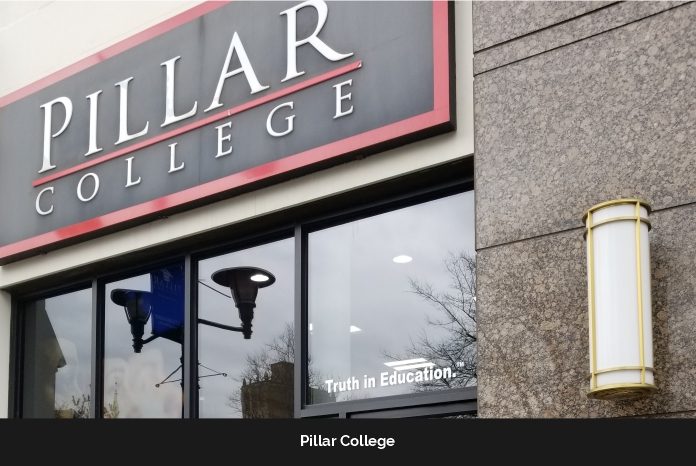 Pillar College is a comprehensive institution of higher learning that is faithful to biblical Christianity. Established in 1908, the College is a member of the Association for Biblical Higher Education and is accredited by the Middle States Commission on Higher Education (MSCHE). Pillar currently offers bachelor's, master's, and associate degree programs.
Two challenging events of the past decade mark Pillar's post-millennial transformation from a small Christian college in Zarepath, NJ into the major urban institution of higher learning envisioned by the college's faculty and administration in its visionary 2008 prospectus entitled "Planting in the Garden State."
Extensive damage caused by flooding at Pillar's main campus in 2011, as well as many pandemic-related challenges of the past two years, might have forced permanent closure at many small colleges. But by the grace of God, Pillar was able to survive both flood and pandemic by moving its main campus from Zarepath to a satellite facility it originally had opened for educational outreach to urban neighborhoods in Newark, NJ.
As Pillar's emergency move to Newark saved the school from permanent shutdown, it ultimately led its administration to take a spiritual leap of faith that expanded the college's mission and presence in this urban environment, serving under-resourced communities with Christian-based, accredited higher education.
The historic Military Park Building on Park Place in Newark proved to be the ideal location for Pillar's main campus. This physical plant gave the college a capacity for major expansion when its Middle States accreditation was renewed in 2015. At the same time, increased enrollment led to an expanded curriculum that now includes Psychology and Counseling; Business Administration; Organizational Leadership; Intercultural Communication; Elementary Education; and Applied Chemistry; while Biblical Studies courses remain an essential part of all degree programs at Pillar.
Pillar previously experienced major growth when it was licensed by the State of New Jersey in 2002 as Somerset Christian College. At that time, the college also earned ABHE accreditation with courses leading to associate and bachelor's degrees in Biblical Studies. Other growth milestones at Pillar include development of the unique LEAD (Life Enhancing Accelerated Degree) program for adult students that was launched in 2008.
In addition to the LEAD program that has grown to over 80 cohorts, the college also has developed the BLEND (BiLingual ENtry Degree) program for Spanish-speaking students. More recently, the DEED (Dual Enrollment Education Degree) program was added to let high school students earn college credits. Also, two master's degree programs have been introduced: the very successful MA in Counseling and the MA in Ministry Leadership. As it expanded its degree programs, Pillar also opened campuses in Paterson and Plainfield, NJ, as well as a satellite teaching facility in Jersey City.
Pillar College attracts students who want to make a difference in their local communities as well as globally. Among our most popular programs are those that prepare students for success in the helping professions, with careers focused on counselling, ministry, non-profit, and marketplace sectors. Pillar's graduates serve as certified counselors, clergy, government officers, and corporate leaders. Pillar educates, inspires, and prepares its diverse student population for scholarship, service, and leadership by maintaining a holistic emphasis on intellectual, spiritual, and social development in an environment of Christian faith and love.
Exclusive Learning Programs
The Pillar team trains and develops transformational leaders. This goal is central to plans for expansion mentioned in this except from Pillar's Windmills of Change:"We are planning and developing many more career-friendly majors, new delivery methods, new faculty and staff, new relational networks, and new funding potential, using a visionary approach that will create opportunities for thousands of students to build profitable careers in which they bless their communities and businesses as Christ-empowered employees."
The following standards contribute to the unique aspects of Pillar College:
Christian faith and love permeate our relationships and provide a biblical foundation and framework for learning.
Ethnic diversity is a key quality that Pillar embraces and models.
Compassion and generosity for urban under-resourced communities are high values.
Creative programs provide opportunities to adults and high school students, as well as full-time domestic, and international students.
Cohort-based learning communities are encouraged.
Pillar College continues to grow, now offering bachelor's degrees in seven academic disciplines. These include programs in Psychology and Counseling; Elementary Education; Biblical Studies; and Intercultural Communications. The college also offers a Bachelor of Science degree in Applied Chemistry, as well as Bachelor of Arts degrees in Business Administration and Organizational Leadership.
The College has three graduate degree programs: Master of Arts in Counseling; Master of Arts in Ministry Leadership, and Master of Business Administration in Social Sector Management. Pillar also offers Life Enhancing Accelerated Degree (LEAD) programs for students to earn adult degrees. A special program called Programa BLEND enables members of the Hispanic community to earn an accredited bachelor's degree as they learn English.  Also, the Dual Enrollment Education Degree (DEED) program at Pillar gives high school students an opportunity to earn college credits.
Getting Stronger with Every Challenge
As with all academic institutions, the worldwide pandemic forced Pillar College to adjust delivery methods for many of its programs in order to keep them accessible to students and staff members. Prior to the pandemic, online classes were not a top priority at Pillar, as most of its urban students preferred traditional in-person classes.
But Pillar's longstanding policy of embracing new technology quickly enabled the school to expand and adjust its online capabilities, meeting the needs of the entire college community. Although many schools were forced to close during the pandemic, Pillar's adaptability and innovation enabled the college to continue growing with non-traditional methods that make Christian higher education more accessible.
Contribution in Redefining Education
Pillar College recognizes each individual has enormous potential that can best be achieved when applied to helping others. Pillar's students are encouraged to thrive in their academic pursuits and eventual occupations in order to be a gift to others as they follow the example of the Christian faith's Founder and Teacher. Faculty mentors at each Pillar campus exemplify the principles of their religion and profession.
Although societal trends change, Pillar College's dedication to biblically-based Christian religion serves to strengthen its commitment to faith-based eduction. The integrity of its personnel, faculty, purpose, and decisions relating to academic programs and collaborations are all protected by adherence to the essential principles of Christian faith.
For Pillar College, redefining education means helping students to develop intellectually, socially, and spiritually. In this learning environment, our curriculum is supported by the college's overall atmosphere, connections, and high level of support, all helping to prepare our graduates for success.
Leading with Innovative and Creative Ideas
Pillar College takes pride in its creative and innovative course offerings, such as the MBA program in Social Sector Management. Pillar is the only New Jersey college that offers this degree. This online, 39-credit program focuses on careers at non-profit institutions, a field marked for rapid growth through 2026.
Recent testimonials that praise the quality of eduction at Pillar include these endorsements, one from an elected official, another from a recent Pillar MBA graduate:
"The MBA in Social Sector Management at Pillar College prepares graduates to effectively lead organizations in the social sector. Many organizations have the great intention of serving the needs of society, yet they are not as effective as they could be because of a lack of leadership training. This unique faith-based program for aspiring and seasoned leaders addresses that need by equipping graduates for leadership, and includes the basics of management, practical applications such as governance, human resources, and financial management, and the much-needed skill set of emotional intelligence and character development,"
 –– New Jersey Lieutenant Governor Sheila Oliver.
"My work and time as a professor has taught me the value of leadership and management in the non-profit and for-profit sectors. Pillar College offers the exact program that I would teach if I had the opportunity"
— an Pillar MBA graduate in social sector management.
Pillar College also remains the only college in the City of Newark that offers bachelor's degree programs in Elementary Education. Its LEAD (Life Enhancing Accelerated Degree) program has been ranked Number One in New Jersey by Intelligent.com.
Instilling Morals through Education
Pillar College supports the academic, spiritual, and social development of its students. Faculty and staff serve as role models who demonstrate Christian faith and love as they  promote edifying relationships, activities, and morale.
Staff and faculty members at Pillar remain aware of the impact they have on each student's life. Graduation, chapels, and convocation all bring together our entire community in moments of celebration. Students' testimonies, either written or on video, help the community recall how their work affects people's lives. It's all about the connections.
Additionally, frequent staff devotions and meetings, as well as the President's remarks provide spiritual nourishment to the community, reminding us all of our commitment to glorify Christ through service to others.
Expanding Global Reach
Pillar College is planning to add additional practical degrees and specialties to its present curriculum. Many of these programs will be offered at campuses and other locations in Newark, Somerset, Paterson, Plainfield, and Jersey City, all as parts of the college's overall expansion plans. Pillar also is increasing its global presence, with students from China attending the Somerset campus. There also are scores of students that have been sent to Pillar by a Korean church to receive education, motivation, and life skills in a Christian environment.
Pillar also offers a Global Learning Experience that lets students learn outside the classroom while traveling throughout the world. This program includes guided tours of significant historical sites in countries and regions such as Israel, Jerusalem, Turkey, the Mediterranean Coast, and more.
Cultural sensitivity and intelligence training are emphasized in the prelaunch of the Intercultural Communication degree program, as diplomatic skills and knowledge of customs become increasingly important in today's globalized world. Understanding communication methods in a foreign environment can be the difference between building and reinforcing professional connections, or unintentionally upsetting these same professional contacts and associates.