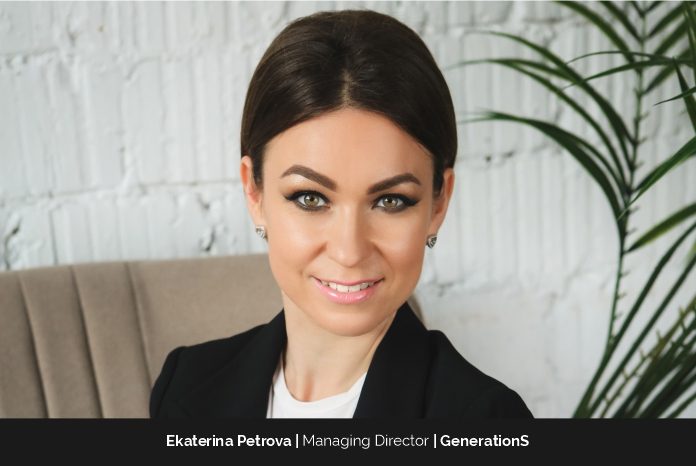 As the Managing Director of GenerationS, Ekaterina Petrova is an experienced professional with more than 15 years of innovation management and innovation consulting services for corporations and government entities. She is a successful entrepreneur who is paving the way and expanding career opportunities for many women.
Receiving the status of "Best manager in the field of innovative business" at the first independent award for businesswomen "Charmous" in the year 2017, she completely redesigned the development strategy and relaunched the corporate accelerator GenerationS that became the top and world-known accelerator. She is responsible for the launch of several strategic projects aimed at the development of the innovation ecosystem of Russia in partnership with development institutions and major Russian corporations as well as international. In 2020 Ekaterina became a bronze winner of Stevie Awards for Women in business, one of the world's premier business awards, in the category "Most Innovative Woman of the Year – business services."
Every person has their own "ingredients" for success.
For Ekaterina, success means setting goals and achieving them. It's crucial not to be afraid and pave a road to success with your decisions and right actions. Being a part of a company, one can't achieve success without your team. "It's important to make workflow and communications processes as transparent as possible, to motivate and inspire. It is always important that people you are working with clearly understand and strive to achieve results together, launch new projects, or follow the same direction together. There is a huge difference between a leader and a boss. I prefer the first one," she says.
She further states that the most important thing is not to be afraid while going through difficulties. She believes all leaders face this problem occasionally. "You start thinking how you can recharge your batteries and bring back the spark. But for me, not giving up is the only way to turn difficulties into opportunities. The more work experience I get the more I learn to adapt and be flexible," she states.
Ekaterina's inspiration to take the leap of faith in her field of work.
Ekaterina states that there have been several things that have affected her decision to get into the field of innovation management and consulting services. One was the opportunity to bring some change into this world. Innovations are about that. It allows us to do something new and solve global challenges the world faces. You need to be up-to-date and follow modern trends, to understand how to respond to challenges. There are and there will be so many fields for improvement. It's like a non-stop activity and a never-ending source of inspiration.
Valuable lessons Ekaterina learned throughout her successful professional journey.
Finding balance is a serious problem for women in top positions. But it is not the only one. Fighting to be perceived and heard is another challenge for women in business. You can develop innovative strategies, and new directions, form a team of professionals, set goals, and achieve them, but sometimes even that is not enough. "There were moments in my life when I had to repeatedly prove that I was doing the right thing and leading the team in the right direction. Not everyone can hear you the first time, so I learned how to be patient. It's a good skill in business and life in general," she states.
Ekaterina believes that another stereotype that has passed from life to work is that women are the weaker gender and as a result, are unlikely to succeed. She states that in such a situation, you have to show your personality, and clearly formulate tasks. Defending your position with intelligence and the right arguments is important.
GenerationS: Its services and growth under Ekaterina's successful leadership
GenerationS is like a baby to Ekaterina. She feels like GenerationS has always been with her. She used to work for some state companies, but she counts the start of her professional growth from the moment GenerationS was launched. "We are going through a teenage stage where we are trying to understand who we are and who we want to become in the future, what path to follow, what goals to set, identify market needs and our potential clients – to make a service that is in high demand," she explains smilingly.
In the last two years, they have been working hard on trying to adapt to the changes that shook the world of business tremendously; that is an ongoing process.
GenerationS was launched in 2013 and went a long way from being just an accelerator to a fully functioning independent platform offering different innovation services to companies – Russian and international (e.g., Michelin, Unilever, PepsiCo, Airbus, Enel Group, Ferring). Considering the current world's situation, they are focusing a lot on innovation market research by defining strategic areas for companies' growth, innovation audits, strategic sessions that help to identify strategic technological directions to implement innovations, and developing innovative strategies for their partners that include a long-term plan of innovation initiatives with key metrics.
The culture of integrity and innovation in GenerationS
GenerationS' vision is simple – they are trying to find some points of intersection between the market and the main business activities their company has. They are trying to offer new innovative tools and mechanisms through these points of intersection that will improve or strengthen certain processes. They are trying to get business process holders interested and motivate them to work with innovations because innovations can significantly improve some processes.
Corporate innovation development platforms, accelerators, and incubators represent support networks in the innovation ecosystem. Therefore, they are aware of the best international market practices and try to share them with their partners in Russia, showing how some processes can be optimized and improved, and how to come up with new types of business and solve global challenges.
The future of GenerationS
Ekaterina aims for GenerationS to become a global international project. She does not think that the current economic situation can somehow affect these goals.
GenerationS might become the right basis for building any processes in general related to the development of the economy of more than one country, because they can build a cluster-based innovative economy of any country, understanding what methods, methodologies, and fundamentals must be used to achieve success. Uncertainty is difficult, but it is what makes one stronger and allows thinking and acting faster resulting in being a step ahead.
Women empowerment and thriving as a woman in this competitive industry.
Women entrepreneurs represent about one in three growth-oriented entrepreneurs active in the world today (According to the Global Entrepreneurship Monitor). It is more difficult for women to take leadership positions in Russia than in Europe or the USA. It's fair to say that success doesn't have a gender. Besides gender, there is another issue that sometimes women face. Age bias is a common problem as well. "You can be bursting with ideas, but your initiatives are not always perceived positively. People around you may think that due to your young age you are unable to fully assess the risks and think over the strategy correctly. This attitude is often confusing, so it's important to show strength in character," states Ekaterina.
In rapidly growing startups, a leadership position can be obtained quickly. The key is quality is the ability to move the process forward, quickly solve problems, and look for different ways to achieve goals. In this segment, some women become top managers by the age of 25. However, in large companies, everything is a little different: positions of a high level are usually reached by the age of 40 because it is important that you have experience and understanding of how to build processes, and how to manage people and tasks.
Recognition received by Ekaterina as an inspiring businesswoman.
"The biggest recognition for me as a businesswoman was at the moment when I realized that our project grew from a small one into an integrated platform that is well known among Russian companies (we've worked with key market players) and among our international partners (by connecting Russian startups with international markets)," Ekaterina exclaims proudly.
Through the years their platform has proved itself professionally and productively, by bringing real value. For example, she recently had a conversation, and she got a response stating "we don't want to ask about what GenerationS is, what Ekaterina Petrova and her team did in the past because GenerationS is a reliable brand. And it does not require any additional words because GenerationS equals the quality of work in innovation."
Responsibilities as the Managing Director of GenerationS
Ekaterina always thought that the director of innovation is the person who has to build a very transparent innovative process of working with a product/service, the process of integrating some innovative solutions into a company, working with clients, etc. But, in their company (RVC Management Company LLC), GenerationS is equal to a small business in which she has to act not only as the director of innovation but also as the general director of all those processes that occur.
Her usual day begins with operational activities and pushing through various tasks. This requires a lot of meetings with the team because she believes it is very important to give feedback, get feedback, and process requests that come. "Well, of course, a large percentage of my day is occupied by communicating with clients. Communication and clarification of processes is the ultimate key to success," she explains.
Motivating herself and her team with work-life balance
The stereotype that you can't have both – family and a successful career in society has been fought for a long time. "Happy family, career, and other life milestones and achievements depend only on you. It's in your power to find and maintain a work-life balance prioritizing one thing over another. Yes, sometimes this is not easy, but it is possible if you know how much time should be given to the family for the sake of harmony within and to maintain a healthy relationship and environment. At work, you have to constantly keep many tasks in your head, and the solution most often required is to stay here and now," states Ekaterina. You need to set your priorities and build a system in which you can live comfortably.
One type of motivation is financial and the other one is non-financial motivation where there is a desire to create something worthwhile together, which drives them as a team, because they believe in what they are doing. Ekaterina says, "We are motivated by the fact that we are each other's support, we get out of different difficult situations, and set clear goals for ourselves on what to do next."