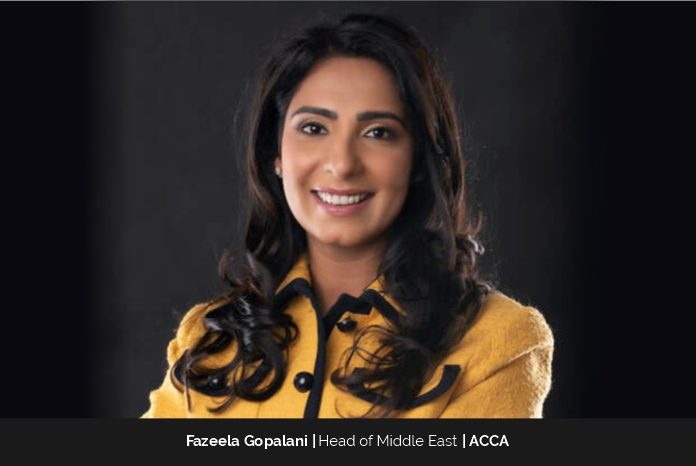 Fazeela Gopalani is an ACCA member since 2004 and has over 15 years of experience in the field of accounting and finance. Fazeela has been the Head of Middle East at ACCA for the past 4 years, she was previously Head of Education for ACCA. Fazeela's responsibility includes leading the operations in 11 countries. Representing more than 20,000 students, affiliates, and members across the region, who work in all sectors and all levels of business across the Middle East.
She is also responsible for growing the understanding of the value that professionally qualified ACCA accountants bring to businesses and economies in the region. Managing and building relationships with regulators, business leaders and strategic partners, she works with the network of members to influence the debate on key issues that impact the ongoing economic development of the region. Fazeela also works with educational institutions and government bodies to encourage new generations to undertake a career in accountancy and finance.
Success means balance.
For Fazeela, success means balance. Balance in achieving the excellence that she naturally seeks out in what she does professionally, driving change for the greater good, with making sure she has time for her family and children.
It seems like a simple answer, but it is a daily practice to seek balance. "I believe any professional today needs to make a balanced life more of a priority in order to support their performance, ethical decision-making, health, and happiness," she says.
Leading a successful company is not an easy road to take.
When Fazeela was a young accountant starting her career in the UK, she had to suddenly take over her father's accountancy business when he sadly passed away. Fazeela was just 23 years old and had never managed a team or run a business.
"Dealing with grief and shock, I was thrown into the deep end. I had been tremendously encouraged and supported by him to study accountancy and this has always stuck with me. As an immigrant to the UK, he understood first-hand the huge power of having a professional qualification such as accountancy and this has remained an enduring conviction of mine.," explains Fazeela.
Sometimes we forget how normal it is to have challenges. From small daily challenges to those that make you see the bigger picture, it's part of life and can shape your thinking, mindset, and outlook.
The biggest challenge Fazeela said in her life was running her father's accounting practice after he passed away. She had to step up, leading a team of far more senior men. It was not easy, but it taught her the lifelong lesson that, "I belong in any room I walk into."
Moving to the UAE with two small kids because of her husband's business and starting her career journey all over again in a new country was another challenge. While it felt daunting at the time, in turn, the journey made her adaptable in any environment, and reminded her that nobody can take her skills and ACCA qualification away from her – "they travel surprisingly well!" she exclaims.
ACCA and its services
ACCA (the Association of Chartered Certified Accountants) is the global professional body for professional accountants. They're a thriving global community of 233,000 members and 536,000 future members based in 178 countries and regions, who work across a wide range of sectors and industries. They uphold the highest professional and ethical values. They offer our members the opportunity to experience a rewarding career in accountancy, finance, and management.
ACCA's qualifications and learning opportunities develop strategic business leaders, and forward-thinking professionals with the financial, business, and digital expertise essential for the creation of sustainable organizations and flourishing societies.
Since 1904, being a force for the public good has been embedded in their purpose. At ACCA they believe that accountancy is a cornerstone profession of society and is vital to helping economies, organizations, and individuals to grow and prosper. It does this by creating robust trusted financial and business management, combating corruption, ensuring organizations are managed ethically, driving sustainability, and providing rewarding career opportunities. "We're a not-for-profit organization," says Fazeela.
Accountancy is a cornerstone profession of society.
As a leader, Fazeela is responsible for setting the tone of ACCA's workplace. She believes in being open, honest and accountable. Every employee, including herself, will make mistakes from time to time and this is inevitable. In order to encourage innovation, at ACCA they don't try and cover mistakes; they learn from them and try to ensure they don't reoccur.
In the Middle East, they create, innovate, and have a 'test and learn' approach. Their innovative approach has seen notable recent successes for them, including becoming the chosen partner for the UAE Ministry of Economy, whereby they are the provider of a groundbreaking new certification that all those in the auditing profession are mandated to take.
"We've also fostered strong ties with SOCPA in Saudi Arabia, allowing Saudi and UAE accountancy professionals to enjoy the benefits of being certified by both organizations, thus expanding the field of opportunities available to professionals interested in working in both markets," says Fazeela.
Fazeela's journey into becoming a successful businesswoman.
Before ACCA Fazeela ran an accounting practice in the UK and then worked as a corporate trainer and MBA lecturer at two British universities. She also had a senior manager role at PwC Academy in Dubai. Fazeela studied for her bachelor's degree at the University of Birmingham and MBA from the University of Strathclyde.
"It seems so long ago and yet not that long at all that I started running my father's accountancy practice and every time I receive an industry award, I can't help thinking about that. Two key awards I have received include being named as one of the Top 35 Women of Influence in the Arab World 2021, by CEO Middle East Magazine and being the winner of the Asia One's Women Empowerment Award 20/21," Fazeela proudly states.
Responsibilities as the Head of Middle East of ACCA
Everything that is achieved at ACCA draws on working with exceptional people in collaboration.
As Head of the Association of Chartered Certified Accountants (ACCA) in the Middle East, Fazeela is responsible for leading the operations in 11 countries and representing more than 20,000 students, affiliates, and members across the region, work in all sectors and all levels of business across the Middle East.
One of Fazeela's fundamental roles is as a thought leader and a conversation starter for all things "accounting and finance profession", in the Middle East, with the purpose of growing the understanding of the value that professionally qualified accountants bring to businesses and economies across the region.
Work-life balance is important for a healthy life.
Fazeela states that she loves exercising – whether that's running, swimming, weight training, trekking in the mountains across the UAE or just attending classes at the gym. She exercises every morning 6 days a week and that's her 'me time' where she gives her body and mind time to charge her battery for the day ahead.
"I believe any professional today needs to make a balanced life more of a priority in order to support their performance, ethical decision-making, health and happiness," she says.
Fazeela strives to keep her team motivated by taking time out of the office to do team activities like 5km races, spartan obstacles challenges, or hiking – where they focus on the task ahead and getting to the finishing line together – supporting each other – this then reflects at the office when they work on projects – they aim to deliver impactful outcomes and results always having the end in mind, but also enjoying the journey.
The future of ACCA and the need for women in the accounting industry
A core goal for the company is to grow the Middle East market for ACCA and support governments with the nationalization agenda. They are continuing to develop the accounting profession in the region, supporting governments, national bodies and the private sector in the Middle East region.
Ultimately, Fazeela's goal is ACCA's goal: to support the development of a strong accounting profession in the Middle east that is centered around ethics, transparency, and always doing the right thing.
Fazeela wants to inspire more women to enter the accounting profession. More needs to be done to accelerate progress when it comes to advancing opportunities for women in the workplace – the right culture is a key ingredient.
"We launched Women in Finance in 2022. We are very aware that more needs to be done to ensure that the number of women entering the finance profession continues to grow and Women in Finance is part of our ongoing efforts to support this," says Fazeela. While the number of women in finance is growing in the region, it is still far below an even representation.
Fazeela's message to women is this: Be authentic and genuine, be true to yourself – don't be something you are not or something others want you to be, work hard and have milestones in your mind and where you want to go and work towards them with laser focus continually working on yourself along the way whether that's learning technical knowledge to support you or other softer skills to support you with getting to where you want to go.