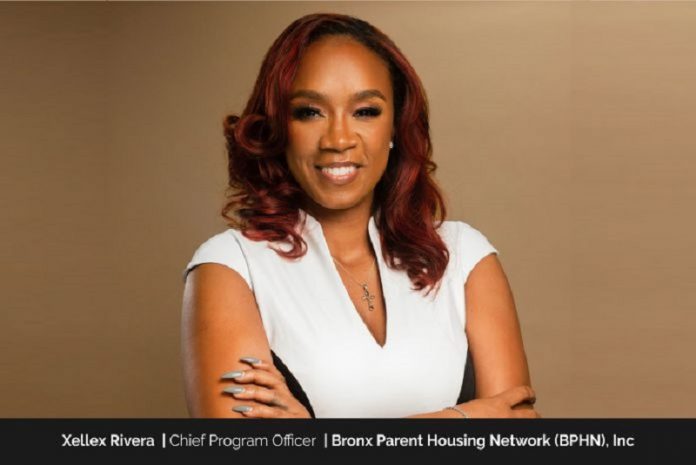 Dr. Xellex Z. Rivera is the Chief Program Officer (CPO) at Bronx Parent Housing Network (BPHN), Inc. She is a skilled and dynamic Program Director with a wealth of experience leading and managing successful programs. She has a strong track record of planning effective strategies, executing projects, optimizing organizational resources, and coordinating ongoing improvements to ensure the success of her programs.
Dr. X's key strengths are her ability to build and maintain strong relationships with stakeholders at all company levels and external partners. In addition, her exceptional communication skills and collaboration knowledge enable her to navigate complex organizational structures and achieve program objectives quickly.
Dr. X is also highly proficient in identifying patterns and trends, leveraging data to inform program decisions and drive innovation. In addition, she is a strategic thinker who can quickly assess business needs and develop solutions that align with company objectives.
"Don't let the setback discourage you. You are where you are supposed to be," says Dr. X.
In addition to her program management expertise, Dr. X is renowned for her exceptional customer service skills. She deeply understands the importance of delivering outstanding service to customers. Her ability to anticipate and exceed their expectations has earned her a leadership reputation.
Several high-profile media outlets, including Forbes Magazine and the Bronx Network, have recognized Dr. X's achievements. In addition, her work in homeless advocacy has been noteworthy, as she has worked tirelessly to raise awareness of the issue and drive positive change.
Life Before BPHN
Dr. X, with a background in Liberal Arts and English, initially pursued a career in journalism after graduating from college. However, her career trajectory took an unexpected turn when she worked as an Admissions Counselor at Long Island University, where she successfully recruited students for the university through her exceptional communication skills and interpersonal abilities. Unfortunately, she unexpectedly faced a layoff after only ten months, prompting her to re-evaluate her career path and actively explore new opportunities.
Driven by her passion for helping others, Dr. X decided to further her education and enrolled in CASAC courses to become a substance abuse counselor. However, she recognized the need for more comprehensive training and pursued a Master's degree in Counseling at Manhattan College, where she further honed her skills and knowledge in the field.
During her academic pursuits, Dr. X came across internal job postings at HomeBase through a friend. Despite having no prior experience with homelessness or individuals experiencing homelessness, she seized the opportunity and applied for a position. She showcased her qualifications, determination, and adaptability through a rigorous interview process, ultimately securing a role at a 235-bed male facility in Randalls Island, NY. Since then, Dr. X has built a successful career spanning 15 years, working with an unwavering dedication to helping vulnerable populations achieve success. Her exceptional leadership skills, expertise, and passion have contributed to her rise as a respected professional in homelessness and counseling. In addition, her ability to thrive in a challenging environment, her commitment to continuous learning, and her dedication to making a meaningful impact on the lives of those in need have been instrumental in her growth and success.
Dr. X's journey from her initial career aspirations in journalism to becoming a leader in homelessness and counseling is a testament to her resilience, adaptability, and unwavering commitment to her work. Her ability to leverage unexpected opportunities and her passion for helping others has propelled her career to new heights, making her a role model and an inspiration to others in the business and counseling communities.
Inspiration for Joining Bronx Parent Housing Network, Inc.
Dr. X actively chose to join BPHN despite expected challenges because of her optimistic view of the agency's growth potential. She recognized the changes within the organization and viewed them as an opportunity to contribute to its development. Her desire to positively impact BPHN's future direction fueled her motivation to join the agency. Even though there were obstacles to overcome, Dr. X saw the growth potential and remains committed to working toward the agency's success.
"Success comes from hard work, unyielding drive, and consistency. So go for EVERYTHING you want and more!"- Dr. X
About Bronx Parent Housing Network Inc. and its Services
Bronx Parent Housing Network, Inc. (BPHN) was founded nearly two decades ago to address street homelessness in New York City. BPHN has a strong history of aiding vulnerable populations in the city and continues to work towards this mission. The company provides the highest level of service by expanding its shelter sites across all five boroughs, improving social services for clients, ensuring clean and well-maintained buildings, and offering excellent employment opportunities for staff.
BPHN provides a wide range of high-quality services to its clients through a team of dedicated and experienced staff. The programs include:
Transitional Housing: This program provides short-term housing and support services to individuals and families experiencing homelessness. The goal is to help clients stabilize their housing situation and work towards securing permanent housing. BPHN serves over 3000 individuals each month through this program.
Pathways to Permanent Housing: This program assists clients in securing entitlements and benefits, submitting housing applications and documentation, and providing guidance on tenants' rights and responsibilities. BPHN aims to empower clients to navigate the complex housing system and secure permanent housing successfully.
Social Support Services: BPHN's social support services follow a trauma-informed approach to client engagement and include case management, crisis counseling, substance use disorder counseling, mental health support, and referrals to mental health and other supportive services in the community. The program addresses each client's unique needs and provides comprehensive support to help them achieve stability and well-being.
Emergency Housing for PLWHA: This program provides managerial oversight of emergency housing facilities for people living with HIV/AIDS (PLWHA) approved by the NYC HRA. The goal is to provide secure, safe, clean, and affordable housing while working towards transitioning clients to independent, permanent housing.
Food and Nutrition Services: This program aims to reduce the number of PLWHA who experience food insecurity and empower clients to increase independence with healthy eating and nutrition. BPHN provides clients with meals, groceries, and nutrition education through this program.
Health Home Supportive Housing Program: This program offers rental subsidies and access to affordable, stable, supportive housing for high utilizers of Medicaid services who are medically vulnerable and chronically homeless. The program provides opportunities to learn life skills for successful community living and improved health outcomes.
Health Home Care Management: This program assists chronically ill New Yorkers to navigate and access healthcare and social services to improve their health and well-being through a comprehensive community-based network.
Domestic Violence and Empowerment Initiative (DOVE): This program intervenes in the lives of domestic violence survivors, providing compassionate, culturally appropriate, trauma-informed, and strength-based interventions and services that address their trauma, housing, and social support needs. Social service staff also conduct referrals to healthcare, substance abuse treatment, legal services, entitlements/benefits, and other social services to address survivors' needs comprehensively.
Youth Works Plus Program: This program offers employment pathways to youth and simultaneously addresses the medical, housing, and supportive service needs of those formerly involved with the criminal justice system or at risk for adverse involvement with the justice system.
Connections to Care: Building Resilience in Youth (C2C: BRY): The grant-funded program actively provides mental health support and resources to youth residing in Task Force for Racial Inclusion and Equity (TRIE) neighborhoods whom the stress of the COVID-19 pandemic has negatively impacted. The program specifically focuses on providing mental health support to youth living in Fordham, University Heights, Highbridge, Concourse, Morrisania, and Crotona neighborhoods.
Dr. X's Role in the Growth and Success of BPHN
Dr. X has extensive experience managing homeless shelters and residential facilities, with over 15 years of expertise in the field. As an advocate for clients and staff, she has utilized her skills to facilitate growth and success throughout her career. Dr. X is constantly seeking new knowledge and opportunities to improve the quality of services offered by organizations. Her passion for the field and dedication to her work have been essential to the growth and success of Bronx Parent Housing Network Inc.
Dr. X credits her exceptional team for the progress made during her 14 months as their leader. Within this short period, they promoted her to CPO, reflecting her impact on the organization.
Culture of Integrity and Innovation at BPHN
In promoting a culture of integrity and innovation, Dr. X, as a leader, believes in the power of teamwork among leaders. By working collaboratively, they ensure the team operates cohesively and sustainably, thus promoting a conducive work environment.
Dr. X also understands that leadership is not about being above others but working alongside them. She leads by example, and the work she requires her staff to do is something she has done before and will continue to do. This approach promotes best practices and inspires her team to give their best.
Dr. X's Responsibilities as CPO at BPHN
Dr. X, in her role as the Chief Program Officer of BPHN, is accountable for overseeing all the agency's programs, including 17 homeless shelters, 15 emergency housing programs, the Food and Nutrition program, the WorkPlus program, the MRT program, C2C Youth Program, and the Health Home Program. She focuses on creating, implementing, and supporting effective and sustainable programs aligning with BPHN's mission and delivering excellent client services.
As a CPO, each day brings new responsibilities, including attending the program, fiscal, development, and compliance meetings. In addition, Dr. X aligns internal departments with program goals and ensures the achievement of programmatic goals. With the agency undergoing strategic planning, Dr. X also contributes to redirecting BPHN's mission, ensuring that the agency can achieve long-term success.
Dr. X's commitment to her work is fueled by her passion, a quality she describes as integral to her role as Chief Program Officer. Her dedication ensures that she consistently provides exceptional effort toward achieving programmatic goals and supporting the Success of BPHN.
Dr. X's Journey as a Leader in the Industry
Dr. X, a seasoned professional with a wealth of experience in the industry, shares her insights on thriving as a leader despite facing challenges as a woman of color in a male-dominated field. She acknowledges that being under 40, African American, and a woman has presented unique obstacles in her career journey.
From facing criticism about her appearance to dealing with biases and prejudices, Dr. X recognizes the systemic barriers she has had to overcome. However, she has worked hard and broken through these barriers to secure a seat or build her table. She has invested heavily in her education and combined it with her practical experience, ensuring she is qualified and confident in any professional setting. Driven by her passion for the industry, she has embraced her role as a leader with determination and resilience.
As Dr. X reflects on her journey, she commits herself to empower the next generation of leaders. She emphasizes the importance of professional growth and development, encouraging her staff, mentees, and clients to write their recommendation letters by navigating their lives and careers in a direction that aligns with their goals. In addition, she strongly advocates education and career advancement, believing continuous learning and improvement are essential for personal and professional success.
As a leader, Dr. X strives to create an inclusive and empowering work environment where her team can thrive. She promotes a culture of empowerment, inspiring others to become better versions of themselves. Mentorship, guidance, and support characterize her leadership style, as she believes in uplifting others and fostering their growth. Dr. X's passion for her work and dedication to empowering the next generation of leaders serve as an inspiration to those around her.
Definition of Success
In Dr. X's opinion, success means having the resilience to maintain a positive outlook in the face of challenges, finding humor in times of sadness, and continuously striving to improve oneself. She acknowledges that success is a universal aspiration, but everyone interprets it differently. For Dr. X, Success involves positively impacting others and motivating them to enhance their abilities.
As a leader, Dr. X dedicates to taking charge, encouraging others, and fostering growth, with trust essential to this process. Dr. X has accomplished success at various levels throughout their career, and although achievements are significant, they believe that true success comes from helping others.
Overcoming Roadblocks: Valuable Lessons from Professional Journey
Dr. X believes challenges catalyze personal and professional growth. Throughout her career journey, Dr. X has learned the importance of self-improvement, staying true to oneself, and showcasing one's talents and abilities.
Dr. X emphasizes the significance of working on oneself by taking advantage of educational opportunities, seeking therapy when needed, and building a supportive network. According to Dr. X, being true to oneself is crucial, and growth should not mean changing one's core identity. Instead, growth is about developing one's talents and capabilities while remaining authentic to oneself.
Dr. X encourages individuals to have confidence in their abilities and not be afraid to showcase their work and accomplishments. In Dr. X's opinion, everyone has a place in any professional setting, and it's essential to be proud of one's achievements and show them confidently.
Balancing Personal and Professional Life
Dr. X places a high value on balancing her personal and professional life. She achieves this balance by setting specific time goals (hard stops) to complete major daily tasks and stops working once those goals have been met. It allows her to focus on self-care and prevent burnout. As she believes one cannot pour from an empty cup, Dr. X encourages everyone to prioritize self-care.
As Chief Program Officer, Dr. X motivates her team by ensuring they have the necessary tools to succeed and make sound decisions. She leads by example, showing her willingness to take on any role to support and serve as a role model for her team. By fostering a collaborative and supportive environment, Dr. X helps her team operate at their best and achieve their goals.
Personal Goals
Dr. X has set several personal goals for herself, including writing her first book (in addition to her dissertation), launching a city-wide mentorship program for minority girls in the public school system, promoting career and personal advancement among minority women, and traveling to all 50 states before she turns 40.
These goals reflect her passion for education, mentorship, personal growth, and desire to empower and uplift underrepresented communities. In addition, she hopes to inspire other business leaders to set ambitious goals for themselves and pursue their dreams with dedication and perseverance.
Dr. X believes that one can create a fulfilling and meaningful life by setting personal goals and working hard to achieve them. She encourages aspiring business leaders to find their passion and purpose and use their skills and expertise to impact their communities positively and beyond.
Message to Aspiring Business Leaders
Dr. X encourages emerging women leaders from minority backgrounds to overcome imposter syndrome without hindering their success. She believes they can achieve anything they set their minds to with the right mindset and determination.
Dr. X advises these women to have confidence in their abilities and not let doubts hold them back from pursuing their goals. She emphasizes that they belong in their chosen fields and should go for it with all their effort and passion.
Dr. X firmly believes in supporting and promoting the advancement of women of color and hopes to inspire others to break down barriers and reach their full potential.
Dr. X's unwavering passion for her work and her advocacy for inclusivity and empowerment make her a role model for aspiring leaders in the industry.
"Be intentional. Be mindful. Be you!" – says Dr. X.
Dr. X's Most Memorable Recognition
Dr. X takes great pride in the success of her staff, clients, and programs, finding it deeply rewarding to witness the growth and development of those around her. As a leader, she creates a supportive and empowering environment that encourages professional and personal growth. She believes that investing in the success of others is not only a fulfilling aspect of leadership but also crucial for building a thriving and sustainable organization.
The Future of Work at Bronx Parent Housing Network, Inc.
Dr. X's program proposal priorities for the Bronx Parent Housing Network (BPHN) exemplify a strategic and innovative service delivery approach characterized by a client-centered and solution-focused mindset. Focusing keenly on promoting stability and overcoming barriers, Dr. X envisions a work environment at BPHN that fosters effective communication, teamwork, and transparency among its programs.
Through a proactive approach to leadership, Dr. X aims to establish uniformity and consistency in BPHN's services by promoting collaboration and openness among staff. Her dedication to creating a culture of excellence without excuses is evident in her roadmap for BPHN's Success.
Dr. X is enthusiastic about the positive direction BPHN is heading and remains committed to working alongside the agency to achieve its goals. She views BPHN's unwavering commitment to providing exceptional services to its clients as a hallmark of its excellence. She looks forward to continuing her invaluable contribution to this great organization.
Conclusion
Dr. X Z. Rivera, the Chief Program Officer (CPO) at Bronx Parent Housing Network (BPHN), Inc., is a highly experienced professional who has overcome significant challenges as an African American woman in a male-dominated industry, earning a seat at the table through a combination of education, practical experience, and hard work.
As a leader, Dr. X empowers the next generation of leaders and fosters an inclusive work environment that prioritizes growth and development. Setting ambitious personal goals is a crucial aspect of Dr. X's approach to leadership.
Dr. X is a vocal advocate for advancing women of color in business, encouraging emerging women leaders from minority backgrounds to overcome imposter syndrome and have confidence in their abilities. She emphasizes that investing in the success of others is essential for building a thriving and sustainable organization and empowers her staff, clients, and mentees to reach their full potential.