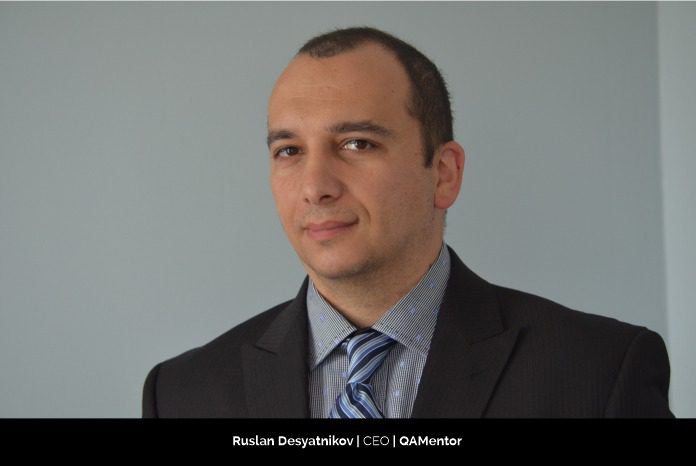 Twenty-three years ago, he was a college graduate having a hard time finding work. Unlike many of his peers, he wasn't interested in being a developer and was instead looking for other work in the IT sector. A start-up company finally offered him a junior testing position, a job he was completely unfamiliar with but quickly fell in love with. Now over two decades later, his is one of the leading names in the software testing industry.  The passionate leader here is Ruslan Desyatnikov, CEO, President, and Founder of QA Mentor, and this is his story.
Likely destined to be in the testing field, Ruslan says he fell in love with what he was doing. So much so, he's still doing it 23 years later. After wearing different hats for various other organizations, in 2010 Ruslan decided to start his own company, QA Mentor.  "I felt very strongly that I and my team could help many other companies and QA departments to reach maturity, advance their skills and resources, and bring them to the next level. That's the reason I started QA Mentor and began helping companies around the world to achieve superior quality products," Ruslan shared.
Journey of challenges and overcoming them
As with all start-ups, QA Mentor faced challenges. One of Ruslan's first challenges was that many of the senior managers of his prospective clients didn't think of quality as the top priority. Because of that, they lacked any strategy or methodology for quality assurance.  "Some of the organizations had quality strategies, but the majority didn't see quality assurance as efficient. They relied on developers to ensure that everything worked well, or simply used their own users as beta testers. This idea of quality being an afterthought presented a challenge, especially regarding software developers being able to provide an independent view on the software quality," Ruslan recalls.  For Ruslan and his team, it was extremely difficult to change that mindset. "But that's what we were there to do – promote that you absolutely need to establish a QA function within organizations."  Almost a decade later, Ruslan and his team has been successfully in establishing QA teams and functions in organizations around the globe.
Leading the competition to new heights
There's saying that with success comes competition and that's where Ruslan really excels. There are many companies staring out as independent software QA testing providers each year, adding new life to the competition.  However, QA Mentor distinguishes itself as a CMMI level three organization with three ISO certifications.  Ruslan invested in the certifications in order to bring maturity and discipline to its own processes and procedures, a change that helped the team to scale up its number of employees. "Because we adopted our own internal processes, procedures, trainings, and guidance, any new team member can be onboarded very quickly with a full understanding of our processes and methodologies," Ruslan says.
Another distinguishing factor is that QA Mentor offers more testing services than any other company in the world. Statistically, it offers 32 quality assurance testing services, and some of them are unique from the rest of the competition. Additionally, QA Mentor is very flexible and economical when it comes to pricing. Its prices are available on the website and the team builds out prices at an average 15% discount compared to the market prices. This is due to its low overhead costs due to where the company establishes its testing centers. Also 97% of the team members are certified with various different industry testing certifications. "We are the only testing services provider who also provide in-house corporate trainings. We have diverse offerings, which consists of over 25 different courses and trainings that we conduct within different areas of the organizations. So those are the major differences and how we compete with others in the same industry," he further adds.
Client satisfaction is everything!
QA Mentor is extremely diligent when it comes to client satisfaction. From the managers to the rest of the team members, it is very important that every client is satisfied with the service. Ruslan believes that delivering quality products is directly proportional to the revenue generation. "So the better the product is; the more customers will be utilizing the software. Also, we receive a lot of recognition from our customers and clients. We have won 63 different global awards and recognitions across the globe. In terms of the client's feedback, we conduct quarterly client satisfaction surveys. This is how we mentor ourselves and figure out whether the clients are happy and satisfied with our work." The number of satisfied clients can be easily seen in terms of the growth of the company. Year after year, QA Mentor is growing at the rate of 30% in revenue generation. Also, for the last five years, the company has acquired several companies along the way. "So, we invest into various companies to acquire quality assurance testing space. As a matter of fact, we acquired four companies in the last five years. And in terms of the continuous growth and expansion, we are opening more offices right now. We have 12 Global offices around the world in six different countries. So this is a reflection of our continuous expansion and growth. We're 308 people around the world compared to 10 years ago when we had started with just me behind the screen. So, from one to 308 people in 10 years in this particular industry is a pretty good accomplishment." Ruslan asserts.
One man handling multiple positions efficiently
At the forefront of the company, Ruslan handles different roles and responsibilities in the organization. He promotes quality across the board to assure that every organization they deal with will think seriously about quality and that it shouldn't be compromised. He pushes every organization to operate in terms of a testing methodology and approach. He is positioning QA Mentor as the leader of quality promotion in the industry and the coach to various organizational QA departments to CIOs, CTOs, where he provides strategic support and a vision on how to achieve better quality for their products. Apart from this, he handles the operational side, the marketing and advertising, coaching, support, and staff training to bring them to the next level of maturity. In short, he plays multiple roles and wears different hats, which for Ruslan, is as exciting as it is challenging.
According to Ruslan, QA Mentor's greatest achievement is that the firm got CMMI level certification. "It was extremely hard to get and to be compliant we worked for 18 months here ourselves for this big audit. So that's one major accomplishment along with the ISO certification. And honestly speaking, that was pretty challenging to achieve and to accomplish." The other accomplishment is that team built its own tool. "We have a QACoverage tool, which is a test management platform. We sell this product, along with our services. But this product is sold to many different companies around the world. This is a test management platform, which allows managing requirements, test cases, defects, risks, issues, everything under the same umbrella to support Software Development Life Cycle and Software Testing Life Cycle. We also built a big platform of over 12,000 crowdsourcing testers – part of our community from 182 countries in the world and that's the service that we offer to different customers and clients around the world."
Delivering better quality products as a mantra
Ruslan always gets motivated by the mindset of his team and the fact that everybody wants to make a difference. The team works hard by putting a lot of energy and passion to make this world better by delivering better quality products. This mindset that he sees in his own team inspires him to do better and do more. Clients also inspire him.  "If they are generating more revenue, accumulating more clients and customers, and all around more successful, that means we did something good for them in terms of bringing quality and maturity to their products. So, when I talk to CEOs and CTOs and I hear that this quarter was extremely successful for them after they released this new functionality, it feels really good because we know we contributed towards that success in terms of pre-qualifying those functionalities."
To be present in every country in the world
Ruslan's vision is to establish a footprint in every country in the world. The company plans to start helping and serving customers and clients in their localities, like MacDonald. "The idea is, since we have established and developed six different testing methodologies, we want everybody to follow and operate within those methodologists because they bring in quality results to various organizations. So for that reason, we want to be promoters of quality across the world and we want to train and guide and teach everybody in those different countries on how to achieve a good quality results by how to applying our methods, strategies, and methodologies to their day to day testing activities. Simply put, the vision is to establish a footprint and continue growing in different countries. This year, we want to expand and establish a footprint in Dubai, Canada, and the Philippines. We're also going to continue expanding into the low-cost areas, specifically in India. We already have four offices in India, but we're going to cover more area to increase our already great talent pool. Because India has a lot of talented professionals, we continue to invest into the infrastructure within this Indian and Asia Pacific regions," Ruslan says about expansion plans going ahead.
Doing his bit for humanity!
Talking about the current pandemic situation, Ruslan says, "During this tough Coronavirus situation, since a lot of people are staying home, we dropped our prices on all of our E-learning courses specifically so that people could spend this time gaining skills because it's likely going to be very challenging for them going ahead. A lot of companies are letting people go and we want testing professionals to learn more. In the United States in the last three weeks, around 15 million people lost their jobs, which is saddening to say the least. For this reason, we dropped some of our prices up to 75% just so people can utilize this unexpected free time to upgrade their skills for their own benefits and to be more marketable. Furthermore, we ran several free workshops where we shared knowledge. Three weeks ago, we put in some courses free of charge, just to make people's moods a little bit better, because everybody is going through some bad times nowadays due to this epidemic. We are trying to do whatever we can to help either with advice or with a job lead for someone who needs it. A lot of people are looking for a job and we're trying to provide them those leads or establish new jobs for them by lowering our prices. So, we are trying to do our bit for the society, for humanity, for all of us."