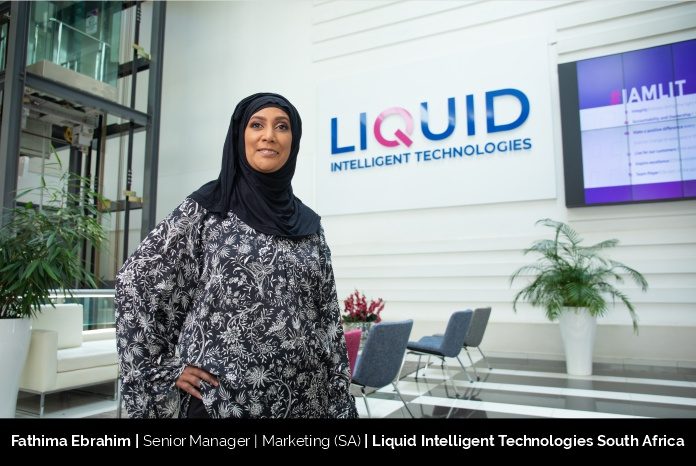 What comes to mind when you think of the word 'technology'? It might sound like something from a sci-fi show or something that has to run on electricity. Technology makes us think of the very complex, but in reality, it is not complex. Technology is the application of scientific knowledge to the practical aims of human life or, as it is sometimes phrased, to the change and manipulation of the human environment. A technological leader is someone who makes something happen either in the technology or aided by the technology. Technology leaders who utilize their talent pool can innovate, solve complex problems, and generate business growth.
Fathima Ebrahim, who is an experienced Senior Marketing Manager of Liquid Intelligent Technologies – South Africa has a demonstrated history of working in the telecommunications industry. She is skilled in Journalism, Corporate Communications, Management, Social Media, and Digital Media. A Henley Business School graduate, Fathima is a strong marketing and seasoned communications professional having worked in both the corporate and agency environments.
From humble beginnings to a tough climb to the top
Fathima says that she has come a long way in her professional walk because of the amazing leaders and mentors in her journey. Each of them saws that she had potential, and gave her the
platform to grow, be curious, and be mentored. Often, we forget these leaders who quietly work in the background with us – but to all her leaders and mentors, Fathima wants to acknowledge their part in her journey. "My current leadership team is amazing; I learn from them every day. This also has taught me that no matter how far we are in our journey, we have the ability to learn every day," she says.
"I still have much to achieve but in saying so, everything that I have achieved is a blessing. I continue to dream and make those dreams a reality. I hope to always have the privilege to pass on my knowledge and to tutor and guide the next set of leaders," says Fathima. She further states that for her it is important to leave a legacy where those we teach, will go on to share those teachings. She claims that she needs to change lives, be it 1 or 1000.
Liquid Intelligent Technologies and its services
Liquid Intelligent Technologies is Africa's largest independent fiber network. "A single network like no other," exclaims Fathima. Since putting its first fiber in the ground in 2009, its high-speed cross-border network has grown to over 100,000km of fiber. It is the continent's largest independently owned network, offering connectivity to all the main subsea cable systems that link Africa to the rest of the world.
They were the first to establish a direct terrestrial communication link between Cape Town, South Africa, and Cairo, Egypt – stretching the entire length of the continent and offering improved latency.
Women are shaping the world of business
The business landscape is changing. Attitudes towards 'traditional' ways of doing business are changing. Moreover, there's evidence to suggest that women are playing a large role in shaping this future of business. Times have truly changed to the advantage of women and female leaders. Fathima believes that she was one of the lucky ones as she never experienced many difficulties and in fact, most of her leaders were male. "I am thankful that their thinking and mindset was of that to allow women to prosper in the workplace. This was a big highlight for me when I was at MultiChoice – women empowerment was and still is, a priority," she says.
Even though Fathima worked in a technical environment, she has the privilege of working with engineers who welcomed female leadership. "Of course, this is not always the case, and I am very aware of how women have struggles in the workplace," she states. Her advice is to keep your chin up and let your work and leadership speak volumes.
Change can be difficult for some because it brings the unknown. It's a human instinct to then be averse to this change. At Liquid Intelligent Technologies we have made tremendous strides where our opinions are welcome, and our voices matter, and the number of female Chiefs is on the rise. From here on, they aim to only have great progress, because the seeds have been planted and there is no going back.
Fathima's views on women's empowerment
Fathima's views are that women's empowerment the world over is on the rise and will continue to rise. Challenges will always be there but gone are the days when women couldn't speak up. It is about having brave conversations and being true to yourself and having faith in yourself. She supports this in every opportunity she is given, and this is the same at Liquid where women's empowerment is ingrained in their DNA. "Diversity and inclusivity are again in the very fabric of who we are as South Africans. Every day we learn, every day we adapt, and every day we shift the needle to ensure we do not exclude," she explains.
Liquid Intelligent Technologies' vision and core values
At the very core of their business is the company's belief that every individual on the continent has the right to be connected. They believe that the power of technology will create better and brighter lives for everyone. They have a big reach and strive for a big impact. The company's footprint spans the continent, and they serve a diverse group of nations and customers. They don't only do what they do for short-term profit, but to make a difference in their customers' lives.
Fathima explains the values of the company beautifully –
We are all about service excellence:
* We exist to deliver a superior customer experience and that starts with a strong service mentality. We treat each business as if it were our own.
We have a bold and pioneering spirit:
* We go where none have gone before, providing the best solutions for our customers to succeed
We are in it for the long run:
* We've invested heavily in our own network and technology. We created the largest single fiber network in the region, which stretches over 70,000km across borders to connect people locally, nationally, and internationally. We're not stopping there – we're continuing to invest so we can connect people all over Africa.
We embrace change because change moves technology forward:
We are courageous enough to reinvent and grow. We are dynamic and responsive to the market.