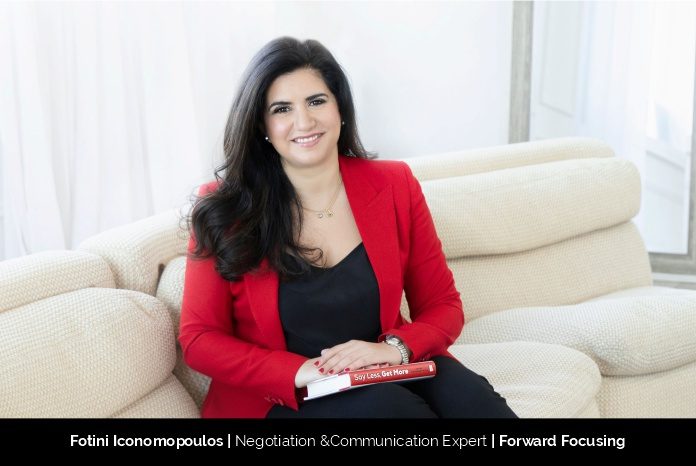 Negotiating requires a lot of mental effort. Your mind will be tugged and pulled in numerous directions throughout these discussions. It is an art form as well as a psychological science. Fotini Iconomopoulos, Forward Focusing's Negotiation and Communication Advisor, is a skilled negotiator who helps clients all around the world concentrate their attention on achieving their business goals. She enjoys assisting clients in high-stakes situations in areas such as consumer packaged goods, retail, professional services, energy, telecommunications, and finance.
Fotini's entrepreneurship journey has been an accipurpodental one. She had developed a habit of sharing information that she thought would be valuable to her former clients and network for years that resulted in a small following. She had no intention of starting a business. She says, "I was taking a break after leaving another job, and when I formally told people I was taking a break, I was inundated with folks who were offering support, job offers, and even requests for advisory help. I thought I would do some occasional favours for friends until I had to settle down and get a real job, but I stayed busy, and I loved what I was doing; it didn't feel like work."
Fotini couldn't imagine going back to work for someone else after seeing the outpouring of support and opportunities from her network. It provided her with the assurance that she could complete this project and make a difference.
Forward Focusing
The company was born out of requests from Fotini's network of former clients and followers. She had been working for a number of years training corporate teams from all over the world on how to be more effective negotiators, and then those same groups started trusting her to help them with their real-life scenarios. She asserts, "When the stakes are high, you need to trust your advisor and, fortunately, I've built great relationships with my clients and have helped them make millions of dollars in profits and supported them through months of headaches." In addition to training and advisory work, it's also evolved into speaking at corporate events and helping people tap into their negotiation skills to navigate everyday scenarios to build better relationships internally and externally.
Success; Being Able to Enjoy Yourself 
For Fotini, success is being able to put her head on her pillow at night knowing that she has conducted herself well and that her beliefs have not been compromised. She opines, "Obviously, success also means being able to support yourself, but for me it's also about being able to do it in a way that allows me to enjoy what I do and find opportunities to help others along the way. Whether directly mentoring or providing resources to others, or indirectly being a role model for others or opening doors that they can walk through later."  
Never let Challenges to Overpower You
"Challenges make you stronger," says Fotini. She has always said that she is grateful for the jerks in her life because they showed her what she was capable of. She asserts, "When faced with roadblocks, you can succumb to them, or you can find the strength and courage to get around them."
According to Fotini, she has been dealing with discrimination her whole life, whether it was gender, age, or even micro aggressions for having a name people couldn't or didn't want to pronounce. She says, "From misogynist teachers to discriminating employers, I refused to be a victim of my circumstances, I was determined to be the victor of each and every one of those circumstances. My advising and speaking career then gave me a platform to talk about these scenarios and how to cope with them and assist others. But without the jerks who caused those challenges, who knows if I'd have come this far." She contemplated dedicating her book to them, but she didn't want them to overshadow the people who helped her get through it, so she only mentioned them in the acknowledgments.
Life before Forward Focusing
Fotini has always been a bit unconventional in her pursuits. She started a business with her parents in high school and in university she studied everything from science to French and graduated with way more credits than she needed because she didn't want to narrow her scope before she ended up getting her MBA in Organization Behaviour from the Schulich School of Business.
When Fotini was working for a Fortune 500 company, they would regularly put her through different corporate training (which she loved) and the facilitators would pull her aside and tell her that she was limiting herself by staying in these roles.
Even when Fotini left her safe manufacturing roles to join the consulting world, after a couple of years she ended up starting a business within the business. She was carving out her own career path and saying yes to opportunities instead of pursuing the traditional corporate ladder. That led to teaching MBA classes, joining non-profit boards like The Network of Executive Women, and even a book deal. She states, "I've always been committed to learning and helping others and that continues to be a theme in everything I do. Even my book was an opportunity to pour so much of my knowledge into a book and to keep expanding my knowledge base to make sure I was always doing right."
'The Negotiator'
Every day is different, especially since the epidemic compelled everyone to make a significant change. Fotini used to fly in and out of airports, switching keynotes and training sessions from conferences to boardrooms. Her day-to-day routine has changed dramatically. Because of the concern about shorter attention spans in the virtual world, keynotes are becoming shorter, and instead of blocking out entire days to spend with clients in meetings and conferences, she now spends half of her day in meetings, short keynotes, coaching and training sessions, and the other half working on lessons for an upcoming online course. She makes guest appearances on podcasts and other media interviews as part of her client work. Some of her evenings are devoted to volunteer work in the community. She has been doing a virtual campus tour for women's groups for the last year to assist them narrow the gender wage gap by teaching them how to negotiate their first job offers.
Keeping Balance in Personal and Professional Life
Fotini isn't excellent at finding balance; therefore, she attempts to harmonize her personal and professional lives. She notices that her work life spills over into her personal interests. She enjoys assisting young women and being surrounded by others who share her beliefs. As a consequence of her volunteer work, she has made some amazing close friends and is mindful of guarding her time from people who do not share her ethics and beliefs. She opines, "When my brain needs a break, I rely on Pilates a few times a week to force myself to breathe. The pandemic was rough as I've never spent 488 days at home before, but I made a point of spending time with my family. Travel is a big part of how I recharge."
Future Plans for Forward Focusing
Forward Focusing began as a simple training and advising company for corporate negotiations. Since then, it has been committed to disseminating the same information and competence to the general public. Fotini wanted individuals to be able to better their lives outside of the boardrooms as well. She will still keep serving corporate clients, but she looks forward to spending more time connecting with the masses instead of limiting herself to those elite boardrooms. There will be new services and a community for those who are looking for personal development and a support network to help them stay in their game.
Securing Seats at the High Table
When Fotini first left grad school and she had heard the stories of the few women in boardrooms, it seemed like there was an attitude of warning for women about what they had to go through ahead of them to get that one seat at the table, even if it meant competing with other women. Now, it seems there has been an attitude shift. Fotini says, "My mission, as well as so many women I meet, is to help add more seats to the table and help clear some of the obstacles. There are so many people out there who are cheering you on and willing to offer help. Seek out mentors, find your support network, and lean on them. It's not every woman for herself anymore. We get a lot further when we lift each other up."