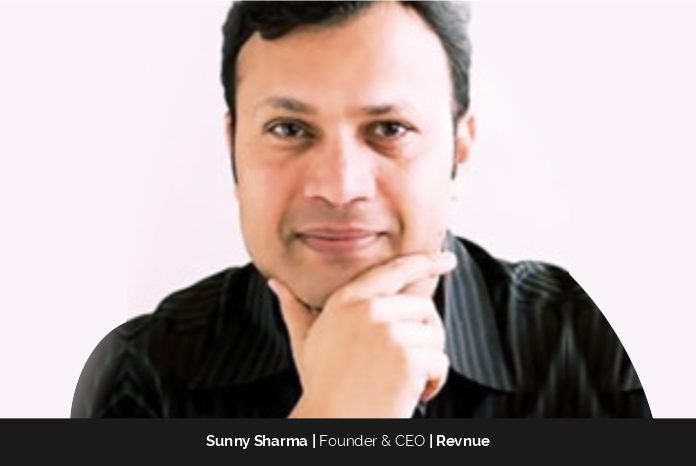 The global economy is held together with contracts. Across every industry, contracts are the bedrock on which firms rest their ambitions and means of creating stakeholder value. But those foundations are not always solid. Oftentimes, opportunities for improved efficiency and profitability can slip through the cracks of poor contract management. For that very reason, a recent EY/Harvard study estimated that "92% of organizations plan wide-ranging changes to contract management". This change offers tremendous potential and Sunny Sharma, a technology leader turned entrepreneur, decided to address the problem of incohesive contract management by building a platform to support his industry peers.
Sunny Sharma is the Co-Founder and CEO of Revnue, a SaaS product that allows businesses of any size to get deeper insights out of all their contracts. Revnue unifies contract management across all departments, enabling a truly connected enterprise. "We connect departments across your business with a single platform that simultaneously connects suppliers and buyers to enable a frictionless experience on both sides," says Sunny.
Journey before Reaching Top
Sunny's road to Revnue started when he accepted a position as Head of Technology and CIO at a mid-sized Silicon Valley firm. There, he transformed teams and witnessed firsthand the challenges that come with managing an enterprise-level rapidly growing organization. Building those firms and teams, he believes, was the true start of his career.
After leading many global technology teams through several successful transformations, he believed it was a logical next step for him to take on a larger role as CEO, and finally build a solution to a problem he, along with his Co-Founder & COO of Revnue John Cortez, had been facing as a customers for years: inefficient contract management. The decision was extremely challenging, but it allowed him to develop and turn himself into a stronger leader, CEO, and person.
Empowering Others
Success for Sunny is when he is able to empower the people around him to achieve more. Everything, in his view, centers around people: he believes that at the core, people make great technologies and people make businesses succeed.
"Seeing others on my team succeed, become leaders, and drive decisions is my definition of success," says Sunny, adding "the greatest satisfaction I receive as a leader is when my team members go on to become successful leaders themselves. Their acknowledgement of my contribution to their careers is the best recognition I get as a leader."
Embracing Challenges
 "I do embrace challenges," says Sunny. Throughout his professional career, he faced multiple roadblocks. From working on highly fragmented teams to businesses that were on the verge of failure, he learned critical lessons on how to unite people behind a common purpose and scale their thinking to turn the businesses around. "Challenges have also taught me invaluable lessons on truly understanding my own style, my own thought processes, and my own decision-making processes."
Innovation is Growth
Sunny has a number of patents that he has obtained during the course of his career, but he maintains that his most significant contribution has been in developing leaders throughout the sector. "Several team members who have worked with me are now in leadership positions in various organizations – this is how you scale in redefining the industry by empowering thought leaders across the industry who can continue to drive change within the computer software industry," says Sunny.
Engaging in Other Activities
While it is extremely difficult to strike a balance between personal and professional life, Sunny spends a lot of time reading and has close friends outside of the technology industry. He asserts, "Having a close circle of friends who enable you to disconnect from work, finding hobbies and passions outside of work, is critical to maintaining a healthy balance between personal and professional life."
Prioritizing Customer-First Approach
Sunny's aim for the firm is to build a platform that not only eliminates contract management inefficiencies, but also empowers businesses to discover hidden value, optimize costs, and minimize revenue leakage. "We intend to become the contract management system of choice." Sunny's ambition is to make Revnue the platform of choice for enterprises when it comes to contract management and business performance management. While the world has traditionally taken a document-first approach, Revnue has taken a business, data, and customer-first approach. "We are solving real business problems with Revnue that we have experienced first-hand as customers," says Sunny.
'Understand the Problems and the Customers'
Sunny's message for aspiring business leaders is to truly understand the customers and their needs. He states, "Put yourself in the customer's shoes, learn from every customer interaction, and solve those problems to become relevant." He also emphasizes, in addition to customers, to empower  and take care of the people who work with him. "People make great things happen. People scale businesses. People create revolutionary technologies. As an aspiring business leader, you must learn to have empathy not only for your customers but also for the people who work with you."