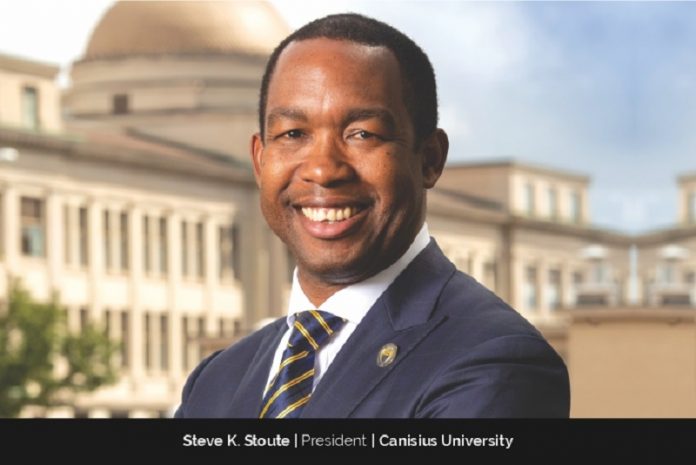 In leadership, success is perceived and assessed differently depending on one's role, whether a leader or a follower. Steve K. Stoute, the esteemed President of Canisius University, undoubtedly falls into the leader category. His resolve and persistence have earned him recognition as one of "The 10 Most Visionary Leaders Transforming Education, 2023." For him, success is not just about personal achievements but also about empowering his team to achieve their collective goals and supporting each individual in reaching their highest potential. This perspective is deeply influenced by his strong family values and background in competitive athletics.
Growing up as the eldest of four children in a community that emphasized the importance of family and unity, Steve learned the worth of pursuing his own success and uplifting and assisting his siblings and friends in their growth and development. Similarly, his experience in team sports taught him that true success lies in investing in others' progress and accomplishments, as it contributes to the overall triumph of the team.
Steve K. Stoute embodies a remarkable combination of intelligence, agility, and eloquence, making him a truly 'CURIOUS' individual. When asked to define his journey as a successful leader, he modestly expressed, "My leadership journey has been defined by constantly pushing myself to learn and grow by working with people and organizations that present increasingly challenging opportunities."
Fearlessness is another remarkable quality that characterizes Steve. He valiantly pursues his dreams, firmly believing in his abilities and potential to create a promising future. These exceptional talents make him the perfect choice for today's cover story, where he shares his extraordinary journey of breaking barriers and forging connections that shape the future of the education industry. Through this feature, he imparts valuable insights and pearls of wisdom to future generations of educational professionals and leaders, emphasizing the significance of fostering an inclusive workplace culture where everyone feels worthy and empowered to embrace their authentic selves.
President Steve K. Stoute: Transforming Canisius University
Steve K. Stoute assumed the esteemed position of the 25th president of Canisius University on July 1, 2022, marking a significant milestone as the first person of color and one of the youngest leaders to take the helm. Embracing the profound impact of higher education, particularly within the context of Catholic and Jesuit values, he champions servant-leadership. He envisions Canisius as a platform to nurture students who possess a deep sense of community responsibility and are prepared to address society's pressing challenges.
His inspiring presidential theme, "RISE," rallies the entire Canisius community to Renew their commitment to justice, Inspire the next generation of forward-thinking leaders, serve with love, and Empower others to do the same.
Steve remarks: "Nothing of consequence is accomplished alone. Together our Canisius community will RISE to meet this moment by educating a new generation of leaders who will go forth and set the world on fire!"
He has earned prestigious appointments and accolades for his visionary leadership, including co-chairing the Western New York Regional Economic Development Council and membership in the NCAA Committee on Women's Athletics. Recognized as one of the 100 most influential faith leaders in New York State by City and State magazine, he was also listed among Business First's "Power 100 Business Leaders of Color" and "Power 250" influential leaders in the region. Moreover, he received the Young Alumni Award from the Penn Carey Law Alumni Society and was inducted into Alpha Sigma Nu—the distinguished Jesuit honor society.
President Steve K. Stoute's transformative vision led Canisius to become the first institution in Western New York (one of only two Jesuit institutions nationwide) to adopt a test-free policy for undergraduate admissions, effectively eliminating consideration of standardized tests (SAT and ACT) in the admissions process. Effective in the fall of 2024, this groundbreaking move significantly enhances opportunities for capable students from diverse backgrounds to access a transformative education and realize their fullest potential.
A Journey of Aspirations: From Soccer Fields to Academic Excellence
Steve's dreams and ambitions have undergone a transformation throughout his life. From a young age, his desire to excel in competitive soccer drove him, and when he moved to the United States, he achieved his goal by competing at the NCAA Division I level during college. His dedication to both academics and sports was evident from childhood, as his academic achievements were closely intertwined with his competitive aspirations. Supported by his father, he maintained a strong focus on his studies and athletic pursuits. His passion for education began to take root early on, and as he continued to explore educational opportunities, it blossomed, leading him down unforeseen and rewarding paths.
From Home to Campus: A Continuity of Leadership Challenges
This trailblazer reflects on his early experiences as a leader within his family, community, and circle of friends. Today, in his coveted role as President of Canisius University, he finds that the fundamental challenges of leadership remain consistent: motivating people to achieve shared success in their pursuit of common goals.
Canisius University: Nurturing Purpose-Driven Leaders Since 1870
Founded in 1870 in Buffalo, NY, Canisius University stands as one of the 27 Jesuit colleges and universities in the United States. Renowned for its consistent ranking among the top institutions in the Northeast, Canisius offers an array of undergraduate, graduate, and pre-professional programs designed to equip students for success in their chosen fields. What sets Canisius apart is its commitment to fostering personal growth, professional preparation, and self-fulfillment through experiential learning, collaboration, mentoring, and a strong focus on ethical, purpose-driven leadership.
The President says, "As a Jesuit institution, it is our responsibility to reflect on the myriad challenges in our world today and respond with action in ways that will move our society, humanity, and the planet forward."
Embracing Adversity: Steve K. Stoute's Path to Leadership
Becoming President of Canisius University has been no smooth journey for Steve K. Stoute. He admits that the road to leadership is seldom straightforward and without obstacles. Failures are an intrinsic part of this journey, and he has learned to perceive each setback as an opportunity for personal growth and learning. Throughout his life, he encountered various challenges – from sustaining injuries that affected his athletic pursuits to coping with the loss of loved ones, prompting him to contemplate and strengthen his faith. Additionally, he faced rejection in his quest for professional opportunities, but each instance became a chance for introspection, fortifying his resolve and self-belief in achieving success.
Pioneering Leadership for Future Impact
While fully aware that the true extent of his contributions to the higher education sector may only be evident in the future, Canisius University's visionary President remains resolute in his commitment to empowering students with a transformative experience. He aims to equip them with the skills and vision to become leaders by facilitating access to such an education in a rapidly changing society. He shares: "I believe in the transformative power of Catholic higher education because that is my personal story: as an immigrant, a first-generation college student, and a person of color who now serves as president of Canisius University." This profound belief fuels his unwavering commitment to his work each day.
He emphasizes higher education's significant transformations in recent years, with advancements in delivery methods, expanded credentials, and a more diverse leadership landscape. However, he also acknowledges that certain aspects of the sector have remained unchanged for centuries, particularly regarding accessibility, affordability, and attainment, which are not universally equitable. This realization motivates him to continue working towards a more inclusive and impactful role in serving society.
Elaborating on this matter, Steve articulates, "We must reject the status quo that perpetuates a widening gap between those who have and those who do not. We can go to the margins of our society so often and with such vigor and purpose that those margins will cease to exist."
Three Phases of Steve K. Stoute's Journey: From Trinidad to University Presidency
Steve's journey to the presidency at Canisius University can be best understood through three distinct phases.
Phase 1: Formative Years in Trinidad and Tobago
Steve grew up in Trinidad and Tobago until age 19, residing in a close-knit community surrounded by his extended family. Attending private Catholic high schools in the capital city, Port-of-Spain, not only expanded his circle of friends from across the country but also solidified his dreams of pursuing higher education and excelling in soccer.
Phase 2: Pursuing Education and Transformative Experiences
Spanning a little over a decade, this phase involved Steve's educational journey across three reputable and diverse academic institutions: Seton Hall University, the University of North Carolina at Chapel Hill, and the University of Pennsylvania Law School. During this time, he gained invaluable life experiences, including an internship at the National Collegiate Athletic Association (NCAA) headquarters, service on the governing board at Seton Hall University, and professional development at the University of Southern California and Princeton University. His adventures across the United States, a London internship, and studying abroad in India during law school contributed to expanding his cultural awareness, and ultimately solidifying his true calling in higher education administration.
Phase 3: From Law Practice to Higher Education Administration
In the last decade, Steve ventured into the legal field at a prominent Philadelphia law firm while also building a family. Subsequently, he returned to higher education administration, serving as the chief of staff to the President at DePaul University. His time at DePaul, accompanied by invaluable mentorship, confirmed his readiness to assume the role of a university president when the ideal opportunity presented itself.
Steve K. Stoute's Pivotal Achievement
When asked about his most significant accomplishment, Steve K. Stoute points to a crucial moment in his life – the acceptance to attend Seton Hall University. He emphasizes that this achievement laid the foundation for his journey, shaping the trajectory of his life in ways that wouldn't have been possible without the invaluable support of his family, along with the guidance and mentorship from exceptional teachers and coaches who invested in his success.
Mantra for Self and Team Motivation
Every leader has distinct methods of motivating their team and themselves, ensuring a dynamic and inspired environment day after day. These diverse approaches play a crucial role in fostering success and driving progress within the organization. President Steve K. Stoute's self-motivational mantra centers on empowering students with transformative experiences and igniting a passion for positive change. By effectively communicating the significance of this noble goal to his team at Canisius University, he ensures that it remains driven, committed, and dedicated to making a life-changing impact every day.
Steve K. Stoute's Blend of Personal and Professional Life
Canisius' progress-oriented President views integrating personal and professional life as a blend rather than a strict balance. Instead of distributing his focus evenly daily, he consciously weaves the two aspects together. To achieve this, he reserves dedicated time for his personal pillars: faith, family, and friends. Starting and ending each day with prayer and spending quality time with his young daughters are parts of his essential routine. Growing up in a culture where meals hold great significance, he ensures he takes enough time to enjoy his meals. Being an extrovert, Steve gains energy from engaging with people, and so, every day, he walks around campus, interacting with students, faculty, and staff colleagues. While his job entails no regular days, he finds a blend of all these daily elements.
Strategic Vision for Canisius University
Canisius University envisions itself as a leading justice-centered institution of higher education dedicated to empowering students to reach their fullest potential and become catalysts for positive societal change. The university's President emphasizes, "Our new strategic plan—Answer the Call—sets forth a bold vision for the future of Canisius University, firmly grounded in justice and leadership and distinctly Jesuit." This plan focuses on fostering student success through transformative learning experiences that instill values of excellence, service, and principled leadership in a global context.
Personal Goal
In the coming years, Canisius University President Steve K. Stoute is driven by the primary objective of effectively executing the university's strategic plan, "Answer the Call." Through this endeavor, he strives to position the institution for enduring success and prosperity.
He adds, "Our strategic plan emboldens us to chart a new path for Canisius while staying faithful to our Jesuit values, reinvigorating our identity and growing our influence in the city, our state, and abroad."
Guidance to Aspiring Educational Professionals and Leaders
To aspiring educational professionals and leaders, Steve's valuable advice is threefold: always remember the purpose behind their commitment to the field, maintain a curious mindset, and actively contribute to the continuous improvement of every team they are part of each day.