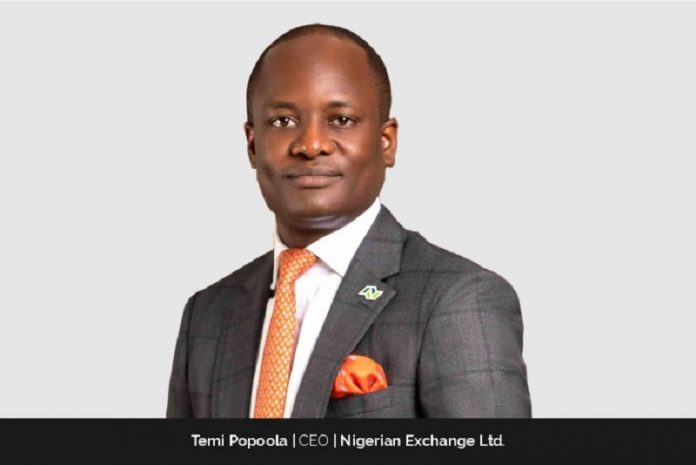 Nigerian Exchange Limited (NGX) is a leading listing and trading platform in Africa. As its CEO, Temi Popoola supervises its day-to-day operations and provides administrative, strategic, and business management oversight.
Ever since he joined NGX, or the Exchange, in January of 2021, Temi has been leading from the front and by example. Instead of setting a high bar for his team, he likes to set high standards and expectations for himself. He never forces his team to do anything he would not do himself, as he believes that a "follower should do as you do and not as you say." It is the magic of "genuinely" putting himself in his team's shoes that keeps them going.
"I identify the challenges that they face and empathize with them," he says. "I realized that once you can connect with your team at that sort of emotional level, it then makes it easy to lead."
Viewing Success from Two Lenses
Temi is a self-starter, driven, and a natural leader, and he feels empowered whenever he can connect his purpose and personal calling with the assignments. "This gives me a great level of drive," he says. Drawing energy from people around him, stakeholders also empower him to succeed. "I think that I've been privileged with that at the Exchange," points out Temi. He considers the opportunity to lead the Exchange's affairs as one of his best recognitions. He is equally proud of the part he played in the 2017 Fidelity Eurobond. At the time, he supported the bank as it tapped into the global market for capital inflow, which was the first for a tier 2 bank in Nigeria.
And Temi views success from two lenses. One is an absolute lens about himself where he constantly asks if he has put in his very best in a particular task, endeavour, or assignment. From this lens when he looks back at the time he has spent at the Exchange, he feels that he has done his best to make sure that he and his team achieve many of their strategic aims and objectives. "So far, I feel confident about the path that we have followed," Temi says.
The second lens is the one Temi frequently thinks about. He calls it "comparison," and according to him, it allows him to compare what the shared objectives and goals are on a particular assignment, vis-a-vis, where they are versus the set goals. "When I use this lens as a performance metric for my time at the Exchange, it's fair to say that we've had a good level of success," Temi says.
Whether around the Exchange's goal to democratize finance, their efforts towards the digital transformation of the capital markets, or continuous work towards the innovation of the capital markets for diversification, Temi believes they have achieved a good level of success.
Objectives of the Exchange
The Exchange has a few objectives that focus on leveraging technology and innovation to drive and promote wealth creation for investors and financial inclusion for all Nigerians. The first objective, Temi says, is to democratize finance and make it easy for Nigerians to gain exposure to investments, which is being done through technology.
The second objective is also focused on technology, but it is related more to the use of a lens to find ways for the Exchange to position itself in the middle of the capital formation currently going on within the Technology sector. Temi points out that the companies of the future are Technology-driven, and this will indeed drive the types of companies that will list in the future. And broadly tied to the second objective is the need to increase the value proposition for listed corporates to drive the number of listings on the Exchange.
The third objective is to diversify product offerings to ensure that investors on the Exchange have a bouquet of investible products. Temi says that there are a few other objectives related to financial literacy, ensuring their corporates focus on sustainability, and ensuring that their market controls and rules are enforced to ensure that investor confidence in the market remains high.
"Finally, we are responsible for ensuring that the Exchange is a great place to work and that we fulfill the duties placed on us by our stakeholders," he adds.
Influencing Younger Generation 
The Exchange aims to get the younger generation more interested in capital markets. The demography of the current crop of investors, intermediaries, and stakeholders around the financial markets is skewed toward the older generation. "That means that very quickly, we need to find ways to bring the younger generation into the capital markets," Temi explains. He and his team intend to achieve that by adopting technology in their processes and engagements with investors.
They also plan to diversify their asset classes, making sure that they can innovate and bring new products and services to the market that the new generation of investors will find interesting. Temi also wants to focus on investor education to make their outreach and interactions with the markets stronger.
Life Prior to NGX
Temi's professional journey spans several continents and parts of the financial services industry. He was meant to complete his Ph.D. in Chemical Engineering at the Massachusetts Institute of Technology (MIT); however, the research program that he enrolled in put him on a different career path. The program was funded by a few top Wall Street Banks that were keen on the possibility of applying engineering principles to financial market problems. "My exposure to this kind of research ignited a strong personal interest in finance and informed my decision to switch to a career in financial services," Temi says. "With this, I secured a position with one of the banks that funded the research program at MIT." Since then, he has developed the tenacity and courage to take on roles with the mindset to challenge the norm.
Temi started his career as an Asset Manager in the UK, where he researched and assessed publicly traded equity investment opportunities across Africa's energy sector. After completing his master's program at MIT, he joined the derivatives trading team at Bank of America Securities in New York. About 14 years ago, Temi returned to Nigeria at the peak of the global financial crisis in 2009 and served as the Head of Structured Products and Investments at UBA. He was responsible for growing revenues in a risk-controlled manner by identifying and capitalizing on new business lines within the capital markets.
After his stint at UBA, Temi worked as Head of Sales and Trading at CSL stockbrokers, a subsidiary of FCMB, for five years. "In this position, I provided leadership of the securities business and facilitated the flow of foreign capital into the Nigerian economy through Foreign Direct and Foreign Portfolio investments," he says.
Prior to joining NGX, Temi served as the CEO of West Africa at Renaissance Capital – a Moscow headquartered, frontiers and emerging market-focused Investment Bank. In this role, he delivered strategic leadership of the West Africa business with direct accountability for leading teams dispersed across various countries such as Russia, South Africa, Nigeria, and the UK.
Since his move back to Nigeria, Temi has held numerous roles within local and international banks. These experiences have not only armed him with the critical skills needed in his current role at the Exchange but have also helped him to build very strong relationships and a strong financial market understanding. "All of these have resulted in the ability to build alliances and forge working relationships with superiors and peers which has become very useful for me at NGX, as I manage a diverse group of stakeholders," Temi says. "Furthermore, I have a global outlook to drive NGX forward. I believe that a lot of the things that we're trying to achieve have been done globally. We just need to attach a local nuance to it."
"This indeed is the case when I look back at myself and my career," he says. "Naturally, you go through challenges, they never feel good, but I'm also frequently reminded that you never find refined gold lying around, you find raw gold and it goes through a process to get refined and to get better."
Throughout his career, Temi has encountered several challenges – both internal and external. Internally, he sometimes disrupts himself, which brings its share of challenges; some examples of external challenges include country-related issues, company issues, and other personal battles that one must deal with within the corporate world.
"Overall, I believe challenges make you stronger, and wiser, and it also makes you a source of encouragement, support, and good advisor to others," Temi says.
CEO's Day at Work
Like most CEOs, Temi, too, does not have a set work routine. "Taking a closer look at my regular day at work, I would say the reality is that as much of a cliche as this would sound, no two days are the same," he says.
On certain days, Temi is constantly travelling to interact with potential clients, existing clients, and different stakeholder groups. He sometimes feels like he is working a 9-to-5 job – he has to sift through emails and call on meetings with team members and different stakeholder groups. Somedays, Temi takes some secluded time to think strategically and holistically, consult, and make sure that they are able to step away from the everyday flow of business so they can strategize for the medium to long-term goals. His CEO job also entails educating himself to keep abreast of current happenings, developments around the industry, financial services outlook, and general broader issues.
Maintaining a work-life balance is one of Temi's personal ethos. "I'm aware that there's a need for balance in life, otherwise, things will struggle," he says. "One of the things that I found is that at different points and different seasons, sometimes you can choose to prioritize one thing over the other. But family and personal developments should always remain a priority regardless of what season or cycle we go through."
Physical well-being is also important for Temi, who is an avid runner. He considers personal development, growth, and constant personal challenge very important as well. It helps maintain one's professional life, Temi says, adding that he is constantly abreast of developments within his industry and makes sure that he constantly challenges himself.
"I also find balance when I study the lives of very successful people. For example, to learn that Barack Obama had time to read one book every other week even when he was president of the United States of America is very inspiring," Temi says. "It shows that there would always be time for the things that matter."
Plans for Future
In terms of short-term plans, Temi and his team intend to bring a couple of listings to the Exchange and announce the launch of secondary market-related transactions. The trading of derivatives is expected to launch soon. Under Temi's leadership, the Exchange will also focus on solid partnerships, promoting financial literacy, and advocating reforms for the capital markets.
The Exchange is a B2B, so Temi and his team plan to collaborate with various stakeholders to ensure a digital transformation of the markets which has B2C as part of it. They also intend to adopt technologies that have been proven to work locally, especially within the banking sector. The ultimate solution is one where individuals can gain access to the Exchange's products in a matter of minutes and in a manner consistent with global standards, explains Temi.
He also points out that they also plan to be an active part of the Nation's technology ecosystem and partner with key stakeholders to achieve and promote continuous digital transformation. "We also can actively support advocating for policies to create more value positions leveraging technology for our existing listings," Temi adds.
Financial literacy is central to increasing the number of retail investors – very much needed because if people misunderstand or have a misconception about a product, they either invest wrongly or not at all. "So, we must educate our people on the products available in the capital market and their benefits," says Temi.
"Considering the current population, which is made up of a predominantly young demography, we have to properly introduce them to the opportunities NGX offers to support achieving financial independence," he adds.
"Smooth oceans do not make good sailors, it is only from the turbulence that good sailors are made," is a favourite quote of Temi.