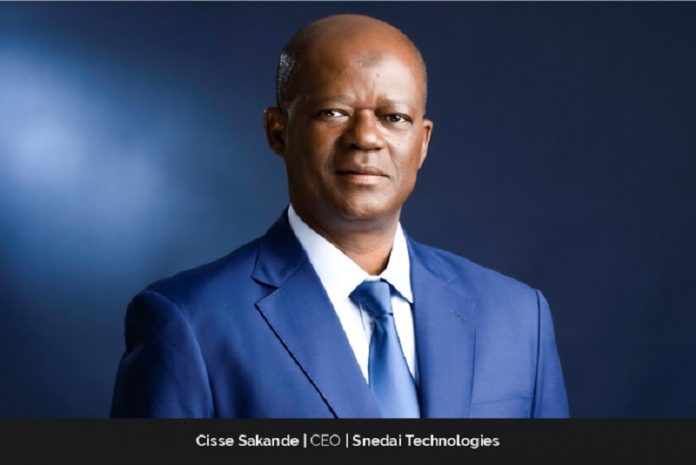 Cisse Sakande has built SNEDAI TECHNOLOGIES, a digital service company and a subsidiary of SNEDAI GROUP, from scratch. Now, as the Managing Director, he is responsible for strategic planning, decision-making, and ensuring its overall success. Cisse is also one of the most visible and innovative leaders in the African digital technology space.
In 2021, he was recognized as the builder of the African economy, which resulted in him winning the Grand Prix for Digital Transformation Award. He won two major awards in March 2023 – The Pan-African Grand Prix for Leaders 2023 and the Super Grand Prix for the Best Manager of Technological Innovation. Cisse also received another award from the company that provides the best quality of service.
He may have a string of awards to his name, but, for him, the best recognition he has received as a leader is the trust and respect of his team and peers. Leadership, according to him, is not about personal rewards. It is about creating an environment where individuals can thrive and collectively achieve greatness. Witnessing the growth and success of his team members, knowing that he played a role in their development, is the most rewarding form of recognition for him. And "Catalyst" is how he likes to describe himself in a word. He is a leader who "triggers positive change" and "drives progress."
Professional Journey: From Consulting Firm to Building SNEDAI TECHNOLOGIES
Cisse's professional journey started with a consulting firm in Organization and IT. The firm was the first partner, in West Africa, of a large global IT firm, Oracle, the famous American company, a leading supplier of databases, robust applications (ERP), and various other technologies. Cisse acquired valuable knowledge on innovation and entrepreneurship while working there. After the consulting firm, he moved to a management position in a multinational operating in the pharmaceutical industry, namely, SANOFI, a pharmaceutical laboratory, leader in Europe.
At the company, a leader in Europe, Cisse perfected his strategic thinking and his management skills. "These experiences have formed a solid foundation for my current role within SNEDAI GROUPE, where I combine my passion for technology and my desire to have a positive impact on society," Cisse says.
He joined SNEDAI GROUP as the Directeur des Systèmes d'information (DSI) of its subsidiary SNEDAI-CMU, which is in charge of setting up the Universal Health Coverage management system in Côte d'Ivoire. He successfully set up the entire technological aspect of the health insurance system, while the CNAM, the insurer designated by the State of Côte d'Ivoire, set up all the management procedures for taking charge of the insured and all the insurance aspects of the project.
After a successful stint as DSI at SNEDAI-CMU, Cisse took over as SNEDAI GROUPE's DSI. And, soon after his appointment, the Chairman of the Group asked the GROUP's lawyers to create SNEDAI Technologies, and he entrusted Cisse with the management and development of this structure in order to make it a tool for the development of the Group and others – the public and private companies.
Cisse set up SNEDAI TECHNOLOGIES from scratch. He, however, gives credit to the leadership of SNEDAI Group's President, his vision, ambitions, and the help extended by him for making the new company work as it must. "Also, the successes achieved by SNEDAI GROUPE and its position as a key player in various business sectors have motivated me, even more, to build a technological company in the image of the GROUPE's successes," adds Cisse.
He wants to make SNEDAI TECHNOLOGIES one of the digital leaders in Africa.
About SNEDAI TECHNOLOGIES and its Services
The primary mission of SNEDAI TECHNOLOGIES is to lead and carry out the digital transformation within the group and other public and private companies in Côte d'Ivoire and the sub-region. It intends to accomplish its mission by offering a full range of services that leverage cutting-edge technologies to drive innovation and empower businesses.
SNEDAI TECHNOLOGIES, Cisse underscores, is committed to providing innovative and reliable solutions that drive digital transformation and drive sustainable growth for their customers. And its services are aimed at various industries, including healthcare and finance, and the digital transformation of public services, and others. Some of the company's key services include:
Digital Transformation Consulting: The company's strategic consulting services help organizations embrace digital transformation and leverage emerging technologies to achieve their business goals. And its team of experts works closely with clients to assess their current digital landscape, develop transformation roadmaps, and implement bespoke strategies that drive growth and efficiency.
Software Development and Integration: SNEDAI TECHNOLOGIES also specializes in the development of custom software solutions tailored to the unique needs of its customers. Leveraging the latest technologies, its experienced software development team creates scalable, secure, and user-friendly applications. And the company offers integration services to seamlessly connect various software systems, enabling data flow and process automation.
Infrastructure and Cloud Solutions: This service involves designing and implementing of robust and scalable IT infrastructures for organizations, including server platforms, network solutions, and cloud environments. Cisse says that their expertise in infrastructure management guarantees high performance, security, and reliability to their clients' IT operations.
Security and Risk Management: The comprehensive cybersecurity services protect organizations against evolving threats. The company's security experts assess vulnerabilities, implement protective measures, and develop incident response plans to ensure the confidentiality, integrity, and availability of critical systems and data.
Emerging Technologies: The company also stays at the forefront of technological advancements and actively explores disruptive technologies such as Artificial Intelligence (AI), the Internet of Things (IoT), Blockchain, Augmented and Virtual Reality (AR/VR), drones, and Big Data. Cisse says that they help organizations unlock the potential of these technologies and integrate them into their operations to gain a competitive advantage.
"Our goal is to empower organizations with the tools, strategies, and technologies they need to thrive in the digital age and create a positive impact in their respective fields," he adds.
A Facilitator of Growth and Success
Cisse's expertise has played a crucial role in facilitating the growth and success of SNEDAI TECHNOLOGIES. In his current role as the Managing Director, he has tapped into his extensive experience in digital technologies, organization, and business development to bring valuable skills, knowledge, and leadership to the organization. His expertise has significantly contributed to the growth and success of SNEDAI TECHNOLOGIES in multiple ways, including:
Strategic Orientation: In coordination with the Group's senior management, Cisse played a key role in defining and implementing the strategic orientation of SNEDAI TECHNOLOGIES. His experience in the digital technology industry continues to enable him to identify emerging trends, anticipate market needs, and develop strategies that position the company for growth and success. This includes exploring new business opportunities, expanding into new markets, and fostering partnerships with key stakeholders.
Business Development: With his experience in marketing management, Cisse led the business development efforts for SNEDAI TECHNOLOGIES. He was responsible for identifying and pursuing new clients and projects, establishing strategic partnerships, and building strong relationships with existing and potential clients. This contributed to the expansion of the company's customer base and revenue streams.
Technological Expertise: Cisse's expertise in digital technologies has also been instrumental in driving innovation and ensuring that SNEDAI TECHNOLOGIES remains at the forefront of technological advances. He actively explored and implemented disruptive technologies in some projects. By leveraging these technologies, Cisse says that they have been able to deliver industry-leading solutions to their customers, improve operational efficiency, and create competitive advantage.
Team Leadership and Talent Development: Cisse has also fostered a culture of excellence, integrity, and innovation within SNEDAI TECHNOLOGIES. To ensure that, he assembled a team of talented professionals and provided them with the guidance, resources, and support needed to excel in their roles.
"By fostering a collaborative and empowering work environment, we have fostered creativity, teamwork, and professional growth, which has resulted in improved productivity and customer satisfaction," says Cisse.
Challenges and Valuable Lessons
Cisse's professional journey has not been a smooth one. It has been strewn with challenges. But he firmly believes that challenges are not only inevitable but also essential to personal and professional growth. "They have the power to push us beyond our comfort zones, test our resilience, and ultimately make us stronger and more capable individuals," he says. "Throughout my professional journey, I have encountered many obstacles that have taught me valuable lessons and shaped my approach to problem-solving."
Early in his career, a significant challenge he faced was the adoption of high-level and expensive technology products in the nascent digital industry in Côte d'Ivoire and West Africa. It involved navigating a complex landscape of technical and business considerations, overcoming resistance to change, and building trust with stakeholders. This experience taught him the importance of effective communication, strategic thinking, and the ability to articulate the value proposition of innovative technologies. Cisse says that it also reinforced the importance of persistence and perseverance in the face of initial setbacks.
Another obstacle that stands out in his memory is the redesign of the information systems of a textile production plant. At the time, he was working as the CIO at Vlisco Group, and this project presented significant technological, organizational, and cultural challenges. He recalls that he had to navigate the complexities of integrating new systems while ensuring minimal disruption to ongoing operations. It taught him the importance of careful planning, stakeholder engagement, and change management. "I learned the value of collaboration and fostering a supportive work environment to overcome resistance to change and foster successful implementation," Cisse says.
Cisse faced multiple challenges as the DSI of SNEDAI Group as well. He encountered difficulties in setting up the Universal Health Coverage project. It involved setting up a tier 3 Datacenter, deploying a complex server platform, and coordinating the implementation of a wide range of technologies, such as coverage of the entire Ivorian territory by a VSAT network. "It taught me the importance of project management, risk mitigation, and the ability to adapt to changing requirements," Cisse says. "I also learned the importance of teamwork and the need to empower and inspire my team to overcome challenges and achieve results."
Challenges and obstacles have provided Cisse with invaluable learning experiences. Because of them, he has developed a resilient mindset, improved his problem-solving skills, and deepened his understanding of the digital technology landscape.
"I firmly believe that every obstacle I encountered has equipped me with the knowledge and experience necessary to overcome future challenges and ensure the success of my professional journey," Cisse says.
Cissé says he is fulfilled because he is married to an intelligent and fighter woman, expert in financial engineering. She gave him four adorable children, with 2 girls and 2 boys, who are all ambitious. The eldest of the children aspires to be an expert in finance, the second daughter ensures that she will be a renowned architect. As for the boys, the eldest wants to be an emeritus doctor, while the youngest of the family wants to be an expert in artificial intelligence.
Success Is Not a Destination
Cisse is a leader who is successful in every sense of the word, but for him, success does not mean personal accomplishments or financial gains. It means having a significant and lasting impact, for example in the projects that one conceives and carries out in the field of digital technology and beyond.  "Success is about creating positive change, empowering others, and contributing to the advancement of society," Cisse says.
In his opinion, success is based on three key elements: innovation, collaboration, and impact. As a leader in the field of digital technologies, he strives to push the boundaries of what is possible, constantly seeking innovative solutions to complex challenges. Real success, according to Cisse, lies in the ability to adapt and take advantage of emerging technologies for digital transformation and improving the lives of citizens.
He also highlights that success is not a solitary pursuit. He describes it as a collective effort of bringing together diverse perspectives, fostering teamwork, and building strong partnerships. "By working together, we can amplify our impact and achieve far-reaching results that would be difficult to achieve alone," Cisse points out. And, for him, success is not a destination but a continuous journey of learning, growing, and adapting. It requires meeting challenges, learning from failures, and persevering in the face of adversity.
"Ultimately, my definition of success is having a lasting positive impact, driving innovation, and fostering a thriving digital transformation ecosystem in Côte d'Ivoire, Africa, and beyond," Cisse says.
Setting a Positive Example for Team Members
Cisse leads by example. He believes that as a leader, it is crucial to exemplify the values of integrity and innovation. So, he strives to be transparent, ethical, and accountable in his own actions and decisions. "By consistently demonstrating these qualities, I have set a positive example for my team to follow," he says.
Under Cisse's leadership, team members are allowed to freely express their ideas, concerns, and suggestions. He encourages them to do that as he believes that clear communication is essential to foster a culture of integrity and innovation. He points out that regular team meetings, one-on-one discussions, and feedback sessions provide opportunities for open dialogue and ensure everyone's voice is heard.
At SNEDAI TECHNOLOGIES, Cisse also encourages a culture of continuous learning and professional development within his team. By providing access to training programs, workshops, and resources, he ensures that team members have the opportunity to improve their skills and keep up to date with the latest industry trends. He says that this encourages innovation and keeps the team at the forefront of technological advancements.
Cisse does not follow an authoritative leadership style. His team members have the autonomy to make decisions and take ownership of their work. He trusts them to explore new ideas and approaches; and when needed, he is always there to provide his guidance and support. And Cisse makes it a point to recognize and celebrate the accomplishments and contributions of his team members.
"The recognition can take various forms, such as public appreciation, performance-based incentives, or career advancement opportunities," he says. By recognizing their efforts and successes, he fosters a sense of pride and motivation within the team.
Vision and Future Plans
The vision of SNEDAI TECHNOLOGIES is to become a key player in Africa in the transformation of public and private companies through digital within 3 years, through its innovation, reliability, and positive impact on society. To achieve that vision, Cisse points out that they have put in place a comprehensive plan.
The company intends to continue investing in research and development and fostering a culture of creativity and collaboration. "We aim to expand our presence in new markets, forging strategic partnerships that strengthen our capabilities," Cisse informs.
And his personal goals revolve around continued growth and positive impact. He strives to expand his knowledge and skills, staying ahead of industry trends and emerging technologies.
Message to Aspiring Leaders
Cisse strongly believes that diversity and inclusion are not only moral imperatives but also catalysts for innovation and success. So, he strives to be a visible role model and advocate for equal opportunity so that he can have an influential impact on the next generation of leaders. Cisse aims to break down barriers and inspire others to reach their full potential by sharing his experiences, mentoring budding leaders, and actively supporting diversity initiatives.
In a message to aspiring leaders, Cisse encourages them to embrace authenticity, resilience, and empathy.  He also tells them to stay true to their values, remain adaptable in the face of challenges, and always lead with empathy and compassion. "Remember that leadership is not just about personal success, but also about empowering others to reach their full potential," he adds.