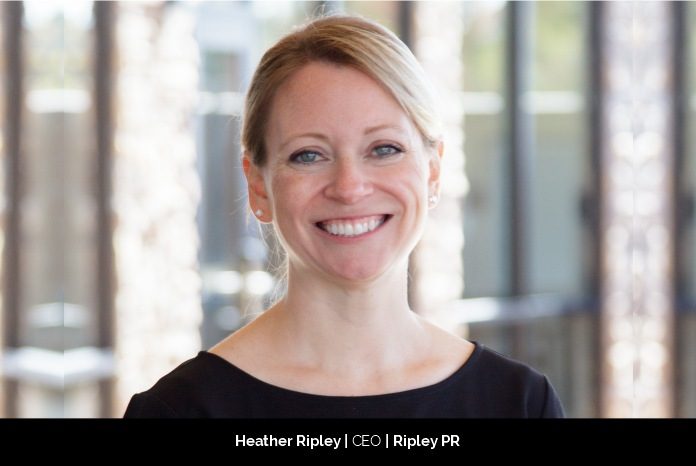 While we are all caught up in an extremely busy schedule and a preoccupied mind, we all await that one turning point that changes our lives forever. It is just a matter of time before you know that your dreams are turning into reality. Heather Ripley too approached a crossroad in her professional journey that had a remarkable impact on her life and decided to follow her dreams with passion. She had gained vast industrial experience in franchising which boosted her with confidence to embark on her entrepreneurial venture. In 2013 she founded Ripley PR, a public relations agency that uses simple, ongoing analytics to show your true return on investment. In just a few years the company has seen great success and is growing rapidly every year under the resourceful guidance of Heather Ripley, the CEO. We are proud of her journey and commend her exceptional work as a businesswoman of the present age.
What were dreams and aspirations while growing up? What led to the foundation of Ripley PR?
I grew up in the foothills of the Great Smoky Mountains in East Tennessee. I love the natural beauty of the area, and I love animals.  When I was young, I wanted to become a wildlife biologist. But right out of school, I was hired by the corporate office for a national department store, eventually becoming an assistant buyer. I really enjoyed learning business math and negotiations, but I fell in love with marketing and copywriting.
In 2001, I moved away, spending the next 10 years in Germany, New Jersey and then Florida. I went on to work with manufacturers, including a division of TYCO, a luggage manufacturer, a healthcare company and a professional employer organization (PEO).
It was at this point that I made a decision that changed my life going to work for Clockwork Home Services and managing PR and marketing for its three franchise brands, One Hour Heating & Air Conditioning, Benjamin Franklin Plumbing and Mister Sparky. While with Clockwork I earned the company top-tier media exposure, including an appearance on The Celebrity Apprentice in 2009, after which the CEO was able to sell the company for $183 million.
After a successful career in franchise development and managing PR for two agencies, and moving back to my hometown, the time finally came to chase my dream.
I had a vision of creating an elite PR agency that worked with clients worldwide, creating the highest quality work, and being able to compete with any agency, anywhere.
What led you into the franchise industry?
I learned so much at Clockwork Home Services. I was responsible for helping the fran-dev team get pre-qualified attendees to our Discovery Days every single month. It was such a success that we started having two events each month – one in Sarasota, Florida, and one in Las Vegas. By 2009, we were setting sales records, receiving a lot of interest from prospects by the valuable earned media coverage we were generating. It was at Clockwork that I learned so much about running and operating a profitable business, and I realized that I love being around super-ambitious business owners.
What were the initial challenges and setbacks you faced? How did you overcome it?
I started Ripley PR with zero clients and no outside business capital. My biggest assets were my desire and a strong will to put in all the hours necessary to make it happen. It was a little scary — I quit a really good job to do it — but I had confidence in my knowledge of the industry and a strong business acumen. When I started the business, I knew that I'd only be doing a small amount of PR. Now my job was doing everything. I closed my first three retainer clients within 45 days, and, after 6 months, I moved into an office and hired my first full-time employee. But I was wearing all the hats — CEO, CMO, COO, HR, CFO, etc. When you create a startup, you have to be willing to work around the clock sometimes. I was willing to do whatever it takes.
Is the franchise industry a common career path for women?
While I think the numbers are growing, there aren't enough women in franchising. I believe women franchise owners account for only about 30% of all franchise businesses. It's been my experience that women in the workplace tend to be more risk-averse than men so franchises are great opportunities for women who want to own their own business. You have well-established, proven systems that offer the guidance to make it a lot easier than starting a business from scratch.
How has franchising helped the growth of Ripley PR?
Ripley PR is not a franchise itself, but we have grown significantly as an expert, reliable partner for the franchise industry. Franchise brands need a public relations agency that actually understands the industry, and the Ripley team knows it inside and out.
Tell us in brief about the services of Ripley PR
Ripley PR is a global public relations agency specializing in franchising. We apply our PR expertise in professional services, home service and skilled trades, automotive, technology, and manufacturing to boost brand awareness, generate franchise leads, and create local and regional awareness for franchisees. Orange Orchard, a division of Ripley PR, champions franchises that cater to environmentally conscious consumers — from plant-based restaurant brands to animal-friendly and cruelty-free retailers.
What is the business growth strategy of Ripley PR? How do you define the growth of the company over the past few years?
There's a saying, "Revenue is vanity, profit is sanity." From the start, I set out to grow my business sustainably and profitably. It's a commitment to being realistic after watching business owners around the country learn difficult lessons. I know people who own $20 million businesses that are not profitable, and they haven't taken a vacation in years because they can't afford to take time off. I know that a business can be profitable at any size if you structure it correctly and set the right goals.
We are intentional about choosing the right clients to work with. Just as clients are careful about choosing the right agency partner, we are selective about the businesses that we help. I don't go after everyone that waves a dollar at us. Since I started the business in 2013, we have experienced steady, sustainable growth. I worked hard to build a strong foundation first, putting operational systems in place that are much like that of a franchise, and, very importantly, getting the right people on the team in the right seats.
What is your vision for the company?
When founding Ripley PR, I set out to create a world-class PR agency in East Tennessee, not somewhere not many people might expect a global firm. After five years of success, I was inspired by my commitment to animal welfare, the environment, and plant-based lifestyle to launch Orange Orchard. With this division, we're dedicated to promoting cruelty-free and earth-friendly businesses and foundations, helping them build a brighter future for all of us. We champion the people who are out there doing good in the world and making it a better place every day.
What does the future of Ripley PR look like, globally? How do you plan to widespread the company services in the franchise industry?
Ripley PR already serves clients from around the world, from Australia to Israel, Montreal to Brazil. We're not stopping there. I want to have clients on every continent, and I want Orange Orchard to be a global force for of good. We have an awesome engine for growth if we keep doing what got us here and leverage the power of public relations for ourselves.
Ripley PR is led by a phenomenal leader who is backed by years of experience in franchising. We are certain as they steam ahead, Ripley PR will see new levels of success leaving trails of success stories for the present and future entrepreneurs.