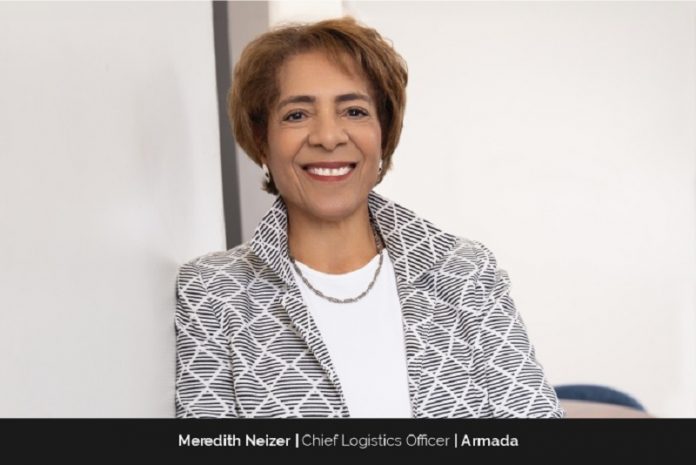 In our current women in leadership interview series, we have struck a connection with Meredith Neizer, the Chief Logistics Officer at ARMADA, recognized as one of the "Top 10 Empowering Women Leaders of the Year, 2023." This interview aims to delve into her determination and ability to surpass limits, ultimately leading her to the pinnacle of her industry.
For those who aspire to become future leaders, this interview series holds immense value in your endeavor to ascend the corporate ladder. Additionally, organizations seeking to enhance their gender and diversity policies can gain valuable insights into how female leadership can contribute to developing stronger business propositions. Furthermore, it guides on implementing workplace initiatives that have a profound impact.
Within this narrative, Meredith shares anecdotes about the individuals who have served as inspiration throughout her professional journey. She discusses the factors that keep her motivated and engaged in her work and how the company celebrates diversity daily.
Meredith Neizer firmly believes based upon her experiences, "It takes a team of talented people to be successful." She asserts that each person brings their unique background, skillset, drive and enthusiasm to any project or obstacle. By fostering collective thinking and creativity, complemented by exceptional leadership, any obstacle can be overcome, and any problem can be solved.
Childhood Dreams and Passion for the Industry
Growing up as a military brat with a family legacy rooted in three generations of Air Force veterans, Meredith Neizer was exposed to a larger world and global events early on. Surrounded by Air Force planes and residing on military bases, she naturally developed a connection to the transportation industry. After completing her education at a maritime academy, her initial passion centered around ocean shipping.
However, as the profession and industry underwent transformations and expansions over the years, her career focus and interests shifted toward the dynamic global and domestic supply chain and logistics domains. She discovered the captivating challenges inherent in facilitating the movement of goods worldwide. Each day, she wakes up determined to seek multi-modal solutions involving trucks, trains, planes, and ships, necessitating a constant exercise of creative and critical thinking.
Moreover, Meredith finds great excitement and enjoyment in leveraging technology and automation to optimize operations and achieve seamless supply chains for customers. Combining problem-solving and utilizing innovative tools adds a layer of exhilaration and delight to her daily endeavors.
Challenges Faced: Nurturing Growth as a Female Leader in the Field
When reflecting on the initial obstacles encountered as a female leader in the industry, Meredith Neizer shares her experiences.
"I was typically the only woman leader in the operations function of many companies where I worked. Initially, I had to prove that I could do the job and bring value to the company each time," She recalls. "It required perseverance and steadfastness in knowing my value each time I walked in the door."
Throughout her journey, Meredith developed a knack for identifying and navigating impediments, whether people or processes, enabling her to overcome obstacles and accomplish her goals. Even today, she continues to leverage these skills to drive operational strategies at ARMADA.
Meredith found confidence in being an "outlier" particularly as an African American woman holding various leadership roles, notably in operations.
ARMADA: Revolutionizing Supply Chain Solutions
ARMADA stands as a distinguished provider of comprehensive supply chain solutions. With a strong foundation in the food logistics sector and a reputation for being a data-driven, end-to-end technology and service provider, the company has established itself as a trusted partner to prominent and esteemed restaurant brands. Leveraging their expertise, ARMADA excels in aiding companies to navigate the tumultuous landscape of supply chain management, offering valuable assistance in risk mitigation, establishing control, and providing essential visibility into the intricacies of their supply chains.
Strategic Leadership in Operations: Meredith Neizer's Impact at ARMADA
In her c-suite role as the Chief Logistics Officer at ARMADA, Meredith Neizer assumes comprehensive responsibility for managing, executing and optimizing critical areas of the company's operations. From overseeing transportation and warehousing functions to managing field services and inventory, she plays a pivotal role in ensuring the seamless execution of ARMADA's operational processes.
Meredith's influence extends beyond traditional operational management, as she actively contributes to developing and implementing innovative strategic and tactical initiatives within the organization. Her astute leadership has been instrumental in driving the growth and success of ARMADA, positioning the company for continued excellence in the industry.
Overcoming Roadblocks: Lessons Learned for Personal and Organizational Growth
Throughout her career journey, Meredith Neizer, a pioneering individual with a drive to break through gender-based barriers, encountered several roadblocks that ultimately became valuable growth opportunities. These challenges primarily revolved around skeptics questioning her capabilities to excel in traditionally male-dominated roles. To navigate these hurdles successfully, she adopted a proactive approach.
First, she recognized the importance of thorough preparation, particularly when faced with tough interview questions. She ensured that she possessed additional qualifications and relevant experience that would validate her suitability for the job. Demonstrating her determination, she actively "asked" for the positions she pursued, emphasizing her qualifications and abilities.
Moreover, Meredith attributes a significant part of her progress to the invaluable support and guidance from exceptional mentors she encountered throughout her journey. These mentors played a crucial role in advocating for her, validating her worth, and providing valuable insights contributing to her growth and success.
Redefining Industry Impact: A Woman's Journey in Leadership
When reflecting on her accomplishments and impact in the industry, this seasoned executive emphasizes her duty as a positive leadership role model and a symbol of the potential for an unconventional career trajectory. As a woman in a leadership position, she has witnessed a remarkable evolution in leadership diversity within the supply chain and food service sectors. This growing inclusivity has transformed the profession into an exciting and promising field with opportunities for aspiring individuals, especially women and underrepresented groups.
Pioneering Leadership: A Journey of Achievements Before ARMADA
Before her tenure at ARMADA, Meredith Neizer held notable positions that shaped her distinguished career. As the Chief Operations Officer for iGPS Company, LLC, she has amassed a wealth of experience in M&A and business transformation. Her impressive track record includes senior leadership roles at U.S. Foods, where she served as the Senior Vice President of Operations and President of Alliant Logistics, as well as at The Martin-Brower Company, LLC, where she held the positions of President of MBX Logistics and Vice President of Canada operations and Central America/Puerto Rico markets.
Meredith's early career unfolded in the maritime industry, starting as a Third Mate aboard supertankers in the oil sector before transitioning to energy industry management positions with operational responsibilities ashore. She held various executive management roles domestically and internationally at Sea-Land/Maersk and the Port Authority of New York/New Jersey.
Notably, Meredith also served as a White House Fellow in the U.S. Department of Defense, working directly for the Secretary of Defense. Her defense and maritime policy expertise has led to appointments on federal and state political commissions. She takes pride in being part of a presidential commission 1990 that played a pivotal role in changing federal and defense department policies, paving the way for women to serve in combat roles. This groundbreaking work has empowered women to become fighter pilots and command aircraft carriers in the military, leaving a lasting impact on those who aspire to serve their country.
Academically, Meredith is a trailblazer, having graduated as one of the first women from the U.S. Merchant Marine Academy with a Bachelor of Science degree (honors). She further enhanced her education by earning an MBA from Stanford University Graduate School of Business. These achievements stand as a testament to her commitment to excellence and lifelong learning.
Empowering Future Leaders: Inspiring Fearless Impact
When asked about her perspective on profoundly impacting the upcoming generation of women professionals, Meredith Neizer expresses her desire to leave a lasting legacy by empowering them to be "effectively fearless." With a wealth of personal and professional experiences, Meredith openly shares her invaluable insights as a leader, industry speaker, and board member, thereby enriching the lives of others. Through ongoing mentorship and active coaching, she aims to expand her reach and influence across diverse companies and organizations, ensuring that her guidance resonates with and empowers future leaders.
Fostering Motivation and Empowerment: Meredith Neizer's Approach at ARMADA
When asked about her strategies for keeping the team at ARMADA motivated, the Chief Logistics Officer emphasizes the importance of empowerment. She believes in empowering team members to take charge of their respective teams, engage directly with customers, and broaden their professional skills and careers. Additionally, she encourages them to actively contribute to developing and implementing functional tools and processes that drive improvement and innovation within the company.
As a daily hands-on coach and mentor, Meredith greatly values providing frequent feedback and sharing her business insights with her team. This approach adds tangible value to their day-to-day activities, broadening their understanding of ARMADA's business and enabling them to make meaningful contributions toward the company's goals. Open and effective communication is a cornerstone of Meredith's leadership style.
Meredith recognizes that executing ARMADA's business effectively requires strong cross-functional department support and building robust relationships with other leaders across the organization. By fostering collaboration and maintaining strong alliances, she ensures the smooth execution of operations and enhances the company's overall performance.
Striking a Balance: The Personal and Professional Life of Meredith Neizer
Maintaining a harmonious equilibrium between her personal and professional life is a priority for Meredith Neizer.
She notes, "I love my work, but work/life balance can be challenging at the C-suite level. Still, it is important to balance the demands of the work week with a good health and fitness program and making time for family and friends." 
To prioritize her health, she is committed to working with a trainer to establish a disciplined exercise routine. She also engages with a group of health professionals to ensure she stays physically fit. By investing in her well-being, she fortifies her ability to meet the demands of her work responsibilities.
A typical day in Meredith's life as an executive involves a multitude of meetings, calls, and critical decision-making and problem-solving tasks. However, she recognizes the importance of disconnecting at the end of the day. It allows her to indulge in personal interests, such as sharing a meal with local friends or embarking on trips to visit family and friends in different cities or countries. Recently, she had the opportunity to rejuvenate herself with a visit to Malta, where she spent time reconnecting with a friend and recharging before diving back into her work commitments.
While initially learning to play golf for business purposes, Meredith has genuinely appreciated the sport as a recreational pursuit. It has become an enjoyable lifelong journey as she continually strives to improve her golf skills and lower her handicap.
ARMADA's Future Roadmap: Transforming Supply Chain Management
Meredith shares that ARMADA's vision for the future is centered around their groundbreaking offering called Profitable Response Orchestration (PRO). This cutting-edge technology solution sets a new standard for supply chain management by seamlessly combining exceptional service with state-of-the-art technology. PRO empowers companies to achieve end-to-end visibility and virtual stakeholder collaboration, ultimately optimizing network responsiveness and helping businesses fulfill their financial and service objectives.
PRO's core is data transformation into actionable intelligence, enabling supply chains to swiftly and proactively respond to potential disruptions. ARMADA's Chief Innovation Officer, Joe Wildes, highlights:
"There are many supply chain stakeholders with many variables. They need orchestration to play together in harmony."
This software company's team of seasoned supply chain professionals brings their deep industry expertise to complement and enhance customers' internal teams. By leveraging ARMADA's expertise, customers can benefit from advanced technology without substantial investment costs.
The PRO solution's unique service model and digital platform enable early detection of potential disruptions, providing businesses with a crucial advantage.
Loraine Yalch, ARMADA's Chief Commercial Officer, emphasizes, "Getting even 24 hours ahead of a potential supply disruption or demand spike allows you to mitigate rather than react after the fact."
"PRO solution executes contingencies proactively through collaboration among supply chain partners," adds Joe Wildes. "That is a step-change in supply chain management."
Looking forward, ARMADA's innovation strategy revolves around three key pillars: Visibility, Optimization, and Automation. ARMADA aims to revolutionize supply chain management and deliver unparalleled customer value by continuously focusing on these areas.
Personal Goals and Empowering Businesswomen: Meredith Neizer's Vision
Meredith Neizer has set personal future goals that align with her passion for making a positive impact. As an independent board member for tech companies, Wonolo, Inc. and Mastery Logistics, she is excited to leverage her strategic business acumen and operational expertise to contribute to their growth and success. Serving on private company and not-for-profit boards allows her to fulfill her commitment to supporting others in achieving their goals, both at an individual and organizational level.
Furthermore, Meredith is dedicated to mentoring the next generation of women professionals, focusing on African Americans and women of color. While significant progress has been made in breaking through glass ceilings and opening doors of opportunity, she recognizes that obstacles still exist for women in business. Therefore, she remains vigilant and committed to continuing the progress and creating a path for success for women in the business world.
In line with her journey, Meredith emphasizes the importance of building and maintaining a solid network of trusted individuals aspiring businesswomen can turn to for advice and support. A reliable network provides a valuable resource for guidance and fosters connections that can contribute to personal and professional growth.
"It is a small world, and it is hard to know everything," she concludes and adds, "A network of trusted advisors can be a lifeline of new knowledge and connections and can help you to do your job, find a new opportunity, and/or face professional and personal challenges. It takes a team!"