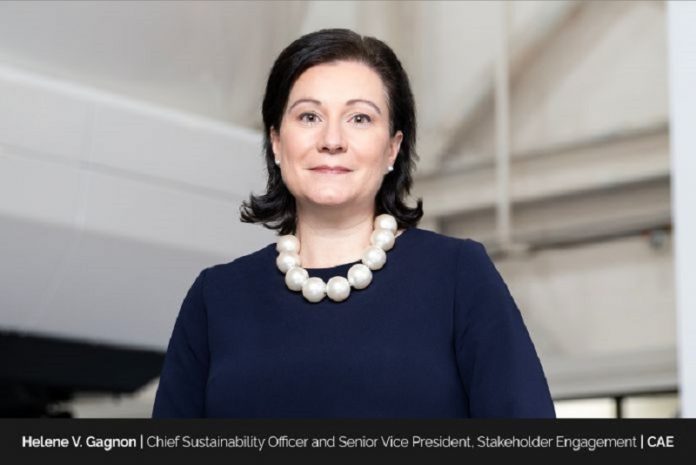 As a technology company, CAE digitalizes the physical world, deploying software-based simulation training and critical operations support solutions. CAE represents more than 75 years of industry firsts—the highest-fidelity flight, mission and medical simulators and training programs powered by digital technologies. Today, CAE embeds sustainability in everything it does. Before 2015, however, CAE had never formally reported on its sustainability journey.
At the time, the appointment of Hélène V. Gagnon to the position of Senior Vice President of Public Affairs and Global Communications changed that. She helped the company structure its sustainability approach, develop a plan and a strategy, and then rallied resources to operationalize them. The journey that Hélène started helped CAE become Canada's first carbon-neutral aerospace company in 2020.
In March of 2022, Hélène stepped into the role of the company's first Chief Sustainability Officer and Senior Vice President of Stakeholder Engagement, a role created to address the need for increased executive focus and additional resources dedicated to sustainability to generate business value.
As Chief Sustainability Officer and as a long-standing member of CAE's executive management committee, Hélène leads the company's ESG strategy, encompassing sustainability as well as its environmental and social impact. In her role as the Senior Vice President of Stakeholder Engagement, she is accountable for the company's global communications with employees, media, and communities as well as government programs and collaboration with higher education institutions.
Helene began her career in 1995 with the law firm Fasken as a specialist in environmental law. In 2000, she joined the mining and metallurgy multinational Noranda Inc./ Falconbridge Limited (now known as Glencore) as Director of Public and Corporate Affairs for Québec. Prior to her appointment at CAE, Hélène worked for 11 years at Bombardier, the last eight of which she served as Vice President, Public Affairs, Communications, Corporate Social Responsibility and Achieving Excellence Systems for Bombardier Aerospace. From 2003 to 2007 Hélène was Senior Director of Public Affairs at Bombardier Transportation.
Hélène currently serves on several boards, including Hydro Quebec, Aéro Montréal — Greater Montréal's aerospace cluster — and the Aerospace Industries Association of Canada. Hélène is also the Vice Chair of the Board of Directors of the Montreal Airports (ADM) and Vice Chair of the Board of the Canadian American Business Council.
In an illustrious career spanning almost 30 years, Hélène has received more than 70 awards and distinctions. In 2022, she was recognised by the Globe and Mail's Report on Business as one of the 50 Best Executives in Canada. For her, it is meaningful to be recognized among the top executives who have had significant impact on their company's strategy and on society. Setting aside formal recognition, what pleases her the most is when someone tells her, "You're everywhere, you must be doing a panel or an interview a week."
"It's true that I strive to be very present externally. In the last six months alone, I have been a speaker on 25 panels and conferences related to sustainability," Hélène says. "For me, it's important to build CAE's brand and to share its amazing story."
The Professional Journey
Sustainability has been a common thread of Hélène's career. She has always been involved in committees, advisory boards to governments, non-profit boards, and other organisations related to it.
At the time that Hélène started her career at Fasken 30 years ago, she was one of the few lawyers in Canada specializing in environmental law. After five years, she decided to move into the field of public affairs, communications, and social responsibility for multinational corporations.
"I wanted to leverage my legal education and the other skills I had developed through numerous engagements in civil society to build bridges, bring people together, and maximize social impact," Hélène says.
In 2015, Hélène joined CAE because of its inspiring mission – to make the world safer. She feels it is a noble purpose rooted in social responsibility. Once she joined, she took measures to ensure more reliable and broader sustainability disclosures. She points out that with ESG reporting expectations from investors and employees being high and accelerating, companies need to be transparent about their results and challenges. Hélène has also helped transform the company's culture. It now fosters an environment based on diversity, equity, and inclusion, with the goal of making employees feel valued and heard and have a sense of belonging.
Initiatives implemented by Hélène have led to CAE establishing seven employee resource groups that allow employees from specific communities to actively become involved and guide the company's efforts. Once again in fiscal year 2023, CAE achieved its target of increasing the diversity of its leadership team by 10% year over year, and for the fifth consecutive year, the company has been named to the Bloomberg Gender-Equality Index.
Hélène has also played a pivotal role in the decision of CAE to expand its Women in Flight Ambassador Program intended to encourage young women to pursue a career in aviation. Furthermore, CAE is continuing its journey to building positive and meaningful relationships with Indigenous businesses and communities.
At CAE, Hélène is known as a change agent at the executive level. She, however, does not follow a solo leadership style. She works collaboratively with her teams and colleagues across the organization, business units, and functions.
"I bring people together to ensure we continue to deliver on our 5-year ESG roadmap and create business value for the organisation while mitigating risk, for example, adapting our 250 sites in 40 countries for potential adverse extreme climate scenarios," she says.
As the Chief Sustainability Officer and Senior Vice President of Stakeholder Engagement, Hélène defines success in terms of achieving a positive outcome that is of benefit not only to their stakeholders but also to the environment and society as a whole. For her, success is not just about what one achieves but also how one achieves it.
"I believe in outcomes that are achieved through deep listening and collaboration, taking into consideration the perspective and input of various stakeholders," she says. "Working alone, you can go faster but working as a team, you can go further."
Building support for sustainability through influence and data
Like other leaders, Hélène, too, has encountered a number of challenges. Ten or fifteen years ago, for example, Hélène often felt like a lone voice championing sustainability when those she worked with were not always convinced of its value to business. "In previous roles, I was not always as surrounded by supportive colleagues as I am today at CAE," says Hélène.
In the initial years of her career, her proposals were deemed to be too bold, and too soon. Hélène recalls being often frustrated by how long it took to effect positive change. She learned to plant seeds, find allies, and be patient while still persevering. In addition, she also gathered facts. "Data and third-party support help in building credibility, convincing slow adopters, and moving forward," she explains.
Hélène has always gleaned something from each challenging experience and feels that she has come away stronger and more resilient.
Making a Difference
If one had to describe Hélène in a word, it would be "energy." She brings her boundless energy to everything she does. And, to stay fit mentally and physically, she does many outdoor activities, including hiking, swimming, kayaking in the summer and cross-country skiing in the winter.
Hélène's personal goal has remained constant over the years – it is to make a difference, to have an impact on a team, a company, or on society at large. She believes that one person can have a huge impact. "Even as a single agent of change working in collaboration with others, I know I can make a difference," she says. For example, during the pandemic, Hélène and Marc Parent, CEO of CAE, personally convinced the government to allow companies to offer COVID-19 vaccinations, to accelerate the rate of immunity in Quebec.
"Thanks to our initiative, CAE became the first company vaccination site and the reference for the 23-industry vaccination hubs that vaccinated 10% of the population of Quebec," Hélène says. "Our impact on society was undeniable!"
For her, keeping herself and her team motivated has never been an issue, as CAE's goals are clear and its mission is inspiring. "And by bringing energy, recognition, and fun into the mix, we all enjoy our work," she says.
CAE: The First Carbon-Neutral Aerospace Company
As a technology company, CAE deploys software-based simulation training and critical operations support solutions to enable pilots, cabin crew, airlines, defence, and security forces, and healthcare practitioners to perform at their best when the stakes are the highest.
"We prepare them for the moments that matter," Hélène says.
Around the globe, the company is everywhere its customers need it to be, with more than 13,000 employees in approximately 250 sites and training locations in over 40 countries.
"No matter where you fly, chances are that the pilot and co-pilot have been trained in one of our training centres around the world or in a flight simulator designed and built by CAE right here in Montreal," Hélène says.
By their very nature, CAE's products are sustainable. With simulation-based training, the company prevents greenhouse gases from being emitted. "An image that is very telling: one minute in a fighter jet equals one full day in a simulator in terms of carbon footprint while allowing defence forces to rehearse difficult missions safely," Hélène says.
CAE became carbon neutral in 2020, and it is committed to developing sustainable solutions and reducing its carbon emissions at the source. When it is making a decision on products, services, or business models, sustainability is always a key consideration. The company also considers itself a part of the solution. "We help our clients and suppliers reduce their own carbon footprints – simulator training throughout CAE's network saves millions of tons of C02 emissions every year," says Hélène.
The company's products and services also support the fight against climate change. It has been supporting the dedicated team at the Société de protection des forêts contre le feu (SOPFEU) — a Quebec organization that provides forest fire protection and ensures forest sustainability — since 2010. CAE's technology, Hélène says, helps pilots track wildfires across several hundred thousand square miles, providing critical information that makes fighting wildfires more effective and potentially saving lives.
CAE is listed among the top 100 employers in Canada. "I'm proud to say that CAE's level of employee engagement is consistently high," says Hélène.
Culture of Integrity and Innovation
Employees of CAE abide by its code of conduct, and CAE has also introduced a code of conduct that applies to all its suppliers. But integrity, Hélène says, is not just about ethical behaviour – doing the right thing when nobody's looking – anti-corruption practices or protecting human rights. It is about transparency.
At CAE, every executive leads by example to ensure a culture of integrity. The tone is set from the top. In addition to sustainability and integrity, innovation is also a hallmark of the company. It recognises and values innovation. Hélène says that it is a part of CAE's DNA and one of its core values.
"At CAE, we define innovation as not being afraid to think outside of the box in our quest to improve the way we do things in all areas of the business," Hélène adds. This applies to sustainability, communications, collaboration with higher education institutions, and to every process the company uses, and every product or service it provides.
CAE regularly organizes contests among CAE employees to harness their ideas. Hélène points out that employees are often the ones who come up with the best ideas to solve challenges they are familiar with. For example, in 2022, the company asked employees for their ideas in the field of sustainability. It also launched a special contest in Europe to get ideas on how to tackle rising energy costs.
Future: To be the Leader in Sustainability
Under Hélène's leadership, CAE is continuing on its decarbonization journey. It intends to set additional targets aligned with the Science-Based Targets initiative (SBTi) in the next year.
The company is working on electrifying up to 80 of its Piper Archers, a small training aircraft, to reduce its direct carbon footprint. "It's very exciting to be at the forefront of electrifying aviation! This product will not only be good from a carbon-footprint standpoint but will also reduce noise significantly for neighbouring communities," Hélène says.
CAE's goal is to become a leader in sustainability. To accomplish that, it provides sustainable products and services with the noble purpose of making the world safer and digital solutions rooted in simulation. The company also hopes to contribute to its customer's decarbonisation journey.
"While we strive to better protect our planet, sustainability needs to create business value for us and our customers," Hélène points out. In the future, she sees lots of potential for the company. For example, there is a new industry being created right now – all electric – the advanced air mobility domain (sometimes called 'air taxis'). CAE, according to Hélène is an enabler of this industry with its simulation-based solutions to train pilots who will take off and land many times per hour. The simulation could also help manufacturers of eVTOL, short for electric vertical take-off and landing, certify their vehicles, ensuring it is a safe mode of transportation. "And simulation could contribute to public acceptance of this new industry by showing where and how these vehicles will fly in our communities," Hélène says.
Another example is CAE working closely with defence forces of allied nations, convincing them to increase the percentage of simulation-based training vs live training. Hélène explains that each percentage point can significantly reduce the carbon footprint of a country while ensuring the readiness of its troops with reliable training.
Just Do It!
Hélène is passionate about developing people. She mentors, coaches, and sponsors many employees today, and she has done that throughout her career. During her coaching sessions, she tells employees about three things that will allow them to grow in their careers: their technical skills, attitude and behaviours, and network. She also stresses the importance of working on all three.
Hélène points out that developing only one of these means someone may not grow as quickly as someone who works on all three elements together. People often underestimate the importance of their network – internally and externally. "My network has greatly contributed to my career," Hélène says. "So, I give many conference presentations on this topic."
In her advice to aspiring business leaders, Hélène often quotes Mahatma Gandhi's word of wisdom: "Be the change you want to see." She encourages them not to wait for permission, not to wait to have the title or official responsibilities. She says, "When you see that something should be done, just do it!"