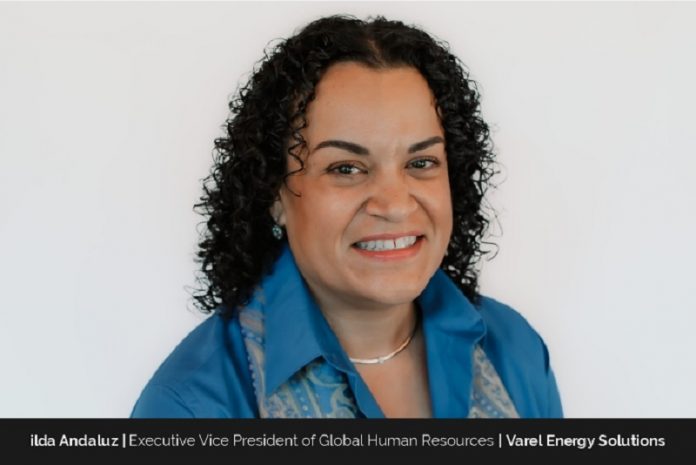 Women have continually demonstrated how effortlessly they can manage their professional commitments. As a result, progressive businesses are becoming more and more aware of the enormous value of empowering and progressing their female employees, which has a positive impact on the bottom line.
There is a group of outstanding women who labor behind the scenes to reinforce the essential values of the businesses they work for and to shape their culture.  One such influential figure is Ilda Andaluz, the Executive Vice President of Global Human Resources at Varel Energy Solutions. With an impressive career spanning two decades across various sectors, including telecommunications, retail, manufacturing, municipal services, and education, Ilda stands as a testament to the exceptional leadership and expertise that women bring to the table.
Beyond her exceptional skills, Ilda possesses superior business acumen that allows her to collaborate seamlessly with senior managers, operational leaders, staff, peers, and government organizations. Through her strategic guidance, she has successfully addressed a myriad of human resource challenges, organizational development endeavors, and operational issues, consistently achieving desired outcomes.
Before becoming a part of Varel Energy Solutions, Ilda gained experience in a diverse range of industries, including telecommunications, retail, education, municipal, manufacturing, and most recently, oil and gas. This exploration was driven by her curiosity about leadership and an eagerness to understand how HR functions across various sectors.
Throughout her career, Ilda has assumed multiple roles, but ultimately, her focus has always been on effecting positive change by influencing leaders to make informed business decisions that have a profound impact on their employees.
Ilda's Unexpected Journey in Human Resources
Ilda never planned on a career in Human Resources. After graduating from McGill University with a BA in Psychology, she took a summer job as a recruiter, despite having no prior experience. By the end of the summer, she was offered the HR Manager role, which initially shocked her. Although hesitant due to her lack of experience, she accepted the position after the company owner insisted and completed an HR certification through night classes.
Seeking a broader HR experience, Ilda joined Bell Canada, a major telecom company in Canada, where she encountered two lifelong mentors who continue to guide her. At Bell, she took on various HR roles, gaining valuable expertise. She then explored different industries and international opportunities, driven by her language and multicultural skills. Fluent in Spanish, French, English, and somewhat rusty in Italian, she aimed to focus on global HR.
Looking back, Ilda realized her passion for service leadership was the reason she stayed in HR. She observed that people crave support and guidance throughout their careers, an area where many leaders fall short. With her commitment, knowledge, and dedication, Ilda continues to make a positive impact in the lives of those she serves.
Overcoming Obstacles by Keeping Values
Ilda's journey has been comprised of numerous obstacles. She has faced the challenges of being the only woman or person of color in the room, enduring discouragement from others who claimed she could never be an executive, and even experiencing bullying from a leader. Additionally, she had to navigate the complexities of dealing with a narcissistic manager. However, every roadblock she encountered taught her valuable lessons that were not apparent at the time.
Ilda has faced criticism over the years for being perceived as too soft and lacking assertiveness or aggressiveness. However, she vehemently disagrees with this notion. Ilda firmly believes in the concept of quiet leadership, where one can be resolute without resorting to adopting a traditionally "masculine" approach to leadership. She embraces both compassion and strength, albeit in a different form. It is a common misconception perpetuated by society and movies that women must be cold and aggressive to succeed as leaders. One example often cited is Meryl Streep's portrayal of Miranda Priestly in "The Devil Wears Prada," where she embodies an icy and powerful leader. Ilda does not subscribe to the idea that women should emulate such behavior to be successful leaders. In her perspective, leadership is not solely about being in control and projecting power. Instead, she believes that true leadership involves taking care of those under one's charge.
Through these challenges, Ilda learned to remain true to her core values, not taking things personally, and continuously seeking personal growth and knowledge. She realized the importance of speaking up for herself and others, refusing to give up in the face of adversity. Recognizing the need for guidance, she enlisted the help of a coach when she felt stuck and uncertain about her direction. This coaching experience taught her the significance of self-awareness, examining her strengths and weaknesses with honesty.
For Ilda, discipline outweighs motivation. She firmly believes in consistently seeking ways to improve, striving to do better and show up fully committed, regardless of the circumstances. Throughout it all, she has maintained a sense of humility and authenticity, understanding the significance of staying genuine to herself and those around her.
Building a Global HR Team for Value Creation
Varel Energy Solutions is a private equity owned company that specializes in manufacturing well construction products, including drill bits and downhole equipment. The company's headquarters are located in Kingwood, Texas, while the majority of its employees, approximately 80%, are based in three manufacturing facilities spread across Mexico, the Kingdom of Saudi Arabia, and India.
The company's vision is to establish itself as the foremost value creator in the well construction industry, renowned for its ability to maximize investment, value, and contribute to a sustainable future. Varel Energy Solutions' strategy revolves around the core virtues of its people, emphasizing qualities such as valiance and authenticity in their approach to conducting business. They maintain a resilient spirit in their commitment to serving their customers and strive to redefine the industry by providing cost-effective and cutting-edge solutions to future challenges. This commitment is central to the company's identity.
The purpose of Varel Energy Solutions is to make a significant impact and be an integral part of a successful team. Over the past four years, Ilda has dedicated her efforts to developing an exceptional HR team that places customer service at the forefront. The mission of Ilda's team is to act as a trusted HR business partner, empowering employees to achieve exceptional performance. This is accomplished through the delivery of exceptional customer service, adaptability, flexibility, streamlining processes and procedures, and fostering a resilient culture rooted in teamwork.
This endeavor has been particularly challenging due to the geographical and cultural diversity of the team members, as each member is based in a different country. Despite these obstacles, Ilda and her team remain committed to their mission, consistently striving to bridge the gaps and create a cohesive and effective HR department.
Cultivating a Global Mindset
Ilda's career has greatly benefited from her global mindset and international experience. Having been born in Montreal, Canada, a city known for its diverse cultures, languages, and experiences, she grew up in a melting pot environment. This upbringing allowed her to adapt and be flexible when interacting with people from various backgrounds, even if they didn't speak English or French fluently, the national languages of Canada. It was commonplace for children from immigrant families to speak multiple languages, yet they always found a way to connect and engage with one another. This early exposure laid a solid foundation for Ilda, enabling her to adapt to any situation and focus on finding common ground among individuals.
In her current career, Ilda applies the valuable lessons she learned during her formative years. She approaches employee issues in different countries with an understanding and appreciation for their respective cultures and customs. Ilda recognizes that taking the time to learn about people's backgrounds fosters a sense of connection and is highly appreciated. Her ability to communicate effectively in multiple languages, including Spanish, French, English, and Italian, has played a significant role in securing global roles and working internationally. This language proficiency was one of the factors that contributed to her being selected for the position at Varel Energy Solutions, as the company required someone who could communicate fluently in Spanish, French, and English to manage their operations in Mexico, France, and other English-speaking countries.
Another expertise Ilda brings to Varel is her perspective on viewing HR as a business department first and HR second. She places great emphasis on ensuring her team understands the intricacies of the business, its revenue streams, and the impact that their decisions have on the overall organization.
Ilda believes that HR should not be seen as a policing entity but rather as a facilitator that enables constructive conversations between managers and employees. While disciplinary actions may occasionally be necessary, it is not HR's role to carry them out directly; instead, they act as mediators, ensuring effective communication and resolution between all parties involved.
Nurturing Business Acumen
Ilda's career was influenced by two influential mentors with contrasting styles, each imparting valuable lessons. The first mentor focused on developing a business mindset, challenging Ilda to read a business book monthly and quizzing her on its application. They also pushed her to present in front of executives, helping her overcome her fears. This mentor's guidance motivated her to pursue an MBA. The second mentor taught Ilda the significance of finding her voice. As an introvert, she learned to exercise her voice like a muscle, staying true to herself and always being prepared. She discovered that leadership isn't about being the loudest but making an impact. These mentors played vital roles in shaping Ilda's career, fostering her business acumen and empowering her to confidently express herself. She asserts, "Both my mentors also taught me to surround myself with people who fight for me in rooms where I am not in. In order words, building strong relationships, allies internally."
Perspective on Strategic Alignment and Human Connection
For Ilda, the most challenging aspect of the HR industry lies in managing the constant changes and business demands without HR being included in the overall strategy. HR is often an afterthought, as exemplified by the case of COVID-19. It was only during the pandemic that many organizations recognized the importance, power, and knowledge possessed by HR. Attracting skilled HR professionals can be difficult due to the misconception that HR solely handles hiring, firing, and payroll, without any significant value-add. People often enter HR because they "like people" or perceive it as an easy field that anyone can handle.
Ilda often advises new graduates that HR is not solely about HR itself. If their motivation stems from a genuine interest in people, HR may not be the right fit. Regardless of economic conditions or the introduction of innovative programs and technologies for faster recruitment, these trends come and go, with ideas being recycled repeatedly. Ultimately, what matters most for HR is guiding, coaching, leading, and educating leaders on effective employee management. Regardless of the industry, people desire to be heard and understood. While this concept may seem easy and cliché, leaders often struggle with truly knowing their employees and engaging in meaningful conversations. No technology can replace the importance of these fundamental human interactions.
To Ilda, HR is about creating a purpose-driven organization that links marketplace success with workplace practices. She encourages her team to do this by ensuring positive performance accountability by doing the right things for the business vs focusing on HR should traditionally be doing.
However, Ilda acknowledges the importance of finding new ways to improve programs and increase efficiency. The key consideration is whether such changes are driven by genuine business sense or solely based on internal client demands. This can be a challenging aspect to discern. In the current year, Ilda informed her team that instead of launching new initiatives or reinventing existing ones, their focus should be on elevating their service and questioning every action taken. The guiding principles are alignment with the company's strategy and the impact on their ultimate goal.
Embracing Flexibility, Encouraging Positivity
Ilda's parents immigrated to Canada more than 50 years ago, coming from humble backgrounds. Her father's arrival in Canada during the winter, with minimal belongings and no knowledge of English or French, exemplified the challenges they faced. However, from her parents, Ilda learned invaluable lessons about the importance of attitude, energy, and work ethic. Despite the hardships they encountered, her father always maintained a positive attitude and instilled in her the belief that the energy one puts into the world is reciprocated. They taught her that choosing to approach each day with positivity and giving her best effort gradually becomes a habit and a way of life.
These lessons shaped Ilda's perception of work. Instead of viewing it as a negative or something to take breaks from, she developed a mindset of integrating work into her personal and social life in a way that suited her and her family. She embraced the concept of working from home, leaving early, or working remotely even before it became popular. In fact, she pursued her MBA online at University of Phoenix, a choice that was met with criticism and skepticism from some who questioned her dedication and productivity. However, Ilda's work consistently spoke for itself, proving the value of her unconventional approach.
Ilda just completed her Master's in Jurisprudence in Labor and Employment Law from Tulane University Law School which was also done online. This round, it was much more accepted and COVID helped breakdown the stigma of online learning.
The onset of the COVID-19 pandemic brought about a shift in the understanding of flexible work arrangements and the realization of their effectiveness. Many leaders now grasp the importance of accommodating individual schedules and embracing remote work, an aspect that Ilda had already recognized and embraced earlier in her career.
"I think there is shift now in business and I encourage my team to never be so busy making a living that they forget to make a life," Ilda says.
Defining Success
Ilda defines success as finding fulfillment in her work. Her focus is on establishing an environment that enables her team members to utilize their natural talents and abilities to their fullest potential. She is committed to creating a lasting path for their career growth and development. Success, in her view, is not a static destination or a mere finish line, but an ongoing and continuous journey. It is comprised of various meaningful moments where she feels she has made a positive impact on the development, growth, and success of others. These instances of contributing to the progress of individuals bring her a deep sense of accomplishment and satisfaction.
Ilda faced criticism from some for not conforming to societal expectations of success and living life on her own terms. However, she also had supporters who celebrated her growth. Her mentors taught her the significance of selecting her circle wisely, surrounding herself with those who would support her.
Ongoing Priorities at Varel
Ilda's passion is empowering and coaching women to find voice and not be afraid to ask for what they want. As part of the DEI initiative at Varel, she started a women's group called Thrive, where they discuss once a quarter on issues related to being women in a dominant male industry such as Oil & Gas. For example, last quarter the group discussed the importance of creating own brand in the workplace.
Ilda's ongoing priority is to ensure that the HR team at Varel continues to deliver exceptional customer service to employees. It is crucial for them to perceive the HR team as approachable, not only during challenging times but as an additional resource for both leaders and employees throughout their journey. Ilda is dedicated to fostering a sense of inclusivity and diversity within the organization. One specific goal is to increase the representation of women in the manufacturing shops, exemplified by the recent hiring of the first female CNC operator. Furthermore, she is determined to empower women at Varel, encouraging them to discover and assert their voices in the workplace. These objectives serve as an ongoing focus for Ilda as she strives to create an inclusive and supportive environment within Varel.
Proud Moments of Impact and Empowerment
Throughout her career journey, Ilda has experienced moments of pride that reaffirmed her passion for her work. One memorable instance occurred around 10 or 15 years ago when she unofficially mentored an individual in an organization where she was employed. Recognizing the person's potential for leadership, Ilda guided her in changing her career path. Years later, Ilda received a heartfelt message of gratitude from this individual, who had now become a manager in human resources. This confirmation of her impact filled Ilda with a sense of accomplishment and joy.
Another significant moment took place during her time working in Mexicali, Mexico. Ilda played a pivotal role in persuading neighboring maquiladoras (manufacturing plants) to subsidize transportation for female workers. This initiative aimed to ensure their safety during commutes, as incidents of kidnapping and violence against women were prevalent at the time. By advocating for safer transportation, Ilda made a tangible difference in the lives of these female workers, contributing to their well-being and security.
More recently, Ilda initiated a women's group called Thrive at Varel, her current workplace. As part of this group, she arranges quarterly speaking events, inviting speakers to address various topics relevant to the women at Varel. For example, the most recent gathering in May focused on personal branding. By organizing these events, Ilda fosters a sense of empowerment and knowledge-sharing among the women at Varel, promoting their personal and professional growth.
Additionally, one proud achievement for Ilda was hiring the first-ever female HR manager in the Kingdom of Saudi Arabia. Breaking barriers and creating opportunities for women in traditionally male-dominated fields demonstrates her commitment to fostering diversity and inclusion.
These moments, both big and small, fill Ilda with a deep sense of pride, as they reflect the positive influence she has had on people's lives, whether through direct mentorship or broader initiatives. They serve as reminders of the profound impact she can make on individuals, directly or indirectly, and reinforce her love for her chosen career path.