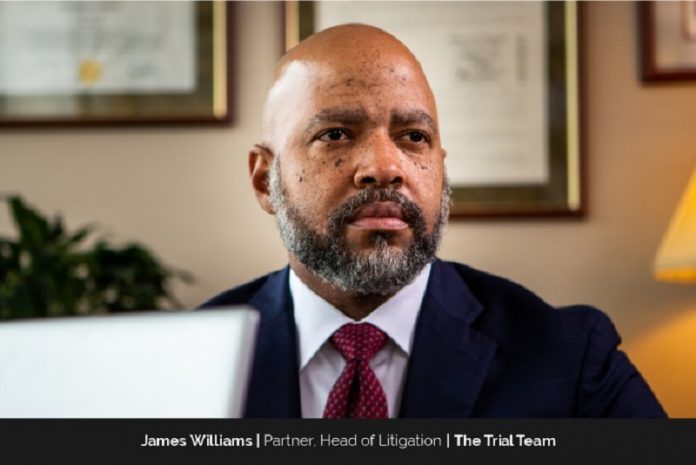 Winning for clients is what drives and motivates James Williams, Partner and Head of Litigation and The Trial Team at Chehardy Sherman Williams, to be the absolute best when handling high-stakes litigation.
He says he is in the legal field not for name, money, or fame but for client satisfaction and reputation. He consistently strives to deliver in a big way for his clients and focuses on solidifying his firm's reputation for delivering outstanding results for clients in the most difficult situations. James defines success in terms of: "Are clients happy?" He explains that lawyers work in the service industry. "We're only successful if our clients are pleased with the effort and the result—that is what motivates me in every single case," James says.
James is an immensely successful trial lawyer mainly because of his never-give-up attitude. He believes there is a significant return on investment of sweat equity when preparing for and conducting jury trials, so late nights, early mornings, and "all-nighters" are the norm for James and The Trial Team. He is always looking to find that one key case or crucial piece of evidence. We asked James what motivates him to go to lengths that most trial lawyers would consider overkill. His answer was simple: "What drives me is tenacity—my clients deserve tenacity."
Lifelong Dream: To Become a Lawyer
All his life, James wanted to be a lawyer. There were no lawyers in his family or even in the neighborhood where he grew up. "I was probably in law school the first time I met a lawyer. However, something about the law and trials always excited me," James says.
As a child, he would dress up as a lawyer on Halloween. James recalls that his first trial as a lawyer was in fifth grade. He defended the month of February in a lawsuit that the other months brought against it because it did not have enough days and was not pulling its weight on the calendar. "I'm happy to say that I won that trial," James remembers with a big smile. "I proved that although February has fewer days in the month, it has more holidays than any other month, so it works twice as hard!"
Years later, from 2009-2010, when he was only 35, James took a leave of absence from practicing law to serve as a District Court judge, a rare opportunity for a lawyer. He was appointed by the Supreme Court to fill a vacancy on the state trial court, making him the youngest judge in the State of Louisiana.
Merger and Present: Chehardy Sherman Williams
Chehardy Sherman, as the firm was known before the merger with James's team, started as a firm servicing primarily the financial and healthcare industries. It received much transactional work, in particular, healthcare transactional work. It had a "very excellent, sterling reputation" for doing high-quality legal work but was "not necessarily" known as a litigation powerhouse.
In 2015, James, who was running a trial boutique firm, and Chehardy Sherman decided to merge their practices to combine high-powered, elite, high-stakes litigators, and litigation practice with the overall culture of delivering the highest-quality ethical services. James calls the merger: "a match made in heaven."
Chehardy Sherman Williams is now one of the biggest and most influential law firms in the Gulf South. "Our firm is uniquely built to help clients with high-stakes problems that need a lot of skill and firepower. We have assembled a collection of some of the most intelligent, innovative, and talented lawyers who excel in the courtroom and the boardroom," says James. Although dramatic courtroom victories usually get most of the publicity, the firm also handles some of the highest stake transactions around. "We're an elite set of lawyers that can help you solve a particular set of problems."
James also points out that they have carved out a niche that only exists in a few places around the country. "Our niche of delivering high-powered, focused, strategic trial and courtroom techniques and tactics sets us apart," he adds. Most law firms have a litigation group that goes to court, but in terms of an elite division, Chehardy Sherman Williams does it at a much higher level over and over again – in troubled and high-stakes litigation. "We have an elite special forces mentality," James says.
The Trial Team at Chehardy Sherman Williams is based in New Orleans. There have been discussions between James and his team about whether or not to relocate to a larger market to serve their clients. He points out that people sometimes find it hard to believe that one of the country's most prolific jury trial litigation teams is in New Orleans, not New York, Washington DC, Chicago, or Los Angeles. The Trial Team at Chehardy Sherman Williams has belied this notion and, over the years, has been hired to handle cases in at least 16 states. James and his team have even tried a case in Milan, Italy. "So, we have decided to stay in New Orleans," James says. He and his team love the town. "It's a unique town, which adds to the character of who we are," James says. "We bring some of the charm of New Orleans to juries when we go to other places. They seem to like it a lot!"
"I want to tell your readers that we are a special, elite, powerful, persuasive trial team that can deliver outstanding results anywhere in the country–we are just based in New Orleans," he adds.
Speaking of plans for the future, James points out that there are some growth opportunities for them as they continue to serve clients. "We have grown our office since the merger and opened one satellite office," James says, adding that he plans to open another one this year, focused solely on the highest-stakes litigation work.
"We are growing in size because I want us to continue serving clients and their needs as we spread nationwide," James says. He revealed they had a case going to trial in West Palm Beach, Florida, in March. So, while James had a whole team in Florida trying that jury trial, he also ensured they had the right personnel back at home to keep the rest of the client matters moving forward.
Big Wins and Three High-Stakes Cases
James and his team boast of a high win percentage. They have received favorable outcomes for their clients, even in some of the most challenging cases, such as the Huntsman, Lavigne, and Exxon cases.
"We have won many important cases for our clients, and each is important for different reasons," James says. He and his team once represented a family devastated by a cement truck accident. A 20-year-old nursing student and mother to two children suffered brain damage from the accident. James recalls that she could not move from her neck down, and her family had no money. She was living in a garage at her parent's house because the hospital bed would not fit through the door. "We won enough money for her, which enabled her to get every comfort and accommodation, and she could spend time with her children at ease," James says. She could access all the mobility options and facilities one could imagine. And at the other end of the spectrum, James and his team handled a case for a large corporation that was sued for $600 million in Oklahoma. "From their perspective, that cripples their company," James points out. "If they lose the case, think about how many people lose their jobs and how many people's retirement plans go down in flames."
"It always empowers me to fight for people who need it and for whom you may be their last hope," he adds. "It's another reason why I became a lawyer."
Huntsman Case
Huntsman Corporation is a family-owned company, and its CEO is the son of the company's founder. "The fact that they've grown into this huge corporation but still retain their family values was attractive to me," James says.
Huntsman went up against a corporation that was many times its size. The larger company, according to James, used its leverage and resources to try to strong-arm Huntsman out of the product they were owed.
Experts hired by Huntsman initially estimated damages at $46 million, which was a conservative figure. James and the CEO of Huntsman knew that the lawsuit was much bigger than that, closer to $100 million.
Instead of playing the hand they were dealt, James and his Trial Team tapped into their creativity, proven and tested strategies, and techniques and devised a plan of attack that allowed them to maximize the recovery for their client and to get closer to the real number.
The final judgment value was $125 million.
Lavigne Case
James is proud of the Lavigne case. It is mainly because some folks had given up on this client. "When I got the case, I felt quite differently about it," James says.
Lavigne's previous lawyers had offered to sell him short—for only $300,000. James knew the impact the case had on his future and his family. He remembers the client's marriage was suffering because of what he went through during his ordeal. James and his team decided to fight for him and attack the case in a way others had not thought to do.
"That is because it is our focus," James says. "We have decided that we are going to take on high-stakes litigation and master it and do everything that is needed to be successful." James and The Trial Team have a more dynamic approach, and their focus is more intense. As a result, they come up with avenues, theories, and creativity that clients would not get with an ordinary litigation team.
"Our special litigation team delivered the outcome for Mr. Lavigne, and we were able to get a $3 million verdict from the jury," James points out, adding that it was upheld through appeal.
Exxon Verdict
As a trial lawyer, James always seeks ways to relate to the jury. And, over the past 20 years, he has always wanted to perform a magic trick in front of the jury. He is not a magician and does not know how to do magic, but he always felt that with the right case at the right time, he could make a powerful impression using a magic trick. The Exxon Mobil case was a tough one. Exxon was getting sued for tens and millions of dollars. And, as Exxon is one of the biggest corporations in the world, there was not much sympathy for it. Also, an employee of the company died in the middle of the trial from a disease that some scientists say is only caused by the work he did at Exxon. "He worked for 30 years at Exxon and never worked anywhere else. He worked on pipes that were insulated with asbestos, and he developed mesothelioma, which some scientists will say is only caused by asbestos exposure," James says.
In the closing argument, James did the magic trick. At the beginning of the case, his opponent said he was holding all the aces. He claimed that he had everything to win the case right there. James performed the magic trick to make the point to the jury that "anyone can flash things before you, but if you want to make an important decision like this, someone needs to put the cards on the table. They need to show what you can look at, see, touch, and feel. So, don't go for the flash, which is what you do when someone is trying to trick you. Ask yourself who is flashing cards in front of you and who is putting them in front of you."
According to James, that resonated with the jury because, throughout the case, he pointed out several instances where the other lawyers were trying to flash things quickly and not showing the jury the full picture.
Long Working Hours
Special litigation, also called high-stakes or complex, high-profile litigation, is anything that is not "ordinary" or "routine." As Head of Litigation and The Trial Team, James oversees every litigation case in some capacity.
He is also currently fulfilling the managerial-level role of the lead strategist who has taken a leave of absence to follow in his footsteps and serve as judge pro tempore (the second lawyer from the firm to serve as a judge after Williams). In this position, he is in charge of developing the game plan for each of their cases. Then the cases are broken down into different divisions within the trial team based on the type of case. After that, an army of lawyers, working at the handling lawyer level, are responsible for pushing the case day- to-day.
Every morning, the first thing James does is meet the executive director of their team and then directly with all the front-line lawyers, even before he meets their supervisors. To know more about what is happening with them, he asks, "what are you doing to help the client today?" He believes that lawyers should spend every day thinking about how to help clients through what they are doing.
Following the meetings, James makes various court appearances and fulfills other obligations. The Governor of Louisiana appointed him as a member of the board of trustees for Louisiana State University. Therefore, he discharges his duties as a board member when he is not working in the legal space.
James reserves evenings for meetings that are difficult to schedule during business hours, such as client meetings, client relations, and charity events. Like most people in his position, James works long hours—13 to 14 hours every day. He says that he does not mind because he loves what he does.
Message to Aspiring Lawyers
"There are no shortcuts," James says in his message to aspiring lawyers. "If you do it right and don't take shortcuts and take the time to learn skill sets and effectively deploy them, the rewards will be consistently fantastic." Everybody in his firm, from top to bottom, enjoys incredible success today because they choose not to take shortcuts.