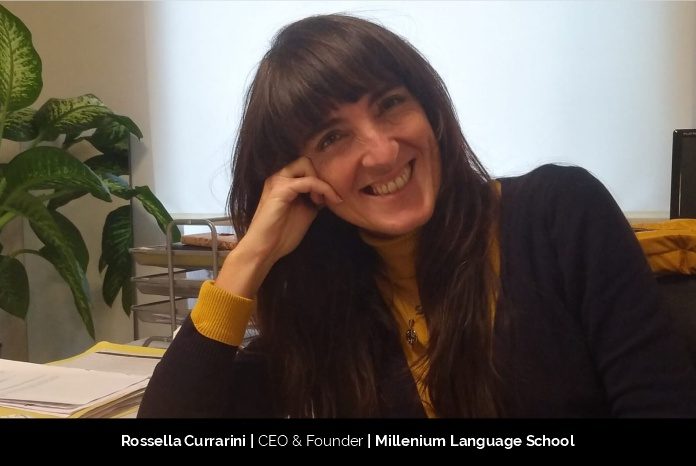 Face-to-face training has evolved into remote instruction over time, and then dramatically following the epidemic. Millenium Language School Srl, founded by Rossella Currarini, promises to provide remote and face-to-face language instruction to organisations both domestically and globally, utilising a pool of more than 200 teachers overseen by a single secretariat. Millenium Language is distinguished from other school franchises in the area because it is managed by a single dedicated and centralised secretariat that communicates with all of its global customers.
According to Rossella, Millenium Language School has kept its continuity and global business perspective, with teachers always residing in the nation where the consumer is situated. Every firm has its own demands and rules, and every nation has its own business etiquette, which is why teachers must be well-versed in both.
The School of Enterprises
Millenium Language School & Academy has always believed in the business approach to training. Companies are satisfied if they have a dedicated and attentive secretariat, familiar with their company policy (needs analysis is the most important and underrated event in company training), that understands their needs and objectives, customises the courses accordingly, and at the end of training, reports the results clearly and in a way that is monetisable. The capacity of a supplier to transmit awareness of the training objectives and to show associated data, analysing costs and benefits, is crucial to the success of corporate training. Each hour of training is a cost to the business, whereas each employee upgrade is a gain. This data must be linked, clarified, and made explicit and indisputably understood at the end of the training course. This is the purpose of business training.
Rossella sees her primary job at Millenium as maintaining employee confidence while guaranteeing favourable client feedback. She states, "Every day, after a short meeting with the girls of the team, I start working, applying the necessary multitasking approach that has always allowed me not just to focus on a single project but to look in several directions at the same time."
The Inspiration behind "Millenium"
"My Mum's strength and my Dad's realism made me a free person: free to find my way in the world of work, steps that only I have chosen and that have allowed me to find my path," says Rossella. Her husband has always believed in her entrepreneurial abilities, backing her practical, but also imaginative, ambitions, and it is largely due to his tenacity and support that she has been able to develop a firm from the ground up that is now giving her rewards for the sacrifices she has made.
"My sister teaches literature in high schools and my brother economics at university, and thanks to them, I was able to open my mind and understand that education is the ultimate key to human and professional growth," explains Rossella.
A Mother and an Entrepreneur
Since Rossella's son, who is now 11 years old, was born, she has chosen to put him at the centre, knowing that Millenium is part of me. She says, "This made it possible to never let my being a mother and an entrepreneur become a situation of simultaneous conflict, but to make these two "souls" coexist peacefully, finding the right spaces for both." Rossella considers that she wouldn't have been a happy mother without being an entrepreneur and vice-versa.
"A good team is everything. No project can be successful if it is not supported by a team of people who feel an integral part of it and who believe in their work," says Rossella.
Rossella believes that she has been lucky enough to have always been surrounded by people who have given fundamental creative and personal support to Millenium. She asserts, "I have probably been able to bring out the best in people, working on their strengths and without fuelling their weaknesses, but I have been amply rewarded: guaranteeing my staff's professional and personal growth while respecting their time restraints and their needs has always repaid me with trust and a good dose of love."
According to Rossella, both the project managers who work in the office and the teachers worldwide share with her the fundamental principle of Millenium Language. The human factor at the centre, with all its cultural and human richness, the organisational staff that personally follow the companies know that its management platform is essential for companies, but so are the people behind all the data, those who confidently respond to any request with an email and those able to address the concerns of an HR manager on the other side of the world with a reassuring phone call. And the teachers know that they will always be at the centre of every training intervention, and that the success of a language course depends on their ability to understand the objectives of the student and of the company that invests in them.
Constant Improvements Ensure success
"Success is something that must be reinvented day after day," says Rossella. There were many concerns when she first began with the notion of a global training firm 15 years ago, and the worry that the industry was already saturated was prominent in her mind. Then she realised she, too, was competing in a crowded market, and Millenium had something to offer that the numerous local language schools didn't. She immediately set out to change the way businesses see training: learning to speak a language, or enhancing one's understanding of one, is a job tool that must be handled as such in the workplace. She shares, "I wanted to bring an entrepreneurial vision of training into companies, leaving nothing to chance. I wanted HR or the learning manager to understand that Millenium appreciates the difficulties of those whose task it is to organise language courses within companies and that it recognises their due value."
Without challenges, there would be no professional growth. Every fall shows you the way to think on a larger scale. This has been Rossella's reaction every time Millenium has not been chosen by a potential customer: to ask herself why, without taking a defeatist attitude or thinking that the customer "didn't appreciate our value". She also adds that every setback must make us ask what we did not understand about the customer and, therefore, about the market.
 "Nothing would have been possible without the personal and professional support of Paola Corda, the Marketing Manager of Millenium Language School. Over the 20 years of sharing our career path, I have faced every day, finding, thanks to her, the strength and ideas to believe in our projects. Paola was able to "smooth off" my character excesses, boosting them or toning them down, instilling in me the values of constancy and loyalty. Behind every leader is their own true leader," says Rossella. She further adds that progression, appropriate to the level of skill, but with a growing vision and always slightly beyond personal expectations, this is the best recognition that she has received.
Heading for International Recognition
Millenium Language School had to restructure itself after the epidemic. Rossella wondered why she was re-proposing the concept to the market by just repeating what the market was offering without originality when the entire world needed interactive platforms with millions of inputs to learn a language. While the rest of the industry was depersonalising training, Millenium chose to emphasise the human element.
She recalls, "I asked myself what our target customer, in other words, the medium-large companies, actually needed. The answer was: not to lose sight of the training objective, ensure effectiveness, always offer customised paths, flexible but robust and focused on an actual upgrade."
Millenium chose online classes with flexible timings, supervised and led by an instructor, instead of "when I want, how I want" training, reducing expenditures. However, with the greatest flexibility and supported by personalised asynchronous training, Millenium opted to redefine bespoke courses by utilising the same teacher from beginning to end. This provides a real value to businesses.
The main goal for Millenium in this phase is to establish itself in the international market by positioning itself as a leading and loyal company for companies not only in Europe or with European links in the United States or Asia (as is the case now), but also for companies with main offices in the United States (or Asia or Australia) to provide professional level worldwide language training.