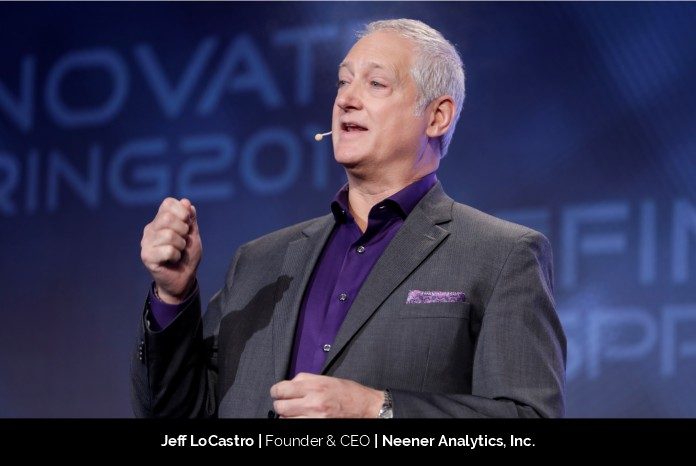 It takes courage to go against the standard methods and chose the opposite direction. However, it is perhaps one of the pre-requisites of an influential leader. Jeff LoCastro is one such out of the box thinker, who creates unique ideas with his passion and intellect. Subsequently, he founded Neener Analytics, a company that creates AI-based financial risk decisioning technology using Human Data. Jeff's endurance to build something of his own motivated him to think beyond and make a difference. As he shares his inspiring story with us, we are certain that he will ignite a passion in every aspiring individual who dreams big.
What were your dreams and aspirations while growing up? What led to the foundation of Neener Analytics?
I've never been much of follower. If I saw everyone going left, I'd turn right. I've always just got a kick out of being contrary I suppose. Getting a job and punching clock was never on my radar. Never.
I was constantly trying to figure out how improve a process; constantly asking why and mapping out the answer. Always done that. I'm sure it must have been quite annoying at times! My daydreams were of doing "big things" and the notion of being just another person in the room was anathema to me. Sounds like a lot of ego, but welcome to the world of high-tech entrepreneur.
What were the initial challenges and setbacks that you faced?
When you're not afraid to fail, you do find yourself falling on your face a lot. I've been pretty lucky in my life. I had the greatest parents, both the greatest role models. I've had more than I needed and have seemed to find myself in interesting situations. And I was born an American which has given me tremendous opportunity. I've always felt a tremendous pressure to never square the gifts that other sacrificed to provide me. My goal in the End is to be able to say, "I gave it everything I had. I didn't hold anything back."
Having said that I don't have a story of hardship or victimhood. Frankly most of the setbacks I've faced end up in the rear-view mirror. I throw it into another gear, get better, hit the gas and leave it in the past.
The question is a fair one, and I'm not trying to be glib. I just don't have time to reminisce on the bad stuff or carry it as baggage.
Having said that, one of the things we had to overcome is the marketplace not really understanding the idea of small data. Getting the marketplace itself to admit out loud that current decisioning models just don't work very well. And certainly, don't work for the majority of the population. It took A LOT of work . . . and will still take more. But we're on it!
Tell us in brief about the services of Neener Analytics.
1-click AI-based financial risk decisioning technology using Human Data. We've developed a regulatory compliant AI-based financial risk decisioning technology using social media or any media used socially to help lenders better decision and understand specific individual risk outcomes for thin-file, no-file and credit challenged consumers. 1-click AI-based financial risk decisioning technology.
What is the importance and scope for Human-Data Science?
Better decisioning thin-file, no-file, the credit challenged and increasing Financial Inclusion, is not a "data" problem. It's a "Human" problem. Which is why we have pioneered Human-Data and created the branch called Human Data Science™. So, the way we look at it is this: what if you could sit each customer down with a psychologist and ask them, "are you really going to pay us back?" Because that's the question, right? The question is not can they, the question is will they.
How do you define the growth of the company over the past few years?
In the last 2 years we have really begun to make an impact. I've spent a great deal of time evangelizing our cracking the code on Small Data, our focus on Human-Data rather than data from human activity. For 2020 we are on course for a 500x increase in revenue.
What is your vision for the company?
Masters of the Universe . . . hahahaha . . . but seriously. We are solving a pervasive and fundamental problem. Look, 56% of US consumers alone are thin-file, no-file and credit challenged. 88% globally. These are the invisible consumers; invisible not because they are high risk, but rather because current risk assessment systems simply don't work for them. This is a massive global problem. Neener Analytics contends that this is the biggest problem in the world. You cannot build a middle class or improve the standard of living for a society or individual without access to financial products and services. And you cannot deliver that access if the risk of the engagement cannot be assessed.
Getting 'banked' is great. But the problem is so much bigger than simply the "unbanked" or "underbanked" because being "banked" still doesn't solve the underlying problem of financial risk invisibility. If the risk is not understood . . . no one is delivering services to these consumers that improves their life.
As important as "banking" these consumers might be, a bank account doesn't increase financial visibility or directly elevate their living standard. Simply getting them banked doesn't create an understanding of engagement risk so they can in fact participate in a global economy and improve their life. And isn't that what it's all about? We want every consumer to have access to financial products, goods and services based on who they are as a unique individual human being and not based on an aggregation, affinity, or bin.
Give us a brief of your life before Neener Analytics.
I often joke that I've never had a real job. I've always just had an idea and then built the idea. I really don't know how else to live my life.
I was among other things a member of the initial executive team of the inventors of the online social network: Classmates.com and was one of the first to extract innovative insights from social network data. I'm rather proud of that, While the marketplace focused on 'transactional" features (and frankly still does), I tried to connect affinity and behavior to understand non-linear correlations. This was big data stuff. I hadn't gotten to swinging at small data yet. I can't say I invented (because I can't prove 'invention') but I can say I pioneered the first ever effective CPA (cost-per-action) model which became the basis of all future social analytics models, as well as the foundation for all social media monetization. Pretty proud of that too. I wasn't trying to be innovative. It just seemed obvious to me.
Tell us about your roles and responsibilities as the CEO of Neener Analytics and how does it make you feel?
We are a start-up. And we are still small but growing fast. As I am not only the CEO, I am also the Founder. So, I wear a hundred hats. One of the best pieces of advice I ever got, was you must be, ". . . constantly ready to switch gears." So, in any given day I wear the hats of Finance, Book Keeper, Controller, HR, Strategy, Governance, Product Development, Business Development, Sales, Press Agent, Fund Raiser, Chief Negotiator, Tea Maker, Soothsayer, Evangelist, Fortune Teller, and occasionally Janitor.
Constantly switching gears; trying to move seamlessly from one discipline to the other. And then back again.
It's a thrill every day. And I don't know how to do anything else except build stuff.
What are your greatest achievements?
Besides my son? That's a tough one. As a Founder, I always think my greatest achievements are always Ideation and the Creation of the Dream, and seeing Others Buying Into my Dream, believing in my dream and working along side me to make it real, and then Customer's Buying Into my Dream as well. And paying for it.
It's a pretty incredible feeling. And quite addictive. Thus, serial entrepreneur.
We also received the Global Finovate Award for #1 in the World for Financial Inclusion beating out some of the biggest banks in the world. We also got Top 5 in the World for our AI. Pretty great stuff from just an Idea.
How do you manage to balance your personal and professional life?
– Balance? What's that?
Describe yourself in one word.
– Driven.
And tell us what inspires you?
I love stories of the person who builds something from nothing. I never tire of hearing those stories. They're intensely inspirational.
What keeps you and your employees motivated?
Nothing fancy. It's all about building something new and understanding the impact it has on not only our customer, but on our customer's customer . . .the consumer. We do believe, and rightly so, we are changing peoples lives.
Way too many companies talk about "changing the world" but then you look at what they are doing and think, "Huh?" What we are doing is massively impactful. That's pretty motivating.
And if our team members don't find that motivating in and of itself . . . then they're in the wrong place.
What does the future of Neener Analytics look like, globally? How do you plan to widespread the company services?
We are approaching being in a dozen countries already. We're also just starting our largest fund-raising round. I also think aggressively, so I don't think its crazy to think that every bank or lender on the planet should be, can be, must be using Neener Analytics.
The most efficient way to scale is through partnerships and strategic alliances. For example, FIS Global is one of our current investors. A very nice marriage: provided cash and access. We also have global partnerships with some of the biggest credit processing players in the world as well as one of the largest financial tech consulting firms.
Jeff is not afraid to fail. He believes that, fear is the only enemy of a great idea. As he stimulates the same energy and thought process in his team, Neener Analytics is destined for success in every endeavor and impact the world with their unique techniques.