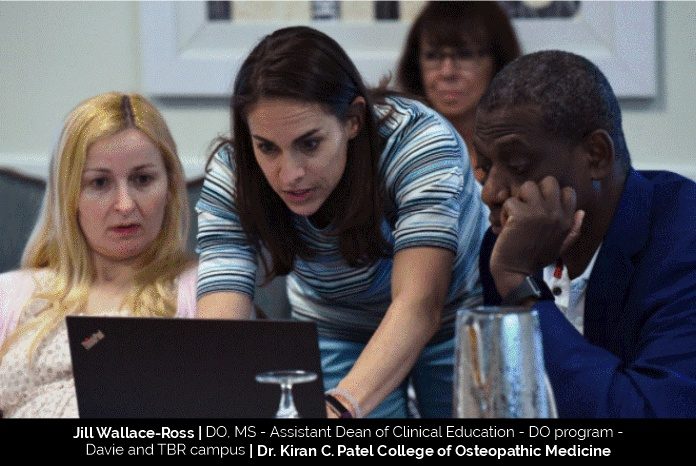 Having a strong passion for the human side of education, Jill Wallace-Ross, DO, MS – Assistant Dean of Clinical Education, DO program, Davie and TBR campus at Dr. Kiran C. Patel College of Osteopathic Medicine strives to impact students in ways that are appreciable outside of the grade book.
Medical school has a very tough curriculum, with a lot of internal and external pressures for success. She aims to create a curriculum that will support the students in the best way possible, providing the necessary educational skills and assisting them on their journey to success. She adds, "I feel that this human connection to the educational process is part of the implicit curriculum, and I hope to make it fully explicit and measurable."
Taking a dive into the education industry
Prior to becoming a medical student at NSU-KPCOM, Jill had worked for several years for a large psychiatric group, assisting in the coordination of psychology and psychiatric care at over 40 assisted living and skilled nursing facilities. After leaving this position, she found herself in the finance industry, working her way up from data entry to client relations, assisting clients with managing life insurance and annuity accounts, as well as handling stock trading.
However, in her heart and mind, she always wanted to pursue a career in medicine. So, she left her job in 2001 and returned to the school to add the necessary skills to her armory to follow her passion.
Climbing the ladder of success at NSU-KPCOM
Her journey with NSU-KPCOM started in 2003 when she matriculated as a medical student. While moving upwards, the spark of educational creativity changed Jill's whole perspective. No doubt, she spent years tutoring and assisting in the teaching, but she lacked the educational theory, pedagogy, or understanding to assist with bigger changes, such as curricular modification, changes to assessment methods, and mechanisms of providing meaningful feedback to the students.  So, she decided to complete her Masters of Science in Medical Education to widen her horizons and fuel her passion for helping students reach new heights in their careers.
She started working at NSU-KPCOM in 2010 and was heavily involved in the first two years of the medical school curriculum, being the co-course director of several longitudinal courses, as well as engaging in patient care alongside the students and residents.  After several years, she transitioned to primarily patient care and served as the founding director of two new clinical sites.
When she saw the position of assistant dean of clinical education, she bounced at the opportunity as it was the best role to further follow her passion.
Never stop learning
Jill takes the challenges as opportunities to deepen her knowledge. She adds, "I do not typically shy away from challenges, but I face them with the understanding that I do not have all of the answers."
Upon tackling a challenge, she wisely uses all the resources at her disposal and works together to find the best solution and explore the right way to reach it.
On her way up, she faced some challenges that allowed her to evolve and grow. She had to transition to new scheduling and evaluation software while she was learning the entire realm of clinical education. Even with a limited knowledge base, she was tasked to make vital decisions.
She was tasked to turn around a department that oversaw half of all enrolled students, with staff that demonstrated poor knowledge, skills, and attitudes.  She adds, "It took several years, but the full team is almost complete, with great improvements in all areas."
In the uncertain times of the COVID-19 pandemic, she led, organized, and collaborated to manage 500+ students whose clinical rotations were impacted by the restrictions. No matter what situation comes her way, Jill always stays focused and aims to find the optimal solution.
Countering the effects of COVID-19 pandemic on education
Jill feels that the pandemic has opened the doors to creativity, innovation, and ingenuity in ways that may not have been possible before.  She expresses, "The pandemic certainly hit my area of work hard, as students were excluded from clinical sites for many months and needed to continue the curriculum in order to stay on track with graduation and movement to residency.  However, with the collaboration of wonderful colleagues in various departments within our college, we were able to produce three courses within two weeks of the dawn of the pandemic to keep our students on track for graduation."
Virtual rotations in the specific disciplines of Family Medicine, Internal Medicine, Pediatrics, Emergency Medicine, Public Health, Clinical Research, and Rural and Urban Underserved Medicine were also completed and included both synchronous and asynchronous work, leading to several student-led posters and presentations.  Telehealth was added as a component of their education to match the changing landscape of medicine and the rapidly expanding network of telehealth providers as a result of the pandemic. The use of the new educational delivery systems and platforms is likely to stay well beyond the end of the current pandemic.
Wearing the hat of Assistant Dean of Clinical Education
In her current position, Jill is responsible for the hands-on clinical education of the third and fourth years of medical school, including the placement, scheduling, assessment, and tracking of over 660 current students (soon to be over 800).  The team in clinical education includes three directors, a manager, two advisors, and multiple coordinators to assist with the processes.
"Family is the best source of balance"
When it comes to attaining a balance on her professional and personal front, she values her family a lot and finds her motivation to grow further and evolve. She loves to spend time with her kids and wants to groom them into better leaders.
She adds, "I want our kids to see me/us as successful, competent, capable, optimistic, and not afraid of challenges, as those are the attributes, I want them to develop.  This carries into my work world, as I want those same things for my colleagues.  I truly want the best for the students and the school, and I put my 100% into my daily activities."
The next phase with NSU-KPCOM
Jill states, "Within the next five years, I would like to overhaul the evaluation methods utilized in the clinical curriculum of our program.  The goal of this is to be able to provide meaningful information to the students to understand the professional standards of medicine in addition to the scientific knowledge."
Jill aims to further entrench Student Wellness into every aspect of the curriculum and help destigmatize mental health issues. To further brew this dream into reality, she is starting a Master's of Science in Leadership in the Fall of 2021 to have a better understanding of the elements.