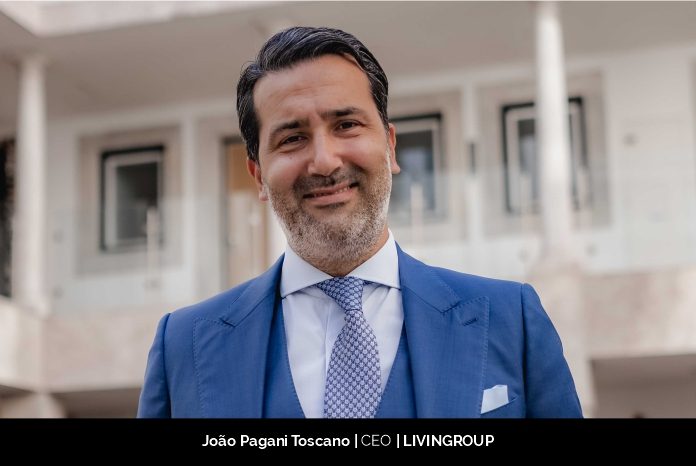 Globalization, which began with the Portuguese in the 15th century and was accelerated by international powers later, impacted many aspects of society, including investment markets, which make up the real estate market. Existing obstacles have been broken down by widespread access to markets in all corners of the globe, allowing a Portuguese investor to eventually purchase an asset in China. Livingroup's CEO and Founder, João Pagani Toscano, viewed this as an opportunity and a better availability of statistical information that allows Livingroup to analyse the risk and profitability characteristics of markets, allowing the company to diversify its worldwide investment portfolio.
Livingroup is a Portuguese brand that was developed to assist the group's businesses. It works on a variety of industries, from real estate development to tourism, office and service spaces, and has an international presence and proven talents.
João learned to analyse the profitability of the industry and the trend line that characterises economic cycles throughout the course of his 18-year career. According to him, supply and demand for real estate should be equal at all price levels. In a static model, replacement construction accounts for a constant percentage of existing stock, whereas yearly construction compensates for stock changes. From a more commercial perspective, it's important to develop new markets, learn how to work in a multicultural context, and understand who the target buyers/investors are. He says, "Their choices rely on several factors, such as price, construction quality, location, design and infrastructure."
João developed these valences throughout time and in various jobs through the steady and versatile development of abilities. He worked as a Commercial Director for a real estate developer, Managing Director for Engel & Völkers, Project Manager for a project that included a variety of assets, including residential and hotel-related assets, retailers, and services, and Director for Grupo Paço, where he oversaw the company's operations and investments not only in Portugal, but also in Brazil, Costa Rica, and Panama.
Livingroup
Livingroup is at the forefront of real estate investing because of its dedication to quality and innovation. Due to a great interdisciplinary staff and a network of architects, builders, and tax practitioners, Livingroup has taken use of its local knowledge to produce many benchmark projects since its founding in 2012.
Livingroup has developed more than 30 real estate projects in various phases, investing and managing more than €80 million in revenue on behalf of high-net-worth individuals and multinational family offices, totalling roughly 50,000 square metres of building space.
Livingroup's staff tries to gain a thorough understanding of its clients in order to present them with the finest and most appropriate properties, projects, and investment opportunities. The team thinks that working together will pave the path for a long-term and mutually beneficial partnership.
To Become €120m as Venture Capitalists
According to João, Livingroup and, by extension, Pagani Capital are about to embark on a new chapter. The worldwide network, an effective, proactive staff focused on and contributing to the group's success, and its experience as real estate developers, he believes, is the most valuable assets, allowing the organisation to enter and exit projects swiftly, reducing risk substantially. He says, "We will anchor our track record and know-how to a venture capital investment fund, Ventur Capital, represented by several LPs or limited partners." 
Livingroup will establish its first fund in February 2022, with a subscription duration of 24 months and a capitalization of €20 million in the first VC fund. This initial fund will be entirely focused on the Portuguese market and will be directed by investing platforms, with the fund being financed through the use of multiple SPVs. Livingroup's investment strategy focuses on worldwide demand, and the business strategies utilised to support it will allow it to diversify and build office real estate developments, as well as residential and Prime Yielding properties, according to João. The organization's second fund, on the other hand, will be primarily diversificated on branded housing and education.
João asserts, "Our goal for the next 5 years is to fundraising a total of 120m€ as venture capitalists"
Starting from Scratch
Because he got an education centred on entrepreneurship and business language, João's career began early. He was raised hearing people discuss investing, financial markets, capital gains, and dividends. It was unsurprising that he chose to major in Management and Business Administration. During his degree, he decided he could be financially self-sufficient, and for the next five years of college, he managed to balance his career and academic life.
During that period, João taught private tennis lessons to help pay for his schooling, which he now considers the foundation of his management career. João's first job was as a tennis instructor, and it was a great way for him to get his foot in the door.
He made his first €1 million as CEO at the age of 36, which was a significant milestone and a target he had set many years before, especially given that the initiative began in the midst of a financial crisis with only three employees on board. The greatest acknowledgement he has ever gotten as a leader is the faith he can place in his team.
Working as the CEO of LIVINGROUP
João's days are long, beginning early in the morning and ending late in the evening. As a result, his cell phone is his primary means of communication. In Lisbon, he oversees the company's professional relationships with commercial partners that sell the company's projects in a variety of countries, including Vietnam, China, Hong Kong, Dubai, and the United States. This is a particularly unique form of management that is difficult to outsource. He says, "Our partners expect us to respond very quickly and in a very concrete and decisive way. Our best solution is often to close sales in order to meet their expectations." 
Every business is made up of relationships. João says, "Even if we don't close a deal today, we know we might close it tomorrow." The most essential thing, according to João, is to ensure that professional connections remain healthy and useful. As a result, he is in charge of managing the business partners' relationships.
According to João, he is the group's ultimate spokesperson. The technical and after-sales departments, on the other hand, handle the remainder of the management, such as product and client management. João chooses and establishes every investment the firm undertakes. He has a good understanding of what clients want, and he gets this knowledge from those who are in close contact with the market, as well as clients and investors. This is why João finds it necessary for him to be in direct contact with all the brokers who work with Livingroup.
A Wide Perspective on Leadership and Success
João's concept of success as a manager is founded on the principle of validation. According to him, every CEO should ask himself two questions: "What do you want to preserve, and what are you ready to alter or give up?" To be successful, leaders must not only develop, but also adapt, according to João. Leaders who can analyse the reality of a situation down to the smallest detail, come up with great ideas, effectively present and implement them, understand the state of mind of a given group, and seek to create the necessary conditions for change and the opening of new horizons are those João most admires.
He goes on to say that leaders must be humble enough to understand that what has made them successful up to this point may be impeding their ability to develop any further. He believes that the ability to accept change is crucial. Leadership, resilience and business vision are the core skills one needs in order to succeed in this position.
Achieving a Healthy Balance between Work and Life
People, according to João, are what make companies what they are. Leading a firm to success entails motivating a team to perform their best and inspiring individuals and groups to work together to reach a common objective. He opines, "I don't pay for services; I pay for results. Our team is assessed based on their results." 
It's tough for João to balance his personal and professional lives, especially when he's farther away. He does, however, believe that it is necessary to create regulations because he does not want his girls to state that their father was not there during their infancy. He says, "My family is my main pillar of strength. One of my weekly routines is to pick my eldest daughter from school every Friday for us to spend the afternoon together. Everyone knows that I am always available and that my cellphone is never turned off, but Friday is a day in which everything unimportant can wait." 
Becoming a reference in the Market
Livingroup is split into various components according to João's concept. He aims to protect the organization's founding ideals and values while also making the team a market leader. He also wants to continue establishing and accomplishing long-term growth targets, share money among investors and partners, and contribute to improving the company's employees' quality of life. In terms of transformation, João wants to enhance social responsibility by assisting nonprofit organisations and contributing to the education and training of underserved children, which will improve the lives of underprivileged people in the locations where the team creates initiatives.
João hopes to continue to innovate and one day be able to pass on to his daughters, by drawing up a family agreement, a modern company prepared for the future.