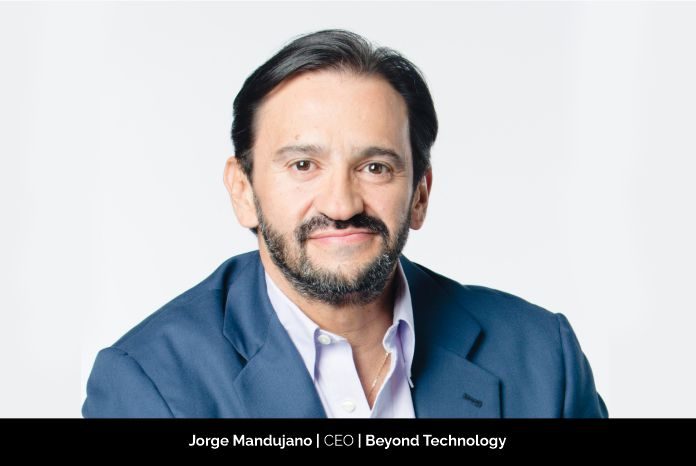 Since technology is constantly evolving the businesses are on the continuous verge of getting the update. Be it small or large businesses, this becomes necessary for all to match the needs of the ever-demanding customer. To overcome these digital challenges and save both time and money in the process, there is a requirement of expertise who can assist businesses to overcome these technical challenges and helps them to go further with their technological integrations.
Jorge Mandujano is the CEO and Chairman of Beyond Technology, an Information Technology & Services company that helps different organizations from all industries in their infrastructure, mobility, IoT, and cybersecurity projects. Beyond Technology holds extensive expertise in communications infrastructure solutions and unique mobility services, information synchronization, automation of standards-based tools (APIs, Scripts, Provisioning Tools, etc.), monitoring of environmental variables in a Data Centre.
Since Jorge was a child, he wanted to be an engineer and to have his own business. He asserts, "At the moment in life when I had to decide what to study, computer science careers began to appear on the market. I am part of the first generations of this new career that has evolved." 
Jorge has gained wide experience starting as a support engineer and has held roles ranging from database specialist, salesperson, marketing director, commercial director, systems manager, technology director, and general director to the current position of CEO and Chairman of the board. He has been a speaker at several world-class technology exhibitions and seminars, a professor of technology and business (marketing) careers on different universities, and a board member of several global technology companies.
Achieving Personal and Professional Success
For Jorge, professional success is based on maintaining a high level of customer, employee, and stockholder satisfaction which, as a consequence, generates the expected profits and ensures continuous growth. However, personal success is about being happy in every moment of life, having a positive attitude and passion in everything one does.  He says, "This is achieved by starting from the premise that, above all, we are human beings, and we have both professional and personal goals to achieve to feel good."
Roots of Beyond Technology
"Our passion lies in customer service," says Jorge. Our collaborators do that by demonstrating that the Beyond Technology crew is part of their journey. The team helps them overcome their challenges by understanding them and being empathetic as professionals and humans at every moment and point of contact. The company looks for long-term client success and those who recommend it because of the service they receive.
Jorge expresses, "We believe that every contact we have with our clients is a moment of truth. An opportunity to help them meet their business needs and we prepare our employees for that moment."  
The fundamentals of Beyond Technology are based on 4 main pillars:
Beyond Technology people must be encouraged to achieve personal and professional fulfillment based on a remarkable attitude in an excellent organizational environment.
Passion of our personnel in everything they do, and for customer satisfaction understanding their challenges and working hand in hand to solve them.
Maintain a clear short, medium, and long-term strategy that allows us to move in the same direction and ensure the company's growth. In the organization, the management reviews this strategy every quarter through the BOSS (Beyond Objective Strategic System) with each employee. Jorge states, "I believe that our real BOSS is the objectives we must achieve, the position in the company is just a role that everyone has, starting with mine. There are no organization hierarchies, only the role we have."
A high level of expertise in what the company does is demonstrated by meeting the highest certifications from its technology providers and continuously upgrading professional competencies.
Rise from the Challenges
Jorge's generation is the one that has always been in economic, social, and political crisis, seeing the rise of accelerated technological advances that constantly change the environment. These conditions have shown to live in a dynamic and constantly changing world and consequently to support people and create an organization that responds to this environment. A philosophy in which anyone can fail at what they do and see it as an opportunity to grow as a person. Jorge states, "The only condition is to learn from our mistakes and learn not to repeat them, every day is a learning day."
Jorge went through a company crisis in the past and went almost bankrupt, but with talented people and hard work, the company overcame the situation. He shares, "I am sure that being in that situation, teaches you to keep working to solve any moment."
Beyond Essence; a Dedicated System for Employees as well as Clients Progress
Beyond Technology is leading with one mission, to enable business transformation through technology. The company's vision is to become the first choice for its customers. "To achieve this, we have a three-year strategic plan, and all employees participate in it. We review the plan in every three months, and we have a clear objective to achieve and feedback on how we are doing," states the company.
Beyond Technology's culture is named after Beyond Essence, a do-decalogue (12 statements) that governs all the company's actions and the way it does everything, from people to stakeholders.
Every employee at the company is in charge of client success and has a deep knowledge of the processes they develop and innovate, as they've been trained in processes and system development to update them.
Beyond's governance is important and provides the strategy and direction that the company needs in this environment we live in, and behind it all is the executive board, who are fully committed to the growth of the company, to the environment, and above all to social awareness through its Foundation.
In addition to the innovation processes, Beyond Technology has the R+D area that creates its BeyondwareTM platform to help clients transform their processes and creating added value for them in a short period of time, giving them the flexibility they need.
A Brief on Being a CEO
As the CEO of Beyond Technology, Jorge has the responsibility to protect the company and to seek the common good of stockholders and employees. An important activity is to define and keep updated the company's strategy. Jorge is always informed both in new technologies and management theories that can add value according to the dynamic environment.
He says, "Another important part of my day includes what the needs of my staff and my clients are, to ensure that we successfully support them in their professional and personal environment."
Jorge finds himself fortunate to have a long-lasting reporting team made up of capable people who have the necessary empowerment to make decisions. He asserts, "All the time I am learning from them and the specialization that each one has in the niche in which they are experts and my job as a leader is to guide them in the right direction according to the strategy." 
"I have passion personally, professionally, morally, and spiritually, which leads me to enjoy everything I do," says Jorge.
Striding to Extending Business Step by Step
At Beyond Technology, Jorge is assigned to directing the company to be a globally successful company. As per Jorge, this is a three-stage process, and the first stage starts with geographic expansion and the creation of a business transformation offering for customers. The second stage focuses on ensuring the first stage's constant growth in the organization and the people who are partnering and working with it today. The third stage that would be in 7 to 10 years is to define how the board of directors should be composed to continue with the accelerated growth of the organization.
Being a business leader, after having laid the foundations for the evolution of the company, Jorge will focus on transmitting his experience and knowledge to the service of society through the foundation 'Mexican Families for a Better Life'. "It is important to share everything we were gifted with," says Jorge.