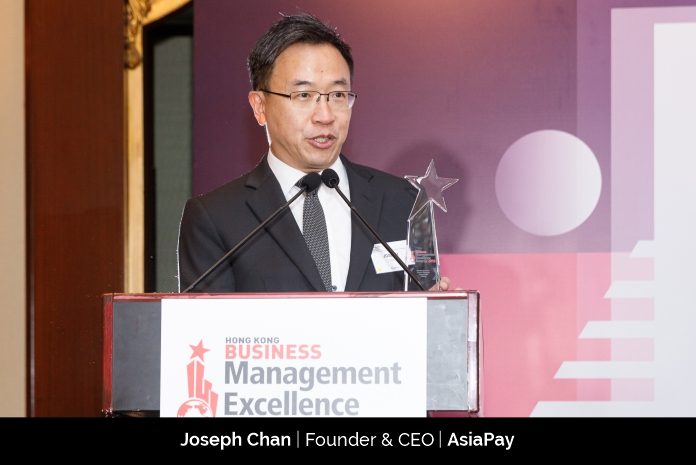 AsiaPay Group is one of the leading payment service company in Asia. Joseph Chan, the Founder and CEO of AsiaPay started the company with a vision to provide cost-effective solutions to businesses creating room for innovation and digital tranformation. His unique services and out of the box thinking gained him the interest of several clients and AsiaPay started growing rapidly. The company has seen a phenomenal growth over the years making it the topmost trusted choice for payment solutions. With a vast experience in banking and finance, Joseph has levelled up digitization. We are thrilled to have the opportunity to explore his thoughts in the following interview as Joseph Chan shares his success story with us.
What were your dreams and aspirations while growing up? What led to the foundation of AsiaPay Group?
In 2000, I started a third-party quality electronic payment, mobile payment solutions and technology firm in Hong Kong. I spearheaded the company that offers business strategies and product development along with my management team. My business target then was to become one of the most successful world-class digital payment service companies in Asia.
Now, I manage leading payment gateway that is trusted by businesses across Asia. Our decades of success built on payments experience and now operates in 15 offices across the Asia Pacific region.
Our mission : To help our business partners grow their business through online by providing innovative, secure and cost-effective solutions that will make them competitive in the eCommerce landscape.
What were the initial challenges and setbacks that you faced?
One of the major challenges I have faced is gaining trust from international banks and partners in new markets for business collaboration.
Tell us in brief about the services of AsiaPay
AsiaPay is a leading payment solutions in Asia that puts its business partners and its customers' security and convenience at the forefront. The company's cutting edge in the FinTech industry has provided top-notch alternative payment methods to consumers. Having a wide array of electronic payments to choose from, contributes to accessible cashless transactions of any card user.
With over 20 years of payments expertise, AsiaPay brings advanced and secure payment solutions with an optimized conversion that ease merchants' concerns when acquiring financial transactions. AsiaPay provides multi-payment methods ranging from one-stop comprehensive credit and debit cards, eBanking, QR payments, and Smart -POS. It also comes with a multi-currency payment feature that accepts payments from cross border countries. AsiaPay also runs a multi-channel platform which allows convenient payment transactions from any web-connected devices. AsiaPay enables merchants to securely accept most popular digital payment methods from credit cards, internet banking and more on a single platform.
What is the importance and scope of payment solutions?
Simply ,Convenient, Secure,Trust
To Boost Easy, Secure Transactions for ecommerce
For merchants, there is an over-riding priority to make the payment process as friction-free as possible to minimize the risk of cart abandonment."
For AsiaPay , offering a wide variety of payment options allowing customers to use the payment mechanism of their choice. And also provide value -added services that go beyond payment acceptance.
How do you define the growth of the company over the past few years? (Can be explained with statistical data too)
Regional : operates in 15 offices across the Asia Pacific region so far, and we will further expand our more operation team and branch in Thailand. Malaysia, Philippines, Vietnam on 2020.
Staff : over  160 professional workforce
Reputation: over 100 biz and techlogy awards , socially responsible company
company managed more than 40 million transactions on 2019
Product line / brand : AsiaPay is one of the leading Payment Service Providers (PSPs) that offers services with its local payment platforms including PayDollar, SiamPay, and PesoPay.
What is your vision for the company?
To be the leading ELECTRONIC PAYMENT SERVICE AND TECHNOLOGY player in Asia and beyond
Give us a brief of your life before AsiaPay
Prior to founding AsiaPay, I took various management positions at Barings, Citibank N.A., Bank of America and Dah Sing Bank. Through successive positions in banking and finance industries, I consolidated my expertise and experience in strategic planning, product and project management, as well as implementation of various cutting-edge financial, electronic banking, Internet and mobile product services and systems in Asia to well serve the needs of the customers.
Tell us about your roles and responsibilities as the CEO of AsiaPay and how does it make you feel?
Innovation Champions:
need to have high levels of autonomy to keep moving their projects forward.
2.They play a critical role in championing an innovation project as they need to have the capability to envision the creative possibilities underlying their project,
as well as the practical steps transform these into viable opportunities.
Demonstrates perseverance in the face of adversity and overcoming obstacles.
What are your greatest achievements?
My dream was to build a "financial service and technology" business, my achievement was founding AsiaPay Group as a result.
Operating a successful and social responsible company which continually provides individuals and corporate entities with newest product values, readily enhance one's quality of life and maximize business opportunities, efficiency and productivity is also an achievement.
Value :AsiaPay helps business partners remain competitive
How do you manage to balance your personal and professional life? Describe yourself in one word and tell us what inspires you?
Time-management boosts productivity and helps to balance work life which includes preplanning and scheduling.
Setting personal goals; Developing positive habits; Encouraging family support and involvement.
Balancing Personal life is perhaps a lifelong learning.
What keeps you and your employees motivated?
AsiaPay Limited's operating offices in 15 Asian countries are composed of teams with innovative minds and skillful performance. With a growing number of people united to build our company name, we share the same accountabilities that kept this company going for decades now.
-We search for high levels of autonomy to keep moving projects forward.
-We play a critical role in championing an innovation project as they need to have the capability to envision the creative possibilities underlying their project, as well as the practical steps transform these into viable opportunities.
What does the future of AsiaPay look like, globally? How do you plan to widespread the company services?
Embrace change and digital innovation.
We will continue to expand our footprint in the market to expand our product new payment solution and service coverage. We look forward to value adding and empowering businesses and financial institutions to keep pace with the technology and market disruption by offering comprehensive suite of payment solutions cross channels, markets and devices and technologies
AsiaPay is already the number one in their current market position, and as they continue their innovative style of business, AsiaPay will remain constant in securing their place as the best.