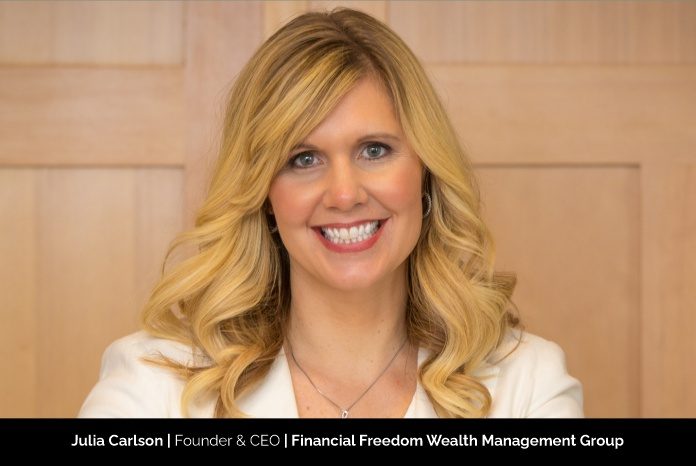 Finance and business have been her passion since a very young age. As a young girl she would set up lemonade stands with her brother, mow the neighbor's lawn and had her own babysit club. These small businesses fueled her passion and led her to become one of the leading businesswomen today. Julia Carlson started her journey at an amateur age of 23 in a male dominated industry, however her determination has steered her steps on the path of success that she always dreamed of. Financial Freedom Wealth Management Group founded by Julia is a well-established company thriving amidst a competitive industry. As we share Julia's story, we are certain that her journey will be an inspiration to all the aspiring businesswomen who need the motivation to get started.
She Knew Her Path
Julia's passion for business and finance started young. In high school, she had an amazing teacher who taught her about business and finance. After her first mock stock portfolio, help from her dad to set up her first investment account and hearing about stocks from her grandpa, Julia was hooked on figuring out how to make this into a career. She knew entrepreneurship, personal finance and investing was just what she wanted to do. When Julia was 19, she moved to a small town on the Oregon Coast and got married.  She started working at a local bank. It only took about four years to hit the glass ceiling realizing she didn't have much opportunity if she stayed there. In 2000, at the age of 23, Julia left the bank and married her entrepreneurial spirit with her passion for helping people with their money and started what is now Financial Freedom Wealth Management Group.
Initially, what stood in Julia's way was her own lack of confidence. She was 23 and didn't have a lot of experience, it was hard for her to convince people to trust in her and hand over their investments for her to manage. Client by client Julia built her confidence and capabilities which led to win the clients trust and the referrals started to flow. In the beginning, she learned resilience as she heard a lot of no's and had to keep going. But Julia's dreams were bigger than the rejections.
As her business grew, Julia had to learn to let go and fire herself in several areas of the business. She was trying to control too much. As they added more employees and clients, business got more complex and Julia could not manage it all by herself. Staying in her strengths and hiring to her weaknesses ultimately led to the amazing diverse team they have today and more growth than she could have ever imagined.
The Expansion of Financial Freedom Wealth Management Group
Financial Freedom Wealth Management Group is a comprehensive wealth management and planning firm committed to helping their clients improve their long-term success and pursue financial freedom. They offer Wealth Planning & Investment Services, Retirement Income & Distribution Planning, Tax Reduction Planning, Family Wealth Planning, Educational Events & Communication, Personalized Attention and Consulting and Exit Planning Services for Businesses.
In the past 5 years their revenue has grown 26% each year and their staff has doubled. The plan for the company is to continue this growth path and look for acquisitions that are aligned with their core values and vision.
Financial Freedom Wealth Management Group believe in their vision and are driven by it to provide the best to their clients. Their vision as a team can be explained as follows:
Our Commitment: To care deeply about you and your financial life.
Our Core Values: Treat all people with respect, never compromise our integrity, delight our clients and embrace our team culture.
Our Focus: To create a plan for your dreams and inspire you to pursue financial freedom.
Our Niche: Love
Leadership is Her Distinctive Attribute
Julia is the Visionary at the firm. She has an amazing team that takes her good ideas and integrates them into the company. Her role as the CEO of the company is to inspire and lead the direction of the firm. She also works with clients one on one who need complex business exit planning, tax strategy and advanced estate planning.
Julia lives a freedom filled, abundant life without apology and wants the same for you. Through her journey and courage, she has learned to live a passion filled life. Julia started her business at age 23 in a male dominated industry with a much older demographic. At that time, she felt trapped to fit in for acceptance because she cared about what other people thought which sabotaged her growth and success. Eventually she learned to free herself from the judgement of others by ridding the scarcity and fear mindset and built a business around unleashing "her" spirit. Her passion is inspiring others through coaching disciplined strategies to create a life of Freedom. She has a thriving business and enjoys disrupting the industry as a thought leader. She is a frequently requested keynote speaker, an author and super mom to three amazing kids.
The Future of the Company
The employees of the company have regular, FUN team retreats and events woven into the year. They also have strong team principles that keep them united and aligned. They understand that individuals will make mistakes, but the team can be perfect.
They currently have clients in 29 states and are continuously expanding as the needs arise. They plan to be a nationwide trusted brand and serve the needs of mass affluent and business owners. They grow organically through referrals and they also have a marketing strategy around their digital platform to build clientele throughout the nation. (They are governed to only do business within the US)
Lastly, Julia asks the aspiring businesswomen an interesting question and sends out an inspirational message through her thoughts "Freedom! What Does This Word Mean to You?" When you focus on one area, the focus and discipline show up in all areas. In that discipline you find FREEDOM.
Freedom of TIME
Do what you want to do just because you want to do it. We all have 24 hours a day, are we living those hours by doing what we desire?
Freedom of PASSION
Be authentically you and do what you love without fear or judgement of yourself or others.
Freedom of RELATIONSHIPS and COMMUNITY
Choose who you spend time with, ensuring they help and support the life you want, creating the best version of you!
FINANCIAL Freedom.
Create an abundant mindset no matter how much money you have.