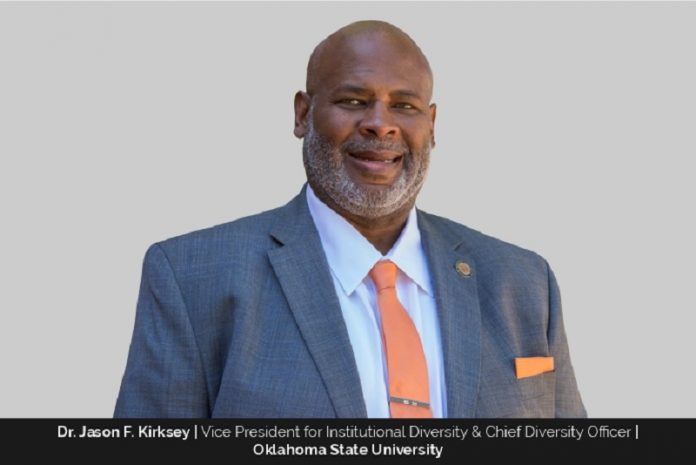 As a respected authority in diversity, equity, and inclusion (DEI), Dr. Jason F. Kirksey has made strides as the Vice President for Institutional Diversity and Chief Diversity Officer at Oklahoma State University (OSU). With over two decades of experience, his expertise in teaching, research, and active engagement in diversity-related issues has proven invaluable.
Kirksey's exceptional leadership skills are exemplified through his management of numerous grants to increase underrepresented minority participation in science, technology, engineering, and mathematics (STEM) fields. Under his guidance, OSU has earned many accolades celebrating the university's dedication to diversity and inclusion. Moreover, Kirksey himself has received several esteemed awards.
With a remarkable fundraising campaign focused on promoting inclusive excellence, Kirksey's unwavering dedication to the cause has made him a notable DEI leader in 2023. As an inspiring figure in the business world, his achievements and leadership style are a shining example for others to follow.
The Importance of Collaboration in Achieving Inclusive Excellence: Dr. Kirksey's Views on Success
Growing up in northeast Denver as an underprivileged inner-city child, Dr. Kirksey participated in a Head Start program, where he learned the essential life success principles. These principles, such as hard work, kindness, respect, and treating others as one would like to be treated, have become the foundation of his work as an executive-level diversity and inclusion practitioner. In today's fast-paced world, these lessons are more crucial than ever. Dr. Kirksey believes true success comes from building and maintaining strong relationships in all aspects of one's professional life.
Dr. Kirksey holds a firm belief that life is inherently simple, and it is people who make it complicated. As OSU works to achieve inclusive excellence and bolster the values of diversity and inclusion within its land-grant mission, Dr. Kirksey advocates for simplifying complex issues. He effectively measures and attains success by focusing on common sense, context, and culture. It aligns with one of his inspiring quotes: "It is the little things in life that matter the most because they add up to the big things."
Serving as the Vice President and Chief Diversity Officer at OSU, Dr. Kirksey has found that being proactive, akin to a fire prevention specialist rather than a firefighter, has been instrumental in his success. Establishing a lasting and meaningful culture of inclusion is challenging, but as he points out, anything worthwhile in life does not come easily. A steadfast commitment to fostering a genuine, welcoming culture of inclusion may require considerable effort; however, when everyone in the organization works together, the burden becomes much lighter. This collaborative approach ultimately propels OSU towards its goal of achieving inclusive excellence.
"It is better to have it and not need it, then need it and not have!"  ― George Ellis or Franz Kafka
Embracing Diversity: Dr. Kirksey's Inspiring Journey to Fostering Inclusion at OSU
Dr. Kirksey, with more than 25 years of experience teaching, researching, and publishing on race, ethnicity, and gender in America and a lifetime of personal experience, is a knowledgeable and confident diversity and inclusion professional. Instead of avoiding discussions on diversity-related issues, he encourages embracing them as opportunities for growth, learning, and recognizing the collective achievements that can be made. His formal education and lived experiences have driven his decision to pursue leadership in diversity and inclusion.
Initially, Dr. Kirksey intended to stay in his role briefly before returning to the OSU Department of Political Science for further research and teaching. However, over the past 14 years, OSU has become a national leader in its commitment to diversity and inclusion under his guidance. Since 2009, OSU has witnessed a 111% increase in the enrollment of students of color, including African American, Hispanic/Latinx, Native American, Asian American, and Biracial/Multiracial students, and a 222% increase in first-generation students of color. In addition, since May 2010, OSU has experienced a 107% increase in students of color earning bachelor's degrees.
In the past decade, OSU has also become a leader in Native American students earning college degrees at all levels, from associate to doctoral. Furthermore, since 2010, there has been a 90% increase in African American, Latino, Native American, and biracial/multiracial faculty members in classrooms across the institution. This progress is a testament to Dr. Kirksey's unwavering dedication to fostering diversity and inclusion at OSU.
Lessons Learned from the Climb: Reflections on a Professional Journey
Dr. Kirksey has encountered numerous challenges during his professional journey, including a common misconception regarding the impact of diversity and inclusion commitments. Many opponents believe these commitments are a zero-sum game, which is an erroneous mindset. However, when implemented correctly, an organizational commitment to fostering an inclusive culture can yield considerable short and long-term benefits.
For those striving to deepen the culture of inclusion within an organization, it is essential to understand that not everyone will share the same views on inclusiveness. While everyone has a right to their beliefs, inclusiveness is more about maintaining respect and responsibility for actions and behaviors without necessarily altering personal convictions.
Effective and successful diversity and inclusion work requires constant monitoring and an understanding that transcends the emotions often associated with particular issues. This type of work demands a thoughtful and intuitive approach, similar to that of a skilled chess player, focusing on long-term, strategic, and results-oriented outcomes.
Furthermore, Dr. Kirksey believes that organizational advancement and success, particularly in higher education institutions and society, do not rely on the ability to "think outside of the box." Instead, taking advantage of the existing resources and tools is crucial. By utilizing these readily accessible resources, organizations can grow stronger and foster greater understanding among their members, often at no additional cost. Leaders who recognize this fact are more likely to consistently succeed in creating a more inclusive environment.
In addition to structural barriers, Dr. Kirksey faced the challenge of overcoming impostor syndrome as an executive-level administrator of color. Gaining access to the C-suite was a significant milestone, but building confidence required additional effort. Ultimately, he found assurance in the fact that he was in the room at the request of the university president, which served as an initial boost to his confidence.
Despite achieving numerous impressive results in his role, Dr. Kirksey found that the praise he expected did not always follow. As his accomplishments grew, so did his self-doubt. The more he achieved, the less confident he became in his abilities. Instead of receiving effusive praise, he often perceived his superiors' compliments as banalities or empty platitudes. Over time, he understood their praise was genuine, and he needed to learn to accept and value it.
Reflecting on his experience, Dr. Kirksey realized that overcoming his perceived inadequacy and ineffectiveness in his executive role boiled down to believing and trusting his abilities as an effective, meaningful, and transformative leader. The evidence of his success was all around him. This revelation made him understand that effective and successful leaders learn more from climbing than from standing on the mountaintop.
Pursuing Bold Beliefs and Audacious Dreams: OSU's Vision for the Future
OSU is one of the nation's premier land-grant institutions, boasting diverse academic offerings. With over 300 majors and minors and over 200 master's and doctoral programs, OSU has become Oklahoma's most extensive university system. In addition, Dr. Kirksey emphasizes that the university is an economic driver, delivering world-class education through internationally renowned faculty and state-of-the-art facilities across various disciplines, including STEM, business, agriculture, music, and performing arts.
At OSU, the administration embraces bold beliefs and audacious dreams, tirelessly pursuing innovative opportunities that engage and inspire students, staff, and faculty alike. Their goal is to improve the quality of life for citizens in Oklahoma and across the nation and worldwide.
Under Dr. Kirksey's leadership during his 14-year tenure as an executive-level diversity and inclusion leader, OSU has continued to pursue inclusive excellence. The number of U.S. Department of Education TRIO programs housed within the OSU Division of Institutional has doubled to four, accounting for approximately $5 million in federal grants. These programs serve first-generation, low-income, and differently abled students at OSU, providing valuable support and preparation for post-secondary education and beyond.
Additionally, Dr. Kirksey has played a pivotal role in bolstering OSU's commitment to diversity and inclusion in science, technology, engineering, and math (STEM). Over the past decade, he has served as the principal investigator (PI) for the Oklahoma Louis Stokes Alliance for Minority Participation (OK-LSAMP) Program. Funded by a $3.9 million, five-year grant from the National Science Foundation (NSF), this program aims to increase underrepresented minority STEM graduates across twelve higher education institutions in Oklahoma.
Dr. Kirksey's involvement continues; he also served as the PI for the previous five-year phase of the OK-LSAMP Program, which received a $3.4 million grant from the NSF. Additionally, he led the OK-LSAMP Bridge to the Doctorate Program at OSU, a $1.1 million, two-year NSF-funded initiative that provided graduate school funding for twelve LSAMP Scholars. He has been awarded approximately $10 million in NSF funding at OSU.
Over the past 14 years, Dr. Kirksey's administrative oversight of roughly $20 million in NSF and U.S. Department of Education funding has contributed significantly to OSU's reputation as a national diversity and inclusion role model and leader in higher education and beyond.
"Be quick, but don't hurry!" UCLA Basketball Coach John Wooden
Innovative Ideas in Action: Dr. Kirksey's Efforts to Promote a More Inclusive Educational Environment
Dr. Kirksey's commitment to diversity and inclusion has redefined the approach within higher education and beyond. The Division of Institutional Diversity at OSU concentrates on providing results-driven, engaging, and inspiring opportunities for all members of the university system. Through these efforts, OSU has achieved transformative accomplishments and continues to promote innovation in its pursuit of inclusive excellence. This work has illuminated new pathways for success across various industries, particularly in higher education.
Focusing on building and expanding collaborations with faculty researchers, academic colleges, and suppliers, as well as offering unique study-abroad experiences for students, Dr. Kirksey and his team are helping fulfill the university's land-grant mission in extraordinary ways. Moreover, these efforts are contributing to a brighter future by promoting a more inclusive and diverse educational environment.
Dr. Kirksey and his team have consistently risen to the challenge of addressing emerging and unforeseen obstacles. Like many industries, higher education faces financial constraints and disparities. To combat these issues and identify additional revenue sources for maintaining and developing innovative programs and opportunities for students, the Division of Institutional Diversity at OSU launched an unconventional and groundbreaking capital campaign in 2014.
The five-year campaign aimed to engage OSU alums of color, primarily African Americans, to generate private support and resources, particularly scholarships emphasizing diversity and inclusion. With an initial goal of $1.65 million, the campaign concluded in June 2019, having raised an impressive $6.4 million. In addition, this effort led to the establishment of approximately 50 new endowed diversity-focused scholarships.
From 2009 to 2023, under Dr. Kirksey's leadership, the Division of Institutional Diversity played a crucial role in securing over $20 million in philanthropic gifts for OSU. This transformative initiative has significantly enriched the university's commitment to inclusive excellence and expanded its recognition of the intrinsic value that diversity and inclusion bring to the educational mission.
Building a Culture of Trust and Accountability
Dr. Kirksey believes that every interaction within a team impacts its overall performance, much like every grain of sand that flows through an oyster influences the pearl's quality. He promotes an open environment based on regular engagement and demonstrates an active willingness to mentor and coach each team member. This approach, he believes, leads to meaningful and transformative opportunities for growth. Dr. Kirksey emphasizes the importance of effective communication, with 10% being content and 90% being delivery.
In his leadership style, he strives to lead rather than manage while remaining open to continuous learning and growth from his team members. As an organizational leader, he acknowledges that he, too, is a work in progress. He frequently reminds his team that the collective mission is more important than individual recognition, using the analogy of prioritizing the name on the front of the jersey over the one on the back.
As an executive-level leader in diversity and inclusion, Dr. Kirksey recognizes that his attitude and behavior significantly influence team dynamics and their ultimate success in achieving their goals. He understands the importance of honesty, integrity, and trustworthiness within any organization. These values are the foundation of his team's diversity and inclusion efforts, shaping how they interact.
Furthermore, Dr. Kirksey firmly believes that the success of any organization hinges on the quality of the culture established by its leaders. He emphasizes setting clear, concise, and coherent expectations and standards to ensure his team's individual and collective triumph. Their unwavering commitment to achieving inclusive excellence is straightforward and unambiguous.
As new team members join the organization, they undergo a well-established and consistent onboarding process, regardless of their role. This approach allows individuals to familiarize themselves with the embedded organizational culture, setting them up for success.
As the head of an executive-level division, Dr. Kirksey is keenly aware that his beliefs, actions, and behaviors are under scrutiny, both intentionally and unintentionally. As a result, he leads with transparency and models the expectations placed upon his entire team. Ultimately, the team's success is rooted in the quality of individuals they can assemble and, most importantly, the clarity of the culture in place.
From Inner-City Denver to Oklahoma State University: The Beginnings of Dr. Kirksey's Journey
Dr. Kirksey's journey began in August 1985 when he arrived at OSU as a first-generation, inner-city Black student from Northeast Denver. He experienced life as a walk-on football player during his first year, forging lifelong friendships. In 1989, he graduated from OSU with a double major in political science and economics and obtained his M.A. in political science two years later. While completing his master's degree, Dr. Kirksey discovered his passion for teaching and abandoned his initial dream of becoming a lawyer.
After earning his Ph.D. in political science from the University of New Orleans in 1997, Dr. Kirksey began his faculty career as an assistant professor in OSU's Department of Political Science. His specialization includes minority politics, race, politics and sports, and public policy, emphasizing African Americans, Native Americans, and women in the American political system. His published research has appeared in reputable journals and publications, including the National Political Science Review, Women and Politics, the Voting Rights Review, Focus on Law Review, and Oklahoma Politics. Dr. Kirksey has also contributed to several book chapters, primarily focusing on the Voting Rights Act of 1965, and has been trained and served as a federal court-certified expert witness in voting rights cases in Alabama, Arkansas, and New Mexico.
Dr. Kirksey credits his parents for instilling in him a strong work ethic and commitment to excellence in any job he undertakes. Although they did not specifically encourage him to pursue a career in higher education, their values continue to inspire and inform his work as an executive-level administrator in diversity and inclusion. With over 30 years of experience at OSU, Dr. Kirksey remains dedicated to the early lessons imparted by his parents and strives for excellence in all aspects of his career.
"It is the little things in life that matter the most because they add up to the big things."
Honoring Extraordinary Leadership: Dr. Kirksey's Most Significant Achievements
As an executive-level diversity and inclusion leader at OSU, Dr. Kirksey has been honored with numerous national, state, and local awards and recognitions. Among these, he considers the National Association of Diversity Officers in Higher Education (NADOHE) 2017 Dr. Frank W. Hale, Jr. Distinguished Service Award as one of the most significant achievements of his career. The prestigious award, received in March 2017, recognizes individuals who have made an extraordinary impact in higher education, showcasing innovative and courageous leadership and embodying NADOHE's philosophy, principles, and practices while substantially contributing to diversity and inclusive excellence.
In November 2018, Dr. Kirksey was awarded the Association of Public and Land-Grant Universities (APLU) Commission on Access, Diversity, and Excellence (CADE) 2018 Distinguished Service Award. This accolade celebrates his efforts in forging partnerships, broadening access and opportunities in higher education, and promoting diversity throughout all levels of the academic community.
In August 2021, Dr. Kirksey was chosen to receive the Inclusive Excellence Leadership Award from Diversity & H.R. Solutions in North Carolina. This prestigious accolade acknowledges individuals who lead with innovative, future-forward, and visionary thinking, engaging and inspiring others to envision and invest in future possibilities. In addition, these leaders are committed to bold exploration, risk-taking, and learning from failure and success while holding themselves and others accountable and continually striving to make a difference in the work and life experiences of present and future generations.
Adding to his accolades, Dr. Kirksey was recognized as a member of The Journal Record "Power List Leaders in Workplace Diversity 2023" in Oklahoma in February 2023. Just a month prior, he received the 2023 Diamond Award Excellence in Education Leadership for Diversity, Equality, Inclusion, Humanitarian & Community Engagement from The Not Alone Foundation, Incorporated, and The Academy of the Diamond Awards in Atlanta, Georgia.
This distinguished award celebrates individuals in the entertainment and business sectors who have significantly impacted their industries through perseverance and success. By generously donating their time, resources, and influence on philanthropic activities and acting as role models or pioneers for others in their fields, these individuals have opened new doors and contributed to meaningful change in the world. These accomplishments demonstrate Dr. Kirksey's unwavering commitment to promoting diversity and inclusion and solidifying his position as a respected and influential leader in the field.
Empowering the Next Generation of Diversity and Inclusion Leaders
Dr. Kirksey has encountered more opportunities than challenges throughout his tenure as a diversity and inclusion executive-level leader in higher education. He firmly believes that within every challenge lies a more significant opportunity, a sentiment that has shaped his experiences. He inspires his team to adopt "silver-lining thinking," encouraging them to find something positive and powerful in every situation, no matter how daunting.
Serving as the leader of the OSU Division of Institutional Diversity has been both an honor and a humbling experience for Dr. Kirksey. Established in 2005, the Division has played an integral role in earning the university numerous accolades, including several prestigious national awards and recognitions. However, Dr. Kirksey emphasizes that their aspirations and goals were focused on something other than garnering awards but instead on engaging in high-level, professional diversity and inclusion efforts that create a positive, meaningful, and transformative impact on the students they serve. In doing so, they contribute to OSU's standing as one of the nation's premier land-grant institutions.
Over the past decade, OSU has garnered numerous accolades, reflecting the institution's dedication to diversity and inclusion. Among these are the 2016 National Association of Diversity Officers in Higher Education (NADOHE) Institutional Excellence Award, the 2016 Southwest Minority Supplier Development Council (SMSDC) Corporation of the Year Award, and the 2012-2022 Higher Education Excellence in Diversity (HEED) Award from Insight into Diversity magazine.
Further demonstrating OSU's commitment to diversity, the university has been recognized with the 2017-2022 HEED Award Diversity Champion, the 2016-2019 Minority Access, Inc. Institution Committed to Diversity Award, and the 2016 and 2017 Mosaic Five-star Inclusive Workplace Culture Award from the Tulsa Chamber of Commerce's diversity business council. Mosaic also honored OSU with the 2020 and 2021 Top Inclusive Workplace Awards.
In addition, the American Association for Access, Equity, and Diversity (AAAED) presented OSU with the 2017 Dr. Roosevelt Thomas Champion of Diversity Award, while The Society for Diversity granted the institution the 2018 Innovation + Inclusion Leadership Award. OSU is one of only seven four-year schools nationwide to receive the HEED Award for eleven consecutive years.
OSU has also been recognized as a top institution for veterans, earning a spot on the Military Times Top 100 schools for veterans from 2018 to 2022. Furthermore, the U.S. Department of Education designated OSU as a Minority Serving Institution (MSI) from 2014 to 2018, showcasing the university's ongoing commitment to fostering an inclusive and diverse environment.
Dr. Kirksey offers valuable insights for the next generation of diversity and inclusion leaders and those already engaged in the field. He emphasizes identifying opportunities to inspire innovation in pursuing inclusive excellence and ensuring that organizations, particularly in higher education, maintain a significant and sustained commitment to fostering a culture of inclusion. Dr. Kirksey asserts that such a commitment is not a zero-sum venture but has far-reaching positive impacts.
Moreover, emerging and established leaders must continue highlighting diversity and inclusion's tangible benefits and contributions across all industries. Apart from groundbreaking research and development initiatives, few factors impact an organization's bottom line more than a solid commitment to diversity and inclusion. Both research and real-life experiences consistently reveal empirical evidence supporting this claim. Employees who feel respected, valued, and included in a company's culture are likelier to work harder, stay longer, and support the organization's mission.
On the other hand, organizations that need a genuine commitment to promoting and advancing a culture of inclusion often experience high employee turnover rates, increased recruitment and hiring expenses, and a reputation as an undesirable workplace among current and prospective employees. As a result, leaders must encourage organizations striving for profitability, sustainability, and innovation to prioritize workplace environments that support, mentor, and lead all employees toward effective and successful job experiences.
Future generations of diversity and inclusion executive leaders should recognize and build upon these lessons and facts, ensuring they continue to influence their industries and the wider world.
"If a job is worth doing, it is worth doing right."
How Dr. Kirksey's Unique Insight Shapes His Leadership in Diversity and Inclusion?
As the Vice President for Institutional Diversity and Chief Diversity Officer at OSU, Dr. Kirksey is dedicated to upholding and promoting the long-established legacy of diversity and inclusion within the institution. OSU stands out with a 30-year executive-level commitment to diversity and inclusion history, tracing back to the early 1990s when the position was first established as Associate Vice President for Multicultural Affairs.
Dr. Kirksey's commitment to enhancing and strengthening the culture of inclusion at the university benefits the institution itself. It provides a competitive advantage for its graduates as they navigate an increasingly global workplace. The Division of Institutional Diversity is focused on fostering an inclusive community of learners and leaders while addressing the complex issues that often arise in such an environment. This Division places a high value on the diverse voices within the community, aiming to serve every member of the OSU family.
The ultimate goal of Dr. Kirksey and his team is to cultivate socially, culturally, and globally competent campus communities throughout the University system. To achieve this objective, various aspects of the mission are integrated into Dr. Kirksey's daily activities, ensuring that he remains steadfast in his commitment to promoting diversity and inclusion at OSU.
Dr. Kirksey embraces that no regular day exists for an executive-level diversity and inclusion leader. His primary responsibilities involve providing strategic leadership and vision to the OSU Division of Institutional Diversity. In addition, as a member of the university president's cabinet, he offers administrative guidance and support to the president and other senior-level administrators, including the presidents of the four additional campuses within the OSU system.
An essential aspect of Dr. Kirksey's role is the development and execution of both annual and long-term fundraising plans. These plans engage and steward private, corporate, and foundation donors and prospects, ensuring the continued success of the university's diversity and inclusion efforts. Due to the unique nature of his position and the wide range of responsibilities, there is no standard template for a typical day. However, this sentiment likely resonates with successful, visionary executive-level leaders across various industries.
When asked to define himself in a single word, particularly as an executive-level diversity and inclusion leader, Dr. Kirksey chooses the term "perspicacious." This descriptor captures his keen insight, vision, and ability to discern complex situations, qualities that enable him to excel in his vital role at OSU.
Surrounding Yourself with a Strong Team: Dr. Kirksey's Approach to Achieving Work-Life Equilibrium
Striking the right balance between personal and professional life is a challenge that Dr. Kirksey, a successful and effective executive leader, acknowledges. He believes maintaining a healthy work-life equilibrium demands a dedicated level of intentionality. He faces considerable time constraints as a comprehensive executive-level division leader at an R1 higher education research institution. He focuses on developing strategies and techniques to manage and leverage his time efficiently and effectively to navigate this challenge.
One critical approach Dr. Kirksey adopts is surrounding himself with individuals with greater intelligence and organizational skills than he possesses. This tactic helps him maintain the delicate balance between his personal and professional life. Although still a work in progress, Dr. Kirksey has seen significant improvements in this area after 14 years in his role, indicating that the equilibrium is better today than when he began his journey.
Oklahoma State University's Future Plans for Student Success and Professional Development
As a land-grant institution, OSU takes pride in its diverse community of students, faculty, and staff, who contribute a wealth of life experiences, cultures, backgrounds, and beliefs. Dr. Kirksey shares that the university's plans include identifying opportunities to attract and leverage additional federally funded programs. These programs aim to broaden and deepen the university's ability to serve and support students, particularly individuals from underrepresented, underserved, and marginalized communities, in achieving their educational and professional dreams at OSU and beyond.
Furthermore, OSU will persist in nurturing and advancing its efforts to assist the Oklahoma State University System to create inspiring and uplifting environments. These environments will enable all members of the campus communities to actively broaden their perspectives, recognize, and value a culture of inclusion.
Leadership Insights: Dr. Kirksey's Goals and Wisdom for Future Change-Makers
Dr. Kirksey's personal goal revolves around the continuous improvement of OSU, ensuring it becomes better today than yesterday. As an executive-level leader in diversity and inclusion, he strives to remain thoughtful, insightful, and open to learning from his team members, colleagues, and individuals committed to embedding inclusive excellence throughout society.
For aspiring leaders, Dr. Kirksey's message is to always believe in and trust their capabilities to be effective, meaningful, and transformative leaders. He highlights the importance of acknowledging the temporal aspect of diversity and inclusion work, advising them to "be quick, but don't hurry!" He encourages future leaders to approach their work enthusiastically while remaining mindful of common sense, context, and culture in their decision-making process. Lastly, he emphasizes the value of setting one's ego aside and trusting and relying on those who possess more knowledge and genuinely have everyone's best interests at heart.
"The name on the front of the jersey is way more important than the one on the back!"
Conclusion
In conclusion, Dr. Kirksey's unwavering dedication to diversity and inclusion at Oklahoma State University has significantly contributed to the institution's ongoing success. His leadership showcases the importance of fostering an inclusive environment that nurtures growth, innovation, and global competence.
As a seasoned industry expert, his insights into maintaining work-life balance, and his advice for aspiring leaders, inspire those seeking to make a lasting impact in business and beyond. With a forward-looking mindset and a commitment to continuous improvement, Dr. Kirksey embodies the values and principles that define exceptional leadership in today's ever-changing landscape.