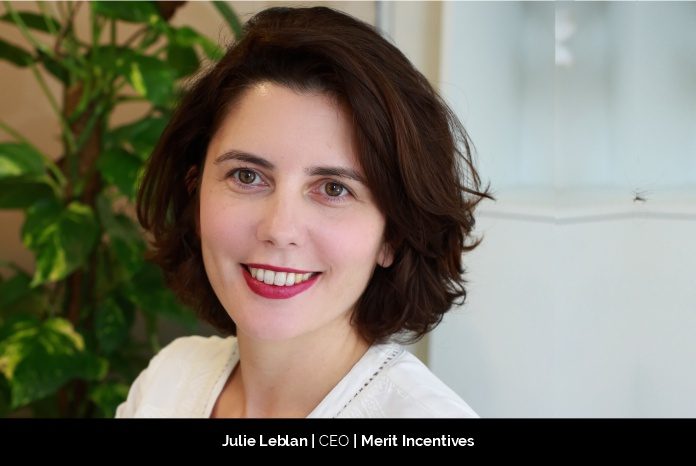 It is always a great feeling to be appreciated, especially with something special. Rewards and recognition are a part of every esteemed organization, as the employer appreciates the hard work and dedication of their employees by doting them with a token. This motivates the employees and helps in creating a pleasant work environment and fosters customer loyalty. Fathoming the significance of this unique way of boosting the employee's morale and introducing creative ways of retaining customers, Merit Incentives, embarked upon a new venture. Merit Incentives is a company that provides gifts, rewards and engagement strategies using innovative technologies in the MENA region. It was founded originally as MyList, in 2012, by Julie Leblan, the expert behind the plan who has integrated technology with creativity and has incorporated a successful company today. As we capture the journey of Merit Incentives, it inspires us to follow our dreams with passion and dedication leaving trails of success stories.
The Foundation of Success
Originally launched as a B2C gifting solution, MyList – Merit Incentives parent company – was established in 2012 as the first online gift registry and universal gift card for the Middle East, creating for this region what has been a highly successful and mature business model in the USA and Europe for many years. Over the course of the past seven years, the company has developed exclusive partnerships with over 75 major retailers in the UAE alone, with a total of more than 400 in the MENA region.
In 2016, Merit Incentives was officially launched as the MENA region's leading merchandise and gift card offering in the gift and reward fulfilment services sector. Indeed, MyList is the only home-grown company in the region offering both gift cards and merchandises from local as well as worldwide merchants and becomes the partner of choice for several global reward solutions providers.
While supplying gift and rewards fulfilment, they have realized the absence of adequate technology solutions and the IT legacy borne by local companies in the MENA market and launched "plug & play" solutions to ensure that retailers and corporate/institutions are connected digitally to ensure a seamless customer journey. This helps Corporate/institution to enhance their engagement on their employee or customer loyalty programme by providing digital experience.
The initial challenges were both external and internal. externally to educate a market that was unknown to digital rewards & incentives and shape new company's culture by introducing new concepts such as employee engagement and changing behaviour with a positive mindset. Internally, to attract and recruit talents. As a start-up, it's very difficult to attract motivated and professional employees who have the resilience and right attitude required to support a fast-scaling structure. However, Merit Incentives thrived through every challenge and set back and made it to success.
The Merited Services of Excellence
MERIT INCENTIVES offer new business-to-business & technology services and solutions such as:
Gift fulfilment services (gift cards & merchandises) to loyalty programmes, employee recognition & sales incentives programmes,
Introducing into the MENA region technology solutions for retailers:

The SaaS & White-Label technology platform for Retailers to enable their eGift Card or eCoupons either by integrating with their POS or deploying WEBPOS solution.
A white-label gift registry platform for Retailers (incl. department stores).

Introducing into the MENA region the expertise and technology to allow companies to increase engagement:

Customer engagement using loyalty, gift cards & incentives technologies by offering white labelled Mobile app or web-responsive Marketplace for corporate/institution to offer points redemption system for e-gift cards, merchandises, experiences and for their employees or customers.
Employee engagement (employee recognition, sales incentive, learning and wellness incentive needs) using a SaaS cloud-based platform.
Increasing the partner network of retailers to accept Mylist universal prepaid gift card or any branded currency created for a client as payment option in the Mena region (like Apple Pay, Google Pay or any other digital wallet).
Growth Amidst Competition
Merit Incentives' competition is very fragmented and not really organized in the Middle East. They have more global competitors, but they all require their regional expertise to assist them. No other company offer a 360 approach as Merit Incentives does in the Middle East. They are offering a turn-key solution for clients from technology implementation to rewards and incentives redemption network aggregation, with a local or global reach as per the client's needs.
Their strategy was to first prove the business case last year and then scale up. They have first expanded among various verticals such as gift fulfilment, technology solutions for companies and retailers. Merit Incentives is now expanding geographically by approaching the same type of clients among various territories in the MENA region and globally. They have grown significantly in the past years but 2019 is a turning point with an anticipated growth of over 300% compared to last year revenue and their operations presence in 5 countries: UAE, KSA, Egypt, Oman and Pakistan.
The CEO's Insights
After working seven years as a finance lawyer, Julie Leblan, also realised the need of setting up her own entity and becoming an entrepreneur. As a woman, it allowed her to balance between her work and family life. A native of France, she began her career as a solicitor with some of Paris's leading law firms, before moving to a manager position in structured finance at the Paris office of Royal Bank of Scotland, assisting clients in structuring loans for worldwide or pan-European transactions. In 2008, she joined the Paris finance department of US law firm Mayer Brown and assisted international clients with structured loans (LBO, real estate, corporate loans…), M&A, securitization and deal structuring.
Julie received her Master law degrees from Strasbourg (France) and Exeter University (UK) and she is a member of the Paris Bar. After moving to Dubai in 2010 and taking a maternity leave, she refocused her career towards entrepreneurship, launching her first company in 2012.
Now that the company has reached a more significant size, Julie's main role as a CEO is to work on strategy, business orientations and innovation. Discussing with clients and understanding their needs to be able to offer the best suited solution while automating most of the processes and interactions is what she has at heart. Customer centricity is what drives her decisions. Balancing between being ahead of competition and offering adapted solutions for clients is what she has constantly in mind.
"It feels great to see that you contribute to clients' business and have a significant impact in the way they work. Growing up, I have always wanted to innovate and create something unique that makes an impact in people's lives. I presume this is what makes me a true millennial", Julie shares.
The Motivating Factor
Merit Incentives is all about innovation and modular solutions, allowing a company to scale and upgrade the technologies and services easily. Their vision is to disrupt the world of rewards, incentives and engagement technologies by offering an easy plug & play solution and using AI and machine learning to increase segmentation offering. Merit Incentives is also a multi-awarded company recognized for its expertise in engagement, digitalization and innovation.
MyList Group was recognized as 1 of the TOP 100 startups in the Arab World by Forbes Middle East in 2017, 1 of the TOP 12 up and coming companies in the MENA region by Forbes in 2018 and won multiple awards in the last 5 years positioning the Group as an expert in its industry: nominated as Start-up of the Year 2018 and best B2C website of the year by Seamless Awards in 2018 and SMB awards by Etisalat in 2019, winner of the French creative Entrepreneur award in 2016. Merit is also now a Plug & Play company (Fintech 2019) and has been part of the Microsoft AI Accelerator in 2019. Julie has been recently awarded Entrepreneur of the Year 2019 at The Incentive Awards in London.
The growth and the difference they are making in the market keeps the Merit Incentives employees motivated. Being recognised as an innovator and market leader by the industry and clients is also a constant motivation for the team.
The Successful Future
Five years ago, the Middle East market was totally insignificant in terms of volumes and visibility for global players. It feels great to see that Middle East is now catching up and is on the way to outperform mature markets by adopting new trends faster than USA and Europe.
Merit Incentives recently won new global deals such as international airlines international redemption or distributing and selling IKEA gift cards in 24 countries for example. Merit Incentives is very well positioned to get access to clients that would like to have an international reach (they cover over 2,500 in more than 40 countries), want to access a better technology, constantly adapting to the clients' needs and benefiting from their experience of emerging markets. Merit Incentives will succeed globally as all the clients now needs is personalised technology solutions with a global reach.
It has been an incredible journey since they first ventured, and Merit Incentives is geared up for a greater walk ahead that is full of success, innovation and creativity. They have surely left trails of success to follow and will keep adding many more tales to their journal of success.