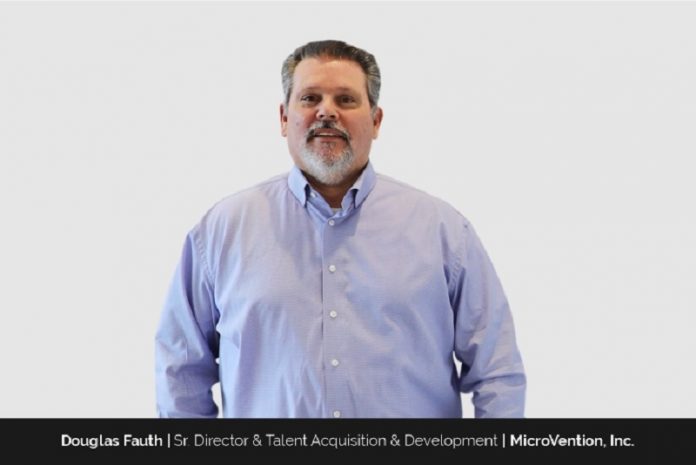 Doug Fauth is a visionary and has an inherent eagerness to learn. He likes to hire people who know more about things than he does and never hesitates to learn from them. As Sr. Director, Talent Acquisition & Development at MicroVention, a neuroendovascular medical device company, he has implemented plenty of innovative ideas to attract and retain top talent and help the company grow and gain a competitive edge.
MicroVention, founded in 1997, has pioneered the development of catheter-based, minimally invasive, neuroendovascular technologies. Doug joined the company in July of 2016 after working for companies such as Ernst & Young, Broadcom Corporation, Activision-Blizzard, Life Technologies, and Southern California Edison (SCE). "One of the things that really attracted me to MicroVention is that the products that they create, design, and manufacture provide meaningful improvements in patient lives," Doug says.
From Helping Students Find Jobs to Helping Companies Find Right Talent
At the start of his career, Doug worked in a College and University setting. He was involved in career counseling and bringing companies on campus to interview and hire current students (Internships) and recent graduates. Doug, however, was always fascinated by the fast-paced university relations programs that these companies offered, and he was interested in the overall candidate experience. When he learned about an opportunity at Ernst & Young in their talent acquisition department, Doug decided to make the switch from the academic side to the employer side. He started in university relations and moved to full-cycle talent acquisition. While working in the talent acquisition group at Ernst & Young, he realized it was something he wanted to do for the rest of his career. Doug has now spent 20 plus years in talent acquisition.
"The excitement that is associated with meeting really incredible people from all generations, all ethnicities, genders, and backgrounds, and aligning those individuals to business needs, remains incredibly rewarding to me," Doug notes. For him, there is no greater feeling in the world than helping a business find a person with the right skillset, right competencies, and personality to join a team and grow the business while also helping those people find the right manager, job and culture in a company where they feel valued.
What does Doug do on his job at MicroVention? As a strategic HR leader, he makes sure that his team's strategies  align with the company's business strategies. "I creatively source, recruit, and retain employees (called 'Associates' at MicroVention) by offering a variety of programming focused on maximizing performance, engaging and empowering our Associates, and creating a talent pipeline," Doug says.
Doug points out that when people talk about talent acquisition, they usually only think about sourcing talent; and then the talent acquisition team moves on to the next job-to-fill and does not do anything more. Doug says that this is a wrong assumption. "Talent Acquisition is not only about finding and recruiting the right people, but also creating an employer brand and Associate experience that stands out to candidates; whether that be through company benefits and office perks, learning and development and professional growth opportunities, excellent company culture, work flexibility, or a variety of other factors," he says.
Innovative Ideas Implemented at MicroVention   
Doug and his team make sure that some of the best talent come and work for MicroVention. He has enhanced the company's talent acquisition process by working hand-in-hand with his team and Business Partners to provide and launch innovative ideas. One of the innovative ideas they have implemented at MicroVention is around branding. Usually, when people talk about branding, the focus is on developing the company brand, however "we also have to brand ourselves internally," Doug points out.
"One of the things that we have done is create an overall Global HR brand, and it's focus is on connecting talent, creating experiences, and collaborating to innovate," Doug says. "And, for talent acquisition at MicroVention, we have lived by the tag line 'Innovation starts with you'."
In the post-pandemic world, new hires may not be able to visit a company's location and see the environment where they would be working. Doug and his team have created a Virtual 360 Site Tour so that people can see the work location without physically visiting it. "People can actually go through our building, floor by floor, and feel as if they are visiting the building in real time" Doug says.
The entire Team also made their New Hire Orientation and Onboarding programs virtual and more interactive. "We continue to add new things to our programs all the time," Doug says. In addition to that, they also have taken their social media and LinkedIn strategy a step further.
"We started spotlighting our company culture and employer brand on LinkedIn by creating short culture videos highlighting different Associates and teams"  Doug says. "So, instead of just saying, 'Hey, we have an opening; come and work for us,' we're able to share real stories from real Associates talking about not only the job, but the culture here at MicroVention."
"Also, from the branding perspective, we put together an employee value proposition (EVP)," Doug says. To create the EVP, Doug and his team organized several internal focus groups. They talked to hundreds of Associates within the organization to find out their perspectives.  For instance, through these focus groups Doug was able to learn that Associates valued diversity, equity, and inclusion in their workplace. Also confirmed by many national survey reports, such as Gartner HR Survey, they were able to use this insight to create a strategic Diversity, Equity, and Inclusion strategy that takes a strong stance on social and cultural issues.
During the Pandemic, Doug and his team tapped into many new mediums for internal communications, one of which was a new innovative podcasting communication tool called uStudio. He says that podcasting has given their Associates a voice, as they can connect with other Associates across the globe on a range of topics, discuss new ideas, and share best practices. Doug says they have also used podcasting to highlight the talent that they recently recruited and connect new Associates with current Associates in a virtual and global context. "They talked about why they decided to join us at MicroVention and why it has been such a rewarding experience."
Additionally, the Talent Acquisition team has partnered more closely with Learning & Development at MicroVention, to help attract more talent. As all their learning programs are now online, anyone can access them from anywhere, globally. It has created a global learning community, Doug says.
"One of the other innovative things we did was we brought on a new technology called Envoy." Initially, the platform helped them automate their interview process. However, during the pandemic, Doug and his team implemented Envoy and Openpath to learn about the health of their Associates. Every day, before they come to work onsite, Associates answer a health questionnaire. "It gives peace of mind and safety," Doug says. The software also allows them to automate their new hoteling function.
Doug has also worked with his TA team to improve their job descriptions. He says that they have updated some of the verbiage in the description from "Here are the job qualifications we are looking for," to, "How can you stand out from the crowd." Doug adds, "And, we also offer a section in our job description that says, 'These are the things we can offer you.' So, we talk about our culture, benefits, and Learning & Development offerings."
Changing Landscape of Talent Acquisition 
Doug points out that the talent acquisition landscape is undergoing change but there is still a lot about the industry and the craft that stay the same. The "Great Resignation" has hit businesses across industries. Calling it the "elephant in the room," Doug says that we realize it is affecting our organization as well, and we're trying to embrace it at MicroVention. "We are trying to recognize it, and most importantly, we want to tell our current Associates what we plan to do about it," he adds.
The remote and hybrid work environment has also impacted the talent acquisition landscape. "We are still learning how to do that," Doug says. But he also points out that it is great for their current Associates, as it offers them a lot more flexibility and options that provide more work-life balance. "And, from the talent acquisition perspective, it also allows our company to cast a larger sourcing and recruiting net," Doug adds. "Our job descriptions now indicate what the different options are – whether it is 100 percent remote, 100 percent onsite, or hybrid.
Doug also highlights he expects a lot of other processes to change as a result of the hybrid-virtual work environment.
"We are going to see meetings that are more structured," Doug adds. "A lot of them will have pre-work requirements – where companies will be asking Associates to do something prior to the meeting. So that meetings are a lot more productive and interactive."
He also expects a move toward creating an internal Talent Marketplace. "Platforms like Gloat, Fuel50, and Eightfold allow you to capture your talent, create customized career pathing and career development opportunities for your current Associates. It gives opportunities to upskill and reskill in different areas of the business. It gives you a lot more agility and workforce adaptability; helps with retention and employee engagement," Doug says.
Doug also emphasizes that MicroVention is creating programs with the input of their Associates and not just creating programs for their Associates. They are also considering the integration of artificial intelligence (AI) and extended reality (XR) in learning and education  to "create a more immersive experience" Doug says.
Having more empathy is also something that Doug hopes to see more of in the changing talent acquisition landscape. He gives the example of his team's weekly huddle meetings "These were 10–15-minute meetings, and their sole purpose was each person's well-being," Doug says, adding that the meetings strengthened the teams, provided a safe place to talk openly and increased their effectiveness in a more remote/hybrid work environment.
Challenges Galore and Overcoming Them
Doug says that one of the things that he has learned is, "no one really knows everything," adding that regardless of how much professional experience someone has or how long they have been on the job, everyone can provide input, a different perspective and add value. "And it took me a few years into my career to realize that I didn't know everything," Doug adds. "And that I can learn so much more from others around me, see things from their point of view and really become a much better active listener, and ultimately a better leader." Doug now believes that people can accomplish just about anything they set their mind to if they have a good work ethic, are curious, and ask the right questions of the right people, no matter what seat you are in. Also, he no longer questions his or his team's abilities because of some other persons notion of perfection.
"Making mistakes and learning from those mistakes is a really valuable lesson and definitely makes you stronger as an individual, makes you a more effective leader, and makes your team just that much better," Doug says.
"I have always approached challenges differently than a lot of my other colleagues," Doug says. "I try to look at challenges or change as an opportunity to approach my craft and handle talent acquisition differently." For example, when the COVID-19 pandemic spread across the world, Doug did not say that he can't do this or that. "Instead, I said 'how can we redefine what we do within talent acquisition and do it differently and efficiently."
Being a Person and Team of Value
Doug prefers being a person and creating teams that add-value over being a person solely focused on someone else's definition of success. "And my definition of success or value is really more about those who surround me and support me," he says. So, it is really important when my organization feels that it is getting what it is asking for in terms of a very diverse talent pool, creative, with value-add programming that ensures we are meeting MicroVention's overall short and long-term goals and objectives."
Doug also considers it a success when he finds that his immediate supervisor is supported, and the lines of communication are two-way.  It is also a success when the HR department is considered an asset and strategic partner to the business. "Finally, success is when my teams feel supported at all times, are consistently challenged, and they have the tools and resources to grow both professionally and personally," Doug adds.
He gives credit to his team and his other colleagues for making him successful and in turn valued. "When people around me are successful, then I'm successful," he says, adding that he believes in this quote, "Work hard in silence, let your success be your noise."
And, according to Doug, some of the best recognition he has received has come from his teams and co-workers. He often gets to hear that he is one of the best leaders they have worked with, that he intentionally honors their value system, and some people have even told him that they came to work for MicroVention because of his leadership and team culture, and that they value learning from him.
Not Yet Done!
Doug does not think that he has achieved everything he has wanted to achieve in his career. But he is not disappointed about that because he believes that he still has another 10 or 12 good years left in him to learn more and grow the business. "But when I think about the things that I have learned from others, and when I think about things that others have accomplished alongside me, with me, or in front of me, I feel very blessed," Doug says. "I feel that I have been very fortunate to work with some amazing people throughout my career. I have also learned and worked with some great leaders."
"Am I done yet? I don't think I'm done yet. But I feel very fortunate about where I am right now and what the future might hold." Doug adds.
Advice to Younger Self
"Listen more and talk less," is the advice Doug would like to give his younger self. "Demonstrate that you are a curious learner, show others that you are adaptable.  Welcome change and don't fight it. And finally, don't take yourself too seriously."