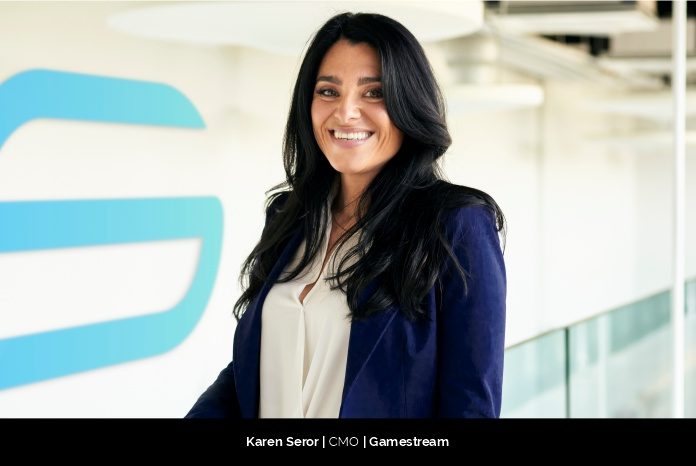 Karen Seror, CMO of Gamestream, is of the strong belief that thinking big, dogged perseverance, and passion are the key elements that drive her towards success. Her critical mission is to scale up Gamestream to become the primary driving force in the global cloud gaming industry. Karen has a successful track record for leading transformational change, having previously played an instrumental role in guiding the success of Fotolia, a world-leader in stock photography asset management, which was acquired by Adobe in 2014 for a staggering $800m. She is also incredibly passionate about helping others, and states, "Through my work at Gamestream, I want to help people access the positive wellbeing benefits of video gaming. This passion is 100 percent aligned with Gamestream's values and leadership."
Behind the scenes
From a very young age, Karen wanted to do something big with her life. Drawing inspiration from the famous adage of T.E. Lawrence, "Big things have small beginnings", she started expanding her knowledge base and adding more strings to her bow.
She firmly believes that family behaviours tend to mould the career of young people. She adds, "I believe that every professional story draws its convictions from family traditions. In my own family "tribe," the taste for entrepreneurship – along with professional passion and tenacity – has always been part of my everyday education, partly thanks to my successful entrepreneurial relatives."
Her brother, Laurent Seror, mentored her through her younger years and imbued her with a passion for IT. She states, "I am also lucky to have recognised medical specialists in my family. Growing up surrounded by healthcare professionals has definitely inspired my video games marketing work, which is infused with values that support e-health and wellbeing."
Her professional mentors were CEOs, all self-made successes, eager to change the world. "They helped me take the brakes off my desire to dare, with their boldness and perseverance, which still inspires and guides me every day."
Passionate about making a difference, Karen is drawn to game-changers who are 'movers and shakers' in their market. She states, "They tend to offer a challenging environment that is driven by a passion for what they do. Accompanying these innovative companies on their journey to become leaders in their field enables me to grow, and channel my own entrepreneurial needs and ambitions."
Having switched from medicine to marketing, she understood the importance of health in professional work. She adds, "Both health and wellbeing are a big focus for me. I'd go as far as to say that I couldn't work in a company that doesn't benefit health in some way! Gamestream is passionate about caring through video games, and demonstrating the therapeutic benefits of video games for all."
Bringing Change in the gaming sector with Gamestream
Gamestream is a world leader in cloud video game streaming solutions that aims to make gaming available for everyone, anywhere, at any time. It provides console-quality gaming experiences on the devices that most people already own, including smartphones (iOS and Android), TV (OTT and Smart TV), PC, Mac and tablets. They do this through a white-labelled B2B service as well as a consumer brand, Pleio. The Gamestream B2B cloud gaming service has been deployed under both white-labelled and Gamestream brands across Europe, the Middle East and Asia through partners in telecoms and hospitality such as Etisalat, Bouygues Telecom, and Accor Hotels.
Gamestream offers a complete end-to-end solution, which includes servers, technology, licenced gaming content, and data monitoring. It helps its customers, which include leading global mobile telecom operators, to improve their offerings by addressing pain points, such as the need to improve customer retention, and the requirement to increase the 'stickiness' of telecom services, thereby increasing ARPU (average revenue per user) and retention rates, in turn diminishing customer churn rate and, in many cases, enhancing their market position as global entertainment hubs. Cloud gaming is proving to be a powerful and complimentary value add strategy, which telcos can use to democratise the joys and benefits of video games for companies which target vast casual video gaming audiences.
The value proposition of Gamestream's offer laser-focuses on an unlimited, multi-device, and affordable model. It allows subscribers to move away from individual game purchases, and empowers its B2B customers to more easily sell these offerings by following the proven business models deployed by Spotify and Netflix.
At Gamestream, the team takes a responsible approach to democratising console-quality video game experiences. She says, "The fact our cloud gaming technology can thrive even with relatively slow internet speeds means it has great applications in developing countries. Our platform is also compatible with the main gamepad adapted for disabled people – driving inclusion."
Innovation is part of Gamestream's DNA. It has its own R&D lab where it builds crazy bits of technology that most people wouldn't dream of! She adds, "We believe in the ability of everyone who works with us, meaning we don't micromanage people and trust their instincts and talents. If someone comes to us with an idea, we help them develop it and make it a reality."
Life as CMO of Gamestream
Karen believes that market strategies and R&D go hand-in-hand while climbing the ladder of success. As the CMO of Gamestream, Karen is responsible for driving its global marketing strategy, spearheading the go-to market strategies for new clients across multiple geos across the globe. She adds, "I'm a data-driven person – I am only satisfied when I've reached our KPIs, and defined our go-to-market strategies for our best-in-class clients."
Despite having an incredible launch with the telecommunications sector, Gamestream's business model isn't dependent on this initial boost from telcos. The Gamestream solution is industry- and sector-agnostic, as its model, technology and services are being sold to sectors including hospitality, entertainment and healthcare.
At Gamestream, Karen strongly advocates for creating a diverse, multi-cultural team; a diversity that enriches the entire organisation, "I want to nurture my teams' creativity and confidence to succeed. It's not just about the incredible technology we're building – but also the organisation; its culture, values and, of course, ambition. That's all great to be a part of, but it's also critically important; our business model and trajectory is attractive to both customers and investors alike"
She then adds, "I oversee the company's CSR, and we regularly work with partners such as BePlayer One, which works to make gaming more inclusive for disabled people, and L'École des Héros, which helps teenagers overcome social anxiety through games."
She believes there is no innovation without boldness. She says, "Be bold in creating transversal communications processes that extend across departments, ensuring everyone is talking to each other effectively and has shared goals. Sharing your vision with your team rather than keeping it at the top of the organisation creates trust, bringing people together and motivating them to pull in the same direction. Lastly, always keep a growth-positive mindset and think big! Don't limit yourself – we're sometimes our own biggest critics."
Joining the company during the COVID-19 pandemic, she realised that communication was key to building trust and employee advocacy. She adds, "I have built great and effective relationships with my team despite the fact we are often based across different sites."
She trusts her team to give their best and carries the weight of responsibility to take the company to a new level. She is proud of achieving success in her previous startups and wants to do the same for Gamestream.
Karen joined Gamestream in March 2020, at the peak of the global pandemic. Since that time, she has played an integral role in the company's successes. She comments, "I'm proud that we've      signed six significant deals with leading telecoms providers and hospitality brands in the last year. We also launched our consumer brand, Pleio, with Bouygues Telecom in France. We've rapidly grown our brand, unified the organisation, and attracted brilliant new people to work with. And importantly, Gamestream has tripled its annual revenue over the last 12 months."
Thoughts on work-life balance
"Pick a job you love, and you won't have to work a day in your life." Karen's thoughts always resonated with that quote. She loves her work and loves to spend time with her family and friends too.
While fuelling the growth of the company, she makes sure to carve out time for her family. She also regularly enjoys boxing to keep her body and mind fresh and active. She says, "It suits my personality of perseverance, getting out of my comfort zone, and challenging myself."
Future prospects for the company
Gamestream is aiming to double in size in the next two years, adding more staff and taking cloud gaming technology to more countries and more business areas. Gamestream's ambition isn't solely just to expand into even more geos, but to increase its presence in an increasing number of business industry verticals. Karen comments, "In our opinion, 2021 will be the inflection point for the great cloud gaming industry odyssey." The latest market forecasts from Newzoo predict that cloud gaming will pass the coveted billion-dollar mark for the first time, ending at $1.4 billion in cloud gaming revenues in 2021. But even more growth is incoming. The market is on track to exceed the five-billion-dollar mark in 2023 as technology and infrastructure continue to improve. Cloud gaming may indeed absorb the terminal gaming market (i.e. consoles), a sector that is now worth $43 billion. It could also expand the existing market of PC gamers who no longer want to invest in expensive machines, but simply enjoy the latest games by taking out a new subscription.
Finally, let's not forget the precedents laid down by the likes of Spotify and Netflix. Gamestream has identified the data-driven parallels between the adoption of cloud gaming, and the growth curves as demonstrated by the now mature worlds of video on demand (VOD) streaming models. Karen says, "At Gamestream, we are wholly convinced that the intersection between the world of streaming and video games will generate significant opportunities, and encourage gamers to move towards a subscription model, thus generating sizable revenues for cloud gaming actors. This streaming subscription model has proven itself, for example, in the music industry (Spotify, Deezer) and in the VOD sector (Netflix, Amazon Prime).
Karen adds, "Cloud gaming represents a real-time laboratory of economic models, with several coexisting simultaneously, the variables being the ratio and control of technologies and content applied in this ecosystem." She then adds, "As far as future uses are concerned, we at Gamestream are of the firm belief that tomorrow's gaming will be console-less, and without the need to download game content. The future of gaming will be more immersive, thanks to 4K, 3D, and virtual and extended reality experiences. Cloud gaming will power richer and more detailed game worlds, powered by more engaging narratives, which ultimately provide greater emotional connections with gamers."
Tomorrow's gaming will take on therapeutic and wellbeing issues, too. Karen explains, "Numerous scientific studies have demonstrated the benefits of video games from a therapeutic and cognitive point of view, and as Gamestream is member of iDate Digiworld, a leading global think tank for digital innovation, we are working towards the diversification of new forms of therapy that digital technology like video games bring."
On a personal front, Karen wishes to leave just a modest legacy in the video game sector by bringing forward progress in terms of equality, diversity, and inclusion.
She says, "In particular, while women now make up a large percentage of global gamers, there is still a lack of women working in games. At Gamestream, we're beginning to challenge the reality and perception that gaming is a male-dominated industry, and I hope to inspire more women to work in this exciting fast growth field."